Was ist OnSign TV?
OnSign TV ist eine professionelle Digital Signage-Plattform, bekannt für seine Zuverlässigkeit, super einfache Schnittstelle und günstige Preise. Mit Bildschirmen in mehr als 100 Ländern, kann Dir OnSign TV helfen, 1 - 1000 Bildschirme zu verwalten. OnSign TV zeichnet sich auch für das Echtzeit-Monitoring-System aus, das es einfach macht, jeden beliebigen Bildschirm von der Webmanagement-Konsole anzusehen, zu verfolgen und remote zu kontrollieren. OnSign TV funktioniert auch in schlechten Netzwerkumgebungen, durch Caching aller Inhalte vor der Wiedergabe.
Wer verwendet OnSign TV?
OnSign TV ist in mehr als 100 Ländern vertreten, um eine Vielzahl von Anwendungen abzudecken: Corporate TV, Menu Boards, Werbung, Hotels, Krankenhäuser, Finanzzentren, Taxis, Busse und vieles mehr!
OnSign TV – Details
OnSign.tv
2011 gegründet
OnSign TV Kosten
Startpreis:
14,99 $/Monat
Ja, kostenloser Test verfügbar
Keine Gratisversion
OnSign TV bietet keine Gratisversion, aber eine kostenlose Testversion. Die kostenpflichtige Version von OnSign TV ist ab 14,99 $/Monat verfügbar.
Preismodelle
Kostenlose Testversion
OnSign TV – Details
OnSign.tv
2011 gegründet
OnSign TV – Videos und Bilder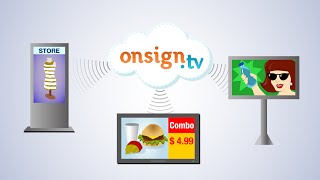 OnSign TV – Bereitstellung und Support
Kundenbetreuung
E-Mail/Helpdesk
FAQ/Forum
Telefon-Support
Chat
Einsatz
Cloud, SaaS, webbasiert
Mac (Desktop)
Windows (Desktop)
Android (mobil)
Funktionen von OnSign TV
API
Aktivitäts-Dashboard
Alarmfunktion / Benachrichtigungen
Anpassbare Vorlagen
Audit Trail
Automatisches Aktualisieren
Automatisierte Terminplanung
Benutzer-Management
Berichterstattung und Statistik
Bildbibliothek
Content-Management
Daten-Import / -Export
Datensicherheit
Digitale Beschilderungen
Digitales Menüboard
Drag-and-Drop
Drittanbieter-Integration
Echtzeit-Aktualisierungen
Echtzeit-Benachrichtigungen
Echtzeit-Daten
Echtzeitüberwachung
Inhalt-Bibliothek
Inhalte planen
Kampagnenplanung
Kundenspezifisches Branding
Layout und Design
Medienbibliothek
Mehrere Standorte
Mobiler Zugriff
Multimedia-Unterstützung
Offline-Zugriff
Remote-Display-Management
Remote-Zugriff/-Kontrolle
Social-Media-Integration
Spiellisten-Management
Support mehrerer Bildschirme
Terminplanung
Veranstaltungskalender
Video-Management
Video-Streaming
Video-Unterstützung
Visueller Editor
Vorlagen-Management
WYSIWYG-Editor
Werbemanagement
Widgets
XML / RSS
Zugriffskontrollen / Berechtigungen
interaktive Inhalte
Überwachung
Brian Y.
Verifizierter Nutzer auf LinkedIn
Verwendete die Software für: Nicht angeboten
Quelle: GetApp
Marketing & Werbung, 2-10 Mitarbeiter
Verwendete die Software für: 1-5 Monate
Intuitive Signage Solution
Kommentare: Our current network is over a dozen different locations. We don't want to have to visit them to confirm they are offline or out of sync. With OnSign we get email notifications any time a station goes down and we can trouble shoot right from our desk to get it back online or determine if we need to send a tech out to reboot or trouble shoot. Just that one feature has saved us a lot of time, gas and mileage. And honestly, the quality of the display is much cleaner and less clunky than most of the others we have used.
Vorteile:
As a digital signage provider, I have used or at least tried just about everything on the market. Most are pretty clunky and the playback is less than professional. We need 24/7/365 dependability and OnSign TV delivers just that. The drag and drop content feature is excellent, easy to use and offers a great visual display to ensure we get the playlists right the first time. Best overall feature is the GPS reporting. We can see at a glance which of our stations are online or have stalled (which is usually a local WiFi issue not the player). Very customizable as well as plenty of great modules and layouts to create a totally custom look. We plan to migrate our entire network to OnSign TV.
Nachteile:
The single feature that would push me over the top is a live preview, which OnSign does not have. I can view the playlist from the control panel but we like to be able to share a link with clients so they can get a live view of what a particular station is playing. The updating of playlists can be a bit confusing, due to the over abundance of UPDATE avenues available. In most cases we simply replace a file and the system auto updates. When we have to load new files to the playlist it's difficult to confirm those updates without physically going to the location; which in our case is scattered across the state. We have to keep a system in the office (good idea anyway just incurs an additional expense) so we can actively verify updates have been done accurately.
Jose L.
operations manager in Mexiko
Eventservice, 2-10 Mitarbeiter
Verwendete die Software für: 1-5 Monate
ITS FREE, BUT SOME COMPLICATED TO UNDERSTAND HOW IT WORKS.
Kommentare: understanding a little better the digital signage
Vorteile:
its free. it was easy to configurate the player, you can input pictures, and videos without problems
Nachteile:
does not include widgets each one you want, you have to pay for it. its some complicated to understand the windows of the editor.
Medienproduktion, 11-50 Mitarbeiter
Verwendete die Software für: Mehr als 1 Jahr
Robust, flexible, and functional. The best interactive DS software in the market.
Kommentare: My company runs DS in transportation, and OnSign TV is the foundation for our media management and distribution platform. The software offers unique flexibility, and is one of the few DS software in the market that has reliable interactivity functions, which we use on almost every campaign. Apart from the features and flexibility, the main differential of this software is its robustness...no glitches whatsoever.
Vorteile:
The value of OnSign TV, in my opinion, lies in its robustness. No glitches, no logic errors. Furthermore, the platform is extremely flexible, and allows me to have full control of my base, which is comprised of hundreds of players, with differente rules, settings, and distinct campaigns.
Nachteile:
Given its multitude of features and flexibility, the only (natural) downside is that when you reach hundreds of players, with different settings for each player group, professional supervision is necessary, otherwise you can easily publish campaigns that contradict with your desired campaigns (human error). professional supervision.
Guilherme W.
Content Manager in Brasilien
Marketing & Werbung, 11-50 Mitarbeiter
Verwendete die Software für: Mehr als 1 Jahr
Onsign is a great platform, easy to use and very responsive. But the best is the customer support.
Vorteile:
The most important asset of the software is it versatility. Beeing able to create and deliver different types of campaings and contents with no difficulty at all.
Nachteile:
Its not what i like the least, but its what i think we can improve for the best user experience. As we use a lot of the interactivity from the software i think that we can improve that by putting the option for interactivity setup in the same window that we program the campaing content. Another thing that would be great for us is a dashboard that shows inconsistencies of our programation. I know that we already have the dashboard that shows the errors, but what im saying is: How can we validate that our programation is working as we planned without having to watch it all the time? The biggest problem is the interactivity, because if i forget to delete one interaction, the system dont tell me and the user experience gets interfered.