Was ist Zoho Campaigns?
Zoho Kampagnen ist eine Email-Marketing-Software für kleine bis mittlere Unternehmen, um den gesamten Marketing-Prozess zu automatisieren - von der Verwaltung deiner Email-Kampagnen bis zum Erhalt deiner Mailinglisten. Dank Integration mit Zoho CRM hast du die richtigen Informationen, wenn du sie brauchst. Verbinde dich mit deinen Kunden überall, dank sozialer Kampagnen auf Facebook, Twitter und LinkedIn.
Wer verwendet Zoho Campaigns?
Unterstützte Länder: Asien, Australien, Kanada, China, Europa, Indien, Lateinamerika
Wo kann Zoho Campaigns bereitgestellt werden?
Cloud, SaaS, webbasiert, Mac (Desktop), Linux (Desktop), Android (mobil), iPhone (mobil), iPad (mobil)
Über den Anbieter
Zoho
1996 gegründet
Telefon-Support
24/7 Live-Support
Chat
Über den Anbieter
Zoho
1996 gegründet
Telefon-Support
24/7 Live-Support
Chat
Zoho Campaigns – Videos und Bilder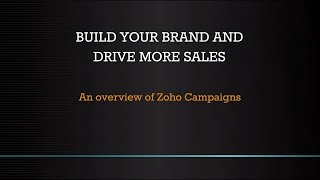 Kosten ähnlicher Produkte wie Zoho Campaigns vergleichen
Zoho Campaigns Funktionen
AB-Tests
API
Abonnenten-Management
Anpassbare Felder
Automatische Antworten
Berichterstattung / Analyse
CAN SPAM-Compliance
CRM
Content-Management
Daten-Import / -Export
Drip-Kampagnen
Drittanbieter-Integration
E-Mail Marketing
E-Mail-Management
E-Mail-Tracking
E-Mail-Vorlagen
E-Mail-Überwachung
Email-Kampagnen-Management
Ereignisgesteuerte Aktionen
Kalender-/Erinnerungssystem
Kampagnenanalysen
Kampagnenmanagement
Kampagnenplanung
Kanalmanagement
Klick-Tracking
Kontakt-Datenbank
Kontaktmanagement
Kundensegmentierung
Leadmanagement
Listen-Management
Marketing-Automatisierung
Mehrere Kampagnen
Mobil-ootimierte E-Mails
Multichannel-Marketing
Reaktions-Management
Segmentierung
Stapelverarbeitung
Suchen / filtern
Terminplanung
Vorlagen-Management
WYSIWYG-Editor
Zielseiten / Web-Formulare
Alternativen für Zoho Campaigns
Bewertungen über Zoho Campaigns
Michael K.
Principal in USA
Verifizierter Nutzer auf LinkedIn
Marketing & Werbung, 2-10 Mitarbeiter
Verwendete die Software für: Mehr als 2 Jahre
ZOHO Campaigns manages 8,000 person newsletter
Kommentare: The team at ZOHO Campaigns have been very responsive to any questions. I also like that once you build up a list you can manage the list in Campaigns. Overall been very easy software to use on a daily basis.
Vorteile:
I use ZOHO Campaigns to send out a daily 8,000 person newsletter. I have used ZOHO Campaigns for nearly 10 years for my newsletter. What I like is the ability to cut and paste HTML content into a template and create the newsletter in a couple of minutes.
Nachteile:
I would like there to be more subscriber reports in ZOHO Campaigns. Perhaps could be a way we could customize the subscriber reports a little better.
Chandan S.
Email Marketing Executive in Indien
Verifizierter Nutzer auf LinkedIn
Marktforschung, 501-1.000 Mitarbeiter
Verwendete die Software für: Mehr als 1 Jahr
Zoho Campaigns excellent support and attractive pricing
Kommentare: My experience with Zoho Campaigns is excellent. Account Manager is helpful solving all my queries. They helped us to set up our account from scratch.
Vorteile:
Zoho Campaigns provide excellent support. It is a SaaS based email marketing tool with all automation features. We can create responsive email templates, attractive landing pages, list segmentation and many more. it comes with many integration. We can add calendar option in our mail. It is a excellent for promoting webinar through email.
Nachteile:
Analytics is very poor. If they can work on Analytics and bring some advance features, Zoho has the capability to become leader in this segment
Deepa K.
Campaign Specialist in Indien
Verifizierter Nutzer auf LinkedIn
Informationstechnologie & -dienste, 51-200 Mitarbeiter
Verwendete die Software für: Mehr als 2 Jahre
In Betracht gezogene Alternativen:
Started my Email Marketing carrier with Zoho Campaign
Vorteile:
I started my email marketing carrier with Zoho Campaign. The user interface is simple and easy to use. We can integrate this with Zoho CRM. Easy to upload contacts, Create segment, Manage unsubscribers and check user activity. Best fit for sending regular newsletter.
Nachteile:
The majority of emails sent end up reaching SPAM or Promotional folder. Takes more than usual time to complete IP warm up.
Jj E.
Marketing Strategist in USA
Medienproduktion, 2-10 Mitarbeiter
Verwendete die Software für: 6-12 Monate
In Betracht gezogene Alternativen:
I feel like I'm a beta tester.
Kommentare: Clunky, slow and an overall terrible user experience. From a distance, it looks shiny with a ton of functionality. But when you actually start using it, you'll see a myiad of small aesthetics that don't look right (loading bar doesn't extend full width, loading dots are blurred) and the loading times are among the slowest for any software I've ever used. Now all of those things are OK, because functionality is what matters the most, right? This would be true if the functionality of the platform actually worked as intended. We've run into issues like: -Duplicating a workflow gets stuck and never duplicates. The bug required Zoho team to fix it on their side which took 3-5 business days.
-Changing a font color for an HTML email doesn't work. You'll see the updated font color in the HTML code, and in the email preview you will see the font color you want. But when you send the email, the font color is almost always wrong.
-Their simple condition filter in their workflow component didn't work originally. I had to speak to their engineering team twice to show them the problem, and then they fixed it 5 days later. The list goes on and on. I wish this program just worked and I didn't have to write this review. The one good thing about this software is that their customer service team is very responsive, and they normally fix the problems. But again, I feel like I'm a beta tester working with them through all of these bugs. I don't recommend this software to anyone.
Vorteile:
Campains has a lot of features out of the box and is a very affordable option for startups looking for an email solution.
Nachteile:
This entire platform is riddled with bugs, quirks, and errors that make your job so much harder. When things don't work, you normally assume you're doing it wrong with most software. Not with Zoho Campaigns. When things don't work, it's most likely broken on their side. 3 months into using this software every day, and we've already reported 3 different instances where their software was not working as intended. If I was getting this software for free, that would be OK. But since we're paying hundreds of dollars each month to use it, this is not acceptable.
Mehandi I.
Tech Support in Indien
Verifizierter Nutzer auf LinkedIn
Finanzdienstleistungen, 2-10 Mitarbeiter
Verwendete die Software für: Mehr als 1 Jahr
Zoho Campaigns review by Mehandi Islam ( Sales & Marketing Automation Expert)
Kommentare: My overall experice with Zoho Campaigns is good I can say that 4.5/5 only thing which they need to do to make it 5/5 is the speed of their application. I am solving all my email marketing problems, lead managament and customer managemet ( database). It is always easy to create the automation workflows and send automated emails for birthday, holidays and special offers with zoho campaigns. Getting attendees for the webinars.
Vorteile:
The most impactful features of zoho campaigns are:- 1) Large Canvas for campaign planning (for creating workflow automations ). 2) Email Templates (saves time). 3) Asset uploading (I upload all my images in separate folders inside Zoho Campaigns to use them late in campaigns). 4) Inexpensive Pricing ( Affordable for any small business owner). 5) Contact Management. Yes, this product is super easy to use. Integration with my existing business is also easy.
Nachteile:
Things they can improve. speed at which the entire software works. Reporting tools shoudl allow us to download and share customizable reports. There is no any aspect which is difficult to use. Integration with my existing business was super easy.