Das könnte dich auch interessieren:
Was ist eClincher?
At the nucleus of your digital marketing strategy eclincher catapults your brand reach, boosts your social media ROI, saves hours daily, increases your productivity, & expands your business across all channels. Because we are constantly innovating our product & services, you won't have to sacrifice features or capabilities, while keeping your budget top of mind. Our award-winning team offers 24/7 support & live demos. Improve your social media presence, broaden your reach, & add real value!
Wer verwendet eClincher?
eclincher is ideal for any size of business, marketing agency, marketers and social media managers who are looking for a simple yet powerful tool to manage their online brand reputation and reach.
eClincher – Details
eclincher
2013 gegründet
eClincher – Videos und Bilder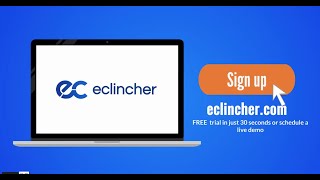 ▶︎
eClincher – Details
eclincher
2013 gegründet
Kosten ähnlicher Produkte wie eClincher vergleichen
Startpreis
59,00 $/Monat
49,00 $/Monat
Nicht verfügbar
108,00 $/Jahr
eClincher – Bereitstellung und Support
Kundenbetreuung
E-Mail/Helpdesk
FAQ/Forum
Wissensdatenbank
24/7 Live-Support
Chat
Einsatz
Cloud, SaaS, webbasiert
Mac (Desktop)
Windows (Desktop)
Chromebook (Desktop)
Android (mobil)
iPhone (mobil)
iPad (mobil)
Training
Persönlich
Live Online
Webinare
Dokumentation
Videos
Matt F.
Partner in USA
Verifizierter Nutzer auf LinkedIn
Marketing & Werbung, 2-10 Mitarbeiter
Verwendete die Software für: 1-5 Monate
Everything you need in a Social Tool, but no expensive price tag
Kommentare: Very happy. Really easy to get setup. The support really helped in getting everything changed over. Don't have to sacrifice anything to get a better price.
Vorteile:
Fits all my needs. Can post to Youtube, Instagram, Facebook, etc. all from a unified place. Also, I was really happy to discover their auto queues. I haven't seen the tool before, but it seems unique. It allows you to have 50 old posts that are evergreen and recyclable to bridge the gaps in your social schedule. They also have super comprehensive reporting to effectively identify stats and trend lines for how my social channels are doing and how they are doing relative to the competition. Was really helpful in determining trending topics my competitors were using frequently in their posts to help my brands build more high quality content. Also, truly cutting edge being one of the only platforms I'm aware of that offers Tik Tok for Business which is great.
Nachteile:
Can't post stories and carousels to Instagram without a push notification which is a little annoying, but I couldn't find any others that could, so I'm assuming its a technical limitation.
Antwort von eclincher
letztes Jahr
Hi Matt, thank you very much for taking the time to review your experience here at eclincher. We love that you love the UX/UI -- we wanted to focus on the capabilities and keep it simple yet elegant. We are elated we are giving you what your business needs especially as it pertains to competitor analysis! We will continue to push out capabilities that add value and create efficiencies in your day! P.s. We checked out your YouTube content and really enjoying your videos, so keep it up! Of course reach out to our team if you need anything at all 24/7. We thank you for your business.
Aly L.
Marketing Communications Associatae in USA
Non-Profit-Organisation Management, 11-50 Mitarbeiter
Verwendete die Software für: 1-5 Monate
Great timesaver so far
Kommentare: It saves a lot of time once you get the hang of it. I think it will prove helpful analytically too and when others are hired to help manage the accounts (with the reviewing/approval process).
Vorteile:
No logging in and out of accounts or different managers as well as can post and schedule to all the social channels needed. Pretty intuitive and user-friendly. Monitoring accounts and interacting is also easier. Robust features I really like, for example ideal posting times. Integration was pretty darn simple.
Nachteile:
Every now and then when selecting text to copy/paste or something, the message box freezes up and I have to remove that social account from the post and then just proceed with the others and do that one separately when done. And I wish you could see ideal posting times more easily.
Antwort von eclincher
vor 11 Monaten
Hi there Aly, Thank you so much for taking time to review your experience with eclincher. We appreciate your feedback and will continue striving for perfection! We want to communicate that we are developing an upgrade to the "best time to post" to make posting times easier for our #eclincherfam. Happy Holidays and Happy New Year!
Jamie C.
Co-founder & Content Strategist in USA
Schreiben & Editieren, Selbstständig
Verwendete die Software für: 6-12 Monate
Affordable, great customer service, lots of potential
Kommentare: I was very happy to find e-Clincher because it is reasonably priced but find that it lacks some features and wish it was a bit more intuitive for the user. For example, I find the Auto Post feature a bit complicated and took a while to figure out how to actually create a queue. BUT, every time I have been confused or frustrated, customer service has been excellent. Quick and friendly responses. Would love to see a feature where we can give clients access to review scheduled posts for their specific account(s) prior to publication. Looking forward to new developments and advances!
Vorteile:
Affordable, great customer service.
Nachteile:
Not very intuitive for user. Auto post is confusing and the 'Add and manage accounts' pop up looks messy/is confusing. App doesn't keep me logged in. Customer service tried to help me with this and said it was an issue with the browser. I used to use Sprout Social and loved that I was always logged in, their interface is gorgeous and they have tons of features (but are very expensive). When I schedule a post for LinkedIn it shows up as a thumbnail and takes a chunk of text from the About section of our website, resulting in a very sloppy-looking post which has forced me to publish manually to LinkedIn instead of using eClincher.
Antwort von eClincher
vor 5 Jahren
Thanks Jamie, we appreciate your feedback and will continue to simplify the auto post functionality.
Cheyenne F.
Director of Social Media in USA
Öffentlichkeitsarbeit und Kommunikation, 2-10 Mitarbeiter
Verwendete die Software für: 6-12 Monate
In Betracht gezogene Alternativen:
Culturally, practically, and financially incredible social media management software
Kommentare: Simply put, I have never experienced better customer service anywhere for any software. If you don't know how to do something, they help you right away and even send custom, step-by-step instructions on how to get there. What happens if they don't have the feature? They look at adding it! They've added several of my suggestions over the last 8 months.
Vorteile:
The software is incredibly flexible. That, in tandem with the incredible customer service, has made me loyal (more on the customer services in the overall section). Not many platforms support GMB, which is a big deal for our customers. It quickly knocked out other big players for that very reason. The reporting is strong and there are basic competitor comparison features.
Nachteile:
It's hard to find an actual con at this point because I haven't asked tech support (yet) to add the few things I wish were a little better. As an example, when I export my custom reports to PDF, they don't look very nice (typically 1 graph per page with a bunch of dead space). I could download them via CSV and design in Google Data Studio, but most customers don't care about that level of artistry. It would be a quality of life improvement to be able to preview a custom report PDF and make basic design/placement modifications to it. Also, the customer-facing publishing review portal is basic, but it does everything I need. It would be that premier users could get custom URLs, improved visuals, and no indication of the eClincher platform.
Jennifer G.
National Digital & Social Strategist in USA
Militär, 501-1.000 Mitarbeiter
Verwendete die Software für: Mehr als 1 Jahr
Best kept secret in social media management
Kommentare: We have increased social ROI tenfold. We have increased productivity exponentially, while just saving massive amounts of time. When I needed help they were there -- gave me peace of mind. Lastly, they were and are flexible to our needs with a great pricing structure. We kind of operate from a social media standpoint like an agency... so connecting all the platforms we are on was difficult with other services and the amount of profiles I needed would have been astronomical with another service -- ec was really flexible. I truly love the competitor analysis, the cross-channel analytics, automation with queues & RSS feeds, the visual calendar and IG grid planning, and the Canva + Wave integration. They keep bringing solutions -- I'm excited!
Vorteile:
Tagging my top three reasons why I think ec is different than the noise. 1. The value I received in the amount of features that are offered for the price I paid. 2. Flexibility - With HMC, there are 49 locations across the country. So they allowed me to run a hub account w pub groups and the other locations as brands. They are changing this platform monthly to meet clients needs. If something doesn't work, they constantly are upgrading. They listen! 3. The 24/7 live customer support is AMAZING! Seriously, I've used some others and I get an email or something later and I've already given up. ec's customer success team coupled with their support team put me at ease if something wasn't working, if I wanted to suggest a new feature, or if I wanted to get more information on how to properly use a feature, or API limitations, etc. This system is easy to use, has so many features to make life simpler, and really thinks through what the client needs in a social media platform. I did at least 15 demos of major social media companies and in the beginning eclincher wasn't in the running. In the end, they beat the big players because they listened to what we need and had a stellar product! If you're on the fence, go with eclincher - you won't be sorry! I think eclincher is best for companies with multiple brands, franchises, agencies, etc. They don't charge you the way the other guys do. Also, the inbox workflow is a game changer. I suggest a LIVE demo BEFORE you start a free trial!
Nachteile:
I think the UI could be more colorful and intuitive, but it hasn't stopped me! You just need to spend time learning the system and asking for help when you need to.
Antwort von eclincher
letztes Jahr
Thank you Jennifer! We appreciate all your suggestions throughout your tenure and are really hoping you are loving some of the new features like post-customization by channel, Facebook location tagging, etc. Be on the lookout for some major updates in the coming months and as always do not hesitate to reach out if we can be there for you 24/7!