Was ist Kisi?
Bietet einen Cloud-verwalteten schlüssellosen Zugang für dein Büro oder Gebäude. Du kannst die Tür mit deinem Smartphone aufschließen.
Wer verwendet Kisi?
Räume, in denen zusammengearbeitet wird. Start-ups. Große Unternehmen.
Wo kann Kisi bereitgestellt werden?
Cloud, SaaS, webbasiert, Mac (Desktop), Android (mobil), iPhone (mobil), iPad (mobil)
Über den Anbieter
KISI
2013 gegründet
Telefon-Support
Erhältlich in diesen Ländern
Vereinigte Staaten
Über den Anbieter
KISI
2013 gegründet
Telefon-Support
Erhältlich in diesen Ländern
Vereinigte Staaten
Kisi – Videos und Bilder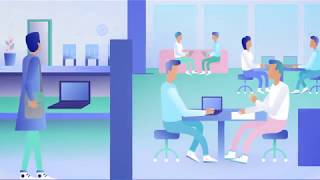 Kosten ähnlicher Produkte wie Kisi vergleichen
Kisi Funktionen
Besuchermanagement
Sicherheitsmanagement
Sicherheitsvorfallmanagement
Veranstaltungsmanagement
Wirtschaftsprüfung-Management
Zugriffskontrollen / Berechtigungen
Gardner
Office Manager + Executive Assistant in USA
Verifizierter Nutzer auf LinkedIn
Krankenhausversorgung & Gesundheitswesen, 11-50 Mitarbeiter
Verwendete die Software für: Mehr als 1 Jahr
A Seamless Experience for Elegant Security
Vorteile:
The Kisi Keyless Door Access system has been a success in our office space. I had heard about Kisi's reputation for quality products and outstanding customer care - after our initial consultation and conversation, I was sold. From purchase to install to everyday use, we've been extremely satisfied with Kisi. To remain HIPAA compliant, it is paramount that we have a locked office door at all times. Other locks or ID systems are bulky and archaic. Kisi has created a sleek, pseudo-sexy model that is beautifully enigmatic in our entryway. We especially love the RFID capabilities and that our phones can be our access keys! No more losing expensive key cards or fumbling with outrageous FOBS. Our pockets are weighed down enough! We had one glitchy day in the system, and Kisi was super-responsive in handling the blackout. I was impressed with how they communicated with me and their efforts in getting us back online within a few moments. Overall, I highly recommend using this product and working with Kisi. They have been and continue to be a pleasure to work with!
Nachteile:
The only downside to the Kisi hardware is that the actual hardware options are fairly limited. We have a new space that requires an in-door mounted security system - something Kisi doesn't offer (yet!).
Kris
Director of Business Ops in USA
Informationstechnologie & -dienste, 2-10 Mitarbeiter
Verwendete die Software für: Mehr als 1 Jahr
Seamless. Easy to Setup and reliable!
Kommentare: We've been recommending Kisi to our clients for years. It wasn't until we moved into our own office that we decided to utilize it internally. We were previously in a co-working space. Kisi has always been easy to use and manage. As an Admin in our Kisi instance, I'm able to easily add users, create groups and set custom policies depending on the employee.
Vorteile:
I consider myself the least technical person on our team. When we moved into our new office, we already knew we wanted to leverage Kisi. I was tasked with setting up the hardware in our office. It was pretty easy and the Kisi app and their excellent documentation walks you through the entire process. Once it's setup, the mobile app makes it really easy to get access into your space. You can even set up physical 'badges' to access the space. This is great for contractors or external staff who need access to your space but don't necessarily want or need to use the Kisi app.
Nachteile:
Rarely, the door reader won't always pick up my device to unlock the door. If you have an iPhone, putting your device to Kisi's reader will automatically trigger ApplePay. Given, this is a device 'feature' as opposed to an issue with Kisi but it's something to keep in mind. Luckily, you can always open the app and manually press the button to open the door if need be.
Informationstechnologie & -dienste, 11-50 Mitarbeiter
Verwendete die Software für: 6-12 Monate
Kisi is the best!
Kommentare: I absolutely love Kisi and recommend it to all of my customers. It's the best access control product I have integrated.
Vorteile:
I love everything about this product! It's super intuitive and extremely easy to teach customer's how to use. Programming takes less than 5 minutes for most applications. The system always seems to work flawlessly and the readers and hardware are aesthetically pleasing. The Kisi tech support team is extremely responsive and helpful, and the sales people and management of Kisi are also fantastic!
Nachteile:
They currently do not have a long range reader available. This has limited sales in some instances, but they are making a new panel with a Wiegand port which will fix this in the future, it will allow for 3rd party long range readers to be integrated into their product.
Chris
Business Owner in USA
Gesundheit, Wellness & Fitness, 2-10 Mitarbeiter
Verwendete die Software für: 1-5 Monate
Quelle: SoftwareAdvice
Disappointed
Kommentare: Overall I am extremely disappointed. After purchasing all the items needed, paying for installation, I do not have a working product. The unreliability of this system has cost the business several thousand in client memberships. I would recommend a different service. Perhaps one that doesn't want the bulk of the money upfront just to stick you with a blue light on your door.
Vorteile:
The installation tech loves the system. The concept is simple enough and you can quickly add cards to your door.
Nachteile:
Unfortunately the system crashes too often. Sometimes it's the reader, other times it's the controller. There is no alert that informs me of the crash other than upset clients.
Caitlin
Community Manager in USA
Verwendete die Software für: Mehr als 2 Jahre
Kisi is the way of the future
Vorteile:
We couldn't run our coworking/event space without Kisi. As a business with 100+ members, multiple staff members and contractors, and a space that hosts frequent events this really is the only way to ensure the right people have access to your building at the times you choose. I also love that you can set permissions to when exactly they can access the space. For example, you can set permission to enter the space on 1 specific day (perfect for event hosts or contractors) or indefinitely (and can even set different permissions within that- i.e. whether or not they can access the space after hours or on the weekends, for example). Being able to unlock the doors remotely via the app has also been revolutionary for my (and the rest of our staff's) work/life balance (we don't need to drive to our location to open the doors with a key anymore it can all be done at home via the app)!
Nachteile:
The only con (which is also a pro) is that it functions off of your wifi network, so if your wifi is down it could be a security issue.