Was ist VWO Testing?
Visual Website Optimizer (VWO) ist eine führende Website-Optimierungs- und -Testplattform, die von mehr als 4.000 Marken in 90 Ländern verwendet wird, um Web-Aktivitäten zu analysieren und Conversions zu steigern. Unternehmen wie Microsoft, Dominos, Career Builder und das amerikanische Rote Kreuz nutzen VWO, um zu verstehen, wie Besucher mit ihren Websites interagieren. VWO ist eine einfache, aber sehr effektive Plattform mit A/B-Tests, Split-Tests, Behavioral Targeting, Personalisierung, Website-Reviews und Heatmaps.
Wer verwendet VWO Testing?
Online-Händler, SaaS-Unternehmen, Reisewebsites, Medien/Verlage, Unterhaltungswebsites, Healthcare-Websites und Agenturen, die diese Branchen bedienen
Wo kann VWO Testing bereitgestellt werden?
Cloud, SaaS, webbasiert
Über den Anbieter
Wingify
Ansässig in Delhi, Indien
2009 gegründet
Telefon-Support
24/7 Live-Support
Chat
VWO Testing Kosten
Startpreis:
199,00 $/Monat
Ja, kostenloser Test verfügbar
Keine Gratisversion
VWO Testing bietet keine Gratisversion, aber eine kostenlose Testversion. Die kostenpflichtige Version von VWO Testing ist ab 199,00 $/Monat verfügbar.
Kostenlose Testversion
Über den Anbieter
Wingify
Ansässig in Delhi, Indien
2009 gegründet
Telefon-Support
24/7 Live-Support
Chat
VWO Testing – Videos und Bilder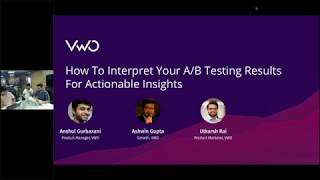 VWO Testing Funktionen
AB-Tests
API
Anmerkungen
Anpassbare Vorlagen
Aufzeichnung der Bildschirmaktivität
Benutzerinteraktion-Nachverfolgung
Berichterstattung / Analyse
Berichterstattung und Statistik
Besucher-Nachverfolgung
Daten-Import / -Export
Datenvisualisierung
Drag-and-Drop
Engagement-Tracking
Erfahrungsmanagement
Inhaltsanalytik
Kampagnen-Segmentation
Konversion-Tracking
Leistungskennzahlen
Multivariate Tests
Nutzerforschungsanalyse
Risikokarten
Split-Tests
Statistische Analyse
Tests der Benutzerfreundlichkeit
Trichter-Analyse
Umfragen & Feedback
User Journeys
Verhalten-basiertes Targeting
Verhaltens-Tracking
Visueller Editor
Web-Traffic-Berichterstattung
Website-Analytik
Zielgruppen-Targeting
Alternativen für VWO Testing
Bewertungen über VWO Testing
David
COO in USA
Verifizierter Nutzer auf LinkedIn
Marketing & Werbung, 2-10 Mitarbeiter
Verwendete die Software für: Mehr als 2 Jahre
An Excellent Product with Excellent Support
Kommentare: Excellent. Their support is great and that's the key. There are many products that provide A/B testing services, as well as heatmaps, too. But I'll always go with the company that has the better support. Plus, it's very easy to create your tests b/c they use an overlay. Easy!
Vorteile:
I liked the dashboard and the overall ease of use of getting my tests started. I also love the fact that you can do a split test and see the differences side-by-side. What's also nice is that it does an amazing job of telling you about the statistical significance of your data (we tend to have clients with lower search volumes d/t the nature of their businesses, so being able to adjust our setting to focus on the conversion % change that we want is a great feature.
Nachteile:
It can be expensive if you don't use it very often. Every once in a while I had trouble getting the code to be recognized on my site, but support was always fast and helpful. It was also my fault once b/c they tell you not to use GTM to add the code, but that's exactly what I did.
Antwort von Wingify
vor 2 Jahren
Thank you for sharing your feedback! Glad to know that you like the product and the support. Regarding your other feedback about the code detection, happy to inform you that we have revamped our code checker feature. This now checks the code and shares the exact status in real time. - Venus from VWO
Samy
Senior UX/UI Designer in UK
Marketing & Werbung, 51-200 Mitarbeiter
Verwendete die Software für: Mehr als 2 Jahre
Exceptional detail in data and tracking research to insights
Kommentare: We have been using VWO for a variety of tests within the business, from image styles and content focus to testing copywriting within buttons right the way up to replacing sections and the way our products are displayed. I has been a huge growth area within the business and helped us gain a lot of traction.
Vorteile:
I liked that I can connect the goals to traffic segments in google analytics and see how the tests affected the conversion journey further down the funnel, I like the UI and functionality of setting up tests, as well as how the tool visualises data from running and completed tests
Nachteile:
I think within a test the multi-layers of a menu could be simplified to focus on tasks that would be relevant to the stage at which a test is running
In Betracht gezogene Alternativen: Hotjar
Warum VWO Testing gewählt wurde: We made the switch because of the level of detail that is available
Zuvor genutzte Software: Crazy Egg
Antwort von Wingify
vor 2 Jahren
Thanks for sharing the feedback, Samy. We are glad that you liked the platform and found it to be useful. We have also noted down your feedback around UI and we will surely work on the same. - Venus from VWO
Ayushi
Internet Marketing Executive in Indien
Verifizierter Nutzer auf LinkedIn
Outsourcing/Offshoring, 501-1.000 Mitarbeiter
Verwendete die Software für: 6-12 Monate
It's worth "trying"
Kommentare: Our experience and review are subjective. While the tool offers a lot of options which makes it worth trying, VWO poses a lot of challenges in terms of tracking. So, in case, you are planning to set up the tool for your AB test, do make sure to triple check if everything is being tracked properly (double redirection, forms tracking, and traffic allocation to the variants).
Vorteile:
1. Deep segmentation: Ability to segment traffic in terms of devices, locations, and campaigns 2. Variant percentage segmentation: One thing that basic AB Testing tools lack is their ability to segment traffic beyond 50-50% division. VWO allows to allocate traffic as per our requirement. 3. Heat maps included within AB Tests
Nachteile:
There are a "lot" of backend issues in this tool. Without the help of a developer, it would not be possible for a person to set up tracking properly. Even after considering all the conditions and implementing tracking code as per the implementation guide, VWO did not allocate the traffic correctly and we lost days of experimentation due to this error. Unfortunately, even after trying the customer support was not able to help us in resolving the issue.
Antwort von Wingify
vor 2 Jahren
Thank you for sharing your feedback! However, we are sorry to hear about the traffic allocation issue. If you are still facing similar issue across any of your campaigns, then feel free to drop me a note at venus.kaur@vwo.com and I will be happy to help. - Venus from VWO
Verifizierter Rezensent
Sr. Product Manager in Indien
Verifizierter Nutzer auf LinkedIn
Bekleidung & Mode, 51-200 Mitarbeiter
Verwendete die Software für: Mehr als 1 Jahr
A good tool for AB testing
Vorteile:
VWO is easy to use and setup for performing AB test on your website to bring about incremental improvements. One can run simple AB tests comparing amongst two different URLs or run two variations and also execute multi variate tests wherein multiple changes and their impact can be attributed to the changes.
Nachteile:
The integration and data benchmarking with analytics tool is something which can be improved. Results on VWO dashboards and on integration analytics tools may vary on occasions leading to confusion on the outcomes.
Trevor
Product Owner, CRO Services in USA
Marketing & Werbung, 51-200 Mitarbeiter
Verwendete die Software für: Mehr als 2 Jahre
Well worth the investment!
Kommentare: VWO has provided us a solid framework with which to scale our CRO services as an agency. We've been able to grow with our clients, and manage them in a single, centralized testing hub. Due to the lower costs, we've even been able to include the cost of VWO into our agency fee, which passes savings to the client and is a big plus to potential customers. I don't envision us leaving the tool anytime soon.
Vorteile:
VWO offers many of the enterprise features you would expect in a larger tool, for a much lower price tag. As a user of Optimizely and Adobe Target, I have been pleasantly surprised by the features I have been able to use with VWO. The reporting update (probably density, box plotting, etc.) has been especially useful in data analysis.
Nachteile:
VWO definitely breaks more often than the more expensive tools out there. Breakage doesn't really affect the split tests themselves, just the reporting...but still, it's not great when I go to report for a client and have to wait a day or 2 for things to get back online.
In Betracht gezogene Alternativen: Optimizely
Gründe für den Wechsel zu VWO Testing: Cost was the biggest factor, and VWO (even with their recently increased prices) continues to excel in this area!
Antwort von Wingify
vor 2 Jahren
Thanks for sharing the feedback. We are glad that you liked the product and especially the new reporting features. Regarding your concern about breakage, we apologize for the inconvenience. Though we would really like to know about the specific instances as ideally it shouldn't happen. Please reach out to us at support@vwo.com. - Venus from VWO