Was ist Yo!Kart?
Yo!Kart ist eine Multi-Vendor-Marktplatz-Plattform, die es aufstrebenden Unternehmern ermöglicht, ihren eigenen Online-Marktplatz auf einfache, schnelle und kostengünstige Weise zu starten. Die Plattform bietet eine Vielzahl eingebauter skalierbarer Funktionen. Du kannst die Plattform an die Bedürfnisse deines Unternehmens anpassen. Darüber hinaus ist Yo!Kart ein Multi-Vendor-System, das sowohl Käufern als auch Verkäufern mobile Anwendungen zur Verfügung stellt. Besuche die Website des Anbieters für weitere Details.
Wer verwendet Yo!Kart?
YoKart ist eine angepasste Multi-Vendor-Plattform, die mit einer Vielzahl von eingebauten Funktionen ausgestattet ist. Der Anbieter bedient Start-ups bis hin zu großen Unternehmen. Der Anbieter bietet außerdem 12 Monate kostenlosen technischen Support.
Wo kann Yo!Kart bereitgestellt werden?
Cloud, SaaS, webbasiert, Mac (Desktop), Windows (Desktop), Windows (On-Premise), Android (mobil), iPhone (mobil), iPad (mobil)
Über den Anbieter
FATbit Technologies
Ansässig in Mohali, Indien
2004 gegründet
Telefon-Support
24/7 Live-Support
Chat
Yo!Kart Kosten
Startpreis:
999,00 $/einmalig
Keine kostenlose Testversion
Keine Gratisversion
Yo!Kart bietet keine Gratisversion und keine kostenlose Testversion. Die kostenpflichtige Version von Yo!Kart ist ab 999,00 $/einmalig verfügbar.
Preismodelle
Über den Anbieter
FATbit Technologies
Ansässig in Mohali, Indien
2004 gegründet
Telefon-Support
24/7 Live-Support
Chat
Yo!Kart – Videos und Bilder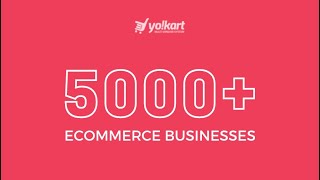 Yo!Kart Funktionen
Angebotsmanagement
Artikelverwaltung
Auftragsmanagement
Berichterstattung / Analyse
Bestandskontrolle
Bestell-Management
Datensicherheit
Drittanbieter-Integration
E-Commerce-Management
E-Mail Marketing
Einkaufswagen
Einzelhandel-Lagerverwaltung
For Small Businesses
Für B2B
Inventarverwaltung
Katalogisierung / Kategorisierung
Kategorisierung / Gruppierung
Kommunikationsmanagement
Kundenmanagement
Mehrere Geschäfte
Mehrere Standorte
Mobiler Zugriff
Multi-Vendor
Multichannel-Marketing
Nachbestellung
Onlinekatalog
Provisionsmanagement
Rabattmanagement
Retourenmanagement
SEO-Management
Verkaufsberichte
Versand-Management
Website-Management
Zahlungsoptionen
Aleksandar
CEO in Serbien
Verifizierter Nutzer auf LinkedIn
Verwendete die Software für: 6-12 Monate
Complete software and complete technical support by YoKart team. Awesome experience!
Kommentare: For me the most important thing in the world - Software that in one place has everything for your multivendor system. Autonomy, excellent technology, awesome technical support. All this things gives you a power to be competitive entrepreneur.
Vorteile:
In the world of multivendor business for entrepreneurs who do not have time to deal with programming and technical matters, the most important thing is to have complete software with the most important functions for the multivendor crucial system. Payment system, mail marketing system, social integration, quality interface and user experience. In addition to being complete and comprehensive, Yokart offers the absolute technical support that is very important for the initial phase of the business. Yokart for us is not just software, Yokart is a team of dedicated people who are ready to help you on the path of your success. That s relationship is much more than a business. Such a relationship leads to success !All necessary functions are in one place. No additional hidden costs such as on platforms like WordPress, Prestashop, Whoocomerce, Joomla and others. You buy one time a complete software for your multivendor business. SEO optimization, simplicity and transparency of administrative management. The most important thing in online sales - Payment options, which has really a lot. You always have a guarantee that every part and every page on the site works perfectly and you will never have an error page. This is very important for you customers and sellers, and you of course. Much less stress. Interactive technical support - these people are here for your 24 hours.
Nachteile:
There is not a lot of freedom for the administrator to control the site design itself. The combination of WIX logic system of individual design and Yo Kart organization would make this software the best thing ever. Maybe in the future YoKart make it.
Ramsey
Head of Digitalization and Systems Consulting in Mexiko
Verifizierter Nutzer auf LinkedIn
Internet, 2-10 Mitarbeiter
Verwendete die Software für: 1-5 Monate
Yokart as a marketplace
Kommentare: We are in the Americas and they are in India time so we typically meet once a week or once every two weeks now that the system is stable with AC who is our day-to-day liaison, zoom Meetings are late night or early morning, I prefer the late night meetings because they typically have answers or fixes/ results by morning. We have a WhatsApp group did we use as a way to keep track of the issues, and We have developed a great working relationship with them. I feel like I have the best of both worlds the ease of implementation of a hosted platform as well as the on-demand customization of a made from scratch platform, With the added benefit that it feels like I have a team of all star developers creating upgrades for me on a yearly basis, Now of course they charge for the upgrades, But at least I feel like my e-commerce marketplace software is not going to fall behind.
Vorteile:
I must say the responsiveness of the service organization, from AC who is our day-to-day liaison for setup, app launch, and any technical problems to the [SENSITIVE CONTENT HIDDEN] of FATbit technologies whom I wrote to on LinkedIn out of the blue asking for help because I needed him to pull a team together and help us implement over the weekend. Not only did he respond, but he brought in [SENSITIVE CONTENT HIDDEN], his lead business consultant, who got it done. This means that we bought it on a Friday and we were up and running on Monday. That was amazing to say the least. After that we had four extensive weeks of handholding so we could learn to use the system, [SENSITIVE CONTENT HIDDEN] assigned AC to our account as many things that we thought were bugs turned out to be just lack of understanding of the system on our part. Now we are entering a phase where we have dozens of sellers and thousands of products in the system, the platform is stable terms terms of configuration parameters, and we are now ready to have them do some customizations on our app (user experience changes to front end and building an API connection for the backend). They are a great team and have designed a great software, I highly recommend it.
Nachteile:
For an e-commerce software it's important to be able to have the various stores that are going to be selling in the marketplace be able to upload their products, and they have designed a very very robust mass importing and exporting capability. You can import products, inventories can be changed and pricing can be adjusted, and many of our clients are taking advantage of that capability as they update pricing and inventory multiple times a day, especially now with the Christmas season coming to an end and the volatility of the dollar in global markets. The part that is lacking is that I wish FATbit would have build a flat out API that takes advantage of the robust import/export functionality because many of our clients are now sophisticated enough, and they would feel more comfortable importing their 20,000 products through an API then by XML upload. In addition or flexible architecture depends on rest API's and web hooks, so we can connect to our accounting software, logistics, zappier etc. Yokart has done many customizations for many clients to be able to do these connections, but in this new era of flexible architecture, I believe this should come with the system just like they have a native connection to PayPal, Stripe, and Shipstation. We are going to pay for a customization project to build out an extensive API infrastructure, and my hope is that they use it as a standard part of their next version so others in the future won't have to worry about this or pay for it.
In Betracht gezogene Alternativen: CS-Cart Multi-Vendor Software
Warum Yo!Kart gewählt wurde: The systems consulting company prior to my firm entering the project had been at it for three months and had messed up the woocommerce implementation. We were getting close to the Christmas season and we didn't have an operational marketplace software to launch on and that is when I recommended we switch to Yokart and I am glad we did. Functionality wise most of the premium marketplaces have the same features, But in the case of FATbit's YoKart the software cost us $1000 usd for the lifetime license and for an additional $1000 usd we were able to get the apps on iOS and android and that is definitely what are the savings occur as well as the speed to implementation. The CS cart marketplace alternative we were looking at was priced much much higher.
Zuvor genutzte Software: WooCommerce
Gründe für den Wechsel zu Yo!Kart: Value received was much greater in case of YoKart. The software, android and iOS apps as well as the entire deployment for $2000 is a very good deal, We were up and running in the weekend with the web version and within a couple of months we're running like a fine tuned machine with apps and everything. Check us out at [SENSITIVE CONTENT HIDDEN]
Einzelhandel, 2-10 Mitarbeiter
Verwendete die Software für: Mehr als 1 Jahr
Very Poor support
Kommentare: poor
Vorteile:
The price is ok , overall system is ok but i can say there are many good things
Nachteile:
The support ,we have system errors only created by the Yo!Kart system and their admin that YO!kart refuse to resolve unless we pay them more, kind of makes the system pointless ,
Einzelhandel, 2-10 Mitarbeiter
Verwendete die Software für: 6-12 Monate
A great solution for an online marketplace. Well done FATBIT team
Kommentare: Good response from the dev and after sales support team. Co-operative in terms of clearing bugs which comes as a part of the one year support while purchasing the license. The dealt professionally abiding to all contractual clauses and complied to what we had mutually signed up for.
Vorteile:
Almost all the features that I could possibly think about in this era is inbuilt in this software.
Nachteile:
A professional developer should be there to make any changes to the functionality of the platform in the future unlike platforms like Shopify/woocommerce where in you just install a package to your platform.
In Betracht gezogene Alternativen: Adobe Commerce, WooCommerce, EB-Platform, CS-Cart und Shopify
Gründe für den Wechsel zu Yo!Kart: First of all, these guys are professional. They will deal with you like a customer unlike other amateur companies like CODEBREW in the market who would simply say "YES" to everything you ask prior to selling the product and once sold, will just say (this feature is additionally paid). And moreover, these guys offer lifetime license and they share the code with you once when the one year tenure is over.
Ran
Co Founder & CEO in Israel
Gesundheit, Wellness & Fitness, 2-10 Mitarbeiter
Verwendete die Software für: 6-12 Monate
Yo!Kart Multi-Vendor
Kommentare: Yo!Kart is a great solution for anyone who wants to create a Multi-Vendor Marketplace.
They have a great team of professionals who would do their best to make sure you are satisfied with all the processes.
Vorteile:
Yo!Kart provides all the necessary features to run a successful Multi-Vendor Marketplace.
Nachteile:
Nothing at all. I'm completely satisfied with this product.
In Betracht gezogene Alternativen: CS-Cart Multi-Vendor Software und Shopify
Gründe für den Wechsel zu Yo!Kart: The alternative products didn't offer all the necessary features we needed.