Was ist TextMagic?
TextMagic ist eine voll ausgestattete Business-SMS-Plattform, mit der Unternehmen jeder Größe SMS-Textnachrichten an ihre Kunden, Mitarbeiter und Partner senden können. Der Dienst kann verwendet werden, um SMS-Benachrichtigungen, Warnungen und Bestätigungen an Kunden zu senden sowie SMS-Marketingkampagnen durchzuführen.
Wer verwendet TextMagic?
TextMagic wird am meisten von kleinen Unternehmen auf der ganzen Welt bevorzugt, die von den hohen Lieferzahlen und den offenen Raten der Textnachrichten profitieren.
TextMagic – Details
TextMagic
2001 gegründet
TextMagic – Details
TextMagic
2001 gegründet
TextMagic – Videos und Bilder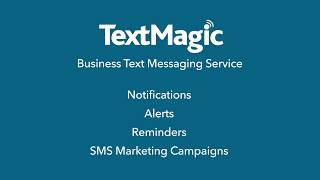 Kosten ähnlicher Produkte wie TextMagic vergleichen
Startpreis
10,00 $/einmalig
Nicht verfügbar
0,01 $
5,00 $/Jahr
TextMagic – Bereitstellung und Support
Kundenbetreuung
E-Mail/Helpdesk
FAQ/Forum
Telefon-Support
Chat
Einsatz
Cloud, SaaS, webbasiert
Mac (Desktop)
Windows (Desktop)
Android (mobil)
iPhone (mobil)
iPad (mobil)
Training
Live Online
Dokumentation
Videos
Nate L.
Co-Founder in USA
Verifizierter Nutzer auf LinkedIn
Computer-Software, 2-10 Mitarbeiter
Verwendete die Software für: 6-12 Monate
TextMagic is there when others aren't
Kommentare: It was August 28th, 2017. Hurricane Harvey had landed in Houston and was causing a record amount of flooding. People were dying, and thousands were still trapped in their homes. I made a simple website for my buddy's church, so his friends could keep track of all of the parishoners that needed rescue. The website quickly went viral however, and soon the entire city was using it as a way to track the rescue cases. Rains continued to pound Houston, and what started as a simple website that I made in 6 hours now was literally the only thing standing in the way of death for thousands of people still trapped by the rising floodwaters. We had a problem, though. Some of the people were getting rescued but not being marked "SAFE" on the site. This resulted in wasted resources, as rescuers would would go to a house and find nobody there, the homeowner having already been rescued hours earlier. We had to come up with a solution to this problem. Luckily, we had all of their phone numbers, so we decided to text them all. It was 2 AM in Texas, and I needed to have it done overnight because we were expecting more waves of signups in the morning. I tried Twilio but nobody answered the phone or replied to my urgent messages. Luckily, TextMagic picked up the phone and I got a working account in minutes. We sent out thousands of SMS overnight. TextMagic was there when others weren't. We ended up saving 25,000 people that week, a number which would have been smaller if not for TextMagic.
Vorteile:
The customer service is excellent. I don't recall the woman's name, but it was the best customer service I have ever received for any product, in a literal life or death situation.
Nachteile:
I couldn't tell at first glance, by looking at the website, if it was ready for enterprise solutions or not
Judi S.
Corporate Recruiter in USA
Verifizierter Nutzer auf LinkedIn
Transport/Güterfrachtverkehr/Schienenverkehr, 5.001-10.000 Mitarbeiter
Verwendete die Software für: 6-12 Monate
Necessary & Unnecessary features
Kommentare: Not getting notifications that a message wasn't delivered is a detriment to Text Magic and my ability to do my job effectively. Our text message program with our customer base is pivotal to success within my company so it's vital to know if messages are reaching my customers.
Vorteile:
Ease of setting up and using templates!!
Nachteile:
Unnecessary feature - The email notifications that someone unsubscribed to your messages. If I get a text that says "STOP" from the person sending it, then I don't need an email telling me that they sent a message saying STOP. It's redundant & unnecessary. Necessary/needed feature - You really need to develop an email notification when a text message is undelivered. I've sent several messages that were undelivered and I only discovered that they weren't delivered when I checked my history for a completely different message.
Antwort von TextMagic
vor 3 Jahren
Thank you for taking the time to share your review. We highly value our customers and their feedback. We are sorry to hear that our unsubscribed recipient notification is not useful for you. For your information, all email notifications can be modified under your account settings. To improve this feature, we will add the "Unsubscribe" option to our sent notification email so that you can turn off this notification with a single click. Unfortunately, we do not send an email for each failed message due to limited server resources. We recommend that you keep track of the delivery rate via TextMagic Web App by checking the message status in History or checking the overview under Reporting. You can also enable a notification to receive a daily report of your messaging statistics and go to your message history with a single click. Should you have any delivery issues in the future, please do not hesitate to email us: support@textmagic.com.
E-Learning, 11-50 Mitarbeiter
Verwendete die Software für: Mehr als 2 Jahre
A must for any tutor or small business
Vorteile:
I really like the mass messaging and the multiple languages.
Nachteile:
There is nothing we have found to dislike on this. It is wonderful.
Kelly K.
Safety Manager in USA
Transport/Güterfrachtverkehr/Schienenverkehr, 51-200 Mitarbeiter
Verwendete die Software für: 1-5 Monate
In Betracht gezogene Alternativen:
Help for contacting Employee's
Kommentare: Communication to our employees is very important and with them not in the office, we needed a conduit from our office, directly to them, for fast messages to get out to all. We are overall pleased with this program and will enjoy every new update they make in the future as it can only get better.
Vorteile:
We started using the software as the need to get in touch with our truck drivers is paramount in our industry. This is a great way to do this in theory. I like the ease of use and options to organize the driver phone number list. It gets the messages out to them. I had a minor set up problem when we first started and discovered the number I picked on the list did not work and my messages were not going out to all employees. Customer service chat was very helpful and they reimbursed the amount in our account for the charges and corrected the phone number issue I had.
Nachteile:
As with any program, maintaining the information in it is most important. If we do not keep the contacts current, mass texting may go out to contacts who are no longer with the company. And your information will not go out to everybody who needs it if they are not entered in when first hired. We have a high turnover rate so it is another list we have to take care of. Currently Text Magic will only allow for one administrator to control all lists and manage. My company has need for more than just one administrator. So we share one log in right now. The last minor issue we have is the option for our employees to opt out of the texts. It hasn't happened but only once but it does and will again, sooner or later.
Zandrich M.
Chief Marketing Officer in Südafrika
Verifizierter Nutzer auf LinkedIn
Computer- & Netzwerksicherheit, 2-10 Mitarbeiter
Verwendete die Software für: 1-5 Monate
TextMagic - Robust SMS Marketing is Alive and Well
Kommentare: When we initially weighed our options in terms of outreach, SMS marketing didn't come up at first, as it is naturally assumed to be an archaic means of communication by our current standards. Eventually unable to generate the interest in potential customers by other means, we turned to targeted SMS marketing to get the job done. Although we have no experience with alternative providers, TextMagic has fulfilled it's purpose as a stand-alone SMS marketing platform - and we couldn't be happier with it.
Vorteile:
TextMagic happened to be our first dive into targeted SMS marketing some six months ago, and we have remained with it since. Although SMS marketing doesn't offer immediate feedback in terms of reach like other platforms do, we have seen a significant increase in both new and returning clients over the course of using their services. It turns out SMS is a far more feasible avenue for marketing than we expected, as social media itself is overly saturated, and e-mail inboxes are far too cluttered and chaotic in general for there to be any hope of a marketing email making it to a client.
Nachteile:
There isn't much to say in terms of cons, as TextMagic offers every tool necessary to generate (as well as gauge and manage) interest via text messaging.
Antwort von TextMagic
vor 3 Monaten
Thanks for the awesome review! Please let us know if there is anything we can do to improve your "TextMagic customer service" experience.