Was ist TextMagic?
TextMagic ist eine voll ausgestattete Business-SMS-Plattform, mit der Unternehmen jeder Größe SMS-Textnachrichten an ihre Kunden, Mitarbeiter und Partner senden können. Der Dienst kann verwendet werden, um SMS-Benachrichtigungen, Warnungen und Bestätigungen an Kunden zu senden sowie SMS-Marketingkampagnen durchzuführen.
Wer verwendet TextMagic?
TextMagic wird am meisten von kleinen Unternehmen auf der ganzen Welt bevorzugt, die von den hohen Lieferzahlen und den offenen Raten der Textnachrichten profitieren.
Wo kann TextMagic bereitgestellt werden?
Cloud, SaaS, webbasiert, Mac (Desktop), Windows (Desktop), Android (mobil), iPhone (mobil), iPad (mobil)
Über den Anbieter
TextMagic
Ansässig in Cambridge, UK
2001 gegründet
Telefon-Support
Chat
Erhältlich in diesen Ländern
Australien, Deutschland, Japan, Kanada, Vereinigte Staaten und 1 weitere
Über den Anbieter
TextMagic
Ansässig in Cambridge, UK
2001 gegründet
Telefon-Support
Chat
Erhältlich in diesen Ländern
Australien, Deutschland, Japan, Kanada, Vereinigte Staaten und 1 weitere
TextMagic – Videos und Bilder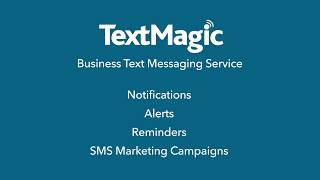 Kosten ähnlicher Produkte wie TextMagic vergleichen
TextMagic Funktionen
Alarmfunktion / Benachrichtigungen
Anpassbare Vorlagen
Anruferinnerungen
Automatische Antworten
Automatisierte Terminplanung
Befragungs-/Umfragemanagement
Berichterstattung / Analyse
Bestätigung / Erinnerungen
Engagement-Tracking
Geplanter Nachrichtenversand
Kampagnenmanagement
Kontakt-Datenbank
Kontaktmanagement
Kundendatenbank
MMS
Massen-SMS
Mobile Coupons
Mobile Keywords
Mobiler Zugriff
Multichannel-Marketing
Nachrichten-Personalisierung
Online-Buchung
Push-Benachrichtigungen
SMS Gewinnspiele
SMS-Erinnerungen
SMS-Marketing
SMS-Nachrichtenversand
Terminplanung
Umfragenerstellung
Umschuldung
Wiederkehrende Termine
Zielseiten / Web-Formulare
Zwei-Wege-Messaging
Alternativen für TextMagic
Bewertungen über TextMagic
Alexa
Programmierer in Deutschland
Verifizierter Nutzer auf LinkedIn
Buchhaltung, Selbstständig
Verwendete die Software für: 1-5 Monate
Gut zum Planen von Mitteilungen.
Vorteile:
Mir gefällt, dass die Benutzeroberfläche genau gleich ist, unabhängig davon, ob der Dienst in einem Browser oder in der App verwendet wird. Ich mag auch die Möglichkeiten, Kontakte zu speichern und "Vorlagen" zu erstellen, die Felder aus dem Kontaktdatensatz wiederverwenden, und die zukünftige Planung von Nachrichten, die zu einem späteren Zeitpunkt und zu einem späteren Zeitpunkt gesendet werden sollen.
Nachteile:
Alle Dienste waren einfach einzurichten und problemlos.
Nate
Co-Founder in USA
Verifizierter Nutzer auf LinkedIn
Computer-Software, 2-10 Mitarbeiter
Verwendete die Software für: 6-12 Monate
TextMagic is there when others aren't
Kommentare: It was August 28th, 2017. Hurricane Harvey had landed in Houston and was causing a record amount of flooding. People were dying, and thousands were still trapped in their homes. I made a simple website for my buddy's church, so his friends could keep track of all of the parishoners that needed rescue. The website quickly went viral however, and soon the entire city was using it as a way to track the rescue cases. Rains continued to pound Houston, and what started as a simple website that I made in 6 hours now was literally the only thing standing in the way of death for thousands of people still trapped by the rising floodwaters. We had a problem, though. Some of the people were getting rescued but not being marked "SAFE" on the site. This resulted in wasted resources, as rescuers would would go to a house and find nobody there, the homeowner having already been rescued hours earlier. We had to come up with a solution to this problem. Luckily, we had all of their phone numbers, so we decided to text them all. It was 2 AM in Texas, and I needed to have it done overnight because we were expecting more waves of signups in the morning. I tried Twilio but nobody answered the phone or replied to my urgent messages. Luckily, TextMagic picked up the phone and I got a working account in minutes. We sent out thousands of SMS overnight. TextMagic was there when others weren't. We ended up saving 25,000 people that week, a number which would have been smaller if not for TextMagic.
Vorteile:
The customer service is excellent. I don't recall the woman's name, but it was the best customer service I have ever received for any product, in a literal life or death situation.
Nachteile:
I couldn't tell at first glance, by looking at the website, if it was ready for enterprise solutions or not
Schreiben & Editieren, 2-10 Mitarbeiter
Verwendete die Software für: Mehr als 2 Jahre
Extremely complete and customizable sms service, very user-friendly, great for small businesses!
Kommentare: The recent regulatory change requiring all businesses to "register" their texting numbers with a bureaucratic oversight agency (I think it mainly affects USA texting frankly at this time) was certainly a headache for the entire sms industry. But the textmagic people patiently walk me through the steps, and got my textmagic number registered in the proper way. My overall experience with textmagic is that the company has a passion for continually improving the product, making it more user-friendly every day, and above all listening to irritating customer feedback such as mine, in order to make a sincere and speedy effort to implement requested user features. Thank you textmagic. So glad I found you many years ago. Jim
Vorteile:
We have used textmagic for number of years, and find it to be an indispensable part of our business. I personally shopped around a number of different text messaging providers, but none of them has come close to the wonderful user-friendly textmagic control panel and android app (so important to be able to stay in touch with customers when I have my phone with me out of the office, the textmagic; the android app keeps getting better and better). The chat history feature remembers all conversations with the particular client, so gives easy visual context to ongoing texting with that person. The templates feature is extremely valuable in my situation, and I have almost 100 different boilerplate customer replies created over the years and textmagic. Unbelievably useful and time-saving everyday.
Nachteile:
The incoming text message notifications do work perfectly on the android app on my phone. And frankly that is what I mainly rely on. It seems the textmagic has an ongoing challenge allow audible and pop-up notifications to display reliably Windows 10 desktop PCs, however. I understand that this is not really in their control beyond a certain point, and there technical support people and developers have been more than generous with their time to explain to me how they are constantly seeking to overcome the limitations that Microsoft places on any application. So there technical support and developers get 10 stars in my book, and I hope that Microsoft stops tinkering with Windows to mess up otherwise great applications like textmagic.
Kelly
Safety Manager in USA
Transport/Güterfrachtverkehr/Schienenverkehr, 51-200 Mitarbeiter
Verwendete die Software für: 1-5 Monate
In Betracht gezogene Alternativen:
Help for contacting Employee's
Kommentare: Communication to our employees is very important and with them not in the office, we needed a conduit from our office, directly to them, for fast messages to get out to all. We are overall pleased with this program and will enjoy every new update they make in the future as it can only get better.
Vorteile:
We started using the software as the need to get in touch with our truck drivers is paramount in our industry. This is a great way to do this in theory. I like the ease of use and options to organize the driver phone number list. It gets the messages out to them. I had a minor set up problem when we first started and discovered the number I picked on the list did not work and my messages were not going out to all employees. Customer service chat was very helpful and they reimbursed the amount in our account for the charges and corrected the phone number issue I had.
Nachteile:
As with any program, maintaining the information in it is most important. If we do not keep the contacts current, mass texting may go out to contacts who are no longer with the company. And your information will not go out to everybody who needs it if they are not entered in when first hired. We have a high turnover rate so it is another list we have to take care of. Currently Text Magic will only allow for one administrator to control all lists and manage. My company has need for more than just one administrator. So we share one log in right now. The last minor issue we have is the option for our employees to opt out of the texts. It hasn't happened but only once but it does and will again, sooner or later.
Gesundheit, Wellness & Fitness, 2-10 Mitarbeiter
Verwendete die Software für: Mehr als 2 Jahre
Feedback from a happy user
Kommentare: Communication with patients when confirming or trying to make appointments. We started to use TM for marketing, but we now use it for scheduling appointments when we can not get hold of the patient on the phone. We use it for sending messages directly from the clinician to the patient .
Vorteile:
It enhances communication in a really friendly and authentic way. I don't know who we would run our business without it.
Nachteile:
I can't think of any, as I am happy with TM. Later in this survey, there is mention of integrating TM with other products. I would be interested to know what TM integrates with.