Was ist Targetprocess?
Targetprocess ist ein agiles Portfolio-Management-Tool, das dich bei der Einführung und Skalierung eines agilen Portfoliomanagements in deinem gesamten Unternehmen unterstützt. Am besten geeignet für mittlere bis große Unternehmen. Verwende SAFe, LeSS oder implementiere dein eigenes Framework, um geschäftliche Agilität zu erreichen und den Werteinfluss im gesamten Unternehmen zu sehen. Visualisiere Unternehmensziele, strategische Themen und Initiativen. Bewerte und priorisiere eingehende Projektanforderungen.
Im Magic Quadrant von Gartner für "Agile Enterprise Planning Tools" ausgezeichnet.
Wer verwendet Targetprocess?
Targetprocess ist ideal für mittlere und große Unternehmen. Kann effektiv genutzt werden, um sowohl IT- als auch Nicht-IT-Projekte und Prozesse wie Bildung, Marketing und Rekrutierung zu verwalten.
Wo kann Targetprocess bereitgestellt werden?
Cloud, SaaS, webbasiert, Mac (Desktop), Windows (Desktop), Windows (On-Premise), Linux (On-Premise), Android (mobil), iPhone (mobil), iPad (mobil)
Über den Anbieter
Targetprocess
Ansässig in Nicosia, Zypern
2004 gegründet
Telefon-Support
Chat
Targetprocess Kosten
Startpreis:
Nicht vom Anbieter bereitgestellt
Ja, kostenloser Test verfügbar
Keine Gratisversion
Targetprocess bietet keine Gratisversion, aber eine kostenlose Testversion.
Kostenlose Testversion
Über den Anbieter
Targetprocess
Ansässig in Nicosia, Zypern
2004 gegründet
Telefon-Support
Chat
Targetprocess – Videos und Bilder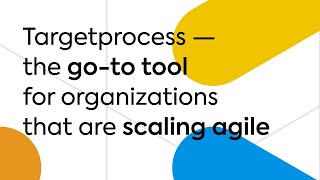 Targetprocess Funktionen
Agile Methodiken
Anforderungsmanagement
Anpassbare Vorlagen
Anpassbares Dashboard
Aufgabenmanagement
Berichterstattung / Analyse
Berichterstattung / Projektverfolgung
Budgetierung/Prognosen
Budgetmanagement
Dashboard
Filesharing
Fortschrittsverfolgung
Fortschrittsverfolgung in Prozent
Für IT-Projektmanagement
Gantt-/Zeitstrahlansicht
Ideenmanagement
KPI-Überwachung
Kanban-Tafel
Kommunikationsmanagement
Kundenportal
Meilensteinverfolgung
Portfoliomanagement
Priorisierung
Produkt-Roadmaps
Prognose
Projektplanung
Projektplanung/Terminierung
Ressourcenmanagement
Risikomanagement
Rückstand-Management
Sprint-Planung
Statusverfolgung
Strategische Planung
Umfragen & Feedback
Verfolgung der Kosten bis zur Fertigstellung
Veränderungsmanagement
Veröffentlichungsplanung
Visualisierung
Vorlagen-Management
Werkzeuge zur Zusammenarbeit
Workflow-Management
Zeit & Kosten Verfolgung
Zielmanagement
Alternativen für Targetprocess
Bewertungen über Targetprocess
Mark G.
Executive Director of Agile Management and Technology in USA
Verifizierter Nutzer auf LinkedIn
Informationsdienst, 1.001-5.000 Mitarbeiter
Verwendete die Software für: Mehr als 1 Jahr
Powerful Software for Agile Organizations, Could Improve in Usability on Higher End Functionality
Kommentare: We are using Targetprocess in our daily Agile practice. Our developers and Product Owners are trained in its use, and it is a huge piece of our practice. The software is key to our Agile efforts, and is relatively easy to set-up and use. However, the buyer should be aware that unless you deploy one of the pre-built frameworks, you will be starting with a clean slate, and will have to build your own structures, and this can take a bit of thought and time. I enjoy using the software, and we intend to renew our license for the next year, and will be making efforts to expand the user base. The ability to define different workflows for different teams is very powerful, as is the Request Portal, and other more DevOps type features. Story card aging is another nice feature that we now implement through custom rules.
Vorteile:
Excellent pricing structure, easy to set up, and implementation/training professional services are first rate. The software is powerful and can handle various different approaches to Agile/Agile Scrum, and comes with pre-built solutions for frameworks like SAFe. Our organization was up and running in little time.
Nachteile:
Some of the more powerful features, such as creation of rules could be more straightforwardly implemented. Some features have a "coding" feel to them that could improve in usability, user-friendliness. The software is sensitive to hierarchical structure of Agile entities, and you have to get this right. The ability to move/transform entities into different levels of the hierarchy could be improved, and sometimes can disconnect entities from the hierarchy, forcing the user to reconnect them manually.
In Betracht gezogene Alternativen: Jira, monday.com, Rally und Smartsheet
Warum Targetprocess gewählt wurde: Taiga was too limited and didn't support enough of the elements of our Agile Practice and had no true DevOps features. While we liked its simplicity, it did lack many advanced features we thought were important.
Zuvor genutzte Software: Taiga
Gründe für den Wechsel zu Targetprocess: Customizability, Ease of Use, Quality of the Professional Services Organization, Price, Power of Features
Verifizierter Rezensent
Chief Digital Officer in USA
Verifizierter Nutzer auf LinkedIn
Marketing & Werbung, 51-200 Mitarbeiter
Verwendete die Software für: Mehr als 2 Jahre
Powerful agile project management tool
Kommentare: We started small with one client and project, then slowly added all our clients and projects. Some clients had other requirements and TP was easily able to handle what we needed as we expanded it's usage into sprint planning, daily check in, project planning, releases, automated reporting, etc. What I like best is the confidence it gives me that it will be able to grow with our needs into the future.
Vorteile:
As our organization continues to grow and have more complex needs, Targetprocess can easily handle whatever our needs are and helps us to grow using standardized methods no matter the project. Also, we have many creative people in the tool and it's user friendly for the non-technical types too.
Nachteile:
It's great power can also be a weakness, as getting it setup and configured requires planning offline, team alignment and understanding before moving the workflow to a digital tool like Targetprocess. Having someone who understands Agile and programming is best to get this setup for you as its so customizable it can be intimidating.
In Betracht gezogene Alternativen: Jira
Warum Targetprocess gewählt wurde: We migrated from Waterfall to Agile PM Methodology.
Zuvor genutzte Software: Basecamp
Gründe für den Wechsel zu Targetprocess: Jira was too technical for our non-technical users, such as account managers, creative, copywriters, and media people.
Verifizierter Rezensent
Director, Enterprise PMO in Luxemburg
Verifizierter Nutzer auf LinkedIn
Computerspiele, 1.001-5.000 Mitarbeiter
Verwendete die Software für: Mehr als 1 Jahr
My experience with Targetprocess
Kommentare: We are using Targetprocess mostly for Product Backlog management. It helps us to visualize backlogs of different teams inside of one product and create a "big picture". Service organisations are using Kanban practices and it perfectly solves prioritization and backlog management issues.
Vorteile:
- Flexibility of the tool, customization options - Ability to create any kind of process workflow - Out of the box Kanban metrics - Representation of data on views and boards in any kind of form, for different stakeholders - Visual cards and thier options - Ability to automate process steps with web hooks and metrics
Nachteile:
- Timeline is not useful - Interdependencies management is poor - Reporting engine, options are limited - Customisation of entity view is not possible - Access management options is limited - Lack of capacity/resource management functionality - Lack of Portfolio management (cost management, portfolio roadmaps, strategic dashboard, what if analysis)
Verifizierter Rezensent
Office Administrator in Island
Verifizierter Nutzer auf LinkedIn
Personalwesen, 51-200 Mitarbeiter
Verwendete die Software für: 1-5 Monate
A very good product
Kommentare: At first, I was rather overwhelmed to be honest. However, the more I use it, the more I appreciate the collaborative aspect and how, if handled properly, it helps making sure that we keep track of a variety of projects and tasks, to the minutest if details, if need be. I also appreciate the simplicity in terms of layout, it helps with maintaining focus, if this makes sense. Overall, I am glad we have it as an integral part of our admin department.
Vorteile:
I like how flexible TP is, and how it allows the whole team to keep track of projects, tasks, events in the making as well as course scheduling, purchase requests and orders, follow-up's - basically anything and everything we need to keep tabs on in order to ensure smooth workflow in the company as a whole. When I started working with it, I used to think about it as the less hip version of Trello, although admittedly this does justice neither to TP, nor to Trello.
Nachteile:
Since it is so flexible, TP takes quite some time to get used to and to find one's way around in. I am sure it is easy to get way overwhelmed by it, too, but luckily my onboarding layed specific emphasis on all the supportive software we use to make workflow as effortless as can.
Aaron S.
Software Development Manager in Australien
Transport/Güterfrachtverkehr/Schienenverkehr, 11-50 Mitarbeiter
Verwendete die Software für: Mehr als 1 Jahr
Excellent alternative to JIRA
Kommentare: We used JIRA for several years and it's good, but the lack of proper integrated hierarchy means organising 10,000+ items is just impossible. Even 3rd party plugins dont help much. The UI is slow and unattractive and after 6 months trying to get JIRA Porfolio to work (a cool idea!) I could never get it to and the response from Atlassian was disappointing overall.
The UI is much, much better in Target Process and
Vorteile:
* Responsive UI * Adding many stories at once is easy so doesn't interrupt your flow * Incredible customer support responsiveness * Dashboards are 10x better than anything in JIRA * Reports are built in and very well designed, things you have to buy from 3rd parties in JIRA (if you even can)
Nachteile:
* Roadmapping is harder than it looks, some planning features missing means i can't throw away my gantts just yet but it's getting close * Search results have way too much white space, can be hard to find exactly what you're looking for - JIRA was better at this * Difficult to learn the filtering side of things for anything more than basic needs (but their customer support team are amazingly supportive on this, even writing a script for me immediately to address my individual need). Oh, this is meant to be the con section isn't it. ;-) * Workflows aren't quite as customisable as JIRA, such as setting triggers and custom screens
In Betracht gezogene Alternativen: Mavenlink, LiquidPlanner, Zoho Desk und GanttProject
Warum Targetprocess gewählt wurde: * wanted faster and cleaner UI and larger hierarchy support
Zuvor genutzte Software: Jira
Gründe für den Wechsel zu Targetprocess: Price, featureset, ease of use