Was ist MySchoolAccount?
Web-based solution that provides school accounting through online payments, cash management, payment processing and more.
Wer verwendet MySchoolAccount?
Food service management tool for small and medium-sized enterprises which helps with online payments, registrations, credit card reports, POS management, automated payments and more.
Wo kann MySchoolAccount bereitgestellt werden?
Cloud, SaaS, webbasiert, Android (mobil), iPhone (mobil), iPad (mobil)
Über den Anbieter
Vanco
1981 gegründet
Chat
Erhältlich in diesen Ländern
Vereinigte Staaten
Über den Anbieter
Vanco
1981 gegründet
Chat
Erhältlich in diesen Ländern
Vereinigte Staaten
MySchoolAccount – Videos und Bilder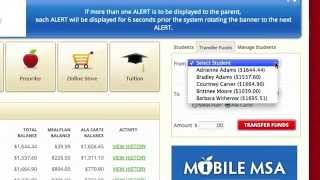 Kosten ähnlicher Produkte wie MySchoolAccount vergleichen
MySchoolAccount Funktionen
Einkauf & Empfang
Fondsrechnung
Für Schulen
Inventarverwaltung
Menü-Planung
Verbindlichkeiten
Verkaufspunkt POS
Alternativen für MySchoolAccount
Bewertungen über MySchoolAccount
Anika
Assistant Manager in USA
Verifizierter Nutzer auf LinkedIn
Immobilien, 11-50 Mitarbeiter
Verwendete die Software für: Mehr als 1 Jahr
Very Helpful for Buys Moms
Vorteile:
Love how they remind you on the balance is low for your child's account. It helps to prepay to make sure the funds are on there to use. The emil and reminders come in daily if the balance is low
Nachteile:
If you have prepaid and it is the end of the school year it is hard to get a refund for the amount prepaid. I lost mine last year
Dayna
Accounts receivable in USA
Bildungsmanagement, 51-200 Mitarbeiter
Verwendete die Software für: Mehr als 2 Jahre
It gets the job done!
Kommentare: Overall it isn't a bad program, you just have to know what you're getting into and have a lot of time to email parents trying to get them to sign on and make payments. The reports are pretty easy to send once you have built them.
Vorteile:
MySchoolAccount is relatively simple to use as a parent/guardian. Logging on doesn't take much time. Making payments or transferring money to another student on the same account is pretty easy. It's laid out well and easy to walk customers through managing their own account.
Nachteile:
The other side of myschoolaccount, for administrators and lunch staff, is quite cumbersome, not easy to update, and often glitchy. Voiding out a student's meal and replacing it with another meal choice is way more complicated than it should be. There is a 24 hour delay on a parent making a payment and the lunch ladies seeing that payment. So the reports that are sent out in one program are not necessarily up to date with the payments that were made with the other program. Super frustrating for parents and admin! Also, admin does not have the ability to update any of the parents info in their account, like adding a low balance notification out just changing an email address. For some of us who really enjoy helping busy parents out I'm appalled that admin would be able to make basic changes!! Also, editing the reports that you send out daily or weekly is super glitchy. You have to shut the whole program down after you have made an edit, otherwise it errors out, every time!
Melissa
Bookkeeper in USA
Verifizierter Nutzer auf LinkedIn
Buchhaltung, Selbstständig
Verwendete die Software für: Mehr als 2 Jahre
There is a learning curve
Kommentare: Software does make ordering lunches a bit easier and the reminders to order are helpful, but it is also up to the school to input their info so it can be challenging. We used this program with one school who uploaded their menu options and so you could view what your choices were and order easily enough but also with a school that did NOT update their menu choices. Without having the menu info on the MSA website, you had to do a lot of back and forth between the printed menu from school to the website and without fail, I'd always end up with one or two meals that were ordered incorrectly.
Vorteile:
Easy enough to plan and pay for a month of lunches at a time, so no worries about kids losing lunch money.
Nachteile:
The interface is pretty low-tech and I struggled to understand what to do next the first few times I used it.
Gesundheit, Wellness & Fitness, 2-10 Mitarbeiter
Verwendete die Software für: 6-12 Monate
Fast, easy, convenient
Kommentare: Very easy to navigate and convenient as I rarely carry cash anymore. Parents are reassured their kid has money to eat. No more forgotten or lost lunch money.
Vorteile:
Very easy was to assure the my child eats lunch everyday. You don't have to worry about a child losing his or her lunch money or spending it on other things. It's very fast and incredibly easy. Long in and add money with a debit card. I prefer to use this over sending money with my child to school and hoping they don't lose it.
Nachteile:
There have been a few times the site was down but it comes back up fairly quickly.
Bildungsmanagement, 11-50 Mitarbeiter
Verwendete die Software für: Mehr als 1 Jahr
School Lunch Account
Kommentare: I think our school using it as a bookkeeping option is a great opportunity. We need additional options for daily counts.
Vorteile:
I do like the fact that I can add money to my account and not have to pay for lunches daily. There is also an automated alert when my balance drops below a preset amount.
Nachteile:
It is better suited as a bookkeeping option. It is difficult to share information about prepurchassd lunches. I end up doing double duty by having to individually alert the cafeteria for lunch counts.