Was ist Threads Culture?
Threads Culture Software ermöglicht es Unternehmen, ihre Kultur besser zu identifizieren, zu überwachen und zu schützen, indem sie die Kernwerte in den Mittelpunkt ihres Leistungsmanagements und des Mitarbeiterengagements stellen. Führe aussagekräftige Leistungsüberprüfungen durch, bei denen die Mitarbeiter sowohl an deinen einzigartigen Grundwerten als auch an ihren eigenen individuellen Zielen gemessen werden. Erfasse Echtzeitfeedback, damit Manager das ganze Jahr über Feedback liefern können und nicht nur zur Überprüfungszeit.
Wer verwendet Threads Culture?
Kleine bis mittelgroße Unternehmen, die einen Personalverantwortlichen oder ein zuständiges Team beschäftigen, der/das die Kultur in den Mittelpunkt des Leistungsbewertungsprozesses stellen möchte.
Wo kann Threads Culture bereitgestellt werden?
Cloud, SaaS, webbasiert
Über den Anbieter
Threads Culture
Ansässig in Cedar Falls, USA
2011 gegründet
Telefon-Support
24/7 Live-Support
Erhältlich in diesen Ländern
Australien, Kanada, Neuseeland, Vereinigte Staaten
Über den Anbieter
Threads Culture
Ansässig in Cedar Falls, USA
2011 gegründet
Telefon-Support
24/7 Live-Support
Erhältlich in diesen Ländern
Australien, Kanada, Neuseeland, Vereinigte Staaten
Threads Culture – Videos und Bilder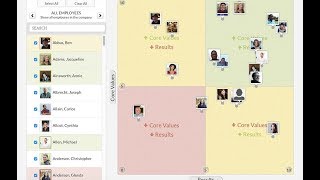 Kosten ähnlicher Produkte wie Threads Culture vergleichen
Threads Culture Funktionen
360-Grad-Feedback
Benchmarking
Berichterstattung / Analyse
Bewerber-Tracking
Bewertungszyklen tracken
Feedback-Management
Kollegen-Bewertungen
Laufende Leistungsverfolgung
Management von Performance-Auswertungen
Mitarbeiter-Datenbank
Mitarbeiteranerkennung
Mitarbeiterprofile
Pulsbefragungen
Selbstbeurteilung
Self-Service Portal
Zielsetzung / Nachverfolgung
Alternativen für Threads Culture
Bewertungen über Threads Culture
Verifizierter Rezensent
Representative in USA
Verifizierter Nutzer auf LinkedIn
Immobilien, 51-200 Mitarbeiter
Verwendete die Software für: 6-12 Monate
Customer Service can't be beat!
Kommentare: We are working to streamline our performance evaluations. Threads has not only allowed us to more consistently evaluate our team members but they have created a tool that allows us to incorporate our company's values into these evaluations which helps to reinforce what we are working to accomplish as a firm. Haven't found this tool elsewhere
Vorteile:
Not only is the software an incredible tool for performance evaluation, but whenever our team experience technical difficulties, the Threads team was immediately responsive and worked with us to get things up and running. Not only is the product superior, the customer service is unbeatable.
Nachteile:
We continuously work to keep up with updates
Lori
Director, Education, Team Experience in
Immobilien, 51-200 Mitarbeiter
Verwendete die Software für: 1-5 Monate
Quelle: SoftwareAdvice
If you want easy and awesome, THREADS is your answer
Kommentare: At RedPeak, we are a smaller company that highly values culture and its effect on long term retention. We searched for almost a year and evaluated a number of options, most of which were simply too cumbersome, formal and/or elaborate for our needs. Then we came across THREADS. Since I had done all the research and made the case for the switch, I was a bit nervous as to how it all would come together. Adjusting to new software, as well as, a different approach to reviews can be difficult in a company that values stability and consistency, and I was convinced in the process of completely changing our approach, something would go wrong. Was I wrong? The easiest transition we have made. The software worked, it is uber easy to navigate and the team embraced the new approach, once they understood they had an easy place to provide ongoing feedback on fellow team members. The weekly updates are invaluable, provide real insight to the remarkable recoveries and efforts team members make and potential learning/feedback opportunities that would provide assistance and support. The best part is that kudos/challenges get in front of the CEO, who waits for them each Friday, and has indicated their value. This product is not complicated, it does inspire ongoing peer to peer feedback, and truly helps the team understand the expectation from a culture and results perspective.
Vorteile:
How easy it is to provide feedback and understand whether or not we are delivering authenticity in regard to the cultural values promise we make the team.
Nachteile:
I have had numerous onsite/field team members indicate they would use the system even more if there was an app.
Maschinenbau oder Wirtschaftsingenieurwesen
Verwendete die Software für: Nicht angeboten
Quelle: SoftwareAdvice
Review of Threads HR Software
Vorteile:
I like the cultural aspect of the software, namely how it intertwines the culture of our company into performance expectations and reviews.
Nachteile:
There's nothing we like least at this point.
Carolynn
HR Director in USA
Marketing & Werbung
Verwendete die Software für: 1-5 Monate
Quelle: SoftwareAdvice
Simple but so Amazing!
Vorteile:
We are a marketing and advertising agency and it is critical that any system we operate in aligns with and supports our culture. Our previous review process also included core values, just as Threads does, and this is one of the many reasons we selected Threads. The build-out was streamlined and quick. We provided our agency infrastructure and job descriptions and Threads took care of the rest, quickly I might add. The system is very easy to navigate within and as our Threads representative said during our training sessions - if you can post on Facebook or send a text, you won't have any trouble navigating within Threads and, administration is just as simple! There is one unique benefit that Threads offers that many other vendors do not, or charge an arm and a leg for, and that is TRAINING. Threads conducted our training at each of our locations, both manager and employee populations, and these sessions were great, so beneficial. Don't overlook this when you are shopping. They charge travel expenses and that's all! This is invaluable as HR can partner with them during that training, which I feel was a significant benefit to our roll-out and agency. Thanks to all including technical support - they are just as great!
Nachteile:
There really isn't anything we have come across that we do not like. The system is simple and the functionality is key. Companies are always evolving and Threads has the fluidity to evolve along with us.
Meredith
HR Manager in USA
Marketing & Werbung
Verwendete die Software für: 1-5 Monate
Quelle: SoftwareAdvice
Seems too good to be true - but it's the truth!
Vorteile:
I found Threads though Software Advice, they were the first product we demoed and I LOVED it. The rest we demoed afterwards didnt stand a chance. We have been looking for more ways to integrate our values into daily life at our company and this fit the bill. We are a mid-sized company as is Threads and I think immediately there were a lot of synergies. We actually did a demo with the CEO of Threads with the CEO of our company, and that was very impactful. The product is soooo easy to use its ridiculous. Incredibly user friendly. We sprung for the in-person training and the staff really enjoyed it - got great feedback. The CEO is a great public speaker and everyone could relate to what he was preaching. Their customer service is also amazing, if you call them you talk to a real person, and today when I called with a question the CEO himself answered! Another thing I loved is that Threads never badgered me for the sale. Other vendors I demoed were getting CRAZY calling and emailing me nonstop, but Threads followed up once I think and that was it. And the rest PALED in comparison, I knew from the minute I saw Threads I had to have it.
Nachteile:
There isn't really anything, it's quite different from our previous performance review system (which was pathetic to say the least), so outside of staff getting used to the new system, there hasn't been anything bad.