Was ist SendPulse?
SendPulse ist eine E-Mail-Marketingplattform mit zusätzlichen Kanälen: SMS, Web-Push-Benachrichtigungen und Facebook-Chatbots. Erstelle mobilfreundliche E-Mails mit einem einfach zu bedienenden Drag-and-drop-Editor. Du kannst Marketingkampagnen senden, triggerbasierte E-Mails versenden oder Autoresponder einrichten. SendPulse bietet mit jedem Plan unbegrenzten E-Mail-Versand, Live-Support rund um die Uhr, Zustellbarkeit nach Angaben des Unternehmens und detaillierte Berichte. Der kostenlose Plan umfasst jeden Monat 15.000 E-Mails und die Preise für den Premium-Plan beginnen bei nur 9,85 $/Monat.
Wer verwendet SendPulse?
Blogger Einzelhandel E-Commerce Tourismus Bankwesen Kleine und mittlere Unternehmen
Wo kann SendPulse bereitgestellt werden?
Cloud, SaaS, webbasiert, Android (mobil), iPhone (mobil), iPad (mobil)
Über den Anbieter
SendPulse
Ansässig in Bernardsville, USA
2011 gegründet
Telefon-Support
24/7 Live-Support
Chat
Sprachen
Englisch, Portugiesisch, Russisch, Spanisch, Türkisch
SendPulse Kosten
Startpreis:
9,85 $/Monat
Ja, kostenloser Test verfügbar
Ja, Gratisversion verfügbar
SendPulse bietet eine Gratisversion und eine kostenlose Testversion. Die kostenpflichtige Version von SendPulse ist ab 9,85 $/Monat verfügbar.
Preismodelle
Kostenlose Testversion
Über den Anbieter
SendPulse
Ansässig in Bernardsville, USA
2011 gegründet
Telefon-Support
24/7 Live-Support
Chat
Sprachen
Englisch, Portugiesisch, Russisch, Spanisch, Türkisch
SendPulse – Videos und Bilder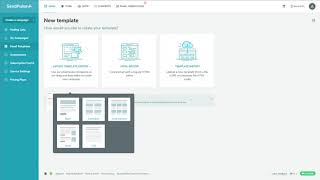 SendPulse Funktionen
AB-Tests
API
Abonnenten-Management
Alarmfunktion / Benachrichtigungen
Anpassbare Felder
Automatische Antworten
Berichterstattung / Analyse
CAN SPAM-Compliance
CRM
Dokumentenmanagement
Drip-Kampagnen
Drittanbieter-Integration
Dynamische Inhalte
E-Mail Marketing
E-Mail-Management
E-Mail-Tracking
Email-Kampagnen-Management
Ereignisgesteuerte Aktionen
Kampagnenmanagement
Kontaktmanagement
Kundendatenbank
Kundenmanagement
Kundensegmentierung
Leadmanagement
Listen-Management
Marketing-Automatisierung
Mobil-ootimierte E-Mails
Mobiler Zugriff
Multichannel-Marketing
Nachrichten-Personalisierung
Sales-Pipeline-Management
Verfolgung von Interaktionen
Vorlagen-Management
WYSIWYG-Editor
Zielseiten / Web-Formulare
Alternativen für SendPulse
Bewertungen über SendPulse
Fernando manoel B.
CEO in Brasilien
Verifizierter Nutzer auf LinkedIn
E-Learning, Selbstständig
Verwendete die Software für: Mehr als 1 Jahr
great email marketing management tool
Kommentare: Overall I am satisfied with the use of the tool in terms of value for money. I believe I will continue to use SendPulse for a long time.
Vorteile:
The structure is very simple and practical. I can build campaigns and automations without too many problems. The fact of sending unlimited emails is also very interesting.
Nachteile:
In automations, more functionality can still be added to simplify the flow.
In Betracht gezogene Alternativen: Sendinblue
Warum SendPulse gewählt wurde: I was looking for a tool that was simpler to configure and with more features, as well as an affordable price.
Zuvor genutzte Software: Sendinblue
Gründe für den Wechsel zu SendPulse: More user-friendly interface, better price in relation to cost-benefit, ease of configuring the tool and quick response from support.
Chilem L.
trade manager in Hongkong
Krankenhausversorgung & Gesundheitswesen, 501-1.000 Mitarbeiter
Verwendete die Software für: Mehr als 1 Jahr
A worthy EDM serive for you to try
Kommentare: thought some small thing I think it need to improved, this is very great platform and worthy a trial
Vorteile:
the EDM marketing is very helpful to our trade business, it helps me to deliver my company news feed to all our customers timely and of course fully customer covered. I am sure anyone in trade marketing needs such a Sendpulse service.
Nachteile:
I think more integations API should be developed, and give more help on this. also I think email verification number limits should be enlarged. such as My plan is for 5000 subscribers, but I can only verify 100 contact list on the standard plan, I think it would be better enlarge this number to 500, that will be more helpful
In Betracht gezogene Alternativen: Mailchimp
Warum SendPulse gewählt wurde: Mailchimp is too strice and critical for user, not friendly enough to me
Zuvor genutzte Software: Mailchimp
Gründe für den Wechsel zu SendPulse: it is more easy to use.
Verifizierter Rezensent
Consultant in
Verifizierter Nutzer auf LinkedIn
Unternehmensberatung, 51-200 Mitarbeiter
Verwendete die Software für: 1-5 Monate
Quelle: GetApp
Good but API is hard work
Kommentare: So – I am going to caveat this whole thing with – if you're not interested in using the API or you are not coming from another service with an existing API integration, this probably won't apply to you. Summary: 2 different API's, both awfully designed, both poorly documented, both with completely different authentication methods, credentials etc. however, the application itself is great, so if you're not using the API, it's probably fine. Full Review: SendPulse has a functional API, but it feels like it was created by someone that read a REST API book of best practices without really thinking about how people would / should use it. My biggest problem is the way authentication works (on the main API which is for sending your campaigns, managing subscriptions etc.), sure it follows all OAUTH standards, but this means you need to manage identify on your application so you send all the correct tokens etc., it feels very Salesforce, not Slack (if you have used either of these API's you will know, Slack is easy, Salesforce is really really hard) – another comparison would be that it feels like IBM made this software when you are using the API, not a start-up. If you are coming from something like MailChimp – the MailChimp API is easy, send a request with your API key and whatever you are requesting happens or you get a meaningful response, I have seen many garbage responses from the SendPulse API – you cannot guarantee JSON will come back, sometimes you get HTML, sometimes you get a weird HTML 404 page with some Yahoo copyright notices all over it, it all depends on how mangled your request is – so on top of having to worry about handling identity, you need to handle all sorts of strange responses not just JSON – and therein lies the next problem – DOCUMENTATION: The API documentation is god-damn-awful, and because the API is quite complex and / or obscure in terms of how you request stuff, you often end up with garbage responses and have to trial-and-error how stuff works. SendPulse has created a bunch of libraries to make this easier, and if you want to hang your PHP application by using their library, then go ahead – but if you have some kind of background task manager you will probably have to write your own stuff, which in most cases would not be too hard, but because the documentation is sparse, I really struggled to do even the basic stuff with CURL on the command line – if I was to suggest anything, provide CURL examples like Slack does, at least that way I could reverse engineer the CURL to sort out the lack of actual documentation (again, it's a problem because the API responds with junk HTML if you get your request wrong so you don't know what is actually wrong and have to trial-and-error a lot). On top of all of this, if you are planning on using the SMTP send-alone API, you have a completely different authentication process – one that I still have no idea how to make work – this is what the documentation says about how to authenticate: http://i.imgur.com/sVAc3II.png (the original documentation is here, but I think you need to be logged in to view it: https://login.sendpulse.com/manual/smtp-api/) I personally have no idea how to authenticate against this SMTP API. I have not yet asked support about it because they are looking at something else for me that is more important, but I just don't…….. what….. from the documentation (a required parameter to authenticate, IV): "iv – an initialization vector, encrypted by a public key with an OpenSSL Library usage" – what is this? Why is it never mentioned again? how do I get it? And most importantly, why on earth is it different to the (already convoluted) other OAUTH authentication on the main mail API? Anyway, to wrap this up, I picked up SendPulse because I needed both templated / campaign based email and SMTP / transactional email and I previously had MailChimp, but did not want to pay for Mandrill because my SMTP volumes were super low. SendPulse is fine, but I have wasted more time than the money I would have saved just using Mandril, however if you can get over all of this, the product is actually pretty good which is why I have not left a steamer of a review score, and as I said at the start, if you are not using the API it is great. I just hope they release a new version of the API that focuses on functionality rather than horrible REST standards (although I'm not convinced all of this is standards compliant), which I think have generally been thrown away by the new-wave tech start-ups so people can quickly deliver value.
Vorteile:
Price Web Interface Email Builder
Nachteile:
API Can't use Email Builder emails in the SMTP email interface
Gabor T.
CEO in Ungarn
Verifizierter Nutzer auf LinkedIn
Marketing & Werbung, Selbstständig
Verwendete die Software für: Mehr als 1 Jahr
Best newsletter service
Kommentare: I have switched over to SendPulse about a year ago or so. Before I was using another software doing similar functions. I never regretted the switch and have switch or newly signed up my customers to it too. I highly recommend.
Vorteile:
This is one of the easiest software to use from all the newsletter software I have been using in the past. This is also one of the cheapest.
Nachteile:
There are a few parts which needs a bit more polishing. The newsletter building part could be more user friendly.
In Betracht gezogene Alternativen: Sendinblue
Warum SendPulse gewählt wurde: Mailchimp became much more expensive and also harder to use.
Zuvor genutzte Software: Mailchimp
Gründe für den Wechsel zu SendPulse: Faster customer support.
Cristiano L.
Diretor in Brasilien
Computer-Software, 2-10 Mitarbeiter
Verwendete die Software für: 6-12 Monate
Completo e fácil de usar
Kommentare: Está atendendo minhas necessidades, tudo que precisei encontrei a solução na SendPulse.
Vorteile:
A facilidade de usar, sendo bastante intuitiva. Os recursos também são muito bons pois em uma plataforma encontro todos os serviços que preciso. Os valores são em Reais.
Nachteile:
As poucas vezes que precisei de suporte não foi muito acessível.
In Betracht gezogene Alternativen: ActiveCampaign, Sendinblue und SendGrid
Warum SendPulse gewählt wurde: Pois estava tendo problema com alguns clientes de recebimento dos emails SMTP. Entao migrei para a Sendpulse e resolveu.
Gründe für den Wechsel zu SendPulse: O Active Campaign nao tem SMTP via API. SendGrid tinha somente o SMTP e achei mais complexo. Sendinblue poderia ser uma opção mas iniciei na versão gratis da SendPulse e me atendeu então fiquei por aqui.