Was ist Nexternal?
TrueCommerce provides its Nexternal eCommerce platform to brands of all sizes. Unlike template based systems, the Nexternal platform maintains the merchant's branding, navigation, and website design throughout the entire shopping experience. The platform is used to capture and create omnichannel orders which include: B2C, B2B, Amazon, call center, in-person, subscription, club orders, and even quotes. Using TrueCommerce Connect, the platform will send order and customer data to your ERP.
Wer verwendet Nexternal?
Small to mid-sized consumer goods businesses including manufacturers, distributors, and retailers.
Nexternal – Details
TrueCommerce
1983 gegründet
Nexternal – Details
TrueCommerce
1983 gegründet
Nexternal – Videos und Bilder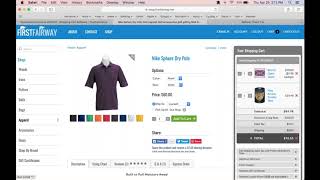 Kosten ähnlicher Produkte wie Nexternal vergleichen
Startpreis
300,00 $/Monat
29,00 $/Monat
Nicht verfügbar
25,00 $
Nexternal – Bereitstellung und Support
Kundenbetreuung
E-Mail/Helpdesk
FAQ/Forum
Wissensdatenbank
Telefon-Support
Einsatz
Cloud, SaaS, webbasiert
Mac (Desktop)
Windows (Desktop)
Android (mobil)
iPhone (mobil)
iPad (mobil)
Verifizierter Rezensent
Développeur in Kanada
Verifizierter Nutzer auf LinkedIn
Verwendete die Software für: 6-12 Monate
it has a nice set of features that will save your life!
Vorteile:
Customer server is on point, which does help especially if you are a starter. the wide range of features available to you is a real value.
Jamie D.
Marketing/Accounting in USA
Essen & Trinken, 11-50 Mitarbeiter
Verwendete die Software für: 6-12 Monate
In Betracht gezogene Alternativen:
The Good and The Bad
Kommentare: Having a dedicated person to help when necessary is great. I don't have to wait on hold for someone to answer my questions. [SENSITIVE CONTENT HIDDEN] is always there to lend a helping hand. Nexternal allows us to show off our products in a way we haven't been able to before. The reporting and information we get from Nexternal allows us to make decisions and see data about our sales that we haven't really been able to see before. This is very helpful in a time like this.
Vorteile:
I love the features that show us the statistics about sales and conversion. The reporting tools are great. I feel like we get a lot of information that most systems don't offer. We love that we have our own dedicated person to help anytime we need it. [SENSITIVE CONTENT HIDDEN] is great! He takes the time to explain things in a way I can understand and if I don't he makes sure that I do. Even though he is busy he makes time for us and just makes sure that we are okay. Nexternal makes it easy for my customers to save information to their account and check out faster. I do really like that. Taking orders is easy! Our website looks amazing.
Nachteile:
I really feel that Nexternal needs to have better options for local delivery. Right now my local delivery is set by state. I am in Boerne and have to explain to people why they can't have local delivery in Dallas. We have to call every local pick up to verify if they are within range. Our other software was able to delineate by zip code. This would be incredibly helpful. Also, to let them choose a delivery time. For local pick up/curb side pick up, it would be great if the customer could choose a time. We want to eliminate having big groups for local pick up at once. For your shipping options, I think you should offer some form of batch printing for each location. When we try to batch print now, it is a nightmare when you have a lot of orders and different shipping locations. It would be great to be able to pick and choose shipments that are going out and print at once. As it is now, it takes up so much time to print one shipment. I already pay enough for the service provided and pack and ship would be great but I don't want to have to pay for another service. I feel this should be included in the service I am paying for. We went with this system because it seemed to be a better fit for our company and so far it takes more time to do almost anything. Wish I could have black out days for shipping. The system won't let me set certain days that we can't ship on. Like we can ship out on Monday but no one can receive their order on Monday because we ship a perishable product.
Rebekah B.
Office Manager in USA
Non-Profit-Organisation Management, 2-10 Mitarbeiter
Verwendete die Software für: Mehr als 2 Jahre
Survey 1/2022
Kommentare: It has been a good solution to have the ability to receive orders and finalize the process with use of reports and status changes. We are still working on a more efficient way on the shipping side of things with address verification.
Vorteile:
The product is easy to use. Customer features such as activity notes have been helpful for use with our ministry. There is ease to edit an order and modify it if needed.
Nachteile:
Address Verification features could use an improvement. Our settings check all the boxes (figuratively) to have validation in place, but yet, addresses where there is an apartment no. pass on and then the address is incomplete.
Brian G.
CEO/Owner in USA
Essen & Trinken, 11-50 Mitarbeiter
Verwendete die Software für: Mehr als 1 Jahr
Need faster development and better functionality
Kommentare: Overall, we're experiencing less satisfaction over time with the product. Ease of use, functionality, the customer experience, the lack of connectivity with Quickbooks, the need to add expensive apps to get to where we need to be instead of building better options into the software, and the relative slowness to enhance the functionality have all contributed to an erosion of trust that our needs are being met by Truecommerce. On the positive side, we are very happy with the customer care we get from [SENSITIVE CONTENT HIDDEN]. He is great to work with, always gives us great ideas and workarounds and is a great resource.
Vorteile:
The shipping piece seems to work well. We also like the ability to ship from multiple locations.
Nachteile:
Lack of development of new features, the delivery and pick-up options make no sense, the look and feel is starting to look very old school, the lack of tutorials and training is becoming a bigger and bigger problem, and the overall customer experience is eroding.
Vicki S.
Office Manager in USA
Non-Profit-Organisation Management, 2-10 Mitarbeiter
Verwendete die Software für: Mehr als 2 Jahre
Fit our need
Kommentare: Overall the pros have far outweighed the cons, and we have been extremely satisfied with every aspect of Nexternal.
Vorteile:
I love the ease of implementation and daily use. We use the comments and activities on a regular basis which makes it easy for anyone to assist the customer.
Nachteile:
As a small church with a large ministry, we have some more unique needs. Many of our "customers" prefer communications by mail still so we have to export lists in order to process mailings. It would be nice if a 3rd party software such as BCC Software could integrate with Nexternal. Also it would be nice to be able to override the order date since we are not always able to enter the orders on the date received due to a small staff.