Was ist EZ Texting?
Seit 2004 haben über 160.000 Nutzer EZ Texting verwendet, ein Maßstab für geschäftliche Textnachrichten in den USA und Kanada. Die bestbewertete cloudbasierte Plattform umfasst Bulk-SMS, MMS, Lieferberichte, Erinnerungskampagnen, Textumfragen, Keywords, SMS-Nummern und Text-zu-Festnetzfunktionen.
Mit den Messaging-Lösungen von EZ Textings kannst du einen besseren Kundenservice bieten, die Kommunikation rationalisieren, deine Leads wachsen lassen und pflegen und deine Reichweite verbessern. Versende Nachrichten intelligenter mit EZ Texting.
Wer verwendet EZ Texting?
Kleine bis mittlere Unternehmen und lokale Franchiseunternehmen.
Wo kann EZ Texting bereitgestellt werden?
Cloud, SaaS, webbasiert, iPhone (mobil), iPad (mobil)
Über den Anbieter
CallFire
Ansässig in Santa Monica, USA
2004 gegründet
Telefon-Support
Chat
Erhältlich in diesen Ländern
Kanada, Vereinigte Staaten
Über den Anbieter
CallFire
Ansässig in Santa Monica, USA
2004 gegründet
Telefon-Support
Chat
Erhältlich in diesen Ländern
Kanada, Vereinigte Staaten
EZ Texting – Videos und Bilder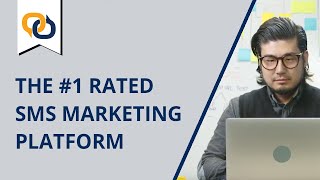 Kosten ähnlicher Produkte wie EZ Texting vergleichen
EZ Texting Funktionen
Alarmfunktion / Benachrichtigungen
Anpassbare Vorlagen
Automatische Antworten
Befragungs-/Umfragemanagement
Berichterstattung / Analyse
Engagement-Tracking
Geplanter Nachrichtenversand
Kampagnenanalysen
Kampagnenmanagement
Kommunikationsmanagement
Kontakt-Datenbank
Kontaktmanagement
Kurzwahlnummern
MMS
Massen-SMS
Massenbenachrichtigungen
Mobile Benachrichtigungen
Mobile Coupons
Mobile Keywords
Nachrichten-Personalisierung
SMS Gewinnspiele
SMS-Marketing
SMS-Nachrichtenversand
Umfragenerstellung
Vorlagen
Zielseiten / Web-Formulare
Zwei-Wege-Kommunikation
Zwei-Wege-Messaging
Alternativen für EZ Texting
Bewertungen über EZ Texting
Augusto
Librero in Venezuela
Verifizierter Nutzer auf LinkedIn
Verwendete die Software für: 1-5 Monate
Message tool for improve your business
Vorteile:
This tool is amazing, I never thought that message tool nowadays it could be so useful, you can improve your business sending and be receiving text of a specific topic, you are able to reach more people because this technology is more friendly than use a social network, and you can save money with their plans, because you can send thousands of sms with only one pay.
Nachteile:
It is a little expensive because they do not have an annual subscription, you have to pay your plan monthly, and that can be a lot of money if you manage a small business.
Antwort von EZ Texting
vor 4 Jahren
Thank you for taking the time to review EZ Texting! We take these reviews very seriously and we appreciate the feedback. We are so happy to hear that you have found us useful for your small business! In response to your cons, we actually do offer annual plans and pricing. Please give us a call at 800-753-5732 and our team will help find the right annual plan for you!
Julie
Program Support Clerk in Kanada
Staatsverwaltung, 2-10 Mitarbeiter
Verwendete die Software für: 1-5 Monate
In Betracht gezogene Alternativen:
So easy and useful
Kommentare: I use the service to send out surveys and it has really increased the response rate from when I was just sending the survey by e-mail.
Vorteile:
I like that the set up was so fast and easy. I was able to use the service right away and with free credits to try it out before I had to purchase anything. It allowed me time to ensure the service was right for my needs and really see the benefits for the company before making a commitment to it.
Nachteile:
I think that the thing I like least is that when I send a text that is longer, it shows that it will be sent in two messages. I would like the message to be sent all in one especially when I am sending a link.
Unterhaltung, 2-10 Mitarbeiter
Verwendete die Software für: 1-5 Monate
Great SMS marketing
Kommentare: From the time I signed up to sending my first message, it was all very intuitive. I'm used to email marketing and this works in a very similar way. So similar I'm surprised the email programs don't have it. But maybe it's better to have it separate. At least this is simple and fun to use.
Vorteile:
It's easy to use and does exactly what I wanted: bulk texting
Nachteile:
The only thing I'd like added (and I haven't used all features yet to be sure) is in contact deletion: when I send a manual follow-up message to a group of people I recently contacted about coming to our concert, I clone the group, then delete the contacts that already responded they couldn't attend the event. This seems to be done one by one. It would be nice to be able to select multiple contacts. But it's a small thing.
Antwort von CallFire
letzten Monat
Hey Casper! Thank you so much for your review. We're so happy that you're enjoying EZ Texting. As far as the contact deletion goes, if I'm understanding you correctly, you should be able to delete more than one contact at a time, check out this link for further information: https://eztexting.force.com/answers/s/article/How-To-Remove-Contacts-From-A-Group. As always, though, please reach out if you need more help or information. In the meantime, I will pass along the feedback to our product teams to develop a better process for this as we can 100% see the value. Thank you again for your feedback!
Tiffany
Owner- Social Media Marketing in USA
Verifizierter Nutzer auf LinkedIn
Non-Profit-Organisation Management, 11-50 Mitarbeiter
Verwendete die Software für: Mehr als 1 Jahr
Beware: Your Unused Credits Expire!
Kommentare: Mass texting is a great business solution but I would be looking for another company to work with if it weren't basically impossible to do that without losing all of our following. Once you start with them, I don't see how you could ever switch to another company, so do your research. The other major con of EZ TEXT is that you can only run one company per account. So say for example, you own more than one restaurant and you need more than one account to sent out messages- you would have to have two separate accounts with this platform.
Vorteile:
It's relatively easy to learn how to use and the customer service chat works very quickly.
Nachteile:
BEWARE: If you don't use your credits within 12 months they will expire (in other words: if you don't text the entire amount of times/numbers that you have paid for within 12 months you're outta luck-- or money rather). Our company only lost about $100 but I imagine it could be alot more, depending on how much you are planning to text. When I called to try and figure out where all of my missing credits were, they offered to add the equivalent of $25 back to my account. This is technology- there is no reason why they couldn't just give me back all that I paid for, that was unused, as a one time courtesy. I was on a default setting to keep adding credits to my account when I got to a certain number. Don't get me wrong, I should have read the fine print, but NOBODY wants to pay for something that they don't get to use. If I wanted to do that, I would join a gym.
Antwort von EZ Texting
vor 3 Jahren
Tiffany, sorry to hear about your credits expiring. We understand your frustration and invite you to reach out to our Account Management and Support Teams to discuss the specifics of our your account and help insure you're maximizing its most powerful tools too! Also, we love having multiple businesses run from a single account. In fact, our most successful clients are small to medium size business owners that utilize a single account to communicate with their customers across multiple locations. We also offer a white label solution that allows our clients to create and assign as many accounts as needed. Please know that we're here to help and available Monday through Friday, 9am to 8pm EST at (800)753-5732
Sasha
Billing Department Manager in USA
Sport, 501-1.000 Mitarbeiter
Verwendete die Software für: Mehr als 2 Jahre
Quelle: SoftwareAdvice
Easy to use, but it be came worst with Delivery rate (Was my favorite platform before)
Kommentare: Overall i like EZ texting. I wish i could stay for longer, because i`m loyal customer, but bad delivery rates+you paying for SMS which are was NOT DELIVERED. Sad. I wish i could come back......
Vorteile:
I love everything about Ez Texting accept 2 things i will describe in "I don`t like section"
Nachteile:
-Price is high compare to other platforms...and agree to pay this price if my messages will be delivered, but... -Bounce rate-50%, 60%, even if i know that those numbers are valid, because we are doing phone calls to our customers and communicate with them often (gym members). Those bad delivery rates company started to receive starting from November 2021.
Antwort von CallFire
vor 2 Monaten
Sasha, Thank you so much for your review. We're sorry to hear about the delivery rate issue. Since the industry and carrier transition to 10-Digit Sending Numbers, we've done much to improve our deliverability. Our support team would be happy to assist you with identifying the reasons for your bounced messages and improve delivery. Would you be interested in having an agent reach out directly to you? Sincerely, Taylor