Was ist Unbounce?
Mit Unbounce kannst du mehr Besucher*innen in Leads umwandeln sowie Verkäufe und Kund*innen generieren. Mit dem Drag-and-Drop-Builder kannst du deine eigenen Startseiten erstellen und veröffentlichen, ohne dass du einen Entwickler für ihre Codierung benötigst.
Erhalte einen Überblick über Konvertierungsinformationen und verbessere deine Intuition und Fähigkeiten, um jedes Mal die beste Kampagnenleistung sicherzustellen.
Bist du bereit, Unbounce selbst zu testen? Starte mit einer kostenlosen Testversion, die von unserer Website heruntergeladen werden kann.
Wer verwendet Unbounce?
Unbounce ist eine Zielseitenplattform für Agenturen, E-Commerce und SaaS. Unabhängig von der Branche oder dem Anwendungsfall konvertieren Zielseiten mehr und häufiger Traffic als Websites.
Wo kann Unbounce bereitgestellt werden?
Cloud, SaaS, webbasiert
Über den Anbieter
Unbounce
Ansässig in Vancouver, Kanada
2009 gegründet
Telefon-Support
24/7 Live-Support
Chat
Über den Anbieter
Unbounce
Ansässig in Vancouver, Kanada
2009 gegründet
Telefon-Support
24/7 Live-Support
Chat
Unbounce – Videos und Bilder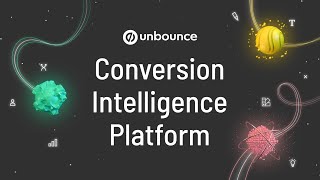 Kosten ähnlicher Produkte wie Unbounce vergleichen
Unbounce Funktionen
AB-Tests
Anpassbare Vorlagen
Berichterstattung / Analyse
Drag-and-Drop
Formular-Generator
Kampagnenmanagement
Marketing-Automatisierung
Multichannel-Marketing
Multivariate Tests
Split-Tests
Zielseiten / Web-Formulare
Alternativen für Unbounce
Bewertungen über Unbounce
Jordan D.
Marketing Analytics Specialist in USA
Verifizierter Nutzer auf LinkedIn
Marketing & Werbung, 51-200 Mitarbeiter
Verwendete die Software für: Mehr als 2 Jahre
Who knew spinning up landing pages could be this easy?
Kommentare: Easy to unboard (i.e. great learning docs), easy to implement and great customer support. Keep doing your thing, Unbounce!
Vorteile:
As a non-designer, I'm a marketing analytics professional, it was always simple to spin up landing pages by either making one from scratch or by using one of their pre-made templates. One of my companies designers was even surprised to find out that I made one of the landing pages that we tested for a marketing campaign- that's how you know that this is an amazing marketing solution.
Nachteile:
Price-point. Unbounce is more targeted at enterprises, rather than for mom and pop shops.
Antwort von Unbounce
vor 3 Jahren
Thank you Jordan! Appreciate the kudos and congratulations on building some amazing landing pages . Glad we were able to help you bring your campaign visions to life. Cheers and happy converting, Jen
Marketing & Werbung, 2-10 Mitarbeiter
Verwendete die Software für: Mehr als 2 Jahre
In Betracht gezogene Alternativen:
Unbounce is a super great drag and drop landing page platform
Kommentare: The experience has been awesome, there customer service is first rate and they have gone over and beyond taking time with me to learn the platform in the beginning as it pertained to my use case. Love their support.
Vorteile:
Simple to use, simple to integrate with our tech stack, specifically SFDC and Marketo and finding professionals to build our designs has been super easy with their market place of recommended professionals and our experience using one of the agencies has been an incredibly valuable asset for us and I also love the fact we can offer Landing Pages as a Service to clients who want maximum conversions from the work we do for them around lead generation and lead conversion!!
Nachteile:
There isn't the ability to build multi-step optin processes out of the box without adding code to the page to create this functionality which boosts conversion and the trick is having the ability to push each stage of the optin process data into our crm and or our clients.
Verifizierter Rezensent
Consultant in Kolumbien
Verifizierter Nutzer auf LinkedIn
Politische Organisation, 2-10 Mitarbeiter
Verwendete die Software für: 6-12 Monate
Decent interface with big limitations, poor uptime, and awful support
Kommentare: Unfortunately we're stuck there for now but definitely looking to move when convenient to do so!
Vorteile:
The interface is very simple so any member of the team is able to create landing pages. They have integrations with Zapier that allow us to feed information between landing pages and CRMs.
Nachteile:
Oh boy. First of all, they promise 99% uptime but their reliability is actually quite bad and they don't warn their customers when there is downtime (I presume because they hope they can fix before we notice). Their code rendering has big limitations. For example, simply styling a bullet is a massive chore. They also don't support many basic functions (tabs, collapsible pages, etc.) Anytime you have an issue with something, their support is slow and pretty unhelpful. An actual quote from a support agent: "we are not designers, so there is just so much we can support when it comes to custom code" -- this is simply because I was trying to change an ordered list from numerals to lower alphabetic, but their code rendering was not allowing this. Similarly, when trying to create a collapsible page, Unbounce support initially refused to help (despite providing the code). Their support is very slow and will take minutes to reply to a chat, but if you take more than a min or so to reply they'll close the chat assuming you're not there. Sorry if I don't stare at a screen waiting for a support person who takes forever to respond waiting for the response so I can respond right away. Oh - and remember how I talked about poor uptime? Never once has Unbounce offered compensation for losses caused by their terrible uptime.
Antwort von Unbounce
vor 3 Jahren
Hello, Thank you for taking the time to review us and for speaking candidly about your experiences using Unbounce. To address some of your concerns, over last 90 days we have maintained a 99.98 % uptime according to https://status.unbounce.com/. However, we understand that any downtime is a serious issue for our customers and we're always working to continuously improve this number. If we do experience significant issues, our top priorities are to notify customers to stop sending paid traffic to their pages and mitigate the damage. In terms of our support, since customs scripts are not a built-in supported product feature, Unbounce is unable to support or guarantee these codes. However, we do have a robust community where our experts and members are happy to help: http://community.unbounce.com. In addition, if chat isn't the best way for you to receive support, we also offer phone and email. Hope that this helps clear up some of the confusion around our processes. Jennifer
Malcolm R.
Art Director and Lead Graphic Designer in USA
Marketing & Werbung, 2-10 Mitarbeiter
Verwendete die Software für: Mehr als 1 Jahr
In Betracht gezogene Alternativen:
Unbounce is a Game Changer!
Kommentare: Love love love it.
Vorteile:
As a Graphic Designer and Art Director for a Marketing and Design Agency, the customizability and ease of use in this program is unmatched. I love it. It's as if I'm able to design landing pages exactly how I need them to be and look and react with just about enough/full freedom I need without too many limitations. It's so easy to use too, that our team members who aren't professionally trained designers can step in and create landing pages for us as well! Wonderful. I love it.
Nachteile:
The one thing I'm not as fond of about Unbounce, is the integration between web and mobile versions while you're designing it. Typically when you design it as the web version, it doesn't transfer over to mobile nearly as smoothly as I'd like. You end up clicking the bottom button to switch over to check it out after you've designed the web version, and most of the page tends to be amiss/out of the boundaries, etc. With that, you end up needing to essentially manually move around all those elements to where you intended them to be/show up there naturally. It's as if the program dumps the elements onto the mobile version without formatting it. So all/most of the elements are there, just all over the place. Whomp. If they can get this fixed, it'd be just about perfect.
Thiago R.
Media Analyst in Brasilien
Verifizierter Nutzer auf LinkedIn
Internet, 11-50 Mitarbeiter
Verwendete die Software für: Mehr als 1 Jahr
In Betracht gezogene Alternativen:
Amazing tool, but a little pricey
Kommentare: Fast and easy to create landing pages, with a great amount of possibilities to integrate with other tools.
Vorteile:
Huge amount of possible integrations, easy to use, robust.
Nachteile:
A little expensive, for Brazilians with such a devalued currency.
Antwort von Unbounce
vor 2 Jahren
Hi Thiago, thanks so much for taking the time to review us! We really appreciate your feedback. Cheers and happy converting, Jen