Was ist DocketManager?
DocketManager wurde von Grund auf von Druck- für Druckunternehmen entwickelt. Das System ist eine cloudbasierte Druckverwaltungslösung mit vollständig integriertem Web-to-Print. Entwickelt als leistungsstarke Software, die eine vollständig integrierte Suite von Tools zur Verwaltung eines gesamten Unternehmens von einem System aus enthält.
DocketManager wurde entwickelt, um vollständige oder hybride Geschäfte mit einem Umsatz von über 1 Mio. $ zu handhaben, die digitale, Offset-, Breitformat-, Label-, Werks-/Bildungs- und andere Spezialmärkte umfassen.
Wer verwendet DocketManager?
DocketManager wurde entwickelt, um vollständige oder hybride Geschäfte mit einem Umsatz von über 1 Mio. $ zu handhaben, die digitale, Offset-, Breitformat-, Label-, Werks-/Bildungs- und andere Spezialmärkte umfassen.
Wo kann DocketManager bereitgestellt werden?
Cloud, SaaS, webbasiert
Über den Anbieter
DocketManager
Ansässig in London, Kanada
2010 gegründet
Telefon-Support
Chat
Erhältlich in diesen Ländern
Kanada, Vereinigte Staaten
Über den Anbieter
DocketManager
Ansässig in London, Kanada
2010 gegründet
Telefon-Support
Chat
Erhältlich in diesen Ländern
Kanada, Vereinigte Staaten
DocketManager – Videos und Bilder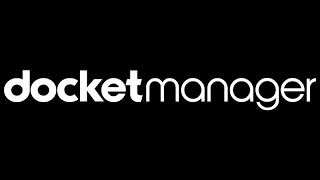 Kosten ähnlicher Produkte wie DocketManager vergleichen
DocketManager Funktionen
Angebote / Schätzungen
Auftragsmanagement
Content-Management
Drucken an mehreren Standorten
Genehmigungs-Workflow
Produktkonfigurator
SEO-Management
Vorlagen
Alternativen für DocketManager
Bewertungen über DocketManager
Marian V.
Digital Storefront Administrator / Digital Press Operator / Production Assistant in USA
Verifizierter Nutzer auf LinkedIn
Druck, 11-50 Mitarbeiter
Verwendete die Software für: 6-12 Monate
Perspective of a Docket Manager Print Shop Administrator
Kommentare: Docket Manager and I have had a great relationship with attempting to improve the systems overall functionality. They have a really great support team and respond very quickly. I use the system day to day for extended number of hours, and by working on it so closely I am capable of locating bugs and issues that another user might have overlooked. These are reported via support tickets, and usually get fixed with a roll-out either later that day or the next day.
Docket Manager is a great business that listens to the community, and makes improvements based on the suggestions their customers bring to the table.
Vorteile:
Docket Manager is hosted externally and requires no internal hardware to host. The software is accessible online from any location. This allows me to work remotely and support multiple businesses. Business sales reps are also able to access it from their mobile devices, to check up on order workflow, create a quote on the spot, and send direct emails, with custom generated files, directly from the online system. The workflow is well designed, from when you create a quote, convert it into an order, as it runs trough production, to when its shipped. Each section of Docket Manager has a straight forward user interface, that places content into locations where you would expect to find it. Docket Manager also features an online ordering store functionality. This allows us to create custom online portals for clients. We are able to offer them an easy method for re-ordering generic material, or to order custom variable data products. This system is really great as a MIS and a W2P combo, all in one package. They keep making improvements and updates do not cost anything. There is an online forum where Docket Manager customers are able to make feature requests, and multiple of them are always chosen to be implemented into the next release. The software improves for the community, and there is great communication between the customers and Docket Manager.
Nachteile:
At the time of this review, Online Ordering is great at B2B, but not optimized for B2C. B2C will hopefully be improved within a few versions. Its capable of B2C at this time, but I think there are a few more features that are required to make it really work.
Phillip H.
President in USA
Druck, 2-10 Mitarbeiter
Verwendete die Software für: Mehr als 2 Jahre
BLDC Review of Docket Manager
Kommentare: Overall the experience with the product and the company has been positive. Customer service and support have been very responsive to my needs and have been easy and enjoyable to work with.
Vorteile:
Went with DM because of on-line b2b portal integration. Setup took some time which is to be expected when setting up a system such as this, however, the support was fantastic. I could call in at most anytime and I got directly to an implementation person who would help me out with my issue. New feature requests are taken into consideration, thought through and implemented on a fairly regular basis. Overall quite pleased. One feature that I have been requesting for a while; the ability to send an invoice with a link to pay on-line without the customer needing an on-line portal to log into.
Nachteile:
After choosing DM for their on-line portals, there are a few thing that need improvement in that aspect. 1. The ability to list products in a grid-view as opposed to a list-view. 2. The checkout process is a little bit clunky especially for a public portal as the client must input their information and then are re-directed to a logon page where they have to then login. 3. Booklet pricing is a little confusing, you would think that when you enter in the number of pages for a particular booklet that the number of sheets would automatically calculate based on the type of booklet selected and then further populate the press sheets figure.
Andre A.
IT Manager in USA
Druck, 11-50 Mitarbeiter
Verwendete die Software für: Mehr als 2 Jahre
In Betracht gezogene Alternativen:
Great system for a diverse set of needs
Kommentare: Support has been the strongest part of the picture for me. The staff is very knowledgeable and quick to respond. Since implementing the rollout single-handedly, without their support I wouldn't have made it this far.
Vorteile:
MIS/W2P systems for print shops are difficult to evaluate, and the needs of users in the industry are varied. Biggest pro for DocketManager is the active development, excellent support, and community of users. DM listens to its users and put resources into implementing feature requests.
Nachteile:
Still feel like it's missing a handful of important (to me) features. It will get there, but until it does, it occasionally feels like using a beta product. In the interest of fairness, it's still the best cloud MIS that I've evaluated.
Druck, 11-50 Mitarbeiter
Verwendete die Software für: Mehr als 1 Jahr
In Betracht gezogene Alternativen:
No Pain - No Gain
Kommentare: It has been a hard transition from Franklin Estimating to Docket Manager. With that said it was my ignorance of the pricing rather than any problem with DM. Furthermore I was told that it would take 6 months and they were right on! [SENSITIVE CONTENT HIDDEN] came to Abilene and walked us through the setup. That was an absolute "must Have" in my opinion. Without their guidance I don't believe we would have made it.
I was bothered by having several things in the program NOT work correctly "out of the box". I would work for hours on something only to turn in a ticket and be told "oh that is a programming issue" we will get back with you on a solution or "the program shouldn't do that". This was especially annoying during the time that I was spending 16 hours a day at the office trying to get the program set up. I spent an entire Saturday one weekend trying to get a price list to work on some custom envelopes. I kept feeling like I was doing something wrong. I re-watched videos as I figured that was what I was going to be encouraged to do if I called in with the problem. After giving up and calling in it ended up there was a problem with the programming. I was told that some checkbox shouldn't have been checked in the background of the program.
I believe that some of the forward progression of the program (new ideas) is overshadowing some of the common sense solutions (to the existing program) that are being presented on the forum by users. Seems several years is a long time for a fix.
Vorteile:
Reordering is by far my favorite part of the program. Outsourcing is also a favorite of mine. Seamless integration of workorder, delivery ticket, invoice.
Nachteile:
I dislike that you cannot duplicate templates from group to group. IE a 5x7, 4/0 could go under invitations or postcards or business forms. I would love to have the template in each without having to recreate the templates. That bothers me. It bothers me that we have to call every month to get help on our sales tax from [SENSITIVE CONTENT HIDDEN]. It bothers me that I have to click in boxes that are highlighted. Some boxes you don't have to click into others you do. Cannot have "sub" accounts or "child accounts. We print for several hospitals and several universities and it would be nice to know how much the Hospital is printing with us without having to look at the entire report and add up 15 different departments totals.
Jason T.
Graphic Specalist in USA
Kunst & Handwerk, 2-10 Mitarbeiter
Verwendete die Software für: 6-12 Monate
Pretty Impressive Software
Vorteile:
Their support is excellent and every time I have had a question, I got a response in less than a day. It does take some getting use too but once you do, it make a lot of sense. I work in the prepress department and the fact that I can see the status of all the projects I am working on without having to run around the shop and ask five people what is going on just saves me so much time.
Nachteile:
The setup for some of the items is a bit confusing. You can create your own invoices, job tickets and other items, but it's a bit tricky to get it right. Support was very helpful but it took me a good three days to get a custom page made. It does not have the feature ( currently ) to put preview images onto the invoices or packing list. We have done a few projects where the floor team had to pack a lot of items per store and it was very confusing to them to know which store got which item because the packing list where just lines of text. Also, because of this, it causes some confusion with the shipping department or when someone comes in to pick up a job. Sight minor grip here but it also doesn't know the size of the PDF you put into the system. If I have a job for a 6" x 4" postcard and I someone mess up the set up, DocketManager will not tell me that the size is wrong. Yes, I know that's a sight issue, but I have worked on other systems that did this and it was a nice way to check the job and avoid mistakes before production.