Was ist WaveMaker?
WaveMaker ist eine führende RAD-Softwareplattform (Rapid Application Development), mit der sich Apps auf Enterprise-Niveau für verschiedene Gerätetypen schnell entwickeln lassen. Entwickler und Business-Anwender können so auf der Grundlage von Standard-Technologien im Enterprise-Umfeld Apps in kurzer Zeit erstellen und leicht erweitern oder anpassen.
Wer verwendet WaveMaker?
Die Plattform ist für jeden geeignet, vom selbstständigen Software-Consultant über mittelgroße Softwareanbieter bis zum Großunternehmen, wenn professionelle Mobil- und Web-Apps schnell erstellt werden müssen.
Wo kann WaveMaker bereitgestellt werden?
Cloud, SaaS, webbasiert, Mac (Desktop), Windows (Desktop), Linux (Desktop), Windows (On-Premise), Linux (On-Premise), Android (mobil), iPhone (mobil), iPad (mobil)
Über den Anbieter
Pramati
Ansässig in Mountain View, USA
2017 gegründet
Telefon-Support
24/7 Live-Support
Chat
Über den Anbieter
Pramati
Ansässig in Mountain View, USA
2017 gegründet
Telefon-Support
24/7 Live-Support
Chat
WaveMaker – Videos und Bilder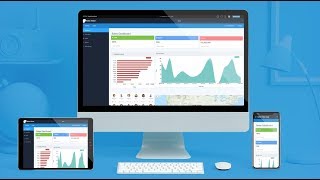 Kosten ähnlicher Produkte wie WaveMaker vergleichen
WaveMaker Funktionen
API
Automatisierung von Geschäftsprozessen
Berichterstattung / Analyse
Code-Bearbeitung
Code-Entwicklung
Datenaggregation und -veröffentlichung
Datenmodellierung
Debuggen
Drag-and-Drop
Einsatz-Management
Entwicklung von Web-Apps/mobilen Apps
Grafische Benutzeroberfläche
Integrationsmanagement
Integrierte Entwicklungsumgebung
Iterationsverwaltung
Kompatibilitätstests
No-Code
Visuelle Modellierung
Vorgefertigte Vorlagen
Vorlagen
Werkzeuge zur Zusammenarbeit
Workflow-Management
Zugriffskontrollen / Berechtigungen
für Entwickler
Alternativen für WaveMaker
Bewertungen über WaveMaker
Román josué D.
Data Science Team Lead in Honduras
Verifizierter Nutzer auf LinkedIn
Computer-Software, 201-500 Mitarbeiter
Verwendete die Software für: Mehr als 2 Jahre
Rapid Application Development? WaveMaker is the answer!
Kommentare: When having a project of software development for a web-based app, even if short of time or no, WaveMaker is a great choice as will allow you to spend less time on ordinary tasks and let your developers team concentrate more on the business logic and the functionality of the app.
It really speeds up the development and reduce the time which would take in average.
Vorteile:
WaveMaker is a great studio to develop web-based applications for Java Developers. As it uses the latest technologies and frameworks your app will be up to date for a long term. It uses the MVC arquitecture, on both frontend and backend, and there's a clear separation between this last two. Something I really like is that WaveMaker is like a combination of code generator for the tedious and cumbersome parts, while you still have full control of everything and can change it as required.
Nachteile:
I really loved the desktop version, and I'm missing that they no longer support it. My favorite version was the 6.7.0 RELEASE, even if having some bugs, the desktop version was something great!
Antwort von WaveMaker
vor 3 Jahren
Thanks Roman! Really appreciate your time for this review. Keep trying WaveMaker. Regards, #Team WaveMaker
2-10 Mitarbeiter
Verwendete die Software für: 6-12 Monate
Wavemaker is the ultimate development platform, comparing to open source
Kommentare: This platform is most hidden from anywhere in Google search. When you're looking for website, or software development, you come across a patchwork of tools which are haphazardly used to create a workflow. Anything from database schema tools, front end, back end, security all require a tremendous amount of time and effort. Our case use was creating a video sharing service. We analyuzed WordPress, Drupal, and many others which worked with AWS, CloudFront. The primary reason for choosing Wavemaker was we did not need to install anything, or rely on the multitude of dependencies like in WordPress or Drupal plugins and modules. We wanted to create a custom application but we had little time and budget. We went through many RAD (rapid application development) environments which lacked standardization of libraries like jQuery, HTML5, or even multi platform support like iOS, Anddroind and web. We tried everything and virtually every language including PHP. We realized we wanted to work with Java because of its vast libraries which are mature and time tested. With Wavemaker we were using Java but without being stuck in a boilerplate nightmare or manual coding. With wavemaker, we defined our database schema. Then with a very intuitive GUI were able to construct the various screens with this data and make a very quick but fully functioning prototype with fully aesthetic control, and fully responsive. We were able to configure security, users, role, and permissions very thoroughly right out-of-the-box with any additional Java libraries or customizations. If you're familiar with WordPress, or Drupal, then you know that coming to point of a projects require a host of third party add-ons creating the dependency and update process that is perpetual. Java and Wavremaker rarely needs so many updates if at all every few years. While open source and its many varieties claim to be FREE in cost, and ease of development, as well as ease of usage by end users, after looking at Wavemaker, this is far from the truth. The initial cost of open source projects maybe free, but to develop anything of value and enterprise grade is very costly and filled with hurdles. Wavemaker includes everything one could need to create robust applications for the browser, iOS and Android by automating the most routine tasks and reducing the need to code Java by more than 80%. If you must use Java, and I suggest you do, Wavemaker is it.
Vorteile:
Ease of use. Every tool imaginable on other open source solutions requiring a plugin or module are already available. The database schema tool is far beyond other third party tools. The GUI form building, data linking, and aesthetic control are that of a desktop app. The level of sophistication is above just rapidly developing and app. Wavemaker is also a very sophisticated IDE for Java. The list of Wavemaker features and uses is beyond the scope of this Capterra entry. Coming from the world of WordPress and Drupal, I have ditched them both in favor of Java and Wavemaker.
Nachteile:
In the beginning the price and available features were odd. For nearly $10,000 per year you could acquire a Wavemaker license for ONE app. After some time, Wavemaker now offer unlimited app development for $99 per month. So there are no CONS at this point in my experience with Wavemaker. Customer service is awesome.
Ayesha M.
Manager in Indien
Verwendete die Software für: 1-5 Monate
Developed a Leave Management system within weeks for our startup
Vorteile:
It is fast compared to other players in aPaaS space, feature rich and efficient. Its took only weeks to create a Leave management software.
Nachteile:
Wave maker can get really expensive, particularly for a start up business like ours. Hope they come up with a better pricing model
Antwort von WaveMaker
vor 4 Jahren
Thanks for the review, Ayesha. Enjoy & keep trying WaveMaker. And do let us know any concerns: info@wavemaker.com. Regards, Team #WaveMaker
Terence F.
Principal in USA
Informationstechnologie & -dienste, Selbstständig
Verwendete die Software für: 6-12 Monate
RAD Platform - hype or real?
Kommentare: I had been looking for many years for a platform/framework that would satisfy my need for developing web based and mobile applications. I tried the usual Deamweaver, Embarcedero, Telerik platfoms and none of them lived up to the hype of RAD. I had used Wavemaker (5, 6) many years ago when it was open source and was surprised when they changed to a subscription based pricing model last year. I decided to kick the tires with an evaluation last September... and now I'm a paying customer. My proof-of-concept and proof-of-RAD was based on my skills:
1) I am a quick study wth programming languages & databases but don't have the depth of knowledge
2) I don't have the mastery of Javascript & CSS that is fundamental to modern UI's
3) I did not want to break the bank
4) I needed a single platform for web / mobile development (a single codebase is still a dream) I was pleasantly surprised by the rich feature set baked into Wavemaker and even though it's not perfect - the support staff is willing to work with you on issues that are not inherently intuitive or doable - it's worth paying for. All in all I am satisfied with the product.
Vorteile:
The platform is hosted and updated regularly. The features are complete from DB design, import schemas, query, procedures, web services, UI widgets and plain old javascript provide all the tools in a central development environment.
Nachteile:
There is always the learning curve to deal with but this is normal for any platform. I have yet to find something that is a problem. A few browser artifacts while scrolling and switching between design and runtime mode are minor inconveniences.
Verifizierter Rezensent
Test Engineer in Indien
Verifizierter Nutzer auf LinkedIn
Computer-Software, 1.001-5.000 Mitarbeiter
Verwendete die Software für: Mehr als 1 Jahr
Quelle: GetApp
The most affordable and capable platform compared to market leaders in RAD space.
Vorteile:
We were tasked with creating some internal applications for our firm, we have tried out many platforms like OutSystems and Mendix which proved to too costly and some tools like KissFlow and Zoho Creator which are no where near the capabilities offered by WaveMaker. There are a lot of other tools which claim that they are alternatives to WaveMaker but that is far from truth. WaveMaker offers a variety of functionalities and tools which will enable you to create great business class applications where as the claimed alternatives are just form builders, one observation that we had from our journey of finding a good RAD platform is that most of the tools are just form builders and they claim to be equal to WaveMaker, one interesting fact is that you can create similar applications on Microsoft Excel rather than using KissFlow or ZohoCreator. I would not want to go into details but WaveMaker is a great tool if you are interested in creating great applications. It is affordable and their customer services team is amazing.
Nachteile:
There is very little you can think of when you are paying a very small amount. WaveMaker is easily the most affordable platform which has so many capabilities. I do not understand why the claimed market leaders OutSystems and Mendix charge so much where as WaveMaker charges only 10% of OutSystems and Mendix. WaveMaker offers great freedom to move your applications out of their platform but OutSystems and Mendix do not allow users to move application away from their platform. WaveMaker is a great tool but I fail to understand why this is not so popular.