Was ist Plotbox?
PlotBox ist eine cloudbasierte Lösung für Bestattungsverwaltung, die Friedhöfe dabei unterstützt, gewünschte Standards zu erreichen. Die Lösung ist laut Hersteller einzigartig und den anderen Anbietern überlegen, da es die erste Lösung zur vollständigen Integration von zwei zuvor getrennten Funktionen, nämlich Software und Mapping ist. Die Anzahl und der Umfang der Probleme, die diese Innovation löst, revolutioniert die Art und Weise, wie Bestattungsunternehmen ihre Betriebsvorgänge ausführen und ihr Geschäft ausbauen und verändert die Friedhofverwaltung.
Wer verwendet Plotbox?
Zum Zielmarkt gehören Eigentümer/Manager von Friedhöfen und/oder Krematorien. Es werden drei Pakete angeboten: "Basic", "Pro" und "Enterprise", je nach Kundenanforderung.
Wo kann Plotbox bereitgestellt werden?
Cloud, SaaS, webbasiert, iPad (mobil)
Über den Anbieter
Plotbox
2011 gegründet
Telefon-Support
Chat
Erhältlich in diesen Ländern
Irland, Kanada, Vereinigte Staaten, Vereinigtes Königreich
Über den Anbieter
Plotbox
2011 gegründet
Telefon-Support
Chat
Erhältlich in diesen Ländern
Irland, Kanada, Vereinigte Staaten, Vereinigtes Königreich
Plotbox – Videos und Bilder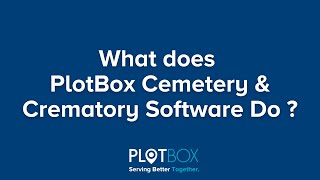 Kosten ähnlicher Produkte wie Plotbox vergleichen
Plotbox Funktionen
Bildverwaltung
Dokumentenmanagement
Feuerbestattungs-Management
Finanzberichterstattung
Grabsuche
Inventarverwaltung
Merchandising
Postenzuordnung
Verwaltung von vorab-Notwendigkeiten
Jean F.
Executive Director in USA
Verifizierter Nutzer auf LinkedIn
Non-Profit-Organisation Management, 11-50 Mitarbeiter
Verwendete die Software für: 6-12 Monate
You are paying for GREAT PEOPLE & a GREAT PRODUCT
Kommentare: Ditto what I said above.
Vorteile:
The personal service is standard setting. Before you ball at the price imagine hiring a tech team who are at your disposal 24/7 to help with ANYTHING- it's amazing. We love the software and it does EXACTLY as advertised, but the people are the best part. I actually asked them on our last call if they would develop database Managment software too because our other vendor is so weak compared to Plotbox!!!
Nachteile:
I would have to really make something up here... everything we have wished was better they have taken into a development meeting. Maybe the one thing is a fixed checklist of processes to do the basics. It's a Porsche but sometimes you just need to get groceries. A simplified 1-2-3 and you're done would have been helpful getting started.
David M.
President in USA
11-50 Mitarbeiter
Verwendete die Software für: Mehr als 2 Jahre
It's incredible what this team has put together on one, cloud based, cemetery software solution.
Kommentare: Incredible time saver! Less time meeting with families, recording records, researching historical information. In short... makes our job so much easier... and saves money.
Vorteile:
*Mapping: Unlike any other mapping on the market. Uses your REAL aerial photo to use for mapping. Makes it so much easier for customers to find graves. *Document retention: Scan/attached relevant current and historical documentation to any transaction, burial, deed, or transfer record. Never go looking for it again. It's always attached for a quick review or question. *Cloud Based: PlotBox team handles all updates, backups, and IT. I'm a cemetery professional not an IT professional. Also, I can jump on PlotBox from home and assist staff that is in the office working with a family should they need my assistance. *Deed History: When plot transfers happen, PlotBox tracks all previous transactions and links them all together for a full view of the history of each plot (with all documentation) at your finger tips. *Permits: I can track all work being done in my cemetery from our own work, to all work done by outside contractors, and outside memorial companies. If a question arrises later, we have all documents, authorizations, and memorial spec drawings, all in one place for review at any time in the future. *Images: PlotBox allows you to attach images to plot records, interment records, etc., so you have a complete view of what is out on the grave, crypt, or niche, without leaving the office! *Aggregation of information: Bringing it all together.. Open up a decedent record and - BOOM there is everything related to that burial - linked and accessible!
Nachteile:
Some minor features are still being cleaned up; however, the PlotBox team is constantly improving and upgrading the product. They take feedback well and institute fixes in a timely manner when a glitch is uncovered, which is rare.
Antwort von Plotbox
vor 5 Jahren
Dave, thank you for your review. It has been an absolute pleasure to be your technology partner for Park View Cemetery. We love the ideas - keep them coming!
Juan carlos O.
Community Investments and Cemeteries Manager in USA
Staatsverwaltung, 1.001-5.000 Mitarbeiter
Verwendete die Software für: Mehr als 1 Jahr
PlotBox Cemetery Management software review
Kommentare: Overall this is system is a major improvement from our previous software in its functionality and ease of use. We are still early in our use of the system and working out some kinks but the Plotbox team is responsive to our requests and actively working to fix issues. We have had to change some of our processes but overall it hasn't created unmanageable change in our operations. We are looking forward to further integrating the software into operations.
Vorteile:
• Plotbox has allowed us to digitize many of our previously handwritten processes, reducing the need for multiple points of data entry and reducing the chance for error. • The modules are fairly easy to use to quickly find information about a plot or burial. Information is easy to update and add to. • The creation of contracts and deeds by the software is quick and simple. • Cloud based software allows cemetery coordinators to complete sales at our remote cemeteries. • The mapping module is robust and easy to use. It provides a good overview of the cemeteries.
Nachteile:
• Some of the processes can be confusing and cumbersome. Having a central point to enter all relevant burial or plot sale information would be ideal, rather than having to enter different pieces of information in multiple modules. • Our previous system was able to capture just the year, month or day, because Plotbox doesn't allow this we lost a lot of important digital information that will have to be recreated and altered. • There are a lot of unused fields, making it easy to miss necessary fields we use in the clutter. A streamlined version would be ideal.
Ryan N.
Assistant Manager in USA
Einzel- & Familiendienstleistungen, 11-50 Mitarbeiter
Verwendete die Software für: Mehr als 2 Jahre
Highly Recommended
Vorteile:
What I enjoy most about Plotbox is the amount of time that it saves our staff. Our previous system was bare bones 1980's software that would only allow us to look up basic info like name, date of burial and location so for us it was like upgrading from a flip phone to an iPhone. The amount of data that you can upload is so helpful, vital deceased info, biographical info, photos, monument photos, notes etc. Having the locations linked on the cemetery map is a big plus when it comes to giving directions to a grave or trying to find it yourself. After implementing Plotbox we make less trips to our file room because most of the info we need to answer simple questions can be accessed through the software. It has streamlined every aspect of our operation from contracts to booking burials to completing burials to bookkeeping in one easy to use system. We have been using Plotbox for about 3-4 years at this point and still aren't even using all of the features that it has which I think is a testament to how much it can do and has to offer.
Nachteile:
There are bugs that occasionally arise but with the built in chat function you can bring it to their attention immediately and they are quick to respond. They are very thorough with their follow up and don't rest until the issue is fixed and you are satisfied.
Sylvia R.
Family Resources Manager in USA
Religiöse Einrichtungen, 11-50 Mitarbeiter
Verwendete die Software für: Mehr als 2 Jahre
Making it Easier
Kommentare: I love being able to pull up a preneed contract immediately when you type in the owner name. In software we used before, we had to go to the vault to find index cards to locate information. I also enjoy being able to review the reports at the end of the month. Easier to manage the items that are being sold, review the sales agent contributions and overall sales reports in general. Much easier to review!
Our cemetery is 300 acres and Plotbox's mapping makes it easier to find a grave before you leave the office! You already have an idea where you need to go. Overall we made a great switch over to Plotbox.
Vorteile:
The use of this software makes easier to meet with a customer in an office and literally select a location for the map, start the paperwork for signing and contract for purchase all in your office. Our employees enjoy being able to expedite the process. The software we used before was very dated and this change make a huge difference for them. The help desk is very friendly and very patient when you need help.
Nachteile:
Like any software transition, it does requires patience to get through the training and the changes. Not knowing where to find the information you need. The concerns always start at the beginning but eventually soar into becoming second nature once using the program.