Was ist NewBook?
Die zuverlässige, hochmoderne Immobilien- und Beziehungsmanagement-Software von NewBook wird deine Online-Dienstleistungen und Backoffice-Operationen revolutionieren, indem sie dir alle Tools zur Verfügung stellt, die du für die effiziente Verwaltung deines Unternehmens benötigst. NewBook macht es dir leicht, dein Geschäft online zu führen und deine Verkaufsmöglichkeiten zu erweitern, indem du Buchungen über deine Website vornimmst, dich mit Vertriebskanälen von Dritten verbindest und andere Upselling-Tools und Einnahmen generierende Aktivitäten nutzen kannst.
Wer verwendet NewBook?
NewBook ist eine großartige Lösung für eine Vielzahl von Objekten, wie Hotels, Resorts, Villen, Motels, Ferienparks und Jachthäfen.
Wo kann NewBook bereitgestellt werden?
Cloud, SaaS, webbasiert, Android (mobil), iPhone (mobil), iPad (mobil)
Über den Anbieter
NewBook
2010 gegründet
Telefon-Support
24/7 Live-Support
Sprachen
Chinesisch, Englisch, Koreanisch, Russisch
Über den Anbieter
NewBook
2010 gegründet
Telefon-Support
24/7 Live-Support
Sprachen
Chinesisch, Englisch, Koreanisch, Russisch
NewBook – Videos und Bilder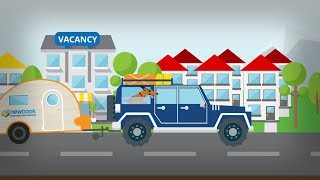 Kosten ähnlicher Produkte wie NewBook vergleichen
NewBook Funktionen
Abrechnung & Rechnungsstellung
Angebotsmanagement
Anmerkungen zur Reservierung
Anwesenheitsmanagement
Arbeitsauftragsverwaltung
Berichterstattung / Analyse
Berichterstattung und Statistik
CRM
Drittanbieter-Integration
Dynamische Preise
Eigentümer-Aussagen
Front Desk Management
Für die Ferienvermietung
GDS-/OTA-Integration
Gasterlebnis-Management
Gruppenreservierungen
Gäste-Check-in/Check-out
Gästekommunikation
Haushaltungsmanagement
Instandhaltungsmanagement
Kalender-/Erinnerungssystem
Kalenderverwaltung
Kanal-Analytik
Kanalmanagement
Kontaktmanagement
Kundenbetreuung
Kundenmanagement
Leadmanagement
Lieferanten-Management
Marketing-Automatisierung
Mitarbeitermanagement
Multichannel-Synchronisation
Online-Anmeldung
Online-Buchung
Online-Reservierungen
Online-Zahlungen
Onlineformulare
Personalverwaltung
Raten-Management
Raum-Inventar
Reservierung-Management
Reservierungsmanagement für Campingplätze
Site Maps
Utility-Abrechnung
Verkaufspunkt POS
Zahlungsabwicklung
Jermaine W.
Consultant in UK
Verifizierter Nutzer auf LinkedIn
Gastgewerbe
Verwendete die Software für: Mehr als 2 Jahre
Amazing!
Vorteile:
A very easy to use system that was very easy to implement and is great value for money. I love the fact that there are always updates, which means that Newbook are always ahead of the game when it comes to features. The support team are very friendly and know their stuff and the Wiki and support request features are all great. My favourite features that other systems do not offer is the read receipt of emails sent through the system and the feature suggestions. Once up and running, the direct connection with Airbnb will be
Nachteile:
Direct connections are that are offered are very Australian based and do not fit into the London Hotel & Apartment sector.
Antwort von NewBook
vor 4 Jahren
Hi Jermaine, Thank you for your recent review of NewBook. We are happy to see everything is going well! We have added some global integrations this year and are always looking to add more. If there are any in particular that you¿re looking for, feel free to add a feature suggestion so others can vote and the team can review your requests. Best Regards, The NewBook Team
Sandi kate H.
Park Owner in Australien
Gastgewerbe, 2-10 Mitarbeiter
Verwendete die Software für: Mehr als 2 Jahre
Newbook is our doorway to the world.
Kommentare: Newbook educates us to adapt or die, a critical aspect of any successful business. We are a very small, family owned property and our Guests feedback proves that we show professionalism that is above their expectations. Most of this is due to Newbook features that we use to connect and assist our Guests from the booking confirmation to the thank you sms text upon departure, and the remainder is our high standards and friendly customer service.
Vorteile:
Newbook offers peace of mind reliability, as this cloud based PMS has only gone offline once during the 8 or 9 years that we have been using it. We love the flexibility of chosing the features you wish to use, and also that the company is constantly researching & trialing new technologies to stay ahead of emerging trends. This offers small business owners the capacity to compete alongside the big corporate identities that have the dollars to invest heavily in this field.
Nachteile:
The training videos that are now provided have addressed the only downside to such an extensive system. In the past, searching for help to complete a task that has not been required for some length of time, has proven challenging. Newbook can do so many things that it is sometimes hard to remember how to do it! Please keep the training videos coming as they are a great resource to use rather than calling the customer help line.
Antwort von NewBook
vor 3 Monaten
Hi Sandi Kate, Thanks for leaving NewBook a 10/10 review. It's great to hear that the reliability and flexibility of the system allow you to create memorable experiences for your guests. You can expect even more innovative features & technology in the future. Thank you for your ongoing support! Kind Regards, The NewBook Team
Prasad K.
Business owner in Australien
Gastgewerbe, Selbstständig
Verwendete die Software für: 1-5 Monate
Very unprofessional team ,
Kommentare: Initially they were good, but later sales people sold me expensive version but it was totally not value for money.
Support system is very bad specially when you have issues.It is not supported by lot of websites.
Vorteile:
Payment system integration, and taking payment is very easy
Nachteile:
Support very poor , very complex to use , do not provide connection to lot of websites
Antwort von NewBook
vor 3 Jahren
Hi Prasad, It is disappointing to see that you are posting this incorrect review of NewBook on Capterra. Our team provided solutions to all of your needs and complex requirements. Our system can be either easy or complex depending on how complex your individual property/rate setup is. As a property management system NewBook has a large number of OTA's directly connected such as Expedia Group, Hotels.com, Booking.com, AirBnB, HomeAway, TripAdvisor, Trip.com Agoda, Lido and many others but we never promoted to have hundreds like a separate channel manager would, i.e Siteminder (which we also support). If posting a bad review is an attempt to avoid paying your outstanding bills I can assure you we do not operate that way and are confident potential clients will see the large number of positive reviews and know we really do take care of our clients and offer top notch service and support. Regards, Shaye Illich Business Development Manager
Janelle B.
Manager in Australien
Gastgewerbe, 2-10 Mitarbeiter
Verwendete die Software für: Mehr als 2 Jahre
In Betracht gezogene Alternativen:
Review 2022
Vorteile:
NewBook is pleasant to use as the support team are always willing to assist and the knowledge base and support wiki is at your fingertips for answers. The booking system is easy to use and teach, ease of rates change and accounting is a very important for reports. Newbook has many other features.
Nachteile:
We did have issues with integration from our previous software but this was very minor.
Antwort von NewBook
vor 3 Monaten
Hi Janelle, Thanks for sharing your experience with NewBook! It's great to hear that you find the system easy to use and that our customer support team are always available when you need assistance. Thanks for being part of the NewBook family! Kind Regards, The NewBook Team
Mathew M.
Owner/Manager in Australien
Gastgewerbe, 51-200 Mitarbeiter
Verwendete die Software für: 6-12 Monate
Great Product and Service!
Kommentare: Exceptional, and the increase in revenue from the features that were set up and explained by Newbook has been great! Not only are the features easy to use and profitable, but the assistance to point out these new features and set up the new features are unheard of in the PMS we came from. Also the confidence and efficiency from staff at New book we dealt with made us very confident of implementing these new features.
Vorteile:
Integration was surprisingly easy, and also easy to learn. It feels like someone is and has continually improved the program to for the users benefit. Support at time of switching was incredible and is still great! Dynamic pricing, the gateway and [SENSITIVE CONTENT] input was priceless
Nachteile:
The only small con I can think of, is at time of integration we had a large amount of money in client accounts due to covid, and they did not move across ( I understand the complexities of integrating 2 different systems and bringing all data across.) We eventually manually added a credit note to client accounts, and in hind sight should have done this straight away, which would have allowed us to stop our subscription with RMS a month or so earlier
Antwort von NewBook
vor 3 Monaten
Hi Matthew, Thanks for sharing your experience of switching to NewBook! It's great to hear our support team made the switch easy, and that you're already benefiting from our revenue-generating features. We appreciate your support! Kind Regards, The NewBook Team