Was ist Foundersuite?
Diese Software ist am besten für Unternehmen geeignet, die Startkapital, Risikokapital oder privates Eigenkapital aufbringen (und für Berater und Investmentbanken, die diese Aufbringung unterstützen). Foundersuite entwickelt Software zur Kapitalbeschaffung und zur Verwaltung von Investoren. Die Produktlinie von Foundersuite umfasst ein branchenführendes CRM für Investoren. Dieses CRM befindet sich auf einer Datenbank mit mehr als 141.000 Investoren, die dir bei der Erstellung deines Systems helfen. Foundersuite enthält auch Pitch-Deck-Hosting- und Investor-Update-Tools, um die Reichweite und Beziehungen zu Investoren zu fördern.
Wer verwendet Foundersuite?
Unternehmer, Start-ups, Wachstumsfirmen, KMU, Investoren, Start-up-Beschleuniger, Inkubatoren, Investmentbanker
Wo kann Foundersuite bereitgestellt werden?
Cloud, SaaS, webbasiert, iPhone (mobil), iPad (mobil)
Über den Anbieter
Foundersuite
Ansässig in San Francisco, USA
2015 gegründet
Chat
Erhältlich in diesen Ländern
Australien, Kanada, Neuseeland, Vereinigte Staaten, Vereinigtes Königreich
Über den Anbieter
Foundersuite
Ansässig in San Francisco, USA
2015 gegründet
Chat
Erhältlich in diesen Ländern
Australien, Kanada, Neuseeland, Vereinigte Staaten, Vereinigtes Königreich
Foundersuite – Videos und Bilder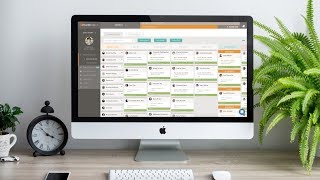 Kosten ähnlicher Produkte wie Foundersuite vergleichen
Foundersuite Funktionen
CRM
Leadmanagement
Leistungskennzahlen
Marketing-Automatisierung
Alternativen für Foundersuite
Bewertungen über Foundersuite
Adam
founder / ceo in USA
Verifizierter Nutzer auf LinkedIn
Verwendete die Software für: 1-5 Monate
The best thing I've ever seen for raising capital for a start-up
Kommentare: A huge time-saver. The best fundraising-management platform I've ever seen.
Vorteile:
I started using Foundersuite a couple of months ago to manage my fundraising campaign for dineoutwith.us, and it has been a huge labor-saver for what is always a difficult and time-consuming process. The platform is very well thought-out, has all of the major features an entrepreneur would want to manage that first, all-important, do-it-yourself campaign, and is easily customizable. I've also been very impressed with how responsive their team has been, and in particular to adding a couple of new features that I thought were really important (one example: they recently upgraded their custom field feature so that you can create it for a single investor lead and have it be applied to all other investors. This is so much easier than the kinds of global configuration changes that other CRM systems I've used have required). I can't really say enough about how great they've been in engaging on features suggestions. Nathan has really welcomed suggestions and been open and honest about limitations - a rare thing these days, when most SaaS vendors are more interested in diverting legitimate suggestions, or telling you why they're really not important and you should want them - and whether they'd be addressed. I also really like the Kanban board / drag and drop interface that lets you move things around to different stages. Lastly, I can't say enough
Nachteile:
It's clearly a quickly-evolving product, and there are a few features that they haven't gotten to yet. One is that although the system integrates with gmail, there is as of yet no ability to send emails through the system itself (as you can with systems like Insightly and HubSpot). In this same realm, when you add a new contact to Foundersuite it adds to the contact record a history of ALL emails with that person, including ones on which they were cc'd. I'd much rather be able to select which emails are added. (You can delete ones that you don't want, but that's a pretty time-consuming process that would be better handled upfront. Another way to do it would be to be to set date range parameters for emails so that the entire history wasn't there.)
Bob
Managing Director in USA
Risikokapital & privates Eigenkapital, 2-10 Mitarbeiter
Verwendete die Software für: 6-12 Monate
In Betracht gezogene Alternativen:
Fundraising CRM
Kommentare: I think you know if you picked the right tool if you just never wonder whether there's something better. I have never wondered.
Vorteile:
Foundersuite is simple, there's virtually zero setup/configuration, everything is tuned to fundraising... and it just works. I've raised capital for 5 startups (and now for a venture fund) and I have used everything from a spreadsheet to enterprise-class CRMs to manage the fundraising process. They were all a kludge. Honestly, I regret that I didn't try Foundersuite on a previous startup. One subtle, be very helpful, feature that I really appreciate is the burn-down activity tracker. I can, at a glance, see who I need to follow up with. The live support chat has been impressive.
Nachteile:
I would like to see a more-flexible implementation of the investor (i.e., LP) update tool.
Antwort von Foundersuite
vor 2 Jahren
Bob thank you for the review! Glad to see our platform is serving the needs of venture capital firms. Best wishes for your fund.
Aleksandra
Head of Ops & Strategic Projects in Polen
Marketing & Werbung, 51-200 Mitarbeiter
Verwendete die Software für: 1-5 Monate
In Betracht gezogene Alternativen:
Great platform to manage a fundraising process
Vorteile:
I compared a few tools before going with Foundersuite and it was an excellent choice. The platform has all the features necessary to manage a fundraising process and communicate with potential invesoters at every stage. A huge advantage is, there is a built-in data room feature that can be activated at any time (at additional fee) so we could stick to a single platform during a due diligence stage.
Nachteile:
Can't really think about any major disadvantages. The sync with my teams' email didn't work properly at the beginning but Foundersuite provided a great support and fixed it quickly.
Verifizierter Rezensent
Founder / CEO in USA
Verifizierter Nutzer auf LinkedIn
Verwendete die Software für: 6-12 Monate
Useful but kinda clunky and overpriced for an early stage startup
Vorteile:
The investor reports are nice and easy to assemble...I need more characters but there isn't enough great things to say lol
Nachteile:
Kan ban is a GREAT concept but shows less-important important info on the cards. No way to customize. And editing investor details is a pain. Haven't seen updates in awhile (reports could use some more functionality to make them great).
Antwort von Foundersuite
vor 5 Jahren
Thanks for the review. I'd like to invite the reviewer back to take another test drive... after a lull in the earlier part of 2017, we've been adding a TON of new features... ability to add VC Firms, ability to add custom fields on the investor cards, improved CSV import, etc. As for the investor Updater tool, we are just about to launch new KPI Table (in code review) plus a tool to automatically send reports (plus track the amount of time investors spent reading your reports). Lots of good things in the works -- come back and check out what's new :)
Biotechnologie, 2-10 Mitarbeiter
Verwendete die Software für: 1-5 Monate
Draper University Student Turned FounderSuite SUPERFAN
Vorteile:
I have never felt so organized during this fundraising progress. After [SENSITIVE CONTENT] showed Draper University his strategy for using this product, my life was changed. I subscribed that minute. FounderSuite has made fundraising organization for this first time founder way more manageable. It makes me excited to search and add more investors and update them on my raise's progress. Thank you so much FounderSuite!
Nachteile:
There is a bit of a learning curve in the beginning, but the software is so streamlined that it isn't too hard to figure out when you make a mistake!