Was ist Foundersuite?
Diese Software ist am besten für Unternehmen geeignet, die Startkapital, Risikokapital oder privates Eigenkapital aufbringen (und für Berater und Investmentbanken, die diese Aufbringung unterstützen). Foundersuite entwickelt Software zur Kapitalbeschaffung und zur Verwaltung von Investoren. Die Produktlinie von Foundersuite umfasst ein branchenführendes CRM für Investoren. Dieses CRM befindet sich auf einer Datenbank mit mehr als 141.000 Investoren, die dir bei der Erstellung deines Systems helfen. Foundersuite enthält auch Pitch-Deck-Hosting- und Investor-Update-Tools, um die Reichweite und Beziehungen zu Investoren zu fördern.
Wer verwendet Foundersuite?
Unternehmer, Start-ups, Wachstumsfirmen, KMU, Investoren, Start-up-Beschleuniger, Inkubatoren, Investmentbanker
Foundersuite – Details
Foundersuite
2015 gegründet
Foundersuite – Details
Foundersuite
2015 gegründet
Foundersuite – Videos und Bilder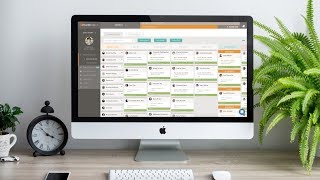 Kosten ähnlicher Produkte wie Foundersuite vergleichen
Startpreis
49,00 $/Monat
1,99 $/Monat
50,00 $/Monat
25,00 $/Monat
Foundersuite – Bereitstellung und Support
Einsatz
Cloud, SaaS, webbasiert
iPhone (mobil)
iPad (mobil)
Training
Live Online
Webinare
Dokumentation
Funktionen von Foundersuite
API
Aktivitäts-Dashboard
Aktivitäts-Verfolgung
Alarmfunktion / Benachrichtigungen
Anleihen / Aktien
Anpassbare Berichte
Asset Lifecycle Management
Audit Trail
Auftragsmanagement
Benchmarking
Berichterstattung / Analyse
Berichterstattung und Statistik
Buchhaltung
Compliance Management
Compliance-Verfolgung
Daten-Import / -Export
Datenvisualisierung
Dokumentenmanagement
Dokumentenspeicher
Drittanbieter-Integration
Echtzeit-Analytik
Echtzeit-Berichterstattung
Echtzeit-Daten
Echtzeitüberwachung
Finanzanalyse
Finanzmanagement
Fondsverwaltung
Für Anlageberater
Für Investoren & Händler
Gebühren Management
Immobilien
Investment-Tracking
Kontaktmanagement
Kundenmanagement
Kundenportal
Leistungskennzahlen
Leistungsmanagement
Lohn- und Gehaltslisten & Kommissionen
Mobiler Zugriff
Modellierung & Simulation
Portfolio-Neuausrichtung
Portfoliomanagement
Risikobewertung
Risikomanagement
Self-Service Portal
Visuelle Analytik
Warentermingeschäfte
Workflow-Management
Zusammenfassende Berichte
Überwachung
API
Aktivitäts-Dashboard
Aktivitäts-Verfolgung
Alarmfunktion / Benachrichtigungen
Anpassbare Berichte
Anpassbare Felder
Aufgabenmanagement
Aufgabenplanung
Berichterstattung und Statistik
Beziehungs-Nachverfolgung
CRM
Daten-Import / -Export
Dokumentenmanagement
Drag-and-Drop
Drittanbieter-Integration
E-Mail Marketing
E-Mail-Management
E-Mail-Vorlagen
Finanzmanagement
Für Finanzinstitutionen
Gebietsmanagement
Kalender-Synchronisierung
Kalenderverwaltung
Kampagnenmanagement
Kontaktmanagement
Kostenverfolgung
Kundendatenbank
Kundenmanagement
Lead-Erfassung
Leadmanagement
Marketing-Automatisierung
Mobiler Zugriff
Pipeline-Management
Prognose
Suchen / filtern
Team-Aufgaben
Verfolgung von Interaktionen
Verkaufsberichte
Vorlagen-Management
Werkzeuge zur Zusammenarbeit
Workflow-Management
Zugriffskontrollen / Berechtigungen
Siehe die vollständige CRM Software für Banken & Finanzdienstleister Liste
Adam C.
founder / ceo in USA
Verifizierter Nutzer auf LinkedIn
Verwendete die Software für: 1-5 Monate
The best thing I've ever seen for raising capital for a start-up
Kommentare: A huge time-saver. The best fundraising-management platform I've ever seen.
Vorteile:
I started using Foundersuite a couple of months ago to manage my fundraising campaign for dineoutwith.us, and it has been a huge labor-saver for what is always a difficult and time-consuming process. The platform is very well thought-out, has all of the major features an entrepreneur would want to manage that first, all-important, do-it-yourself campaign, and is easily customizable. I've also been very impressed with how responsive their team has been, and in particular to adding a couple of new features that I thought were really important (one example: they recently upgraded their custom field feature so that you can create it for a single investor lead and have it be applied to all other investors. This is so much easier than the kinds of global configuration changes that other CRM systems I've used have required). I can't really say enough about how great they've been in engaging on features suggestions. Nathan has really welcomed suggestions and been open and honest about limitations - a rare thing these days, when most SaaS vendors are more interested in diverting legitimate suggestions, or telling you why they're really not important and you should want them - and whether they'd be addressed. I also really like the Kanban board / drag and drop interface that lets you move things around to different stages. Lastly, I can't say enough
Nachteile:
It's clearly a quickly-evolving product, and there are a few features that they haven't gotten to yet. One is that although the system integrates with gmail, there is as of yet no ability to send emails through the system itself (as you can with systems like Insightly and HubSpot). In this same realm, when you add a new contact to Foundersuite it adds to the contact record a history of ALL emails with that person, including ones on which they were cc'd. I'd much rather be able to select which emails are added. (You can delete ones that you don't want, but that's a pretty time-consuming process that would be better handled upfront. Another way to do it would be to be to set date range parameters for emails so that the entire history wasn't there.)
Bob C.
Managing Director in USA
Risikokapital & privates Eigenkapital, 2-10 Mitarbeiter
Verwendete die Software für: 6-12 Monate
In Betracht gezogene Alternativen:
Fundraising CRM
Kommentare: I think you know if you picked the right tool if you just never wonder whether there's something better. I have never wondered.
Vorteile:
Foundersuite is simple, there's virtually zero setup/configuration, everything is tuned to fundraising... and it just works. I've raised capital for 5 startups (and now for a venture fund) and I have used everything from a spreadsheet to enterprise-class CRMs to manage the fundraising process. They were all a kludge. Honestly, I regret that I didn't try Foundersuite on a previous startup. One subtle, be very helpful, feature that I really appreciate is the burn-down activity tracker. I can, at a glance, see who I need to follow up with. The live support chat has been impressive.
Nachteile:
I would like to see a more-flexible implementation of the investor (i.e., LP) update tool.
Antwort von Foundersuite
letztes Jahr
Bob thank you for the review! Glad to see our platform is serving the needs of venture capital firms. Best wishes for your fund.
Verifizierter Rezensent
Founder / CEO in USA
Verifizierter Nutzer auf LinkedIn
Verwendete die Software für: 6-12 Monate
Useful but kinda clunky and overpriced for an early stage startup
Vorteile:
The investor reports are nice and easy to assemble...I need more characters but there isn't enough great things to say lol
Nachteile:
Kan ban is a GREAT concept but shows less-important important info on the cards. No way to customize. And editing investor details is a pain. Haven't seen updates in awhile (reports could use some more functionality to make them great).
Antwort von Foundersuite
vor 4 Jahren
Thanks for the review. I'd like to invite the reviewer back to take another test drive... after a lull in the earlier part of 2017, we've been adding a TON of new features... ability to add VC Firms, ability to add custom fields on the investor cards, improved CSV import, etc. As for the investor Updater tool, we are just about to launch new KPI Table (in code review) plus a tool to automatically send reports (plus track the amount of time investors spent reading your reports). Lots of good things in the works -- come back and check out what's new :)
Steve C.
CEO in USA
Verifizierter Nutzer auf LinkedIn
Internet
Verwendete die Software für: Mehr als 1 Jahr
Think of Foundersuite as an essential starter kit for any early stage pre-VC startup
Kommentare: This software makes the fundraising process so much more efficient and effective. I'm familiar with the kanban model in the context of both sales and product management - So it's a no-brainer that it would also work in the context of fundraising. Because Foundersuite focuses on the fundraising process and was designed for entrepreneurs like myself, it's like a one-stop shop for all my needs as an early-stage startup. I can keep track of all my leads and prospects in one place, and the seamless integration with LinkedIn and AngelList means I don't have to switch back-and-forth between applications and manage all of my contacts in a decentralized way. The additional startup documents and resources that Foundersuite provides means I have everything I need to eventually raise an institutional round of funding.
Vorteile:
The software is full of really helpful content and features. What's better is that it's very intuitive and easy to use. The kanban board concept works really well with fundraising, and I like that they've expanded their investor list beyond just AngelList. Finally, the customer support and his team is top-notch! Any time I have a question about anything related to Foundersuite or fundraising in general, he was always quick to respond with valuable insights. As a Foundersuite customer, I feel like I'm getting the services of a great advisor on top of the software itself!
Nachteile:
If only the software could actually raise my next round for me... maybe if the A.I. continues to evolve :)
Jake T.
COO in USA
Verifizierter Nutzer auf LinkedIn
Finanzdienstleistungen
Verwendete die Software für: 1-5 Monate
When the CEO is active in customer support, you know you've got a company that'll work for you.
Kommentare: Like stated in the review. It makes the job of managing investors easy, and gives you a mini-accelerator type feel to help you through your journey. Great find.
Vorteile:
Amazingly simple interface, yet robust in value. It has an investor CRM, which makes managing potential leads so much easier. It has an investor dashboard and investor update features, accelerating your professionalism to your current investors. Life maybe easy with 1 or 2 investors, but as you start bringing in more angels/VC's, giving real-time updates becomes cumbersome... not anymore. Then there are the start-up tools. The best way to describe it is like a mini-accelerator, providing instrumental documents and discounts on the resources every start-up needs to get off the ground. It's likely that you could recover the value of the cost of membership from this service alone.
Nachteile:
This is not a con by any means, but is most appropriate to be put here: The worth of this platform is directly tied to your commitment to utilize it to your fullest capability. Meaning this isn't like Netflix, where you can pay the fee, and get the maximum benefit automatically. I say this knowing that the majority of users that will use Foundersuite are start-up entrepreneurs, and as such, I severely doubt there will be any missed value due to complacency. Bottom Line: Pony up the dough if you have it. Even if that means sacrificing that new YoutubeTV account... it's worth it.