Was ist Teamtailor?
Teamtailor hilft Unternehmen, die besten Talente mit einer attraktiven Karriereseite zu gewinnen, die Besucher in Bewerber konvertiert.
Warum Teamtailor einsetzen? Sie erhalten ein voll ausgestattetes ATS, das extrem leistungsorientiert ist und dabei einfach und kostengünstig bleibt. Sie erhalten eine vollständige Übersicht über Ihre Einstellungsverfahren und behalten die Kontrolle über jeden Ihrer Prozesse.
Wer verwendet Teamtailor?
Geliebt von 85.000 Nutzern und 2.500+ Unternehmen aller Größen und Branchen.
Wo kann Teamtailor bereitgestellt werden?
Cloud, SaaS, webbasiert, Mac (Desktop), Windows (Desktop), Android (mobil), iPhone (mobil), iPad (mobil)
Über den Anbieter
Teamtailor
Ansässig in Stockholm, Schweden
2013 gegründet
Telefon-Support
Chat
Teamtailor Kosten
Startpreis:
2.400,00 €/Jahr
Ja, kostenloser Test verfügbar
Keine Gratisversion
Teamtailor bietet keine Gratisversion, aber eine kostenlose Testversion. Die kostenpflichtige Version von Teamtailor ist ab 2.400,00 €/Jahr verfügbar.
Preismodelle
Kostenlose Testversion
Über den Anbieter
Teamtailor
Ansässig in Stockholm, Schweden
2013 gegründet
Telefon-Support
Chat
Teamtailor – Videos und Bilder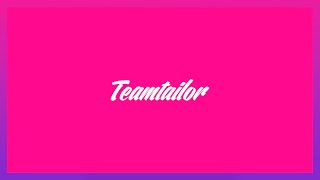 Teamtailor Funktionen
Aufgabenmanagement
Berichterstattung / Analyse
Berichterstattung und Statistik
Beurteilung-Management
Bewerber-Management
Bewerber-Tracking
CRM
Compliance-Verfolgung
E-Mail Marketing
E-Mail-Management
E-Mail-Vorlagen
Einstellungen (Personalbeschaffung)
Interview-Management
Job-Anzeigetafel
Kampagnenmanagement
Kandidatenprofile
Kandidatenverfolgung
Karriereseite
Kundenspezifisches Branding
Lebenslauf-Analyse
Lebenslauf-Suche
Marketing-Automatisierung
Mitarbeiterprofile
Multichannel-Marketing
Personalbeschaffungs-Management
SMS-Nachrichtenversand
Self-Service Portal
Social Recruiting
Social-Media-Integration
Speicherung von Lebensläufen
Stellenanzeige veröffentlichen
Talentsuche
Vorstellungsgespräche planen
Werkzeuge zur Zusammenarbeit
Workflow-Management
internes Personalwesen
Alternativen für Teamtailor
Bewertungen über Teamtailor
John
HR- och Rekryteringsansvarig in Schweden
Verifizierter Nutzer auf LinkedIn
Verwendete die Software für: 1-5 Monate
Teamtailor is the tool that has it all. A perfect balance of functionality and flexibility.
Kommentare: It created a more appealing front for the company in a digitalised world, this helped tremendously since our co-workers are spread all around the country, garnering more applications and strengthening our base in comparison to the competition. It also made communcation and hiring more smooth and pain-free increasing initial employee satisfaction greatly. Not to mention it has saved us huge amounts of administration time.
Vorteile:
The candidate storage is great, easy to maneuver when you need to find that candidate from six months ago what-was-his-name, incredible to make sure no candidate is left unanswered and completely in regulation with GDPR. One less thing to worry about. The drag-and-drop bars connected to various triggers and the ease with which to combine this with other services to automise processes is brilliant. Lastly the career-site has it all while still being easy to design even for the complete novice. The chat-bubble connecting you directly to eventual candidates browsing your site is great - employees deserve as much service as customers. If not more. Aligning with business goals and justifying and measuring different approaches is essential and with the statistics tools built in it's easy to get a overview and from them creating more accurate performance reviews. Lastly the fact that Teamtailor is directly linked to most job advert-pages is truly a time-saver.
Nachteile:
Right now my only problem is the calendar, for which I have no particular use. However I've been invited to participate in the beta-testing of a calendar in which the candidate can book his own interview - effectively rendering youcanbook.me or other third party services needless. So I'm hopeful to say the least!
Stephanie
Talent Scout in Frankreich
E-Learning, 11-50 Mitarbeiter
Verwendete die Software für: 6-12 Monate
My Teamtailor Experience
Kommentare: Overall, it's been very smooth and has allowed us to really speed up our recruitment process as it's easy to track applications and move candidate's through our process. The ability to also collaborate with my team over on the notes section is great and saves a lot of back and forth over other messaging services.
Vorteile:
The customer service is excellent. Not only from our account manager [SENSITIVE CONTENT] but also the direct messaging via the platform. The responses are always quick and very helpful. It allows for a great overview of our open positions, where the candidates are in the pipeline, and triggers for aspects such as NPS are great. Being able to merge duplicate applications is also a great benefit.
Nachteile:
I can't track which candidates specifically the NPS was sent to. The analytics page is sometimes confusing to understand the number of candidates that have tracked through my pipeline. When publishing new positions, we don't want the email to be sent out to candidates who are connected as oftentimes it's candidates that we wouldn't consider for another position or its noise for them and they ask for their profile to be deleted. However, there is no option to opt-out from this automatic emailer that is sent out from our side. Time in the state is also limited to days, whereas I would prefer it was limited to weekdays in terms of a tracking time.
In Betracht gezogene Alternativen: Personio
Gründe für den Wechsel zu Teamtailor: Price, ease of creating career page, and the various integrations possible.
Sara
Director People & Culture in Schweden
Biotechnologie, 11-50 Mitarbeiter
Verwendete die Software für: Mehr als 2 Jahre
The best recruitment system I have ever used!
Kommentare: We are shortening the time spent of administration in recruitment processes a lot when using Teamtailor. We are also able to give our candidates continuous feedback and updates which makes their experience of us better. By using automated triggers we can let the system do a lot of work without us having to administer it. This is truly fantastic!
Vorteile:
I love that the system is modern, easy to use and have tons of smart functions that makes me and my colleagues save a lot of time when recruiting.
Nachteile:
To be honest - nothing. I love everything about it.
Christopher
Engineering Manager in Finnland
Verifizierter Nutzer auf LinkedIn
Nanotechnologie, 51-200 Mitarbeiter
Verwendete die Software für: 1-5 Monate
Quelle: GetApp
Literally anything but this
Kommentare: I think the biggest thing that cannot be overlooked is that the link to one's calendar is occasionally ignored. Our company experienced overlapping interview scheduling 3 times. When reported, TeamTailor customer service told us that this was impossible. So rather than put in a ticket to fix it, they insist that it's somehow our fault. This makes our company look unorganized and gives a terrible view to the candidate, and TeamTailor simply doesn't care. When reviewing candidates, all CVs are attached into an embedded window that cannot be resized. The window isn't wide enough to see the entire CV, so I found myself scrolling a lot. The only other option is to download the CV, at which point I have to say to myself, "What's the point of this service?" Now I have to keep all of this information organized on my computer. Communication between teammates is a bit strange through this platform. There are so many places to write things that it's easy to write about a candidate in a place where teammates won't see it. On the other hand, you get lots of emails from TeamTailor reminding you to write about the candidates even after you've done so.
Vorteile:
At the very least, it kept the applicants organized.
Nachteile:
1. .pdf files are embedded in a tiny window. The only way to see the .pdf properly is to download it. 2. Occasionally disconnects from your calendar and schedules interviews that overlap 3. Too many places to write about candidates. Notes, reviews, and messages tend to get lost when trying to communicate to other teammates 4. Auto-reply and automatically generated messages make your company feel as heartless as the big guys like MS and Lockheed 5. That notification bell gets updated about once a month 6. So many emails. Easily takes up as much time dealing with these emails than it would organizing these candidates myself. 7. Looks like it was designed by a child 8. One needs special training on how to use this thing properly between teammates. A huge time sink when this is supposed to save us time. 9. Not easy to recommend a candidate to other positions.
Maja
People & Culture Manager in Polen
Industrieautomation, 11-50 Mitarbeiter
Verwendete die Software für: 6-12 Monate
Recruiter's point of view
Kommentare: The best ATS I've ever worked on.
Vorteile:
UX/UI experience and intuitive navigation - for sure you have been working on the process flow with recruiters. Easy implementation & great on-going support and help center content. Dashboard and analitics. Easy referral feature for employees. Many digital platforms to integrate with and enhance the selection / on-boarding etc.
Nachteile:
Career web page. Customisation is very limited.
In Betracht gezogene Alternativen: TRAFFIT
Warum Teamtailor gewählt wurde: New company without ATS, very good offer (price & quality) comparing to other local suppliers.
Gründe für den Wechsel zu Teamtailor: Combination of quality & price, very nice feel & look during the presentation, additional feature of career web page (a bit dissapointment - limited customisation options).