Was ist Muck Rack?
Ein Tool, das die Entdeckung und den Aufbau von Beziehungen mit den richtigen Medienvertretern für deine Produktwerbung optimiert.
Muck Rack – Details
Muck Rack
Muck Rack – Details
Muck Rack
Muck Rack – Videos und Bilder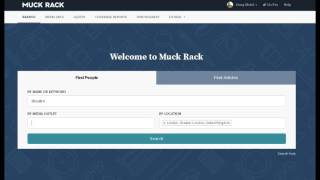 Kosten ähnlicher Produkte wie Muck Rack vergleichen
Startpreis
N/A
199,00 $/Monat
Nicht verfügbar
3.500,00 $/Jahr
Muck Rack – Bereitstellung und Support
Training
Persönlich
Live Online
Webinare
Dokumentation
Funktionen von Muck Rack
@mentions
API
Abonnementverwaltung
Aktivitäts-Dashboard
Aktivitäts-Verfolgung
Angebot in sozialen Medien
Anpassbare Berichte
Artikel der Autoren-Datenbank
Automatisches Aktualisieren
Benutzer-Management
Berichterstattung und Statistik
Content-Management
Daten-Import / -Export
Datenvisualisierung
Digitales Vermögens-Management
Direktes Mailmanagement
E-Mail-Verteilung
Echtzeit-Analytik
Echtzeit-Berichterstattung
Echtzeit-Daten
Erstellung von Pressemitteilungen
Etikettierung
Filtern
Inhalt-Bibliothek
Kalenderverwaltung
Kampagnenanalysen
Kampagnenmanagement
Kampagnenplanung
Kommunikationsmanagement
Kontakt-Datenbank
Kontaktmanagement
Kontrolle des Genehmigungsprozesses
Kundensegmentierung
Multi-Channel-Vertrieb
Multichannel-Marketing
Newsletter-Management
Presse-Überwachung
Presseausschnitte verwalten
SEO-Management
Sentiment-Analyse
Social Media-Überwachung
Social Performance Management
Social-Media-Integration
Suchen / filtern
Terminplanung
Vertriebsmanagement
Visuelle Analytik
Widgets
interaktive Inhalte
Überwachung
Christine J.
Associate Publicist; Crown, Hogarth, and Random House in USA
Verifizierter Nutzer auf LinkedIn
Verlagswesen, 5.001-10.000 Mitarbeiter
Verwendete die Software für: Mehr als 2 Jahre
Great for personalized pitches
Kommentare: Muck Rack is great for PR outreach and finding contacts outside of our usual pitching list. I've fostered relationships with media contacts using Muck Rack by referencing specific works or commenting on a subject that the contact cares about, which has resulted in more effective pitching than cold email blasts to an extensive list.
Vorteile:
Muckrack makes it easy to create specific, tailored pitches to appropriate media contacts. It's so helpful that it's not just name, title, and contact info - it provides examples of recent journalism that writer has done, and specific beats that they focus on. This makes it easy to figure out how to pitch them from an angle that will resonate, and connect with media contacts on a personal level.
Nachteile:
The UA could be simplified a little bit - looking at campaign searches can be a bit overwhelming when a bunch of less specific results show up.
Verifizierter Rezensent
Vice President in USA
Verifizierter Nutzer auf LinkedIn
Marketing & Werbung, 51-200 Mitarbeiter
Verwendete die Software für: 6-12 Monate
Possibly a viable all-in-one alternative for media lists and coverage reporting
Kommentare: The process of evaluating and deploying Muck Rack is relatively easy. The problem arises when you realize that results and information output are maddeningly inconsistent.
Vorteile:
The user interface is superb and very intuitive. Results are displayed in an aesthetically pleasing format. Eager, but friendly salespeople, unlike some of the competition. No hard sell; they really demonstrated that they wanted to earn our business.
Nachteile:
First and foremost, it's an all or nothing proposition. You can't buy access on an a la carte basis. You either get everything or nothing. That's a huge turnoff. Muck Rack is inconsistent with its contact's emails and especially phone numbers in comparison to the competition. There have been many instances where MR only provides the outlet's news desk phone number while the main competitor's software is able to provide the contact's direct number. MR also does not have very many hyperlocal media outlets while the competition does.
Henry S.
Publisher in USA
Onlinemedien, 2-10 Mitarbeiter
Verwendete die Software für: Kostenlose Testversion
Seriously inaccurate information on Muck Rack, and unresponsive 'customer service'
Kommentare: No one answers the phone :(
Vorteile:
Nothing. The information it conveys is inaccurate
Nachteile:
I publish a popular hyperlocal news website called WEHOville.com. When one does a Google search, MuckRack pops up with stories from WEHOville that lists those who post comments on the stories as their authors. I have complained about this before and it still happens. DO NOT TRUST MUCK RACK!
Adam D.
Digital Marketing Coordinator in USA
Medizinische Geräte, 201-500 Mitarbeiter
Verwendete die Software für: Mehr als 2 Jahre
Great way to find relevant media outlets
Kommentare: Muck Rack has made it much easier for me to find journalists that cover topics relevant to the products my business offers. I now spend less time searching for the right press contacts and I upset less people because I'm not pitching them stories they have no interest in.
Vorteile:
Muck Rack makes it much easier to find journalists based off what they cover and what their interests are. It's an easy way to save time and make sure your pitches are reaching the right people.
Nachteile:
There is nothing I dislike about Much Rack. It is a great software tool for marketing and PR professionals.
Jacqueline F.
PR Account Exec in USA
Öffentlichkeitsarbeit und Kommunikation, 11-50 Mitarbeiter
Verwendete die Software für: Mehr als 1 Jahr
Will never switch back!
Kommentare: I have really enjoyed using this platform. The customer service is impeccable and has helped my team multiple times.
Vorteile:
I like that you can create targeted contact lists easily. The contacts are relevant and you can connect with them personally.
Nachteile:
I would like to be able to edit my email body with images. Being able to wrap text would be a game-changer.