Was ist edgar?
Cloudbasiertes Social-Media-Planungstool, mit dem Unternehmen Social-Media-Aktualisierungen in einer durchsuchbaren Bibliothek organisieren können.
Wer verwendet edgar?
Entwickelt für Unternehmen jeder Größe, ermöglicht die cloudbasierte Plattform zur Social-Media-Planung Nutzern, Inhalte auf Facebook, Instagram, Twitter und LinkedIn zu planen, zu automatisieren und zu veröffentlichen.
Wo kann edgar bereitgestellt werden?
Cloud, SaaS, webbasiert
Erhältlich in diesen Ländern
Vereinigte Staaten
Erhältlich in diesen Ländern
Vereinigte Staaten
edgar – Videos und Bilder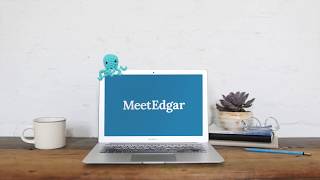 Kosten ähnlicher Produkte wie edgar vergleichen
edgar Funktionen
Automatisiertes Veröffentlichen
Berichterstattung / Analyse
Content-Management
Multichannel-Marketing
Nachterminierung
Social Media-Überwachung
Verwaltung mehrerer Konten
Alexandra
CEO in Estland
Verifizierter Nutzer auf LinkedIn
Marketing & Werbung, Selbstständig
Verwendete die Software für: 1-5 Monate
In Betracht gezogene Alternativen:
Great customer support, team and tutorials
Kommentare: I like the fact that it is definitely a female company, which is something I support. Customer service and courses/tutorials are ace, but the product is a bit difficult to get used to at first. I like that they seem to have finally enabled posting for all major social media channels.
Vorteile:
What is great about MeetEdgar is the human component, really. They get back to you super fast (even if you're on a trial), and have a very active community and many many tutorials. I recently also learned one of their social media courses. As for the software, once you have the knack of it it has a few useful features like automatically changing titles etc. so you can reschedule old posts. We did stop using it about a year ago or so (right now the account is inactive, but stocked with loads of material). We might use it again for a new project next year.
Nachteile:
It takes a while to understand how to operate the library for non technical people. I am a bit tecchie, so was able to handle it back in 2019. But i assume it is not as easy for less technical people. I found the UX back then- no idea if it has changed in the meantime- quite "dry", and little appealing. Once you have filled your library though, it is basically an evergreen, and quite useful.
Verifizierter Rezensent
RCIA Co-Director in USA
Verifizierter Nutzer auf LinkedIn
Religiöse Einrichtungen
Verwendete die Software für: Mehr als 1 Jahr
Great program, but overpriced.
Vorteile:
Edgar is an amazing product provided by a company with a fun and progressive business culture. From their Octopus logo/mascot to their responsive customer service, the Edgar team makes doing business with them a pleasure. As for the product itself: if you want to use evergreen content on your social media accounts, Edgar is an excellent online database that will enable you to keep posting that content, over and over again. It's easy to set up, easy to use, easy to make adjustments to on the fly. Edgar will pull new content from your blog or website via RSS, making it easy to continually add fresh new material as well. If the price were more affordable for solopreneurs, I'd still be with them.
Nachteile:
The pricing. Basically they are gearing this product to businesses that are already capitalized to the point where it makes sense to spend per month on social media management. That's great ' if you're that size. But for solopreneurs like me who have to make every dime count, it's just not good enough of a value to justify the premium price. When other solutions like Social Pilot offer very similar features at a fraction of the cost, it's hard to justify staying with the Octopus. I would strongly encourage Laura Roeder and company to come up with a tiered pricing plan so that solopreneurs, startups and even hobbyists could take advantage of Edgar (even if a "lite" version) but at a more affordable cost. Presumably, as businesses succeed, they would move into the more robust plans, so this should be a smart long-term strategy for Edgar. Anyway, I think a business just needs to carefully evaluate the value. Bottom line: great product, but is it worth it? Ultimately I decided it wasn't.
Buchhaltung, Selbstständig
Verwendete die Software für: Mehr als 2 Jahre
Lots of value, a few BIG drawbacks
Kommentare: I loved using Edgar but the main reason I got it was for the Twitter recycling. Now that Twitter started enforcing the stupid duplicate rule, the app lost a lot of value **FOR ME**. If you an create 100 different tweets for each post, then I definitely recommend using it in conjunction with the other platforms.
Vorteile:
**25** social accounts is a huge number to be able to link! Forever recycling saves a huge amount of time and eliminates the need to reload once everything has been shared one time. Previews help you see exactly what your posts will look like. Unlimited number of daily/monthly posts and unlimited library.
Nachteile:
Only one price point--great if you're big but horrible if you're just starting out or have a limited budget. Only 3 networks are available--IG & Pinterest have been "coming soon" for months & YT isn't being mentioned yet. Content auto generator is horrible--it literally pulls short sections from your content and can be bad for out-of-context stuff.
Jason
Partner in USA
Verifizierter Nutzer auf LinkedIn
Design, 2-10 Mitarbeiter
Verwendete die Software für: Mehr als 1 Jahr
In Betracht gezogene Alternativen:
Great for scheduling evergreen content
Kommentare: Overall Edgar was great for scheduling content we wanted to repeat on a set schedule, however, the price eventually became an issue for us to be able to keep using the software.
Vorteile:
Edgar was great for scheduling evergreen content that could be repeated on a selective schedule. IT allowed us to create branded social media campaigns we could intersperse with other evergreen content on different topics and allowed us to have a steady stream of content on our social media platforms.
Nachteile:
The starting price point of Edgar was significantly higher than other options that were available. I understand that Edgar has since created pricing options that meet a smaller business's social media needs.
Edgar
Investigation in Kolumbien
Justiz, 10.000+ Mitarbeiter
Verwendete die Software für: Mehr als 2 Jahre
Quelle: SoftwareAdvice
Auditorías
Kommentare: Auditorías
Vorteile:
Procesos Solicitados Traslados Internacionales