Was ist Bento for Business?
Bento erfindet neu, wie Unternehmen B2B-Zahlungen in der digitalen Welt verwalten.
Die Finanzbetriebsplattform von Bento ermöglicht es Unternehmen, physische und virtuelle Zahlungsanmeldeinformationen für Personen und Systeme ohne Risiken zu erstellen, und bietet ihnen eine beispiellose Kontrolle über ihre B2B-Ausgaben und Unternehmensausgaben. Offene APIs und White-Label-Partnerschaften erweitern diese Kontroll- und Verwaltungsvorteile, um Zahlungen über die Ausgaben hinaus zu automatisieren.
Wer verwendet Bento for Business?
KMU, gemeinnützige Organisationen, Start-ups, Organisationen und Verbände melden sich für Bento an – in den Bereichen Bauwesen, Heimservice, Schädlingsbekämpfung, Fuhrpark, Umzug, Hauspflege, Immobilien, Öl und Gas und im Bereich Umzugsdienstleistungen.
Wo kann Bento for Business bereitgestellt werden?
Cloud, SaaS, webbasiert, Android (mobil), iPhone (mobil), iPad (mobil)
Über den Anbieter
Bento for Business
Ansässig in San Francisco, USA
2014 gegründet
Telefon-Support
Chat
Erhältlich in diesen Ländern
Vereinigte Staaten
Über den Anbieter
Bento for Business
Ansässig in San Francisco, USA
2014 gegründet
Telefon-Support
Chat
Erhältlich in diesen Ländern
Vereinigte Staaten
Bento for Business – Videos und Bilder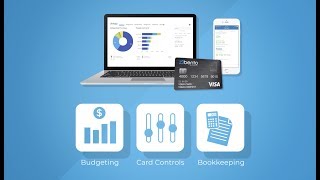 Kosten ähnlicher Produkte wie Bento for Business vergleichen
Bento for Business Funktionen
ACH Zahlungsabwicklung
Ausgabenanalyse
Belegmanagement
Berichterstattung / Analyse
Beschaffungsmanagement
Budgetierung/Prognosen
Erstattungs-Management
Genehmigungs-Workflow
Kontrolle des Genehmigungsprozesses
Kosten-Kontrolle
Kostenverfolgung
Mobile Zahlungen
Online-Zahlungen
Upload mobiler Kaufbelege
Alternativen für Bento for Business
Bewertungen über Bento for Business
Jennifer B.
Director of Operations, Admin, and Finance in USA
Non-Profit-Organisation Management, 11-50 Mitarbeiter
Verwendete die Software für: 6-12 Monate
In Betracht gezogene Alternativen:
A great and flexible option for employee spending
Kommentare: More than anything, Bento has saved so much time that we used to spend processing receipts and reimbursements.
Vorteile:
It was very easy to set up, implement, and integrate with our existing systems. The card spending controls offer a great way to give out cards to a wide range of employees without having to worry about the financial risk of giving traditional company credit cards out to so many people. The auto re-load from our bank account ensures that there are always enough funds available in our Bento account. The app also offers an easy way for employees to upload receipts on the spot.
Nachteile:
Sometimes it takes up to 2 weeks for new cards ordered to arrive in the mail, but other than that, I really don't have any complaints about the software.
Megan D.
Operations Manager in USA
Bau, 11-50 Mitarbeiter
Verwendete die Software für: Mehr als 1 Jahr
Bento For Business Review
Kommentare: We are a small construction company who specializes in maintenance of apartment buildings. Our crew used to buy materials everyday for jobs and come into office for re-reimbursement checks every couple days. Now they are not loosing time in the field and book keeper isn't having to stop in the middle of something to review receipts and cut a check.
We have also seen saving in 'returns'.. with crew using cards refunds are issued to the cards, not given in cash.
The tagging feature allows job cost tracking at a quick glimpse as well.
Controlling spend limits etc is great and if needing adjusting (i.e. a larger purchase) can be done in seconds and the crew in the field then immediately can use card with the change.
I would like to see a quicker fund load when doing a bank transfer and a larger transfer limit, but otherwise no complaints!
Vorteile:
Time and money saving, great control of spending from anywhere, snap shot of job costs thanks to 'tag' feature.
Nachteile:
Would like a quicker transfer time or loads from bank and a larger limit per day in transfers.
Heather H.
HR Assistant in USA
Maschinerie, 51-200 Mitarbeiter
Verwendete die Software für: Mehr als 1 Jahr
I would not recommend...
Kommentare: The software/company was obviously pretty new considering you would contact the same two people every time you reached out to customer service. They were as helpful as they could have been with what they had to work with.
Vorteile:
I liked the price and the ease of getting started with it. Making funding deposits into the system was easy and fast.
Nachteile:
Perhaps it just didn't fit quite right for what we needed it for. We were using it to award monthly incentive bonuses to our technicians. The issue I kept having was that I would update the amount they currently had on their debit card to include the new months' amount but half the time it would make me put it down to $10.00 and save then go in again and enter the correct amount. And sometimes it wouldn't save it. A few times I had to go through all of my records and cross-reference them with the statements showing what the technicians had spent, and correct their balances. It was ridiculous. It would have been nice if the software kept a record of keypunches so you could go back in the history and see what didn't save.
Julie N.
Accounting Coordinator in USA
Umweltdienstleistungen, 51-200 Mitarbeiter
Verwendete die Software für: Mehr als 1 Jahr
Great product for our business
Kommentare: As an administrator, I am able to assist our local or traveling employees at the office on my desktop, or at home from the app. Easy to make any adjustment (in real-time, no delay) to any users daily/weekly/monthly allowance and spending category, or turn off the card if lost, stolen, or for misuse. Reports are easily downloaded for monthly reconciliation.
Vorteile:
Ease of use at office or home. Immediate access and ability to adjust a users funds, categories, or turn the card off. Report is simple to download for monthly reconciliation process. Users can see their limits quickly via app.
Antwort von Bento for Business
vor 5 Jahren
Thanks Julie for taking the time to share your thoughts on Bento. We really appreciate your support and kind words. If there's anything that I can do to help you, please feel free to reach out to me. Thank you!
Michele V.
Manager, Operations in USA
Informationstechnologie & -dienste, 11-50 Mitarbeiter
Verwendete die Software für: Mehr als 1 Jahr
Bento is the BEST!
Kommentare: Bento cards have simplified our business spending immensely
We can now offer company credit cards to our employees as one of their benefits
All cards are immediately controllable and suspendible if lost or stolen or upon termination
Spending limits allow for control of funds and restriction of categories
The customer service can't be beat! They will work until it is solved and never leave you hanging! The only negatives would be to have an integration with QuickBooks, which is in the works, and international purchasing ability-also in the works!
Vorteile:
Functionality and ease of use Customer Service-Senam is outstanding!
Nachteile:
No international coverage or accounting integration