Was ist brightwheel?
Baue deine Kinderbetreuung mit brightwheel aus, der Plattform für die kindliche Früherziehung. Brightwheel ist eine Verwaltungssoftware für Kinderkrippen, Kindertagesstätten und Vorschulen, die speziell dafür entwickelt wurde, um die Aufgaben der Leitung/Verwaltung und der Lehrkräfte in Einrichtungen mit mittlerer bis hoher Kapazität zu rationalisieren. Zusätzlich zur Einsparung von Arbeitsstunden pro Woche für jeden Mitarbeitenden, sind 100 % der Eltern zufriedener mit dem Schulerlebnis, sobald brightwheel implementiert ist.
Wer verwendet brightwheel?
Institutionen für die frühkindliche Erziehung, Lehrkräfte und Direktoren, die Kinderbetreuungseinrichtungen mit mehr als 25 Lernenden leiten: Vorschule, Tagesstätte, Hort, Sonntagsschule, Camps usw. Brightwheel richtet sich auch an Eltern und Erziehungsberechtigte.
brightwheel – Details
brightwheel
2014 gegründet
brightwheel – Details
brightwheel
2014 gegründet
brightwheel – Videos und Bilder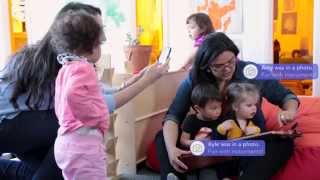 Kosten ähnlicher Produkte wie brightwheel vergleichen
Startpreis
15,00 $/Monat
Nicht verfügbar
Nicht verfügbar
25,00 $/Monat
brightwheel – Bereitstellung und Support
Kundenbetreuung
E-Mail/Helpdesk
FAQ/Forum
Wissensdatenbank
Telefon-Support
Chat
Einsatz
Cloud, SaaS, webbasiert
Mac (Desktop)
Windows (Desktop)
Android (mobil)
iPhone (mobil)
iPad (mobil)
Training
Live Online
Webinare
Dokumentation
Videos
Funktionen von brightwheel
ACH Zahlungsabwicklung
API
Abrechnung & Rechnungsstellung
Aktivitäts-Dashboard
Aktivitäts-Verfolgung
Alarmfunktion / Benachrichtigungen
Anmeldung / Onboarding
Anpassbare Berichte
Anwesenheitsmanagement
Berichterstattung und Statistik
Datensicherheit
Dokumentenmanagement
Dokumentenspeicher
E-Mail-Management
Echtzeit-Aktualisierungen
Echtzeit-Berichterstattung
Echtzeitüberwachung
Elektronische Unterschrift
Elektronische Zahlungen
Elternportal
Erinnerungen
Immunisierung & Allergieüberwachung
Kalenderverwaltung
Klassenterminplanung
Kommunikationsmanagement
Kontakt-Datenbank
Kreditkartenbearbeitung
Kundenkonten
Kundenportal
Lebensmittel- / Ernährungs-Management
Live-Chat
Mailinglisten-Management
Mehrere Standorte
Meilensteinverfolgung
Mitarbeitermanagement
Mitglieder-Datenbank
Mobile Benachrichtigungen
Rechnungsmanagement
Registrierungs-Management
Rollen-basierte Genehmigung
Self-Check-in/-Check-out
Self-Service Portal
Studenten-Management
Tägliche Protokolle
Veranstaltungskalender
Verfolgen der Teilnahme
Video-Unterstützung
Wartelisten-Management
Zahlungsabwicklung
Zusammenfassende Berichte
API
Aktivitäts-Dashboard
Aktivitäts-Verfolgung
Alarmfunktion / Benachrichtigungen
Anmeldung / Onboarding
Anpassbare Berichte
Anpassbare Formulare
Anwesenheitsmanagement
Aufgabenmanagement
Berichterstattung / Analyse
Berichterstattung und Statistik
Beurteilung-Management
Bibliotheks-Management
Buchhandlungs-Management
Cafeteria-Management
Daten-Import / -Export
Dokumentenmanagement
Dokumentenmanagement
Dokumentenspeicher
Drittanbieter-Integration
Echtzeit-Benachrichtigungen
Elektronische Zahlungen
Eltern-/Schüler-Portal
Facility-Management
Finanzmanagement
Fortschrittsbericht
Höhere Bildung
Kalenderverwaltung
Klassenterminplanung
Kundenportal
Lernmanagement
Mitarbeitermanagement
Online-Kalender
Online-Zahlungen
Personalverwaltung
Registrierungs-Management
Rollen-basierte Genehmigung
Schulbezirk
Self-Service Portal
Software für Schulen
Sonderpädagogik
Studenten-Management
Studenteninformationen/-dokumente
Studentenportal
Stundenplan-Management
Transportmanagement
Unabhängig/Privat
Verfolgen der Teilnahme
Wohnungsmanagement
Zulassungsmanagement
Emily B.
Business Manager in USA
Verifizierter Nutzer auf LinkedIn
Non-Profit-Organisation Management, 11-50 Mitarbeiter
Verwendete die Software für: Mehr als 2 Jahre
Perfect for communication, logging activities, and billing
Kommentare: Being able to message parents back and forth is so nice now that our staff doesn't have to use their personal phone to text. With COVID rising and possible winter weather arriving soon, the fact that we can send out an alert if we need to close is crucial! It sends a text message as well as the message in the app. Also, they are constantly adding new features and making updates using feedback from users. They are always friendly and helpful!
Vorteile:
I love that it keeps us (mostly) paperless! All activity is logged so we have no need for paper daily sheets. We can easily message our parents individually AND send out messages to the whole school.
Nachteile:
The billing feature isn't quite where we need it do be, but they have already fixed it and we are just waiting to be updated to the new platform.
Bildungsmanagement, 11-50 Mitarbeiter
Verwendete die Software für: Mehr als 2 Jahre
In Betracht gezogene Alternativen:
LOVE Brightwheel!
Kommentare: LOVE this app! Our teachers use this all day and I use it throughout the day as well. Families love being able to talk to the classroom teachers and stay up-to-date with what their child is doing each day.
Vorteile:
Being able to message parents, send pictures, send updates and stay in contact with the families is the best part of the app. We love it as a school and the parents love it even more!
Nachteile:
There can be some confusion when checking students in and out and using name-to-face but once you know the difference it becomes easy to use.
Karen P.
Business Manager in USA
Religiöse Einrichtungen, 11-50 Mitarbeiter
Verwendete die Software für: 6-12 Monate
Brightwheel Review
Kommentare: We switched to Brightwheel as our previous software was no longer being supported. We liked moving to a cloud based product and the flexibility that gave our administrators and parents. We enjoy the ability for parents to see their billing and the ability to pay through the app. Customer support for the transition and set up was very good. Since launch, customer support is responsive (not always timely, since we are not in the same time zone as many of the customer support team) and they listen to our needs. There have been great changes in the short time we have been using the software. We are looking forward to the remainder of our concerns being addressed as we move forward. I would recommend this software over other cloud based software programs we looked at, but the consumer should be aware of the limitations of the software from a back office stand point.
Vorteile:
What we like best is this is a cloud based software. The parent portal allowing parents better access to their child's day and classroom progress as been extremely well received by our parents. We like the check-in feature which allows us to know at any time how many children are in the facility. The ability for the teachers to post notes / pictures for parents allows the parents real time updates instead of waiting till the end of the day to receive a hand written note that is stuffed in the child's belongings and forgotten.
Nachteile:
The back office side of the software is lacking. The reporting capabilities of the software is very limited. For example, we are unable to run an accounts receivable report by family. We can run by child, but you have to run multiple reports for families with more than one child in the program. The software does not currently allow for prepayments or credits on account. Also, on the program side, no ability to run facility or even classroom wide reports - for example a parent directory for all classrooms; allergy report by classroom. All reporting (financial and program) is child driven without the option of classroom or facility driven. This makes extra back office work for our staff - for example creating an allergy list or parent directory in excel to share with teachers. Or tracking receivables in other software, creating double accounting needs.
Sheryl R.
daycare assistant in USA
Bildungsmanagement, 11-50 Mitarbeiter
Verwendete die Software für: 6-12 Monate
Progressive and innovative
Kommentare: I have been using it now for 6 months and it has been the best thing. No more storing papers from the previous day, its all on the app and the parents love that they can check in and pay all on the same app.
Vorteile:
I find that charting the daily activities of the children is much easier on the app, and makes communication with the parents much easier as to sending them a question or just letting them know how their child is doing. It's an absolute help to new parents that leave their 8 week old in daycare for the first time. Knowing that they can reach the teacher at any moment is a tremendous blessing to them. Making them feel safe and having the ability to request a picture to be sent to them really does bring peace of mind to them.
Nachteile:
none really. I have found the ease of use and features easy to use.
Mabel B.
Administrative Assistant in USA
Bildungsmanagement, 11-50 Mitarbeiter
Verwendete die Software für: 6-12 Monate
In Betracht gezogene Alternativen:
Amazing!
Kommentare: The customer service is amazing! We are extremely pleased with how easy they made the switch from our old system. Every time we've had a question we have received a more than helpful response from their support staff. My employees love it and our parents love it.
Vorteile:
The Brightwheel app enables our employees to easily communicate with parents anytime of day or night and keeps them from giving out their personal phone numbers. The system is very user friendly and has easy to follow instructions and prompts.
Nachteile:
The reporting from a financial side is not very clear if you are coming from another system with a lot of information in reports. Inputting immunizations could be a little quicker like putting a date and selecting the immunizations that were given on the date would be great.