Was ist Wattics?
Enterprise-Cloud-Energiemanagement-Plattform, die sich auf eine großartige Nutzererfahrung für wachsende Teams in den Bereichen Energieberatung, Analyse und Eigentum konzentriert, um Bulks an messbaren Daten zu verwalten, Ineffizienzen in Geschäftsprozessen zu erkennen, die Nachhaltigkeit zu steigern und CO2-Emissionen zu reduzieren.
Die White-Labelled-Energieanalyse ermöglicht die Datenerfassung von Versorgungsunternehmen/IoTs/Nebenzählern, das Prognostizieren von Einsparungen, Benchmark-Portfolios von Gebäuden und KPIs, das Messen und Überprüfen von Effizienzprojekten, das Analysieren von Tarifen und Erstellen von Nachhaltigkeitsberichten nach Maß.
Wer verwendet Wattics?
Teams aus den Bereichen Energieberatung, Nachhaltigkeitsmanagement, Energieanalyse, Energiedienstleistungsunternehmen, Energiemanament, Energieingenieurswesen, Versorgungsunternehmen, Energiebilanzierung und Facility-Management.
Wo kann Wattics bereitgestellt werden?
Cloud, SaaS, webbasiert, Android (mobil), iPhone (mobil), iPad (mobil)
Über den Anbieter
Wattics
Ansässig in Dublin, Irland
2011 gegründet
Telefon-Support
24/7 Live-Support
Chat
Über den Anbieter
Wattics
Ansässig in Dublin, Irland
2011 gegründet
Telefon-Support
24/7 Live-Support
Chat
Wattics – Videos und Bilder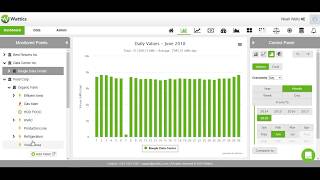 Kosten ähnlicher Produkte wie Wattics vergleichen
Chris M.
Managing Director in Kenia
Verifizierter Nutzer auf LinkedIn
Hausmeisterservice, 11-50 Mitarbeiter
Verwendete die Software für: Mehr als 1 Jahr
In Betracht gezogene Alternativen:
Best Energy Analytics Software
Kommentare: Am now able to properly run my energy management programs with ease of analytics. I have increase my revenues by 200% just by using this software over the past 1 year.
Vorteile:
Wattics has a great way of visualizing energy data and works with several different brands of meters. It has great way of displaying energy analytics that makes our clients love it. On top of it, the M&V functionality is robust and follow IPMVP protocols of measurement and verification.
Nachteile:
I think wattics can do something on multiple linear regression. Adding this feature will improve the software functionality.
Grace J.
Senior Project Engineer in USA
Maschinenbau oder Wirtschaftsingenieurwesen, 51-200 Mitarbeiter
Verwendete die Software für: 6-12 Monate
In Betracht gezogene Alternativen:
Intuitive Software, Highly Responsive Team
Vorteile:
Getting setup in & using Wattics had a very short learning curve. The software is built with "do it yourself" functionality, which has been great for our team - we are able to easily add/remove/reconfigure meters based on our frequently changing needs. It's capabilities are easy to understand and setup - really nice to just be able to give someone a login and have them be able to figure it out with minimal training. The customer support is also fantastic. Questions are answered promptly, and the team is happy to jump on a call as needed to help out. They have even added some great new features we requested.
Nachteile:
Wattics does not have the breadth or depth of some of the really big players in the energy software space. It's great for what we need it for (meter data analysis & visualization), but cannot yet directly compete with a fully fleshed out fault detection & diagnostics platform. I would like to see some automated meter-level analyses built out to allow for more "one click" assessment of common savings opportunities.
Mark Y.
Director, Engineering in USA
Versorgungsunternehmen, 1.001-5.000 Mitarbeiter
Verwendete die Software für: 1-5 Monate
Had High Hopes BUT...
Kommentare: Not happy - should have shopped further for a better platform
Vorteile:
Report generator Now available calculated point
Nachteile:
Lack of customer support and timely resolution to issues Spotty data with gaps
Antwort von Wattics
vor 4 Jahren
Hi Mark, Thanks for having a meeting with us recently, from which together we have come to the conclusion that the issue is not with the Wattics platform itself, but with the irregular data sent from a device you use. This requires you to liaise with the hardware vendor in order to resolve the issue with timestamps as agreed. We are eager to launch your project as soon as possible, so as discussed, if the issue with the device cannot be solved with the hardware manufacturer, we could go for a bespoke development of our software to cover your unique needs. We are always in touch and to reach a timely resolution, you and your teammates need to let us know where there are gaps in your understanding of the platform. Yours and our teams already have done a significant amount of work in order to connect your different sensors and meters in your test lab, so we believe you will launch your onsite project very soon! Sincerely, The Wattics team
Cas D.
Specialist gebouwmonitoring & Data-analist in Niederlande
Verifizierter Nutzer auf LinkedIn
Maschinenbau oder Wirtschaftsingenieurwesen, 11-50 Mitarbeiter
Verwendete die Software für: 6-12 Monate
Great platform with innovative functionalities and excellent support.
Vorteile:
The Wattics platform provides the tools to analyze and predict energy consumption and cost. The platform enables us to view, visualize and report consumption patterns in diverse ways with simple and efficient functionalities. The Wattics platform is compatible with a wide range of (existing) hardware and this makes it easy to install and get up and running. Support is excellent.
Nachteile:
There is always room for improvement and as an admin user I would like to have more control over adding, removing or altering data points.
Megan M.
Co-Founder in Kanada
Umweltdienstleistungen, 2-10 Mitarbeiter
Verwendete die Software für: 1-5 Monate
Best Energy Analytics Platform on the Market for Energy Professionals
Kommentare: So far we are extremely impressed with the high levels of customer support, with the training (2.5 hour initial session with Lorenzo yesterday!) and just how vetted with real-world situations and organizations that all of the features seem to be.
Vorteile:
We are so excited about this software because it is tailored for energy professionals. We find that even when selling to building owners or property managers, they are not the experts who know how to make their building as efficient as possible. They need trusted professionals with data to back them up to help them make the best decision on what upgrades are necessary to maximize ROI.
Nachteile:
It is not 100% intuitive, there will still need to be some training for our clients
Antwort von Wattics
vor 4 Jahren
Megan, Thank you for your review! We are happy to hear that the platform is helping you to guide your clients as their trusted advisers based on actionable energy insights. P.S. Don't forget to book your next training session with Lorenzo!