Was ist Forward Thinking GPS?
Forward Thinking Systems entwickelt Flottenmanagement- und Tracking-Lösungen, die echte Probleme für das Flottenmanagement lösen. FTS-Kundschaft verwaltet effiziente und profitable Flotten mit einer All-in-one-Lösung, die Fahrzeug- und Ressourcennachverfolgung, zuverlässige ELDs, kommerzielles GPS, Warnmeldungen, Berichte und vieles mehr in einer einzigen webbasierten Plattform vereint. Die FTS-Flottenmanagementsoftware bietet dir einen besseren Einblick in dein Personal, Fahrzeuge und den allgemeinen Betrieb.
Wer verwendet Forward Thinking GPS?
Intelligentes Flottenmanagement, das Fahrzeugaktivität, Fahrerleistung, elektronische Protokolle, Kraftstoff, Wartung und mehr über eine einzige webbasierte Schnittstelle verfolgt und Berichte darüber ausführen möchte.
Wo kann Forward Thinking GPS bereitgestellt werden?
Cloud, SaaS, webbasiert, Android (mobil), iPhone (mobil), iPad (mobil)
Über den Anbieter
Forward Thinking Systems
Ansässig in Jericho, USA
2005 gegründet
24/7 Live-Support
Erhältlich in diesen Ländern
Vereinigte Staaten
Über den Anbieter
Forward Thinking Systems
Ansässig in Jericho, USA
2005 gegründet
24/7 Live-Support
Erhältlich in diesen Ländern
Vereinigte Staaten
Forward Thinking GPS – Videos und Bilder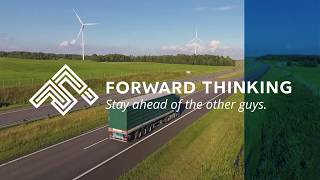 Kosten ähnlicher Produkte wie Forward Thinking GPS vergleichen
Forward Thinking GPS Funktionen
Alarmfunktion / Benachrichtigungen
Arbeitsauftragsverwaltung
Echtzeitüberwachung
Fahrer-Management
Fahrzeug-Nachverfolgung
GPS
Historische Berichte
Inspektions-Management
Instandhaltungsmanagement
Kraftstoff-Management
Mitarbeitermanagement
Routing
Statusverfolgung
VIN-Suche
Verfolgen von Vermögensanlagen
Versandmanagement
Vorfall-Berichterstattung
Alternativen für Forward Thinking GPS
Bewertungen über Forward Thinking GPS
Wanda M.
Purchasing Manager in USA
Verifizierter Nutzer auf LinkedIn
Bau, 51-200 Mitarbeiter
Verwendete die Software für: 1-5 Monate
Great Customer Service, and product more than meets requirements
Kommentare: Driver location visibility, speed monitoring, ability to report road use miles, and track maintenance needs.
Vorteile:
There is enough 'canned' reports to arrive at good information extraction. As with any software, there is a little bit of time to load in the data, but lots of potential once you do. We were able to move from outsourcing our road use reporting to doing it ourselves. Helped offset the cost of having the ELD's and operating systems. We also have better visibility into driver performance; and driver locations at any given time. As well as integrating with our Comdata credit cards to help track fuel expense.
Nachteile:
Any issues I had come across have been due to myself and not the software. No complaints from our company. FTS has been stellar in customer service and always quick to answer questions.
Brian K.
Executive Vice President in USA
Transport/Güterfrachtverkehr/Schienenverkehr, 201-500 Mitarbeiter
Verwendete die Software für: Mehr als 2 Jahre
Forward Thinking Systems product and service review
Kommentare: My overall experience with Forward Thinking has been great. They offer a premium product with a priority and focus on customer service. In my opinion, the experience can't get much better in the telematics market.
Vorteile:
After reviewing many different telematic solutions, Forward Thinking was the only system that was able to incorporate all of our needs on to one platform. They offer a one stop shop for equipment tracking, video analysis, route optimization, paperless dispatch and messaging, while ensuring a user friendly experience.
Nachteile:
With any electronic system, connectivity can be a challenge, but Forward Thinking's response time and attention to detail has made for an almost 100% up time experience.
Transport/Güterfrachtverkehr/Schienenverkehr, 11-50 Mitarbeiter
Verwendete die Software für: Mehr als 2 Jahre
Walk away, do not let their prices make you sign a lease
Kommentare: Walk away from this company, they have you do a lease through Navitas, and you can not break it. Their services is really poor( Dot wrote me a violation because their system was down), installation gives you problems(sent the units and they sent wrong cables, and connectivity issues), and Management is hard to reach, I have been waiting for weeks 6-7 to be exact to have one of the Managers call me back to see if there is away to break the lease and they are always on vacation, on another call, or trainning, do yourself a favor and go to another company, i saved 5 dls per unit when I renewed my lease and I deeply regret it.
Vorteile:
Not Really much, Price is decent, but we have an issue at least once a week
Nachteile:
Poor management, I am trying to see if there is a way to walk out of the lease and they wont speak to me about it, equipment issues, software issues,
Antwort von Forward Thinking Systems
vor 2 Jahren
Hi Jorge. We apologize for any frustration you've experienced. We audited your support tickets and from what we see, the support team has been responsive and helpful. Our management team also reached out a few times to discuss your concerns, but unfortunately we are unable to break leases signed with Navitas. We offer multiple pricing options for fleets of all sizes though, including no-lease options. Lastly, if your drivers are having issues with DOT, we offer free management and driver training sessions. It looks like the training sessions were declined before, but we would be happy to reschedule if you're interested just email us at support@ftsgps.com to let us know.
Bau, 51-200 Mitarbeiter
Verwendete die Software für: Mehr als 2 Jahre
FTS-GPS Review
Kommentare: Forward Thinking systems has allowed us to keep a closer eye on our workforce, optimize our daily routing for drivers and help answer questions regarding start times, punch in and outs as well as provide more accurate arrival times to customers.
Vorteile:
This tracking system allows you to avoid delyas, find the shortest and most efficent routes and optimize your daily driving schdeules drastically reducing fuel and labor costs.
Nachteile:
The old portal was hard to use and took some time to load but the new portal is much cleaner and faster.
Automotive, 11-50 Mitarbeiter
Verwendete die Software für: Mehr als 2 Jahre
Great Partnership
Kommentare: We are happy overall and will remain with Forward Thinking Systems.
Vorteile:
The software is clean and truly like nothing else out there in the market today. The team is friendly and always willing to assist with requests. They certainly are open to new ideas and implement them into their software.
Nachteile:
Nothing, the software is great and the customer service is very helpful and responsive always.