Was ist Salon and Spa Ultimate?
Salon & Spa Ultimate ist das einzige hybride Managementsystem in der Branche. Du erhältst das Beste aus beiden Welten: Desktop-basierte Software für schnelle und zuverlässige Operationen vor Ort, die nicht auf eine Internetverbindung angewiesen ist, sowie eine cloudbasierte Version, auf die du von überall her zugreifen kannst, einschließlich Tablets und Smartphones. E-Mail-Marketing, Text- und E-Mail-Bestätigungen, Online-Buchungen und unbegrenzter Support sind in allen Paketen enthalten. Ab 99 $ pro Monat.
Wer verwendet Salon and Spa Ultimate?
Salon & Spa Ultimate eignet sich für Unternehmen, die ihre Management- und Marketing-Software in einem Paket konsolidieren möchten, sowie für alle Unternehmen, die ihr Wachstum beschleunigen wollen.
Wo kann Salon and Spa Ultimate bereitgestellt werden?
Cloud, SaaS, webbasiert, Windows (Desktop), Windows (On-Premise), Linux (On-Premise), Android (mobil), iPhone (mobil), iPad (mobil)
Über den Anbieter
Salon Ultimate
2011 gegründet
24/7 Live-Support
Chat
Erhältlich in diesen Ländern
Vereinigte Staaten
Über den Anbieter
Salon Ultimate
2011 gegründet
24/7 Live-Support
Chat
Erhältlich in diesen Ländern
Vereinigte Staaten
Salon and Spa Ultimate – Videos und Bilder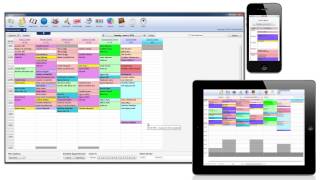 Kosten ähnlicher Produkte wie Salon and Spa Ultimate vergleichen
Salon and Spa Ultimate Funktionen
Bestätigung / Erinnerungen
E-Mail Marketing
Für Salons und Spas
Inventarverwaltung
Kundendatenbank
Kundenmanagement
Lohn- und Gehaltslisten-Management
Mehrere Standorte
Mitarbeitereinsatzplanung
Mitarbeitermanagement
Rabattmanagement
Terminplanung
Terminverwaltung
Verkaufsberichte
Verkaufspunkt POS
Wiederkehrende Termine
Alternativen für Salon and Spa Ultimate
Bewertungen über Salon and Spa Ultimate
Verwendete die Software für: Nicht angeboten
Salon Ultimate is the most advanced software I have come across
Kommentare: I have had the pleasure of being a salon owner since 1993. During the past 21 years salon and spa software has evolved enormously.

I have seen many software companies' come and go. In the past we simply needed a cash register. Those days are long gone. Today we require more than just a point of sale at the front desk. We need a tool that can help us manage our business and our clientele history.

There are many software choices but for us the decision was clear. Salon Ultimate is the most advanced software I have come across and it becomes more robust with every update. There are new and improved features that are integrated directly to our 8 workstations on a regular basis. These features are designed to make the job of a salon coordinator and salon owners substantially easier.

The features in Salon Ultimate are very extensive. They include POS, appointment book, reports, ability for staff to see their schedules on their mobile devices and much more.

Marketing and reliability, scheduling and detailed reports are just the core features. We actually save money in the long run with Salon Ultimate's automated email confirmations, online booking, professional guidance and email marketing capability. The service is web based and I review activity from home, confirm appointment requests and even train staff remotely. The most recent bonus was the construction and launching of a mobile app to our website. What other company will give you that? Did I mention that they recommended a firm to build our interactive website and linked the interphase with our network? This makes appointment requests and gift card sales easy to log, track and process directly into our daily sales report.

Another important relevant aspect is the exceptional customer service provided by Salon Ultimate. The knowledgeable staff goes above and beyond my expectations. They are always helpful and attentive to our needs, concerns and questions. The staff at Salon Ultimate is not only software designers, they are considered to be our business partners and friends. They advise us, based upon 20 years of experience in the beauty industry, be it hardware decisions, software tutorials or business practices.

I can't express highly enough our appreciation for Salon Ultimate. I would recommend the service, software and relationship that we have come to know and trust to anybody looking for the best in salon and spa software.
Verwendete die Software für: Nicht angeboten
Forever thankful and Loyal
Kommentare: One of the hardest/scariest things for a Salon and/or Spa to do is change their booking software... It can be a total nightmare especially for an established business. One day off line could cost thousands. My Salon and Spa Opened in September of 2012 using another companies software for booking, by November we knew we needed another system:( From lack of training, support and a non user friendly system we knew that handling our hopes for a high volume of clients would be impossible. By chance a week later a Salon and Spa Ultimate representative walked through our doors and presented us with a brochure highlighting the benefits of their software and company support, including a personal in house 1 on 1 set up! We were sold.... By December 1st we were up and running, incredible! Not only were we able to get personal training and were able to learn to operate it in record time there were so many additional features that have helped grow and organize my businesses, and they keep coming up with more! I wholeheartedly believe that Salon Ultimate has directly increased our sales and profitability, as a new business owner I couldn't have asked for more. We even won Best Salon and Spa in our area our first year in business! I am always able to contact a REAL person every time I call with a question and its usually someone I have talked to before, always kind, professional, helpful and direct. My question can usually be answered or the problem fixed within seconds.... I feel confident calling in the middle of processing a ticket with the client standing in front of me ( a notoriously stressful moment) Because I know they will answer right away! Customer service is what makes my business different and stand out from others and I am so happy that Salon Ultimate runs their business the same way. Forever thankful and Loyal
Einzelhandel
Verwendete die Software für: 6-12 Monate
Cheap but not worth it.
Kommentare: Over promised and under delivered. I guess this software was not intended for larger spas. The gift certificate tracking is lacking and the reports are incomplete. They have so much potential. I am very disappointed with the customer care and follow up.
Vorteile:
The drag and drop appointment feature is very handy. The basic appointment booking is simple.
Nachteile:
The reports need to be streamlined. There are so many to choose from and none that give me the. Inbred I need.
Verwendete die Software für: Nicht angeboten
Salon Ultimate is the true 'all-in-one' software that gives you a real pulse on your business.
Kommentare: In a time where software is highly competitive it is easy to fall prey to an 'over-promised & under delivered' product. Salon Ultimate is NOT that product. Not only is it a well thought out user friendly system, it is a system that will help grow and evolve WITH your business. The entire process from initial questions, to training, to cumbersome database conversion, to actual implementation was incredibly smooth. The salon I spearheaded migration for had a 15 year database and 2 locations (not a small conversion). The Salon Ultimate team was available and ready for the whole process. They were honest about challenges and supportive and thorough with all questions and concerns from the salons. To be able to synergistically run an appointment/POS management system as well as marketing/prospecting and online booking tools in one program shows that they are in tune with the busy operations and needs of a salon while simplifying important elements that will enhance your business. If you're looking for a product that offers excellent software and backs it up with fantastic customer service, this is the software for you. Thank you Alex & Salon Ultimate team!
Verwendete die Software für: Nicht angeboten
I have nothing but good things to say about Salon and Spa Ultimate
Kommentare: I have nothing but good things to say about Salon and Spa Ultimate. We upgraded our 12 Salons to Salon Ultimate and are very happy with the results. Their program fits our needs in that it works well with our payroll program, offers a simplified mailing system, allows the ability to create a "loyalty" rewards system for our clients, a much improved marketing program, our salons can now access each other for client history and formulas and gift cards, which they couldn't do before. It also offers a greater security and monitoring system as well as a more efficient way for updating and changing our inventory. Having everything on the cloud allows us to keep all our data and peace of mind should a computer ever crash.
During our conversion/consolidation, Sean Maney and his staff were superb! They were accessible at all times, worked very well with my staff, answered all questions and kept us informed of what was happening and when.
My staff and I look forward to our continued working relationship with Salon and Spa Ultimate.