Was ist SiteDocs?
Eine intuitive Sicherheitssoftware mit Weltklasse-Analytics.
Ein einfacher Weg, dein gesamtes Sicherheitsprogramm über mobile Apps und das Internet zu verwalten. SiteDocs bietet einen nutzerdefinierten Formularersteller, eine PDF-Dokumentenbibliothek, ein Mitarbeiterzertifizierungsmanagement, einen Offline-Modus und vieles mehr. SiteDocs hilft dir bei der einfachen Verwaltung deines Sicherheitsprogramms, spart dir Zeit und hilft dir, den höchstmöglichen Sicherheitsstandard aufrechtzuerhalten.
Wer verwendet SiteDocs?
Baugewerbe, Öl und Gas, Bergbau, Fertigung, Maschinenbau, Elektrik, Sanitär, Heizung, Baggerarbeiten, Baumaßnahmen etc.
Wo kann SiteDocs bereitgestellt werden?
Cloud, SaaS, webbasiert, Android (mobil), iPhone (mobil), iPad (mobil)
Über den Anbieter
SiteDocs
Ansässig in Abbotsford, Kanada
2012 gegründet
Telefon-Support
Sprachen
Englisch, Französisch, Spanisch
Über den Anbieter
SiteDocs
Ansässig in Abbotsford, Kanada
2012 gegründet
Telefon-Support
Sprachen
Englisch, Französisch, Spanisch
SiteDocs – Videos und Bilder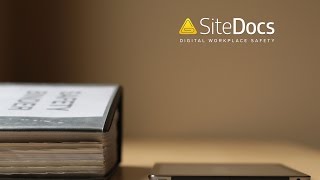 Kosten ähnlicher Produkte wie SiteDocs vergleichen
SiteDocs Funktionen
Archivierung & Aufbewahrung
Berichterstattung / Analyse
Betriebliches Gesundheitsmanagement
Compliance Management
Compliance-Verfolgung
Corrective and Preventive Action (CAPA)
Dashboard
Dokumentenmanagement
Formularverwaltung
Inspektions-Management
OSHA-Protokollierung
Risikobewertung
Risikomanagement
Störfallmanagement
Trainingsmanagement
Unfalluntersuchung
Versionskontrolle
Vorfall-Berichterstattung
Wirtschaftsprüfung-Management
Alternativen für SiteDocs
Bewertungen über SiteDocs
Kellie G.
Safety Administration in Kanada
Bau, 11-50 Mitarbeiter
Verwendete die Software für: Mehr als 2 Jahre
SiteDocs Review
Kommentare: Safety is a critical part of construction now. Daily HAs, fall protection plans and lift inspections, training certificates, tool box meetings, start up meetings are all required for COR, and contractors. You must be able to do the required paperwork, and have it signed and submitted in the most efficient manner in order to stay competitive in the construction industry. Sitedocs can, and will do all of these things.
Vorteile:
We like that we can customize forms to our company. Our safety documentation is completed and forwarded to our office and contractors before work starts. Our staff can do all company documentation on their phone, through SiteDocs, including inspections, investigations, incident/accident reporting. We can also put important information into SiteDocs for staff, such as OHS information, SWP and SJP and critical task lists. Also, SiteDocs is extremely helpful for annual COR audits. You can customize this software to do almost anything you want!
Nachteile:
We have been happily using this software for quite a few years. I suppose the user fee would be what we like least about the product :)
Greg K.
Corporate Safety Officer in Kanada
Bau, 51-200 Mitarbeiter
Verwendete die Software für: Mehr als 2 Jahre
In Betracht gezogene Alternativen:
Site Docs Rocks!
Kommentare: We do not need to wait for files or reports they are in as real time as we can get them. Resources for SWP's are available immediately for the workers to review.
Vorteile:
The Site workers, Supervisors, Managers and Safety Management team are able to review documents, hazard assessments and incidents in as near to real time; as you can get.
Nachteile:
It is found that workers repeat their Hazard Assessments. New tasks and hazards are to be identified daily and control measures must be put in place for each hazard identified. There should be a second look, that if the same is repeated, the document will prompt a review of hazards and controls.
Zohair H.
VDC Engineer in USA
Bau, 51-200 Mitarbeiter
Verwendete die Software für: 1-5 Monate
Good application for field use in construction. Can generate reports for job.
Vorteile:
Very helpful tool for the Construction superintendents/foremen and construction safety managers. Daily safety reports can be produced and published using site docs like JHA (Job Hazard analysis). Fabrication drawings can be marked on field for issues and comments. The reports created in Site docs can be shared with the project team.
Nachteile:
Its has good application in the AEC industry but it cannot handle the entire documentation control process like plangrid and procore. Its not as expensive as procore and plangrid, which can be used for projects smaller in size.
Scott L.
HSE Coordinator in Kanada
Bau, 51-200 Mitarbeiter
Verwendete die Software für: Mehr als 2 Jahre
In Betracht gezogene Alternativen:
SiteDocs has ensured compliance and enabled growth and development of our Safety Culture!
Kommentare: Seamless integration, we were able to adapt our paper forms to SiteDocs and compliance and training use was an easy transition. It has completely changed the game for us in terms of knowing what is going on at site, responding to issues in the field, and understanding and addressing trends that are occurring.
Vorteile:
The ease of building forms, the amazing and immediate customer service, the analytics services available to users, and the intuitive, user-friendly layout all made SiteDocs an immediate success in our company. It has been essential in attaining and maintaining our Certificate of Compliance (COR) designation, and has allowed us to develop a high-functioning hazard identification and corrective action process that ensures that the loop is closed on any deficiencies every time. Great value for the impact that this software can make. We now have safety statistics at our fingertips and have been able to identify trends and establish long term goals based on the information we gained form using this software.
Nachteile:
Some features which I would like to see in the future would be smart forms that would trigger automatic outcomes (if I select this, then that happens, if this then that, etc.) currently you can not build a form that would automatically generate appropriate actions or responses based on the input, which would be handy for cause analysis and hazard recognition forms. Another feature that would be nice to see on the forms is a feature (apart from the flag and follow up feature) which would automatically prompt / notify necessary parties to review and sign forms.
Janet A.
Safety Committee & Admin in Kanada
Landwirtschaft, 11-50 Mitarbeiter
Verwendete die Software für: Mehr als 2 Jahre
Fantastic, user-friendly software
Kommentare: We've been using this program for 3yrs and we are very grateful for it. It's been invaluable during our COR audit for proof of documentation and the customer service has been phenomenal! They're always just a phone call away. [SENSITIVE CONTENT] has helped us immensely and even helped with training for our staff to learn the app. He's been incredible!
Vorteile:
This program is truly a time saver! It's simple to use, and saves the hassle of employees filling out paper forms (and getting lost before the papers find their way into the office!) All forms, inspections, and incidents can be recorded electronically to give all staff access at all times, and admin can set privacy for confidential forms. So user friendly and intuitive for staff as safety compliance becomes as simple as using an app on a smartphone!
Nachteile:
As the administrator, I'd like to be able to copy / duplicate forms when creating new forms. It would be beneficial for creating very similar forms without having to start a new form from scratch.