Was ist PingPlotter?
PingPlotter ist ein grafisches Traceroute- und Ping-Tool, das die Netzwerkleistung so visualisiert, dass Probleme schneller und einfacher für alle identifiziert werden können – von Online-Gamern und Video-Streamern bis hin zu VoIP-Administratoren und IT-Experten. Funktionen für die Remote-Bereitstellung, Netzwerküberwachung, Skripting und eine Weboberfläche sind zusammen mit mehreren zusätzlichen Funktionen enthalten.
Wer verwendet PingPlotter?
MSPs, IT-Support, VoIP, Cloud-Dienste, Netzwerkadministratoren, Rundfunkanstalten, Gamer und jeder andere, der ein Netzwerk für die geschäftliche oder private Nutzung verwendet.
Wo kann PingPlotter bereitgestellt werden?
Mac (Desktop), Windows (Desktop), Windows (On-Premise), Linux (On-Premise), iPhone (mobil), iPad (mobil)
Über den Anbieter
Pingman Tools
Ansässig in Boise, USA
1998 gegründet
Erhältlich in diesen Ländern
Vereinigte Staaten
Über den Anbieter
Pingman Tools
Ansässig in Boise, USA
1998 gegründet
Erhältlich in diesen Ländern
Vereinigte Staaten
PingPlotter – Videos und Bilder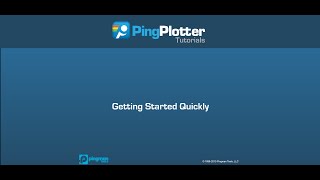 Kosten ähnlicher Produkte wie PingPlotter vergleichen
PingPlotter Funktionen
Bandbreiten-Überwachung
Dashboard
IP-Adressen-Überwachung
Netzwerkanalyse
Server-Überwachung
Alternativen für PingPlotter
Bewertungen über PingPlotter
Kevin
Principal in USA
Verifizierter Nutzer auf LinkedIn
Versicherung, 2-10 Mitarbeiter
Verwendete die Software für: Kostenlose Testversion
Carrier issues validated
Kommentare: We've been having service outages with our Commercial- Time Warner/ Spectrum Cable internet service for a few months. We've had five different technician visits over this time trying to resolve the same issue. With all of the visits we have replaced every piece of internal house cabling and external drop to the pole tap, and all the modem/ router/ switches. And at a serious cost! The last two visits were by senior technicians and they came with laptops to show us the health history of our account. We had be writing down the times and dates of the outages to help them pinpoint the problem. What we found is their sampling rate time frame is way broader than they were telling us. Meaning we could tell them the service was out for say an hour on this day/time, but they couldn't see it on their tools dashboard. Looking forward to clearing up the intermittent outages problem. Many thanks!
Vorteile:
Easy of install and use. It wasn't until we installed Ping Plotter and took screen shots of those subsequent days for QOS proof did they start to get somewhat serious about the problem! Up till then it was a patch it and move on. patch it and move on mentality. Now that we have our own tool, we gain better QOS data.
Nachteile:
Glad to report we did not find any issues with the software.
Robert
Senior Product Development Scientist & QC Manager in USA
Verifizierter Nutzer auf LinkedIn
Chemikalien, 11-50 Mitarbeiter
Verwendete die Software für: Kostenlose Testversion
A simple to use tool that tells you the state of your Internet connections
Kommentare: I got PingPlotter because I was having flaky Internet connections, and I couldn't figure out what the problem was. I could use Email and simple web surfing, but anything more than that was difficult at best and impossible at worst. Windows 10 Ping program wasn't very helpful. I went online looking for a better, free solution, and I saw many recommendations for PingPlotter. PingPlotter comes with a 15 day free trial of the Pro Version, and that turned out to be very helpful. By monitoring multiple targets continuously over several days, I found patterns in my Internet connection that helped me figure out, in consultation with my ISP where the problems were. I am now working towards a resolution of those problems. I highly recommend PingPlotter as a simple-to-use, helpful tool for diagnosing Internet connection problems.
Vorteile:
Easy to download and install. 15 day free trial Easy to use. It's almost intuitive, but where it isn't intuitive, the help files are actually helpful. Provides helpful graphics that show the path my data is taking, how much packet loss is occurring, and where it is occurring. In the Pro version, you can continuously ping and monitor multiple targets for hours.
Nachteile:
The free trial comes to an end. :-( The graphics would sometimes hang up when I was running continuous monitoring for hours, forcing me to reset and restart.
Computer-Vernetzung, 2-10 Mitarbeiter
Verwendete die Software für: Nicht angeboten
Looking at the Pro version. The tool works very well, but limited in ability for its price.
Kommentare: Visibility of some network issues. I would purchase some licenses immediately if they were 1/5 of the price (which is where I would put a price on this software) however since the seat license is so high, I will look for other solutions.
Vorteile:
Graphical representation of IP traceroutes and ping stats done at the same time. The graphical information is clear and concise, with the ability to scroll through a timeline to some extent. The software cleanly loads in Win10 without crashing.
Nachteile:
Timeline information needs work as it's not intuitive to scroll through specific times/dates. There is no obvious way to look at a time period over 7 days and examine a 3 minute interval in detail for example. Pricewise; I purchased a Fingbox which is a physical device which has a lot more ability than this software although the uses are different I feel the value for money for this software is not good! The price of this software is way over priced for the pro version. There are no bulk purchase discounts at all so no incentive to purchase more than once license at a time. The features the software offers is very small for what you would expect at the price. There are many free tools out there which seem to do the same thing. Ultimately it won't take long for someone to write an equivalent at a sensible price. The trial period for the pro version should be longer. I didn't really get much time to spend on customisation. Take out the weekends and normal busy daily activities and there isn't really much time to spend on the testing it in 14 days.
Konsumgüter, Selbstständig
Verwendete die Software für: Kostenlose Testversion
Great for diagnosing home network problems
Kommentare: Fantastic overall experience. I would recommend this product to anyone!
Vorteile:
PingPlotter was very easy to use and intuitive for someone who is not overly familiar with networking. The instructions on the website were very detailed and helpful. The visualizations and graphs were particularly helpful! I was able to use this information to prove to my internet service provider that there were problems. Overall, this is a great tool!
Nachteile:
None! This software works seamlessly and I can't think of any suggestions for improvement.
Diego
System Administrator in Italien
Verifizierter Nutzer auf LinkedIn
Krankenhausversorgung & Gesundheitswesen, 201-500 Mitarbeiter
Verwendete die Software für: Kostenlose Testversion
Quelle: GetApp
PingPlotter
Kommentare: It helped our organization in finding the cause of a problem of slow response when connecting to one of our server. We show to the supplier of the internet connections the big latencies we had and got the problem solved.
Vorteile:
PingPlotter is a powerful tools to check networks, bandwidth, latency and other stuff. It's the best choice on the market considering its features and its price. Should be a tool for every sys admin.
Nachteile:
There's no real cons. The software is already good on every aspect. Even the free trial can help a lot.