Was ist Arreya?
Das Kanaltarifmodell von ARREYA enthält keine Gerätegebühren. Ein Kanalabonnement für unbegrenzte Geräte. Kein Vertrag. Dieser Cloud-Softwaredienst ist eine Chrome-Unternehmenslösung und umfasst ein exklusives ARREYA Creative Studio zum Entwerfen eigener Inhalte, einen Medienmanager mit Speicher, Terminplanung, Analyse und Geräteverwaltung – ein komplettes System. Darüber hinaus integrieren die Widgets Twitter, Wetter, Video, Google Sheets, Docs, Slides und Live Feeds. Und es wird eine kostenlose Testversion oder Live-Demo angeboten, um dich zu überzeugen.
Wer verwendet Arreya?
Unternehmenskommunikation, Schulen, Krankenhäuser und Marketingdienste mit Massenpublikum, die sofortige und konsistente Informationen benötigt, die von überall aus bereitgestellt werden, unabhängig davon, wo sich das Publikum befindet.
Wo kann Arreya bereitgestellt werden?
Cloud, SaaS, webbasiert, Mac (Desktop), Windows (Desktop), Linux (Desktop), Chromebook (Desktop), Android (mobil), iPhone (mobil), iPad (mobil)
Über den Anbieter
ARREYA
Ansässig in Hiawatha, USA
1996 gegründet
Telefon-Support
24/7 Live-Support
Chat
Erhältlich in diesen Ländern
Vereinigte Staaten, Vereinigtes Königreich
Über den Anbieter
ARREYA
Ansässig in Hiawatha, USA
1996 gegründet
Telefon-Support
24/7 Live-Support
Chat
Erhältlich in diesen Ländern
Vereinigte Staaten, Vereinigtes Königreich
Arreya – Videos und Bilder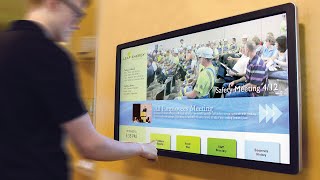 Kosten ähnlicher Produkte wie Arreya vergleichen
Arreya Funktionen
Anpassbare Vorlagen
Automatisches Aktualisieren
Drahtloser Internet-Zugang
Inhalte planen
Layout und Design
Medienbibliothek
Nutzungsverfolgung/-analyse
Remote-Display-Management
Remote-Zugriff/-Kontrolle
Spiellisten-Management
Support mehrerer Bildschirme
Touch-Screen
Virtuelle Tastatur
Visueller Editor
XML / RSS
Michael S.
President and CEO in USA
Verifizierter Nutzer auf LinkedIn
Öffentlichkeitsarbeit und Kommunikation, 11-50 Mitarbeiter
Verwendete die Software für: 6-12 Monate
It's about time...
Vorteile:
...that a digital signage suite lived up to the hype. Arreya does so in spades! Its interface is intuitive, customer service is on point, and the security level is military grade.
Nachteile:
We have literally found no weaknesses in either the hardware or software sides of Arreya.
Robyn P.
IT Director in USA
Gesundheit, Wellness & Fitness, 11-50 Mitarbeiter
Verwendete die Software für: Kostenlose Testversion
Perfect Fit
Kommentare: When we first started shopping for a digital signage solution, there were many competitors to consider. Our top 3 needs were: 1) a system that works efficiently and reliably, 2) something that wouldn't break the bank, 3) reliable support. Arreya has fulfilled all 3 of these needs and more. Our concept is unique and if there was ever a road block or challenge that we faced because of our unique operations, the development team was super helpful and quick to find a solution.
Vorteile:
The software works perfectly, the Arreya admin panel is easy to use and you can quickly create channels, update content and deliver it instantly to all devices in the field. The process of adding a new device to the Arreya device management panel takes just a couple of minutes, which makes deploying our channels in the field a fast and seamless process.
Nachteile:
Our content is delivered 24 hours a day at exact specified times, every day of the week. When we first began our trial with Arreya, it was a bit of a process for us to schedule a channel to play a video every 15 minutes. However, the development team was extremely helpful when I called and explained our challenge to them and they found a fast solution to this problem. I believe they're actually releasing a software update to accommodate long-term scheduling in the near future.
Tammy B.
DIRECTOR OF MARKETING in USA
Verwendete die Software für: 6-12 Monate
Overall, we have been enjoying using Arreya. It gives us the opportunity to easily deploy info.
Vorteile:
Arreya is easy to use and deploy. It works excellently with the Chrome devices we have deployed in our factory. The ability to cast using Chrome box and cast and the dost per channel was the main reason we started using Arreya over other apps. Support and customer service have been great - often feels like we're right next door ;). We are looking forward to more refined backend features.
Nachteile:
We'd like to see the functionality on the backed be more smooth. Many of the transitions cause issues, adding a slide always adds it to the bottom of the list - maybe have a slide sorter screen on its own would be helpful so that we can drag and drop slides more easily? Features like using google slides is slow so timing how long the arreya slides last is tricky as we get a lot of black screen time and miss content - to avoid this we've now stopped using google slides which was a neat feature especially since we have others that contribute to content. We have 6 screens running but none of them sync / play simultaneously. When adding an image to the slide it doesn't place the correct size - too small and we have to scale them even though they are made 1920x1080 they come in very tiny.
Tim H.
Board of Directors in USA
Erholungseinrichtungen & -dienstleistungen, 2-10 Mitarbeiter
Verwendete die Software für: Mehr als 1 Jahr
Great system and great support for the budget minded
Kommentare: Purchased system during Covid 19 pandemic. There were some supply chain issues getting equipment into the county but [SENSITIVE CONTENT] kept us informed and worked diligently to address problems and expedite delivery of hardware and development of screens to meet our timeline.
Vorteile:
Flexibility - a variety of presentation format options Great customer support during setup and also in day to day operation User interactive screen capability Easy to maintain/manage content
Nachteile:
There were a few presentation capabilities that are not offered
Jan S.
Teacher Librarian in USA
Bildungsmanagement, 51-200 Mitarbeiter
Verwendete die Software für: Mehr als 1 Jahr
Arreya is versatile and easy to use
Kommentare: We installed monitors throughout our high school to post announcements and videos for school and community events. The software has many options for displaying information, and an easy learning curve for users.
Vorteile:
I don't have a lot of time to spend creating signage and need something easy and intuitive. Arreya makes sense. I can easily navigate the dashboard and develop customized signage for our high school. When I have time to play with it, I am always excited to see there are additional options for creating content. Best of all, there is always someone on the other end of the line when I call for help, and they are always patient and positive.
Nachteile:
Sometimes my monitors go blank, and I have to troubleshoot the problem. Most often it's our wifi, not the software.