Was ist Hiver?
Hiver ist ein E-Mail-Tool für die Zusammenarbeit für Unternehmen. Du kannst damit gemeinsam genutzte Posteingänge wie support@ oder sales@ verwalten, ohne Gmail verlassen zu müssen. Support-Teams nutzen es als Helpdesk. Verkaufs- und Account-Management-Teams verwenden es zur Verwaltung von Kundengesprächen. Finanzteams verwenden es für das Workflow-Management. Hiver steigert die Produktivität aller Teams beim E-Mail-Management.
Wer verwendet Hiver?
Jeder, der Gmail/G Suite für die Arbeit verwendet.
Wo kann Hiver bereitgestellt werden?
Cloud, SaaS, webbasiert, Android (mobil), iPhone (mobil)
Über den Anbieter
Hiver
2011 gegründet
Telefon-Support
24/7 Live-Support
Chat
Über den Anbieter
Hiver
2011 gegründet
Telefon-Support
24/7 Live-Support
Chat
Hiver – Videos und Bilder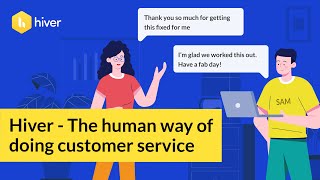 Kosten ähnlicher Produkte wie Hiver vergleichen
Hiver Funktionen
Aufgabenmanagement
Bearbeiten in Echtzeit
Berichterstattung / Analyse
E-Mail-Management
E-Mail-Überwachung
Gemeinsamer Posteingang
Kampagnenanalysen
Kommunikationsmanagement
Leistungskennzahlen
Live-Chat
Makros/Antwortvorlagen
Mobiler Zugriff
Reaktions-Management
Remote-Support
Remote-Zugriff/-Kontrolle
Routing
Self-Service Portal
Service Level Agreement (SLA) Management
Suchen / filtern
Supportticket-Management
Ticket-Management
Verfolgung von Interaktionen
Vorformulierte Antworten
Warnungen / Eskalation
Warteschlangenmanagement
Werkzeuge zur Zusammenarbeit
Workflow-Konfiguration
Brian del terzo C.
Administrator in USA
Verifizierter Nutzer auf LinkedIn
Professionelles Training & Coaching, 11-50 Mitarbeiter
Verwendete die Software für: Mehr als 2 Jahre
In Betracht gezogene Alternativen:
We are so pleased to have found Hiver!
Kommentare: It is easy to administrate, very user friendly, and the support is phenomenal. I don't think I've ever waited more than a few seconds for a response from a member of their friendly and extremely competent support team.
Vorteile:
The collaboration between Hiver and G-Suite to create a cohesive team environment has allowed us to better collaborate together to improve the customer experience. We can assign emails internally, share inboxes and disposition emails as open, pending, or closed - chat about 'tickets' in the Hiver side bar, and step in to assist on existing email chains without having to forward emails to different departments or members across the team.
Nachteile:
I'd love to be able to create a 'ticket' within Hiver on behalf of a customer. Currently tickets can only be created based on an email interaction between a customer and our company.
Nick J.
Partner & Co-Founder in Dänemark
Übersetzung und Lokalisierung, 2-10 Mitarbeiter
Verwendete die Software für: Mehr als 1 Jahr
In Betracht gezogene Alternativen:
Hiver is the absolutely best Shared Inbox service and helped us optimizing our workflows by 50%.
Kommentare: We tried several providers of Shared Inboxes and we ended up staying with Hiver for the solely reason that they choose to focus on the core aspects of mail management and not various other features, that businesses at our size usually use other Sales or Project services for. We have used Hiver for more than a year now and it has so far saved us from hundreds of hours by providing us with a great overview and management of all incoming mails/task to be taken care of. The service is not the cheapest on the market, but it's absolutely worth every penny. Hiver has given us the opportunity to work more effective, close deals faster, collaborate better resulting in overall higher turnover since we started using the tool. It integrates smoothly with G Suite and we would highly recommend this tool for any business.
Vorteile:
The mail management part is alfa omega. Its the core of this service, that makes it stand out from competitors. This tool allows you to manage hundreds of mails weekly without losing the overview. It integrates smoothly with G Suite, so are you already comfortable with Gmail, then you cannot miss Hiver!
Nachteile:
Setting rules for the automations could be optimized to handle more criteria and it would be great to be allowed to bulk add email adresses instead of manually adding one by one. It works though and its great.
Danial A.
ZIWO Cloud Contact Center Software in Jordanien
Informationstechnologie & -dienste, 11-50 Mitarbeiter
Verwendete die Software für: Mehr als 2 Jahre
A unique system to always provide excellent customer service on time.
Kommentare: In order to avoid having to switch between multiple systems to see what messages we had received, Hiver consolidated all of our emails into one platform. This helped us increase our interaction with emails that received us with various content more quickly and efficiently, and also kept us in touch with updates and responses, the matter of which made the processes of following up on customer requests and problems more efficiently, and also the directives of the heads of work were circulated and a more efficient way of distributing information.
Vorteile:
Hiver streamlined the email-based management of support issues, tasks, and client information. Hiver makes email entry in remote offices simple and easy. Allows team members to argue String emails, as well as categorize emails that can be seen by everyone on the team. An email box that is shared by all members of a team helps keep everyone on the same page. Assigning projects to coworkers, tracking their progress, and organizing their workload are all made easier with this tool. Using Hiver, you may work together with colleagues on each customer and keep track of important emails to ensure you don't miss anything.
Nachteile:
In general, there are no negatives affecting the general performance of Hiver, as after completing the training, the team will be able to use it efficiently at their different levels and experience. But the problem remains with the high subscription prices, which are not suitable for small enterprises.
Verwendete die Software für: 1-5 Monate
Awful experience!!! After integrating this tool, my clients stopped receiving my emails.
Kommentare: None. Hiver completely derailed our operations at a period of peak media coverage.
Vorteile:
Hiver features initially seemed great. I was eager to make use of their promised benefits. Unfortunately, Hiver completely halted our operations for over a week and lost us a great deal of business. Throughout it all, their team was unapologetic and dismissive of the role that Hiver had in derailing our email communications with clients. Rather than seeing this as an opportunity to resolve and repair clear technical defects, they blatanly blew off our repeated requests for support.
Nachteile:
I tested out many collaborative email tools before deciding to go with Hiver. I was impressed by the intuitive design, canned response functionality and mobile app. Unfortunately, several days after installing the tool, we began to suspect that our clients were not receiving our emails consistently. I reached out to Hiver several times over the course of a few days and received no response. This lapse in email functionality coincided with some significant and favorable press coverage - our site traffic was nearly double what it normally was - and yet we went for 10 entire days without a single new client at a time when we would normally have 10-15 new clients typically. I tried for an entire week to engage help from the Hiver team. They insisted - and continue to insist- that their tool does not impact email sending functionality. I would beg to differ. As soon as I uninstalled Hiver, my communications with clients returned to normal. On a final note, to top this off, my team and I are 3 women. When we called Hiver's India-based support team, they were loudy making obvious, derogotary remarks about our being female and unable to understand their tool - calling us 'Dumb Blondes'. Highly inept and unprofessional team. Also worst nightmare for a growing startup!
Bryn S.
Director of Operations in USA
Verifizierter Nutzer auf LinkedIn
Informationstechnologie & -dienste, 11-50 Mitarbeiter
Verwendete die Software für: Mehr als 2 Jahre
In Betracht gezogene Alternativen:
Hiver has been a game changer our account management team!
Vorteile:
Hiver has made it so much easier for our client-facing teams to collaborate with each other and better serve all of our clients' needs. Everybody can see all the emails coming in, leave internal notes for each other, mark emails as pending/closed, use templates...the list goes on. It's been a huge game changer!
Nachteile:
I wish we could use Hiver for even more. Everything about it is great, including amazing customer service, and so now I want to get rid of our other software/integration app providers and just use Hiver exclusively.