Was ist SafetyTek?
Sicherheitspapierkram blockiert echte Sicherheit! SafetyTek ist ein auf deine Bedürfnisse zugeschnittenes Sicherheitssystem, mit dem du die Sicherheit von überall aus überwachen und deine gesamte Belegschaft, einschließlich der Subunternehmer, mit unbegrenzten Nutzern einbinden kannst! Fördere sichere Arbeitsgewohnheiten mit Erinnerungen und Analysen. Verwende intelligente Formulare und nicht nur eine Bibliothek voller Sicherheitsformulare zur Gewährleistung der Sicherheit. Du hast wirklich besseres zu tun, als 50 PDFs zu durchsuchen, die von Formularübergabesystemen bereitgestellt werden.
Wer verwendet SafetyTek?
Für alle Bauunternehmen, die die Sicherheitsdokumentation besser verwalten und gleichzeitig Geld sparen möchten.
Wo kann SafetyTek bereitgestellt werden?
Cloud, SaaS, webbasiert, Android (mobil), iPhone (mobil), iPad (mobil)
Über den Anbieter
SafetyTek Software
Ansässig in Calgary, Kanada
2014 gegründet
Telefon-Support
Chat
Erhältlich in diesen Ländern
Kanada, Vereinigte Staaten
Über den Anbieter
SafetyTek Software
Ansässig in Calgary, Kanada
2014 gegründet
Telefon-Support
Chat
Erhältlich in diesen Ländern
Kanada, Vereinigte Staaten
SafetyTek – Videos und Bilder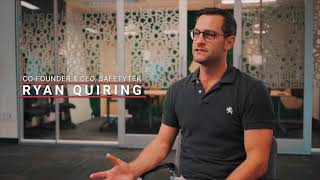 Kosten ähnlicher Produkte wie SafetyTek vergleichen
SafetyTek Funktionen
Berichterstattung / Analyse
Betriebliches Gesundheitsmanagement
Corrective and Preventive Action (CAPA)
Dokumentenmanagement
Inspektions-Management
OSHA-Protokollierung
Risikobewertung
Risikomanagement
Störfallmanagement
Trainingsmanagement
Unfalluntersuchung
Vorfall-Berichterstattung
Wirtschaftsprüfung-Management
Alternativen für SafetyTek
Bewertungen über SafetyTek
Dan R.
Safety and Workforce Manager in Kanada
Bau, 51-200 Mitarbeiter
Verwendete die Software für: 1-5 Monate
Lear Construction Management Ltd.
Kommentare: Working with Craig and Ryan to develop the features that fit our company needs has been very satisfying especially when it all starts to come together and work like we planned - its exciting to be a part of a ground floor program/company that we know will be the wave of the future and can't wait to see and be a part of where it goes.
Vorteile:
Central gathering of information eliminates travel/trips to just gather documents and gives our safety team more tiome to concentrate on what matters - more consistent and immediate reporting designed to fit our needs - universal and dynamic targeting of form distribution - built in reminders - access from anywhere with internet service - access to ongoing reports/statistics - we can modify the forms ourselves - responsibility for safety is in the hands of the correct individuals - the ability to download files and archive them on our server for reference & archiving is very important
Nachteile:
time lag for implementation of the features - need a designated access for audits/auditors, need would like notification of when the features are functional - some difficulty assigning more than one site to a crew leader - (had to get creative with a numbering system) - more versatility of wording within the forms would be helpful - need to be careful to control the certificate matrix input to avoid multiple columns for the same training - looking forward to having "Notifications" operational - need to prepare an equipment/tool management matrix
Christine T.
Safety Officer in Kanada
Unterhaltungselektronik, 51-200 Mitarbeiter
Verwendete die Software für: 6-12 Monate
Amazing experience wit fantastic results !!
Kommentare: The biggest benefit is the live feed from the sites. Also the sorting and filing of information coming in.
Vorteile:
This program is a real time saver. Filing forms and documents is a breeze. I am still learning the program. but every day it gets easier. Love the live feed! It does take a long time for input of information, but the end result is well worth the effort. The help line is great as well, always come back quickly and with the right answer.Also Great flexibility of the program to suite our needs . Thank you SafetyTek
Nachteile:
This topic should read -Wish List (not Cons) I wish they would have a listing matrix for tools and equipment , similar to certificates. This would be invaluable for quick review and follow up on all tools and equipment, like vehicles, and trucks. As I go deeper in the use of the program, I am sure this wish list will grow...it has such potential for Time Management , just to mention one item for future consideration.
Tyler W.
Field supervisor in Kanada
Bau, 51-200 Mitarbeiter
Verwendete die Software für: 6-12 Monate
I prefer paper forms
Kommentare: I find it to be more of a hassle than systems previously used
Vorteile:
The ability to use my phone is a plus at times
Nachteile:
It actually takes longer to fill out forms on my phone than a physical paper form takes
Antwort von SafetyTek Software
vor 2 Jahren
Hi Tyler, Thank you for your review. Sorry to hear it's taking you longer to fill out a digital form versus paper. This is not what we usually come across. In some cases, this is due to how your forms have been created in SafetyTek. All forms can be changed in real-time to assist with the speed of completing a form. I would be happy to connect for a one on one discussion for more details. The SafetyTek Team
Nickolas S.
Safety Supervisor in Kanada
Bau, 51-200 Mitarbeiter
Verwendete die Software für: 6-12 Monate
Safetytek review
Kommentare: Working well for our company. Looking forward to adding all of our contractors to the account as users.
Vorteile:
The unlimited amount of users available and storage of files.
Nachteile:
The way the files are stored. The creation of additional folders when creating new sites. The inability to add PDF's directly to forms. Save and submit function at the top of form only. Have to scroll back up to submit. Table widget is nearly unusable due to size and formatting within the app.
Antwort von SafetyTek Software
vor 2 Jahren
Hi Nickolas. Thank you for your review. We are happy to hear that you enjoy having unlimited users and file storage. We appreciate your comments as we are always looking for ways to improve. Here is an update on a couple of your topics: The table widget, file system, and sign off are being restructured for a better experience in our new forms 2.0. being released this quarter. Thanks for the valuable feedback. If you have other suggestions we would be happy to hear them. The SafetyTek Team
Bau, 11-50 Mitarbeiter
Verwendete die Software für: 1-5 Monate
The SafetyTek program has eliminated the fear of getting CoR certified :)
Kommentare: Time management, very little office time is invested in keeping this program going. I get CoR without the loss of productivity.
Vorteile:
My crews find it easy to use. It eliminates all the paperwork & unnecessary man hours to keep CoR compliance. Best of all keeps us safe without cutting down productivity.
Nachteile:
Would like to see it as an app, I hear that is coming very soon :) The system does need a bit of explanation & I would like to see info icons to explain all features better so that I could use the program to its full potential. A bit more of a user-friendly approach to designing the forms. As far as filing goes, if there was an auto-filing system that would automatically create the folders when you enter a site name that would be awesome :) This way anyone on site can add a job and it's filed in a tidy manner for the office and in the way the CoR auditors would like to see. The system is evolving to the needs of the industry and getting better each update. I look forward to what they come up with next.
Antwort von SafetyTek Software
vor 5 Jahren
Great Ryan, The apps are on there way and will be released this summer!