Was ist Routific?
Hunderte der weltweit effizientesten Zustellunternehmen vertrauen auf Routific. Die Software hilft dir bei der Verwaltung deiner Zustellvorgänge, unabhängig davon, ob du Pakete, Frischware oder köstliche Speisen transportierst.
Mit Routific kannst du schneller und termingerechter liefern, Lebensmittelverschwendung reduzieren, deine Fahrer nachverfolgen und die Kosten pro Lieferung senken.
Wer verwendet Routific?
Kleine und mittlere Unternehmen, die täglich Lieferungen, Haltestellen oder Abholungen vornehmen. Perfekt für Unternehmen mit mehreren Fahrern und Routen.
Wo kann Routific bereitgestellt werden?
Cloud, SaaS, webbasiert, Android (mobil), iPhone (mobil), iPad (mobil)
Über den Anbieter
Routific
Ansässig in Vancouver, Kanada
2012 gegründet
Chat
Erhältlich in diesen Ländern
Australien, Kanada, Singapur, Vereinigte Staaten, Vereinigtes Königreich
Routific Kosten
Startpreis:
39,00 $/Monat
Ja, kostenloser Test verfügbar
Keine Gratisversion
Routific bietet keine Gratisversion, aber eine kostenlose Testversion. Die kostenpflichtige Version von Routific ist ab 39,00 $/Monat verfügbar.
Preismodelle
Kostenlose Testversion
Über den Anbieter
Routific
Ansässig in Vancouver, Kanada
2012 gegründet
Chat
Erhältlich in diesen Ländern
Australien, Kanada, Singapur, Vereinigte Staaten, Vereinigtes Königreich
Routific – Videos und Bilder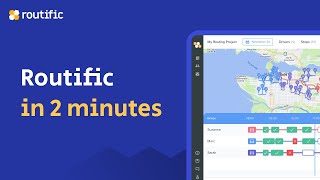 Routific Funktionen
Alarmfunktion / Benachrichtigungen
Auftragsverfolgung
Berichterstattung / Analyse
Drag-and-Drop
Drittanbieter-Integration
Fahrer-Management
GPS
Lebensmittellieferung
Leistungskennzahlen
Liefernachweis
Live-Ortung des Fahrers
Mobile Unterschriftenerfassung
Routenoptimierung
Routing
Sendungsverfolgung
Terminplanung
Versandmanagement
Alternativen für Routific
Bewertungen über Routific
Matt
Owner in USA
Verifizierter Nutzer auf LinkedIn
Bildungsmanagement, Selbstständig
Verwendete die Software für: Kostenlose Testversion
Exactly what I needed!
Kommentare: I'm running two week-long STEM summer camps for middle schoolers. Our original plan was to have the campers at the local high school all day and we were going to feed them snacks and lunch from our top local caterer. Well, due to COVID19, we have converted camp to an "at home" experience. But we are determined to keep the food component, so we are driving lunch to 35 campers each day. My wife, my friend [SENSITIVE CONTENT HIDDEN], and two of my students are doing the driving. Using my free trial, I was able to set up [SENSITIVE CONTENT HIDDEN] as drivers. Then, I was able to plug the 35 campers into routific, optimize the routes, and then dispatch. It was AMAZING. What an incredible product.
Vorteile:
So easy to use. So easy to make modifications to your stops, drivers, and routes. And the dispatch button is magic.
Nachteile:
I have no complaints. Maybe another pricing tier for users like me.
Essen & Trinken, 2-10 Mitarbeiter
Verwendete die Software für: 1-5 Monate
Slick, clean, easy to use routing software
Kommentare: Our restaurant started delivering a large number of meals for a government program due to COVID-19. We were not prepared for the logistical challenge. At the beginning, we were trying to split up the addresses in Excel by city, print out spreadsheets with addresses for drivers, check off what had been completed, canceled, or rescheduled, take notes, etc. It was a disaster. It was impossible to organize, leaving us with little idea of who delivered what, where, or when. This didn't last long though. I love technology and started looking for a solution. Stumbling upon Routific was a godsend. One look at the website and I could tell that it's a disrupter. After creating an account to do the trial period, I uploaded all the stops and created optimized routes for my drivers in minutes. The UI is so good that it makes everything feel approachable. It isn't intimidating. Deployment for my drivers was almost too easy. Seeing my drivers proceed efficiently on their routes, add photos and notes when necessary, then being left with an easy-to-digest record of deliveries was pure bliss. Enabling customer notifications so my recipients know when to expect their meal delivery (and not needing to call us night and day) was just the cherry on top. Bottom line, it's made a really complex job (dividing, optimizing, and distributing routes to drivers) not only simple, but enjoyable. It's been reliable and easy to use in all aspects. Honestly, it's a work of art.
Vorteile:
My favorite feature about Routific is how easy is it to dispatch routes to drivers. For a brand new driver, all they have to do is install the app on their phone. After that, Routific sends a text message with a link that opens the route automatically in the app. For dispatchers working with tech-impaired employees, this is a life-saver! You don't have to create accounts for them or share passwords or anything like that. The driver app is also attractive with a clean and intuitive UI. It's easy for people to learn to use. As a dispatcher, the web UI is clean and attractive. It feels lightweight even though it's doing a lot. Creating a route with multiple drivers and quite a few stops, especially when there are unique situations, is complex--however, Routific makes it about as easy as I can imagine it being. It is very flexible, allowing for lots of changes and variables, and it handles it all easily. It's nice that the driver app allows drivers to use the navigation app of their choice (Waze, Google Maps, Apple Maps). Not only does it allow for the possibility of superior navigation, but it is also one less thing to teach the driver. The customer notifications are incredibly easy to setup and they work very well.
Nachteile:
As great as the software is, it does get expensive quickly. In fact, for a small business, it's about as expensive as I think we could take, especially with its per vehicle pricing model. I think maybe plans that included a certain number of vehicles might make more sense. Also, the pricing for customer notifications feels exorbitant. It starts at $16 (annual plan, $19 for monthly), which might be reasonable alone, but that price is per vehicle. If you have a few active vehicles on your delivery route, you'll be paying a steep cost for those text messages. This really should be a flat fee service I think. Feature-wise, my main complaint would be in regard to customer notifications--you can only choose SMS only or email only. If you need to mix and match notifications because some stops can't receive SMS notifications and others don't have emails, you're out of luck. Secondarily, while you can see the location of drivers in real-time, Routific does not seem to show the routes that drivers actually took, along with speeds and related data. There have been times when that would have been helpful. It also doesn't seem to provide GPS data to verify the location when the driver marks a delivery completed.
In Betracht gezogene Alternativen: Route4Me und RoadWarrior
Gründe für den Wechsel zu Routific: Most route planner apps/software are designed for solo independent contractors, not for a dispatcher and team of drivers. The most relevant competitor is Route4Me. This software appears powerful and generally well-liked, but it's more pricey out the gate for a small operation like mine in order to match the features of Routific. The app seems good, but it does navigation itself instead of allowing driver choice, and it doesn't seem as easy to deploy as the SMS route link that Routific uses. The web interface of the two is not comparable--Routific is FAR superior in terms of ease of use and attractiveness. Not only did Routific offer a compelling feature set for a relatively low cost of entry (although it does add up quickly, as noted above), but it clearly is the newer, disruptive product on the block, offering a modern solution for businesses of all sizes. It was a pretty easy choice.
Cristina
Guest Services Specialist in USA
Gastgewerbe, 201-500 Mitarbeiter
Verwendete die Software für: Nicht angeboten
Good system, well designed, but too pricey if I only need for 1 driver.
Kommentare: The faster routes for the job.
Vorteile:
How quick it puts the routes together and that you can select different options. And the customer service.
Nachteile:
I was very disappointed to know that to retrieve my driver notes and places she stops, I had to pay an additional fee.
Antwort von Routific
vor 5 Jahren
Cristina, Thanks so much for taking the time to leave a review. I'm so sorry you didn't think Routific was worth the money. It's true that in order to track your drivers and collect notes, you need to subscribe to our live tracking feature. I'm sorry if this wasn't clearly communicated to you before signing up.
Essen & Trinken, 11-50 Mitarbeiter
Verwendete die Software für: Mehr als 1 Jahr
Routing beer around the city
Vorteile:
Incredible product and so intuitive and easy to use with our current systems. A simple export from our software and quickly uploads into Routific.
Nachteile:
Traffic estimates can be off sometimes leading to longer days but we've been able to make adjustments to fix for that.
Antwort von Routific
vor 2 Monaten
Thanks so much for your kind review, Matt. We're working on better traffic estimates in our next release!
Joel
IT and Operations Manager in Australien
Groߟhandel, 11-50 Mitarbeiter
Verwendete die Software für: 1-5 Monate
My experience with Routific - what an wonderful company and an amazing product.
Kommentare: We had used the Routific API when conducting a costing exercise late last year and had found it exceptionally easy to use.
3 months ago when we decided to start delivering some of our own freight in a van we turned to Routific again and began using the software using xls files to import the delivery information. within two weeks our team had integrated it with our ERP so that these imports were not necessary making it a breeze to manage the van and the ever changing runs.
Also this review would not be compleat without a shoutout to Alfin. he has been absolutaly wonderful to work with.
Vorteile:
Ease of Use. It was exceptionally easy for my team to integrate with our ERP. This is due to the API being well structured and the Documentation being well laid out and containing all the relevant information. The UI is very well laid out and my staff had no trouble at all learning how to use it. Our driver also finds the web interface easy to use and very intuitive. the way he can open the next destination in Google Maps saves him a lot of time.
Nachteile:
I don't really see any Cons. The Features that I would like to see in the software in the future are, the ability to track the driver in realtime and possibility a native Android App.
In Betracht gezogene Alternativen: RouteXL
Gründe für den Wechsel zu Routific: I had used RouteXL for a previous cost analysis exercise a number of years ago and found that it lacked the ability to give me number of hours and km travelled on each Route.