Was ist Pawfinity?
Einführung von Pawfinity V3.8.1. im März 2018 mit der höchsten Sicherheitsbewertung der Branche. Pawfinity wurde exklusiv für Tierfriseure, Tierheime und Tagesbetreuungsdienstleistungsunternehmen entwickelt, um die Effizienz und die Kundenerfahrung insgesamt zu verbessern. Kunden sparen jede Woche Stunden an Zeit mit dem revolutionären cloudbasierten Service. Kostenlose 30-Tage-Testversion, kostenlose Einrichtung und kostenloser Support. Erfahre, warum mehr Profis im Haustierbereich Pawfinity empfehlen als jede andere haustierspezifische Dienstleistung auf dem Markt.
Wer verwendet Pawfinity?
Tiersalons, mobile Tiersalons, Tierheime, Tierpensionen, Haustierbetreuung, Hundetagesbetreuungen und mehr.
Wo kann Pawfinity bereitgestellt werden?
Cloud, SaaS, webbasiert
Über den Anbieter
Pawfinity
2010 gegründet
Chat
Erhältlich in diesen Ländern
Vereinigte Staaten
Über den Anbieter
Pawfinity
2010 gegründet
Chat
Erhältlich in diesen Ländern
Vereinigte Staaten
Pawfinity – Videos und Bilder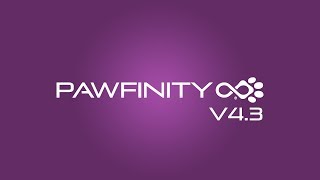 Kosten ähnlicher Produkte wie Pawfinity vergleichen
Pawfinity Funktionen
Abrechnung & Rechnungsstellung
Alarmfunktion / Benachrichtigungen
Berichterstattung / Analyse
Bestätigung / Erinnerungen
Erinnerungen
Haustiergeburtstag-Tracking
Haustierpflege
Impfstoff-Management
Inventarverwaltung
Kalenderverwaltung
Kundendatenbank
Kundenmanagement
Kundenportal
Mitarbeiter-Management
Mitarbeitermanagement
Mobiler Zugriff
Online-Buchung
Reservierungs-Management
SMS-Erinnerungen
SMS-Nachrichtenversand
Service-Katalog
Terminplanung
Terminverwaltung
Tierdatenbank
Veranstaltungskalender
Wiederkehrende Termine
Zahlungsabwicklung
Alternativen für Pawfinity
Bewertungen über Pawfinity
Jenny
Dog Groomer - Owner in USA
Gastgewerbe, Selbstständig
Verwendete die Software für: 6-12 Monate
Makes my job easier!!
Vorteile:
The support team is always ready to answer any and all questions I have about the software (I'm not great with new systems). Pawfinity is so so user friendly and the video tutorials are so simple and short and easy to watch. Also the detail of the client profiles is enormously helpful!!
Nachteile:
The only issues I've run into with Pawfinity have been looking into how to connect a card reader service, but I'm sure a quick support request will clear that up for me.
Lauren
Owner/Groomer in USA
, 2-10 Mitarbeiter
Verwendete die Software für: Mehr als 2 Jahre
Best Pet Grooming Software!
Kommentare: I absolutely LOVE Groom Pro! The system is really fast and super easy to use. As a housecall pet groomer, time is money and Groom Pro helps me utilize my time and maximize by income. I can schedule new and returning clients quickly and with just a few clicks. The automated email and text message reminders help my clients remember their appointments, so I don't have any no-shows! Another huge plus is that I can use this software on my phone without it taking up a lot of data (which is a huge benefit being on the road all road). I can access this software from anywhere. I ran into a client at the store the other day and was able to schedule an appointment for them quickly, how awesome! The new update has only made this system even faster, easier to use, and better!
Vorteile:
I love the speed and reliability of this software. While other software I have used made me question whether my appointments are going to get lost or if the system was running, I don't have these issue with Groom Pro. All of my information is safe with Groom Pro! Scheduling is fast and easy and I can access it anywhere in the system without leaving the page I am currently on. I really love the online appointment request feature because it allows me to get client leads 24/7 and schedule them when it best fits my calendar. The look and feel of the software is the best I've ever used. I also LOVE the dynamic and flexible pricing model they offer. You can literally price by anything AND it hold both my services and my items! It also tracks the inventory, so ordering low inventory items is a breeze. Another huge pro is the customer support. Not only are they fast to respond, but they are a huge help!! They will walk you through any issues without hesitation! And they listen to suggestions!! I will have a suggestion and then bam, I see my suggestion in the system! They make me feel like a valued client! My clients have even complimented the system. They love the receipts, the online appointment requests, and especially the SMS messages. They can contact me whenever they need! Everything in the system from adding a new client to checking out an appt is fast, which is a pro being on a mobile device! Literally everything is a breeze (even the inventory and employee schedule!).
Nachteile:
Absolutely nothing at all!
Verbraucherdienste, 2-10 Mitarbeiter
Verwendete die Software für: 1-5 Monate
Used to be amazing
Kommentare: Groom Pro used to be one of the best grooming software solutions. Then they updated it. Now the software is next to useless. The changes are actually why I ended up at this site, searching for better software. The updates made booking a nightmare, there are glitches everywhere, and our entire client pricing history was removed. We contacted the support, which is a joke, and were basically told that we needed to learn to use the new software. Most of the software functionality is currently unusable. Tasks which took one button click in the previous version of Groom Pro now take up to 4 clicks. For example, in order to add a tip to a groomer, which used to be simply filling it in at checkout, now requires clicking the tips button, then entering the tip amount, then selecting the groomer to tip. The update is full of nonsensical changes like this that increase the amount of time it takes to complete tasks and kills workflow.
Vorteile:
Nothing, as nothing really works as would be expected right now. There are many fantastic features that ALMOST work well, but they don't. Things that almost work: scheduling, pricing, CRM, SMS.
Nachteile:
Appointments are popping up on random groomers, appointments from the past are showing up in the future, the same appointments are showing up on multiple groomers. Price history didn't migrate in the update. There isn't a way to initiate SMS with a customer; you can only respond to messages sent by customers. It's almost impossible to figure out which groomers have appointments available, as the appointment book is seemingly displayed at random and in no particular order.
Antwort von Pawfinity
vor 5 Monaten
Wesley, had you expressed yourself in a more professional composure, you would have found the support process willing and ready to address your inquiry. You unfortunately seemed more interested in abusing our support staff with cynical rhetoric and condescending rubbish than with handling yourself professionally. The majority of your complaints are a result of a determined reluctance to utilize our detailed training videos along with the instruction of our renowned support to help resolve your confusion. If you had hung in there, you would have seen that one of his biggest gripes, one of his few substantive complaints, would had been addressed in just weeks, as we have reintroduced the staff view on the calendar (and more) at the request of our loyal clients. Unfortunately, you are now unable to make use of the seemingly endless advantages of using Pawfinity.
Jael
Owner and Operator in USA
, 2-10 Mitarbeiter
Verwendete die Software für: 6-12 Monate
This software has made running my NEW GROWING business SO MUCH EASIER!! LOVE IT!!!
Kommentare: Ability to organize my growing business with ease
Vorteile:
1- LOVE the calendar feature and accessibility from ANY DEVICE. All employees can access at any time and everybody can be on the same page. Changes made can be seen by other staff members immediately. Where ever they are! 2-LOVE that they are adding new features, improving and updating as they assess the needs of their consumers (us groomers!) You feel like your voice is heard when you share your thoughts on what would make a great software even better for your business! I'm so glad I started using Pawfinity at the START of my business. I started with 50 clients and in less than a year it's grown to over 200... I know for a fact I couldn't have kept everything EASILY organized without this comprehensive software! It has just about every feature you need to run your business, from keeping track of inventory, clients, tips, wages, expenses, salary, POS AND SO MUCH MORE!!! I would highly recommend it! Never looking back! Paper and pencil?? Nope!
Nachteile:
The POS hardware suggested uses the card swipe as the ONLY option. It would have been better if you would add the ability to use a client facing screen such as what Square and Clover use. My reason: Extremely important to me for the client to SEE the option of adding a tip. We don't like ASKING for verbally suggesting one. Our tips increased drastically when I switched to a credit card system that has a client facing screen and suggests a tip BEFORE they sign and complete transaction. I currently use Clover strictly for that feature. Everything else is already included in Pawfinity like receipts and inventory.
Antwort von Pawfinity
vor 4 Jahren
Hi Jael, Thank you for this wonderful review! I am happy to hear that Pawfinity has helped organize your business over the past year. We are excited to be a part of your journey as your business continues to grow! Keep up the great work!
Verwendete die Software für: 6-12 Monate
Very Satisfied, super easy to use, very friendly and kind people
Vorteile:
The software is very user friendly, they are always adding new features and every single time I get exited with the new updates. Everything that we suggest, they put it into consideration and the fact that they love to hear our suggestion makes us love it even more. I have spoke with the founder of Pawfinity on the phone once for help on the software and he answered every single question I had, plus he took the time to listen to all the things I would like to see added or modified to the software. I really recommend them to anyone that is looking for a Grooming Software. I'm a Pawfinity daily user and will be for a very long time as its really helping my business grow, My clients uses my online application to register, they also book online which is very nice. I have done lots of researches for a good software and Pawfinity is the best and safest one out there with very nice features and many more to come.
Nachteile:
They don't have any phone to get a hold of them but they have a support center in their software and reply very fast so I don't really think its an issue, plus if you really need a call, you just message them and they will schedule a call for you.
Antwort von Pawfinity
vor 4 Jahren
Hi Melanie, Thank you for the kind words! We appreciate each and every one of our client's suggestions. It's those wonderful suggestions that has helped us create a software that is loved by so many pet pros worldwide!