Was ist Excalibur WMS?
Vollautomatisches Lagerverwaltungssystem (WMS), das speziell für die Branche Third Party Logistics entwickelt wurde. Excalibur WMS steigert die Produktivität, Zuverlässigkeit, Genauigkeit und Reaktionsfähigkeit, was zu erstklassiger Leistung führt und eine schnelle Kapitalrendite (ROI) bietet. Steigere die Kundenzufriedenheit, indem du deiner Kundschaft sichere Web-Sichtbarkeit rund um die Uhr, automatisierte Berichterstattung, EDI- oder drahtloses Scannen bietest. Da es eine skalierbare Softwarelösung ist, kaufst du nur das, was du heute benötigst, und kannst später neue Technologie hinzufügen, wenn deine Kundschaft diese benötigt.
Wer verwendet Excalibur WMS?
3PL Öffentliche Lagerhallen, Transportmakler- und Spediteurunternehmen
Wo kann Excalibur WMS bereitgestellt werden?
Cloud, SaaS, webbasiert, Windows (Desktop), Windows (On-Premise), Linux (On-Premise), Android (mobil), iPhone (mobil), iPad (mobil)
Über den Anbieter
Camelot 3PL Software
Ansässig in Charlotte, USA
1984 gegründet
24/7 Live-Support
Chat
Erhältlich in diesen Ländern
Vereinigte Staaten
Über den Anbieter
Camelot 3PL Software
Ansässig in Charlotte, USA
1984 gegründet
24/7 Live-Support
Chat
Erhältlich in diesen Ländern
Vereinigte Staaten
Excalibur WMS – Videos und Bilder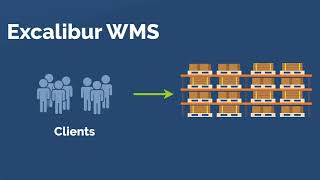 Kosten ähnlicher Produkte wie Excalibur WMS vergleichen
Excalibur WMS Funktionen
3PL-Management
Auftragsmanagement
Barcode / RFID
Bestückung
Buchhaltung
CRM
Einkauf & Empfang
Flottenmanagement
Inventarverwaltung
Kundenmanagement
Kundenportal
Lieferanten-Management
Qualitätsmanagement
Raten-Management
Retourenmanagement
Transportmanagement
Versand-Management
Wareneingangs- / Einlagerungsverwaltung
Alternativen für Excalibur WMS
Bewertungen über Excalibur WMS
Nick
Vice President/COO in USA
Verifizierter Nutzer auf LinkedIn
Lagerung, 11-50 Mitarbeiter
Verwendete die Software für: Mehr als 1 Jahr
In Betracht gezogene Alternativen:
Camelot's Excalibur software is a great 3PL solution
Kommentare: Although our initial configuration started off rocky, Camelot has proven to be an excellent provider for WMS software. Their customer service group is genuinely one of the best groups I have ever worked with. They genuinely care about what they are doing and work hard to solve problems.
Vorteile:
Camelot's Excalibur WMS is a fantastic bit of software. It is built on top of MS Dynamics Nav which makes the system highly configurable both within Camelot's build and in the out-of-the-box Dynamics build. Being a small business owner means, among other things, that I am my own IT department, and Camelot's support is absolutely wonderful to work with. To date we have not had a problem that has not been solved by one-on-one work with Camelot's team and some creative thinking. All that, plus the fact that their rates are incredibly reasonable, makes them a great choice for any 3PL provider out there. I highly recommend Camelot to anyone who will listen!
Nachteile:
One of the only drawbacks is the difficulty of deployment. It has taken a good deal of time and effort to tailor the system to our needs, but I feel that a lot of that is due to improvement of our own processes rather than fault of Camelot. The other drawback is that some modules are limited in capability and customization. When we first began using Camelot software, we deployed our system with their tablet scanning called Mobile Link. While the system looked good, we were not able to integrate the system into our processes due to the limits of customization of that module. We have since configured their WIMS scanning module with great success.
Antwort von Camelot 3PL Software
letztes Jahr
Nick, thank you for taking the time to submit a review for Camelot. We appreciate your comments and we look forward to helping you grow your business!
Sarah
Office Manager in USA
Lagerung, 11-50 Mitarbeiter
Verwendete die Software für: Mehr als 2 Jahre
In Betracht gezogene Alternativen:
Camelot review
Kommentare: Camelot was a vast improvement from our old WMS and does mostly what we need it to.
Vorteile:
The system is very customizable. It is somewhat easy to train new users basic functions.
Nachteile:
Paying a monthly service charge and still getting billed every time we need help with something. It's expensive to upgrade to Excalibur so we are still on an older version.
Antwort von Camelot 3PL Software
vor 3 Jahren
Hi Sarah, Thank you for leaving your review and comments. We very much appreciate the feedback. As you may be aware, we have various options related to our support services. We may want to explore Royal Service or some of the other options. Thanks again!
fabio
Vice President in USA
Lagerung, 201-500 Mitarbeiter
Verwendete die Software für: Mehr als 2 Jahre
Expensive Software, Terrible Customer Service and unconsistent Technical Support
Kommentare: The overall experience in using the software is positive but overshadowed by the very high cost to implement it, the basically Non-Existent Customer Service a weak Tech Support team.
Vorteile:
Some modules are pretty solid and well done such as Data Interface, Communication Manager, TMS and Billing. Item Table is well done and you can really control a multitude of parameters and therefore manage a big variety of different products.
Nachteile:
The out of the box version of the software is extremely basic with very limited features and terrible documents. Good for very small companies that are handling only few limited items and that operate a warehouse manually without the use of technology. For more complex and modern operations (3pl warehouse dealing with multitude of different items, ecommerce, picking and packing) you really have to purchase a multitude of Modules and spend tons of money to customize basically every single aspect and functionality of the software. Some modules are really outdated and not working properly such as the WIMS module (use of scanners for in and out operations) and Document manager.
Antwort von Camelot 3PL Software
vor 2 Jahren
We appreciate you bringing your unique project requirements to us and entrusting us with your business. We pride ourselves on providing flexible software solutions to meet some of our more stringent customer needs. We look forward to continuing to support your 3PL requirements through our Support and Consulting teams. We'll have a Customer Success resource reach out to you to assist further.
Chad
System Director in USA
Lagerung, 51-200 Mitarbeiter
Verwendete die Software für: 6-12 Monate
In Betracht gezogene Alternativen:
The next level
Kommentare: The experience has been positive. The implementation manager has been a great resource. The productivity gains have been apparent throughout the entire process.
Vorteile:
Flexibility on customization for the following: Client setup, Ease of use, Billing, Process management, reporting, visibility to pending orders, charges and inventory. The goals which the system met are: Ensure all revenue is captured and have a easy way to view outstanding charges. The system to be user friendly which is being Microsoft based and will the system keep up with ever evolving world of logistics. Reporting and EDI/API integration. The last goal for the company to be on one universal platform and streamline processes. Also, the system has the ability to take warehousing to the next level with E-Commerce and ability to work with other programs such as driverless guided forklifts. The system is changing how the company handles internal processes along with customer facing documentation, reporting and visibility.
Nachteile:
Needs updated training guides. Also needs more training guides on all the functionality of the system, currently too dependent on Camelot employees to train certain sections. Also some of the training material is outdated ie: training guide shows a certain field name but in the system the field name has changed which becomes confusing. Even within the system some Field names listed are called something else depending where the user is in they system. Accounting side not as robust as hoped. The Mobilelink program is a bit limiting. Lacking capabilities in the program on documenting value add services in receipts/shipment, No location for notes, cannot flag product as damaged.
Antwort von Camelot 3PL Software
vor 3 Jahren
Chad, thank you for taking the time to leave your review and comments! We are always working on improvements with our training materials. So thank you for pointing that out. I will make sure our developers are aware of your other suggestions. If we can help in any other way, please feel free to send me a message directly at marketing@3plsoftware.com. Thanks again!
Chris
IT Manager in Kanada
Lagerung, 201-500 Mitarbeiter
Verwendete die Software für: Mehr als 2 Jahre
Excalibur is a Perfect Fit for 3PLs
Kommentare: Wills Transfer has worked with Camelot Software for 2 decades! During that time, we have gone through numerous upgrades and modules. Throughout our 20 years working with Camelot they have always been extremely professional and provided excellent implementation and ongoing customer service. If you are a 3PL and are looking for a proven Warehouse Management System for your 3PL Operations, look no further. The team at Camelot has everything you need!
Vorteile:
The ability to provide a total 3PL solution. The fact that the Camelot 3PL module is built on top of Dynamics NAV allows us to have a completely integrated WMS/ERP. Most 3PL providers force you to "integrate" with your financial system. With Camelot Software, the solution is all under one roof, reducing software and licensing costs. For operations, the solution is extremely flexible, which is key for a 3PL.
Nachteile:
Not much. We have been very happy with the team at Camelot and their ability to provide an out of the box solution or be able to customize a certain function to suit our needs.
Antwort von Camelot 3PL Software
vor 5 Monaten
Thank you for the great review, Chris. We value our relationship with Wills Transfer and will continue to work hard to provide exceptional service to you and the 3PL warehouse industry.