Was ist CHIROSPRING?
Führende cloudbasierte Software in der Chiropraktik in Bezug auf Kundenzufriedenheit und Funktionen. ChiroSpring kann deine Praxis rationalisieren, die Effizienz steigern und so den Gewinn maximieren. Einfach zu bedienen und mit leistungsstarken Funktionen ausgestattet. Alles von der Terminplanung über die Abrechnung bis zu ultraschnellen SOAP-Notizen. Teste eine Demo und erlebe selbst, warum ChiroSpring die beste Software der Branche ist!
Wer verwendet CHIROSPRING?
ChiroSpring bedient Chiropraktiker, Akupunkteure, Therapeuten, Ärzte und mehr! Das System bietet eine komplette Praxisverwaltungssoftware, die eine geschäftige Praxis am Laufen hält und die Mitarbeiter zufrieden stellt.
Wo kann CHIROSPRING bereitgestellt werden?
Cloud, SaaS, webbasiert, Mac (Desktop), Windows (Desktop), Linux (Desktop), Chromebook (Desktop), iPhone (mobil), iPad (mobil)
Über den Anbieter
CHIROSPRING
2011 gegründet
Telefon-Support
Chat
Erhältlich in diesen Ländern
Vereinigte Staaten
Über den Anbieter
CHIROSPRING
2011 gegründet
Telefon-Support
Chat
Erhältlich in diesen Ländern
Vereinigte Staaten
CHIROSPRING – Videos und Bilder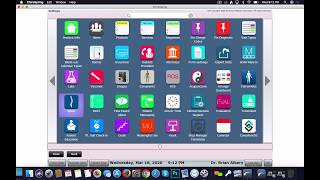 Kosten ähnlicher Produkte wie CHIROSPRING vergleichen
CHIROSPRING Funktionen
Abrechnung & Rechnungsstellung
Anpassbare Formulare
Automatisierte Terminplanung
Bestätigung / Erinnerungen
Compliance im Gesundheitswesen
Ergebnisbewertungstools
Erinnerungen
Für Chiropraktiker
Kalenderverwaltung
Kundendatenbank
SOAP-Notizen
Terminplanung
Terminverwaltung
Verwaltung von Patientenakten
Alternativen für CHIROSPRING
Bewertungen über CHIROSPRING
Kristin
Doctor of Chiropractic/owner in USA
Verifizierter Nutzer auf LinkedIn
Gesundheit, Wellness & Fitness, 2-10 Mitarbeiter
Verwendete die Software für: 6-12 Monate
So happy with this software
Kommentare: We are a small low volume office, with very limited staff. Chiro spring frees up more of my time for the things that matter- patient care. Easy chart notes and the use of the spinal chart for listing also gives me an opportunity to educate patients as I make my notes. I love this software.
Vorteile:
It makes our daily soap notes quick and easy to complete at each visit. We love being able to complete our note, check out patients, and provide an itemized statement in minutes. Patient intake charting now takes a fraction of the time we used to spend with our old software.
Nachteile:
Sometimes the patient self check in feature does not work on our older iPad and we would love to be able to have patients complete the intake from home without paying extra for the email service.
Antwort von ChiroSpring
vor 3 Jahren
Dr. Beierle, We LOVE hearing how "HAPPY" you are with ChiroSpring. We work so hard for our customers and hearing your feedback puts a smile on our faces. :) Quick and easy SOAP notes... check. Patient statements.... check. Saving time... check. We wish we could provide the kiosk form home option for free. However, it uses SMS or Voice to verify the patient's identity for security purposes. This service is not free for us. If competitors are offering this for free I would question their implementation regarding security. Thanks for the GREAT review and we look forward to growing your practice! :)
Willena
President/Doctor of Chiropractic in USA
Gesundheit, Wellness & Fitness, 2-10 Mitarbeiter
Verwendete die Software für: Mehr als 2 Jahre
In Betracht gezogene Alternativen:
ChiroSpring Has Changed How I Do Chiropractic!!!
Kommentare: I am thoroughly pleased with the software. I'm even more impressed by the level of customer service and transparency of the staff. They find a way to keep us doctors in the know when problems do arise and are super quick when it comes to remedying the issue. I literally made a request or expressed a concern and the matter was fixed in just a few days. It doesn't get much better than that!
Vorteile:
The software is amazingly "smart." There is a continuity that exists throughout this software that makes it very easy to use in "real time." I love how all of its parts communicate with one another. Extremely efficient!
Nachteile:
I was thoroughly impressed with this software from day one. Any issues I may have had then (which I don't remember) would have been short lived. The updates and IMPROVEMENTS are pretty frequent. It's like they improve the software with features we didn't even realize we needed until they're added. I literally don't have any thing negative to say.
Krankenhausversorgung & Gesundheitswesen, Selbstständig
Verwendete die Software für: 1-5 Monate
Word to the wise…. Do not sign up for a year contract
Kommentare: Disappointed
Vorteile:
Parts of the system works well as once you have it set up.
Nachteile:
originally I was looking for a system that would involve less steps to lessen the time spent doing data entry. Unfortunately some parts turned out to be about the same as I originally was doing with my old program. As with all companies they have their strong points and weak points. After a month of trying it was definitely not for my needs but stuck in a year contract so it was an expensive lesson. Hopefully one that I can help you avoid. I would do a month to month if you are considering the program. I would also check out two or three other systems before you decide on one. It's weak points are the calendar for your phone maybe because their system does not do well with IOS systems. The other part is be prepared to spend time making macros that you can use for your needs. There is room for improvement especially in the making macros for your spinal adjustments. Definitely check out a few systems and compare them. One other thing you should know is they do offer a way that your patients can fill out forms online as they advertise…..just have to pay another service to send it to the patient so add that in to their price they tell you as it is extra.
Steven
VP Operations in USA
Sport, 2-10 Mitarbeiter
Verwendete die Software für: 1-5 Monate
Opening up our practice to new and exciting growth
Kommentare: Responsiveness from Chirospring has been everything we could ever ask for and more. Software is a tough business that is always evolving. The uniqueness of every client makes the job even harder. Chirospring has combated this with quality customer service that resolves our issues and hears our requests. Having a company walk along side you as you grow is a breath of fresh air in the EHR space
Vorteile:
This software is the most functional software on the market. After sitting through multiple demos, it has become clear that there is nothing else on the market comes close. If you're looking for a company that has everything you need, but it willing to listen and grow with your practice, you have to choose Chiropsring! The training was in depth, yet simple. Any issue have been addressed and resolved. Chirospring has also opened our eyes to new areas we can improve in our practice. This will allow us to better serve our patients as they go about making the world a better place. Thank you Chirospring!
Nachteile:
The user interface looks outdated... but once we began using Chirospring, we saw that this is visual only. We honestly embrace the look now, as it keeps things simple for our staff.
Ashley
Office Manager in USA
Krankenhausversorgung & Gesundheitswesen, 2-10 Mitarbeiter
Verwendete die Software für: 1-5 Monate
Fantastic Customer Service and Great Software
Vorteile:
It doesn't crash! We had a power outage that fried our main server but because ChiroSpring is on the cloud we are able to keep running. It is very insurance billing friendly and helps to keep track of what has been paid and what we might need to look at before it gets to be too long and we can no longer get paid for the services. Love that I can put a note of when a patient has met their allowed visits for the year or any kind of personal note to individual statements.
Nachteile:
It has taken a bit for me to get used to only using one screen and going back and forth between the front desk view and the calendar. I do miss being able to see the calendar all the time and still having access to the front desk (Two separate windows). The other thing I miss and I know the doctor does is the internal messaging system to ask a quick question or in our case keep track of phone numbers for who he needs to call back so we don't have a bunch of sticky notes for the day because he does animal Chiropractic as well.
Antwort von ChiroSpring
vor 2 Jahren
Ashley, Thank you for the AMAZING review! We love hearing how CHIROSPRING is making running your practice smoother. Having simplified billing makes it much easier to get paid and not lose track of ok'd claims. We also LOVE hearing how our cloud-based software holds up when your internal server crashes. Had you relied on that for your data it may have been a bad situation. We backup your data 24/7 in 3 locations so it's always safe. For the con the great news is that is not a con. If you are on PC download the CHIROSPRING Installer Tool. It will install CHIROSPRING as an app to your computer. Choose the multiple window option. Then simply open the app a second, third, etc. time and you will have as many windows as you like! ;) For internal messaging we currently recommend using our Tasks app. You can create any category with individual tasks and even assign them to a user with a due date.