Was ist CHIROSPRING?
Führende cloudbasierte Software in der Chiropraktik in Bezug auf Kundenzufriedenheit und Funktionen. ChiroSpring kann deine Praxis rationalisieren, die Effizienz steigern und so den Gewinn maximieren. Einfach zu bedienen und mit leistungsstarken Funktionen ausgestattet. Alles von der Terminplanung über die Abrechnung bis zu ultraschnellen SOAP-Notizen. Teste eine Demo und erlebe selbst, warum ChiroSpring die beste Software der Branche ist!
Wer verwendet CHIROSPRING?
ChiroSpring bedient Chiropraktiker, Akupunkteure, Therapeuten, Ärzte und mehr! Das System bietet eine komplette Praxisverwaltungssoftware, die eine geschäftige Praxis am Laufen hält und die Mitarbeiter zufrieden stellt.
CHIROSPRING – Details
CHIROSPRING
2011 gegründet
CHIROSPRING – Details
CHIROSPRING
2011 gegründet
CHIROSPRING – Videos und Bilder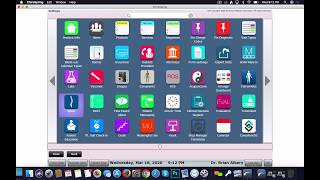 Kosten ähnlicher Produkte wie CHIROSPRING vergleichen
Startpreis
99,00 $/Monat
259,00 $/Monat
29,00 $/Monat
125,00 $/Monat
CHIROSPRING – Bereitstellung und Support
Kundenbetreuung
E-Mail/Helpdesk
Wissensdatenbank
Telefon-Support
Chat
Einsatz
Cloud, SaaS, webbasiert
Mac (Desktop)
Windows (Desktop)
Linux (Desktop)
Chromebook (Desktop)
iPhone (mobil)
iPad (mobil)
Training
Live Online
Webinare
Dokumentation
Videos
Funktionen von CHIROSPRING
API
Abrechnung & Rechnungsstellung
Aktivitäts-Dashboard
Alarmfunktion / Benachrichtigungen
Anpassbare Berichte
Anpassbare Formulare
Anpassbare Vorlagen
Aufgabenplanung
Automatisierte Terminplanung
Berichterstattung und Statistik
Bestätigung / Erinnerungen
Beurteilung-Management
Compliance Management
Compliance im Gesundheitswesen
Diagramm-Erstellung
Dokumentenmanagement
Dokumentenmanagement
Dokumentenspeicher
Dokumentvorlagen
E-Mail Marketing
E-Mail-Management
Elektronische Zahlungen
Ergebnisbewertungstools
Erinnerungen
Formularverwaltung
Für Chiropraktiker
HIPAA konform
Inventarverwaltung
Kalender-Synchronisierung
Kalenderverwaltung
Kreditkartenbearbeitung
Kundendatenbank
Kundenmanagement
Kundenportal
Mehrere Standorte
Mitarbeitermanagement
Patientenmanagement
Rechnungsmanagement
Reklamationsabwicklung
Reservierungs-Management
Rollen-basierte Genehmigung
SMS-Nachrichtenversand
SOAP-Notizen
Self-Service Portal
Terminplanung
Terminverwaltung
Verwaltung von Patientenakten
Wiederkehrende- / Abonnement-Abrechnung
Workflow-Management
Zugriffskontrollen / Berechtigungen
Kristin B.
Doctor of Chiropractic/owner in USA
Verifizierter Nutzer auf LinkedIn
Gesundheit, Wellness & Fitness, 2-10 Mitarbeiter
Verwendete die Software für: 6-12 Monate
So happy with this software
Kommentare: We are a small low volume office, with very limited staff. Chiro spring frees up more of my time for the things that matter- patient care. Easy chart notes and the use of the spinal chart for listing also gives me an opportunity to educate patients as I make my notes. I love this software.
Vorteile:
It makes our daily soap notes quick and easy to complete at each visit. We love being able to complete our note, check out patients, and provide an itemized statement in minutes. Patient intake charting now takes a fraction of the time we used to spend with our old software.
Nachteile:
Sometimes the patient self check in feature does not work on our older iPad and we would love to be able to have patients complete the intake from home without paying extra for the email service.
Antwort von ChiroSpring
vor 3 Jahren
Dr. Beierle, We LOVE hearing how "HAPPY" you are with ChiroSpring. We work so hard for our customers and hearing your feedback puts a smile on our faces. :) Quick and easy SOAP notes... check. Patient statements.... check. Saving time... check. We wish we could provide the kiosk form home option for free. However, it uses SMS or Voice to verify the patient's identity for security purposes. This service is not free for us. If competitors are offering this for free I would question their implementation regarding security. Thanks for the GREAT review and we look forward to growing your practice! :)
Willena B.
President/Doctor of Chiropractic in USA
Gesundheit, Wellness & Fitness, 2-10 Mitarbeiter
Verwendete die Software für: Mehr als 2 Jahre
In Betracht gezogene Alternativen:
ChiroSpring Has Changed How I Do Chiropractic!!!
Kommentare: I am thoroughly pleased with the software. I'm even more impressed by the level of customer service and transparency of the staff. They find a way to keep us doctors in the know when problems do arise and are super quick when it comes to remedying the issue. I literally made a request or expressed a concern and the matter was fixed in just a few days. It doesn't get much better than that!
Vorteile:
The software is amazingly "smart." There is a continuity that exists throughout this software that makes it very easy to use in "real time." I love how all of its parts communicate with one another. Extremely efficient!
Nachteile:
I was thoroughly impressed with this software from day one. Any issues I may have had then (which I don't remember) would have been short lived. The updates and IMPROVEMENTS are pretty frequent. It's like they improve the software with features we didn't even realize we needed until they're added. I literally don't have any thing negative to say.
Stefan C.
Chiropractor in USA
Gesundheit, Wellness & Fitness, 2-10 Mitarbeiter
Verwendete die Software für: Mehr als 2 Jahre
Quelle: SoftwareAdvice
Slow, antiquated and cumbersome
Kommentare: Their support is good. But I just couldn't take staring at my screen buffering and freezing, daily, while with a patient. So after 4 years of using them we went elsewhere.
Vorteile:
Very detailed and relatively easy to create and use Macros
Nachteile:
For computer-based system, every time there was an update we had to remove and reinstall the program. For the Beta online EHR version, even with very fast internet it buffered a lot! It's an old and complex system that they're trying to put a copy up on the cloud and it's not built for that type of use.
Wyatt G.
Chiropractor in USA
Gesundheit, Wellness & Fitness, Selbstständig
Verwendete die Software für: 1-5 Monate
In Betracht gezogene Alternativen:
Easy to use software with AMAZING customer support
Vorteile:
As a new brand new practice, this software has been incredibly easy and straight forward to use, and the customer support from the CHIROSPRING team has been second to none! They give you every tool that you might need, and they don't shy away from implementing feedback from doctors.
Nachteile:
As with any other software, there is a learning curve in order to navigate the software smoothly and efficiently. The team at CHIROSPRING, however, has been an invaluable asset in helping me learn the platform.
Antwort von CHIROSPRING
vor 2 Monaten
Dr. Wyatt, thank you SO MUCH for your wonderful comments. We strive for perfection and are so happy CHIROSPRING is already making a positive impact in your practice. This is why we are rated #1. We look forward to continued growth and success with you and your practice.
Nicole L.
Chiropractor in USA
Gesundheit, Wellness & Fitness, 2-10 Mitarbeiter
Verwendete die Software für: 6-12 Monate
At last! Software that makes SENSE!
Kommentare: A software such as ChiroSpring can make your business so much more smooth and efficient. I am grateful every day that I switched to ChiroSprings and cannot imagine running my practice without it. Thank you ChiroSpring for raising the bar and finally making a software that makes sense!
Vorteile:
Integration to this software from my past software was a breeze. In less than 2 months we went live! I really love the layout of the software. Setting up the software to meet our needs in terms of charges, common Diag 's, soap note macros was absolutely seamless. The software is set up with apps, very clean, user friendly for navigating and easy on the eyes, considering how much we have to look at our screen on a daily basis. The patient ledger is one of the best I've seen on Chiropractic softwares too. It makes printing out a ledger for a patient easy versus something I used to dread. The reports are Amazing and can be totally customized. There's so many things I love about this software and they are always updating and improving to boot!
Nachteile:
The check-in kiosk for the patients was a little clunky and time-consuming in the beginning. The latest update they made will make this so much better! It's still was not a dealbreaker but if I had to pick one thing that would be One thing I would want improved.