Was ist Khaos Control?
Khaos Control is a leading multi-channel solution for large businesses operating complex operations. It's core focus is simple: helping businesses grow rapidly whilst saving money and streamlining their processes. Control stock, orders, accounts, CRM, reporting and multiple sites, all with this robust and scalable solution. Featuring integrations with leading couriers and key payment integration services, Khaos Control is exactly what large enterprises need to revolutionise their operations.
Wer verwendet Khaos Control?
Large, multi-channel retailers who sell directly to customers and/or businesses from their base in the UK and that are looking to grow rapidly and increase profits through efficiencies and automation.
Wo kann Khaos Control bereitgestellt werden?
Cloud, SaaS, webbasiert, Windows (Desktop)
Über den Anbieter
Khaos Control Solutions
Ansässig in Grantham, UK
2000 gegründet
Telefon-Support
Chat
Erhältlich in diesen Ländern
Vereinigtes Königreich
Sprachen
Nicht vom Anbieter bereitgestellt
Über den Anbieter
Khaos Control Solutions
Ansässig in Grantham, UK
2000 gegründet
Telefon-Support
Chat
Erhältlich in diesen Ländern
Vereinigtes Königreich
Sprachen
Nicht vom Anbieter bereitgestellt
Khaos Control – Videos und Bilder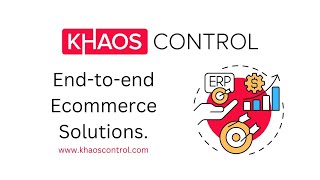 Kosten ähnlicher Produkte wie Khaos Control vergleichen
Khaos Control Funktionen
Alarmfunktion / Benachrichtigungen
Angebote / Schätzungen
Auftragsabwicklung
Auftragserfassung
Auftragsmanagement
Auftragsverfolgung
Berichterstattung / Analyse
Berichterstattung und Statistik
Bestandskontrolle
Bestandsoptimierung
Bestandsprüfung
Bestandsverfolgung
Bestell-Management
Bestückung
CRM
Drittanbieter-Integration
Einkauf & Empfang
Finanzmanagement
Inventarverwaltung
Katalogisierung / Kategorisierung
Kontakt-Datenbank
Kostennachverfolgung
Kundenaufträge
Kundendatenbank
Lagerhaus-Management
Lieferanten-Management
Material-Rechnung
Nachbestellungen verwalten
Produktkennzeichnung
Prognose
Rechnungsmanagement
Retourenmanagement
Rückstandsverwaltung
Suchen / filtern
Supply-Chain-Management
Versand-Management
Wiederkehrende Bestellungen
Alternativen für Khaos Control
Bewertungen über Khaos Control
Durchschnittliche Bewertung
Preis-Leistungs-Verhältnis
Nutzerbewertungen nach Unternehmensgröße (Angestellte)
<50
51-200
201-1.000
>1.001
Bewertungen nach Punktzahl finden
Einzelhandel, 2-10 Mitarbeiter
Verwendete die Software für: Mehr als 2 Jahre
In Betracht gezogene Alternativen:
Would reccomend!
Kommentare: As a growth stage startup, we put Khaos in early and made the right choice.
Vorteile:
Fantastic friendly and fast support, almost everything we need is 'out of the box' feature wise. Easy to use (like anything, once you get used to it).
Nachteile:
It's not the cheapest ERP out there, but glad we chose it. Integration with Magento is not provided or supported by Khaos (however the API is), we've had to use another provider to integrate, worth nothing when you're doing the sums.
Antwort von Khaos Control Solutions
vor 2 Jahren
Luke, it's great to hear your positive feedback regarding Khaos Control. As a company that joined us in the growth stage, it's important to us that the solution has met your expectations and provided great benefit to Tufferman. Here's to a brilliant 2020! Thanks, Emma Khaos Control Marketing Team
Pharmazeutika, 11-50 Mitarbeiter
Verwendete die Software für: Mehr als 2 Jahre
A turning point for our business!
Kommentare: It's quite a difficult job looking for that new piece of software or an updated piece of software for your business, whether that's just an ERP platform or a website or a combination of the two. There's not really a lot of guidance out there for the small business. Finding a piece of software that will allow you to run your processes the way you already do but also change your processes to be more efficient can be hard to find if you're just starting to look. Having a system like Khaos Control allows us to run our business the way we've always wanted to, and it's forward-thinking enough to allow us to improve our business so we can grow and be more efficient. One of the biggest benefits of Khaos Control has been the changes within our customer service team. Prior to implementation, the customer service team became an impromptu service desk. They were helping users through the technical issues occurring on our website instead of guiding them through product purchases. Our site prior to Khaos Control just didn't work properly, users wouldn't be able to log in correctly, they wouldn't be able to apply discounts or reset their password. When we were looking for the right solution it was always a compromise, but with Khaos Control it was different; the system was seamless from the very beginning. We instantaneously saw the difference and it sounds a bit of a cliché to say it, but there was never a time when anyone wanted to go back to the old system.
Vorteile:
The ease of use - Khaos Control has been a revolution for our business, allowing us to continue to grow our business, expand into new markets and improve our Customer Service to existing customers. It's ability to grow with our business was also a key factor for us - there wasn't a list of modules or add-ons to buy for new features, it was one solution that did what we needed when we initially bought the software and as we needed it we could just start using new features. When we needed customisations they were quickly and professional developed to meet our needs and then tested and integrated with a minimum of hassle or disruption.
Nachteile:
It's hard to think of a "con" to Khaos Control - there have been perhaps an instance where something has worked in a way differently than we'd imagined, which has meant we've either had to re-think our process or just adapt. But overall we've only really had a positive experience.
Antwort von Khaos Control Solutions
vor 2 Jahren
Ben, thank you for sharing your positive experience with Khaos Control. It's great to hear you enjoyed the scalable, non modular nature of Khaos Control. We hope this year is another great one for Dorwest Herbs. Thanks, Emma Khaos Control Marketing Team