Was ist ZAP IN?
ZAP IN has been serving clients varying between the likes of "Mom-and-pop-shops" to Fortune 500 companies like Luxottica and McDonalds headquarters for over a decade.
We pride ourselves on being a software-oriented organization, relentlessly keeping our service's performance and features a step ahead of the rest.
Let us show you how we can streamline your business' reception system and save you money each and every annum.
Wer verwendet ZAP IN?
Anybody who currently uses a receptionist, anybody with an interest in visitor tracking/logging, and finally anybody looking to streamline internal employee + visitor systems.
Wo kann ZAP IN bereitgestellt werden?
Cloud, SaaS, webbasiert, Mac (Desktop), Windows (Desktop), iPhone (mobil), iPad (mobil)
Über den Anbieter
ZAP IN
2010 gegründet
Telefon-Support
Chat
Erhältlich in diesen Ländern
Kanada
Sprachen
Nicht vom Anbieter bereitgestellt
Über den Anbieter
ZAP IN
2010 gegründet
Telefon-Support
Chat
Erhältlich in diesen Ländern
Kanada
Sprachen
Nicht vom Anbieter bereitgestellt
ZAP IN – Videos und Bilder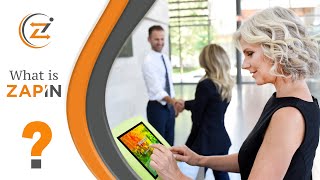 Kosten ähnlicher Produkte wie ZAP IN vergleichen
ZAP IN Funktionen
Alarmfunktion / Benachrichtigungen
Besucher-Nachverfolgung
Kontaktmanagement
Merkliste
Registrierungs-Management
Self-Check-in/-Check-out
Vorabregistrierung
Syed wajahat R.
IT Engineer in USA
Verifizierter Nutzer auf LinkedIn
Umweltdienstleistungen, 201-500 Mitarbeiter
Verwendete die Software für: Mehr als 1 Jahr
BEST Visitors Software
Vorteile:
This software is very user-friendly and has so many features that can be utilized for any type of visitors. They have been upgrading their software almost every month to provide the best service to their customers. One of the most important thing that I like is their CUSTOMER support. Wes is from Zap In who helps me with any type of requests right away. I highly recommend this program.
Nachteile:
Nothing. Everything is Perfect! I just love this program
Matt C.
Marketing Specialist in Kanada
Marktforschung, 11-50 Mitarbeiter
Verwendete die Software für: Mehr als 1 Jahr
Excellent Sign-In app
Kommentare: Had an excellent experience, I would recommend this to anyone.
Vorteile:
Product was easy to set up and very reliable, we have been using it now for almost two years with virtually no issues. I am not sure who published the list of Features on Capterra, but this app has easily three times as many features that are listed here. This app has made our entire reception area run significantly smoother, not to mention making employee payroll borderline effortless.
Nachteile:
It took some time to find the right iPad stand for our lobby but they were helpful in pointing us in the right direction.
Sarah S.
IT Support Specialist in Kanada
Informationstechnologie & -dienste, 51-200 Mitarbeiter
Verwendete die Software für: Mehr als 1 Jahr
Disappointed
Kommentare: When I first inquired about this service, I was very impressed with the professionalism and offerings. I was told that the owner would come out and do a demo for us, and set it up to get us going. When I contacted them again down the road, they were unresponsive or at best, vague with their answers. Finally, after numerous contact attempts, we were able to get some of our questions answered.
We decided to go with the solution, as they offered an LDAP import tool. Fail. LDAP import did not work, and I ended up manually entering 80+ users into the directory.
Aside from the poor experience with implementation, the service has also gone down at least half a dozen times in the year that we've been using it. Sometimes it comes back up in a few hours, but sometimes it is DAYS. During one outage that lasted days, I emailed support (from an existing thread in my mailbox), I sent a message via the website, I called their support line, and I even sent messages via Facebook - I never heard a word back!
Vorteile:
The SMS/email notification to host that guest has arrived is a wonderful feature. When it works.
Nachteile:
Sometimes guests for another office will wander into our lobby and try to sign in, but the person they are here to see is not in our directory (because it is a different company). Then they leave it on the screen with the sign-in details, and the next guest sees this and does not know how to proceed. I asked if Zapin could add a feature that reverts the sign-in details page back to the main Welcome page after a few mins of inactivity, but they were unable to provide this. Product is also too pricey for what they offer. SMS service costs more per month than the base account.
Chandan P.
Planner in Kanada
Computer-Software, 2-10 Mitarbeiter
Verwendete die Software für: 1-5 Monate
Great Software
Kommentare: Excellent support and software
Vorteile:
Alot of features compared to the other ones I tried. I especially liked how I could customize the script for voice AI
Nachteile:
Nothing Really. I did not like that the SMS add-on took $33 extra. Other than that excellent product
Mike Y.
IT / Project Manager in Kanada
Finanzdienstleistungen, 2-10 Mitarbeiter
Verwendete die Software für: 1-5 Monate
A simple sign in software with some cool, unique features
Kommentare: Great experience. Love the software. Thank you, support!
Vorteile:
The team at ZAP IN continues to impress with new features and updates released every few weeks. The newest update in October included a feature called lobby chat that allows us to live video stream with our guests in the main foyer. We didn't expect to love it as much as we did but now we call out often. It's a great way to tell the visitor that a meeting is running late or to alert them of any special instructions. We use the reporting option weekly to monitor the traffic, we collect email addresses to send out promotional mail and we print simple name badges for some of our guests. The online dashboard is easy to use and it's a great perk that I can also access it from my S9. All in all, we love the software and will continue using for months to come.
Nachteile:
Connecting to the printer was frustrating at the beginning. We decided on buying a brand new one to replace the old QL-720. It would be nice if the badges were a little more customizable.