Was ist contactSPACE?
Reduziere die Komplexität und führe bessere Gespräche mit den Menschen, auf die es ankommt. Maximiere deine Ergebnisse und minimiere den Aufwand. ContactSPACE liefert dort, wo andere nicht mithalten können. Die umfassende Omnichannel-Softwarelösung bringt die Technologie aus dem Spiel und spart dir Zeit und Geld, die du anderweitig investieren kannst. Kontaktiere die Entwickler, um zu erfahren, wie sie dies möglich machen.
Wer verwendet contactSPACE?
Unternehmen, die ihren Kundendienst/Support/Innenverkauf mit einer Leichtigkeit betreiben möchten, wie es bisher großen Unternehmen mit hohen Kosten und umfangreicher IT-Infrastruktur vorbehalten war.
Wo kann contactSPACE bereitgestellt werden?
Cloud, SaaS, webbasiert
Über den Anbieter
contactSPACE
Ansässig in North Sydney, Australien
2014 gegründet
Telefon-Support
24/7 Live-Support
Chat
Über den Anbieter
contactSPACE
Ansässig in North Sydney, Australien
2014 gegründet
Telefon-Support
24/7 Live-Support
Chat
contactSPACE – Videos und Bilder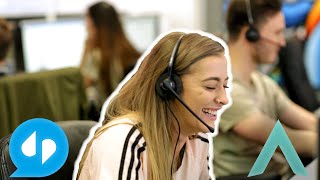 Kosten ähnlicher Produkte wie contactSPACE vergleichen
contactSPACE Funktionen
Agenten-Schnittstelle
Aktivitäts-Verfolgung
Anrufaufzeichnung
Anrufprotokoll
Anruftext-Aufzeichnung
Anrufüberwachung
Automatische Anrufverteilung
Automatische Outbound Dialer
Automatisches Telefonwahlgerät
Automatisiertes Routing
Befragungs-/Umfragemanagement
Belegmanagement
Berichterstattung / Analyse
CRM
Call-Center-Management
Computer Telephony Integration
E-Mail-Management
IVR / Spracherkennung
Kampagnenmanagement
Kontaktmanagement
Lead-Qualifizierung
Leadmanagement
Leistungsmanagement
Listen-Management
Management der Anruflisten
Mehrfache Skripts
Multi-Channel-Kommunikation
Online-Spenden
Personalmanagement
Pfand-Management
Power Dialer
Prädiktive Wähler
Qualitätsmanagement
Rückruf-Terminplanung
Spenden-Tracking
Spender-Management
Stimmenanpassung
Telefon-Tasteneingabe
Text in Sprache (verwandeln)
Umleitung der Anrufe
Voice-Mail
Warteschlangenmanagement
Weiterleitung von Anrufen (Call Routing)
Wiederkehrende Spenden
Zahlungsabwicklung
für gemeinnützige Organisationen
Alternativen für contactSPACE
Bewertungen über contactSPACE
Paul
Operations Manager (Contact Centres) in Australien
Umweltdienstleistungen, 51-200 Mitarbeiter
Verwendete die Software für: Mehr als 1 Jahr
In Betracht gezogene Alternativen:
Easy to use CCaaS solution
Kommentare: Good experience thus far and would recommend ContactSPACE
Vorteile:
Ease of use and ability adapt to a consistently changing business environment
Nachteile:
Could improve the dashboard refresh rate
Michael
Program Manager in Neuseeland
Fundraising, 51-200 Mitarbeiter
Verwendete die Software für: Mehr als 2 Jahre
contactSPACE Review
Kommentare: Having been with Contact Space for 2 years now I have seen them grow and develop as a company. They have definitely focused more in the last 12 months on providing better service level delivery and resourcing their team with more investment in the areas of specific or tailored development.
Vorteile:
Contact Space is very easy to use and understand. It has significantly cut our caller training costs and is easily managed on a daily basis by a number of departments those being the callers, Contact Centre management, Data and Digital teams. The Conversion report built specifically for fundraising is brilliant giving you the ability to track the teams progress 'live'and analyse performance and implement measures for quick performance gains. Visually I think its the best system out there and because every part of the system is so intuitive it allows you to be very creative in your set up.
Nachteile:
There's nothing that sticks out about the software its self that I would say 'I don't like that".
Chris
Director in Australien
Buchhaltung, 2-10 Mitarbeiter
Verwendete die Software für: 1-5 Monate
Quelle: SoftwareAdvice
Good System, Unethical Business Operation
Kommentare: The system ContactSpace was provided was great and suited our requirements without fault. However, the application of commercial terms by ContactSpace was highly unethical. When advised we were considering two options for our calling platform, ContactSpace were reasonable in their offer of a 3-month opt-out period under the 12-month contract option. After 3 months of use, which I cannot fault, we advised that the opt-out would be triggered, due to our previous platforms flexibility to increase/decrease the number of callers as required, which ContactSpace did not provide. After being advised of our intention to either reduce the allocated number of user licenses or opt-out the following month (June), ContactSpace failed to accept our position and instead hounded with numerous up-sale calls. Despite contractual terms dictating that monthly use it to be paid in advance and our offer to settle invoices up to the final month of use, June, ContactSpace has sought to hold our organisation accountable for payment many months after use has been terminated. Best to consider the above for small businesses prior to selecting ContactSpace as a service provider.
Vorteile:
System was overall great in terms of functionality.
Nachteile:
Customer Service was unethical and was not applied as per contractual terms.
Antwort von contactSPACE
vor 5 Monaten
As mentioned in the review, this customer agrees that contactSPACE is a quality solution. What they don't make clear is that they freely entered into an agreement, which subsequently they wanted to re-negotiate, even though they could have just stopped using the system and then would have had no obligation to us. We tried repeatedly to offer options that suited their new and revised commercial plans without success. The customer happily consumed and continued to use our services without payment at the end of their pilot period (as a result we instigated legal action to recover the debt). We delivered exactly the service contracted and only asked that the customer meet its obligations to that same agreement. The result then being contactSPACE is labelled unethical even though we offered the customer complete flexibility in choosing whether or not to use our product.
Hayley
Manager in Australien
Verwendete die Software für: Nicht angeboten
The contact centre solution that changed the way my work flows
Kommentare: Before we started using ContactSpace we were using a much more complicated application that had limited usability and in general made my day much less productive. The application regularly had outages which meant that we were unable to make calls from anywhere between two hours to a full day and because we were one of their smaller customers their support was sub-standard. Enter ContactSpace a much easier solution to use and much more reliable system from an operations perspective. We have been using ContactSpace now for around 18 months and in all that time there have been perhaps a handful of blips all of which were sorted in a matter of minutes. For me the ease of use, reliability and adaptability of ContactSpace to our needs has changed the way my work day progresses. I am much more productive as are the agents, I have less (or no) complaints from the agents about the system being down or them not being able to make calls. I love how easily I can import and export data as well as the real time reporting feature which means that I can check where we are in terms of outcomes at any time of the day. The listening in function is also great, with the other application we would have to dial a number and only be able to listen in once the agent was on the call, with ContactSpace all we have to do is click the listen button. It also looks great when we have clients come in to listen to calls or to meet the agents which in turn makes us look good. I would recommend ContactSpace to any business in this industry.
James
Supporter Relations Team Leader in Australien
Fundraising, 51-200 Mitarbeiter
Verwendete die Software für: 1-5 Monate
WWF-Australia
Kommentare: Excellent experience thus far, especially in regards customer service from [SENSITIVE CONTENT HIDDEN] and technical support team.
Vorteile:
The ease of use for my team is invaluable, as well as the customisation. Moving forward we're looking forward to developing the integration across other systems.
Nachteile:
It can be very time consuming setting up the call flows, especially for a small team like ours, where other tasks demand attention so 100% of time can't be dedicated to CS.