Was ist Higher Logic Vanilla?
Vanilla Forums ist die am besten bewertete Cloud-basierte Community-Forum-Software. Mit dieser App kannst du mit der einfach zu bedienenden und schnell zu startenden Online-Community-Software Loyalität aufbauen, den Umsatz steigern und den Kundenservice verbessern. Mit einer schlanken Benutzererfahrung, tiefer Integration in deine bestehenden Tools, flexibler Anpassung an dein Branding, Out-of-the-Box-Gamification, Ideenfindung, Q and A und vielem mehr. Fordere eine Demo an und sieh selbst, warum über Vanilla jährlich über 3 Milliarden Gespräche geführt werden.
Wer verwendet Higher Logic Vanilla?
Perfekt für alle, die eine solide Community-Erfahrung suchen, um sich mit ihren Kunden, Fans und Enthusiasten auszutauschen, ohne sich Sorgen um Hosting und Aktualisierung der Software machen zu müssen.
Wo kann Higher Logic Vanilla bereitgestellt werden?
Cloud, SaaS, webbasiert
Über den Anbieter
Higher Logic
Ansässig in Arlington, USA
2007 gegründet
Telefon-Support
Higher Logic Vanilla Kosten
Startpreis:
Nicht vom Anbieter bereitgestellt
Ja, Gratisversion verfügbar
Higher Logic Vanilla bietet eine Gratisversion.
Preismodelle
Über den Anbieter
Higher Logic
Ansässig in Arlington, USA
2007 gegründet
Telefon-Support
Higher Logic Vanilla – Videos und Bilder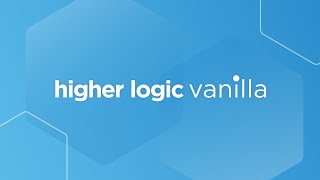 Higher Logic Vanilla Funktionen
Alarmfunktion / Benachrichtigungen
Anpassbare Vorlagen
Berichterstattung und Statistik
Brainstorming
Content-Management
Diskussionen / Foren
Genehmigungs-Workflow
Gruppenmanagement
Ideenfindung
Katalogisierung / Kategorisierung
Kommentare / Notizen
Mitgliederverzeichnis
Mitgliedschaft-Management
Moderation
Self-Service Portal
Social-Media-Integration
Textbearbeitung
Umfragen & Feedback
Umfragen/Abstimmungen
Volltextsuche
Werkzeuge zur Zusammenarbeit
Wissensbasis-Management
Zugriffskontrollen / Berechtigungen
Alternativen für Higher Logic Vanilla
Bewertungen über Higher Logic Vanilla
Chris V.
President in USA
Verifizierter Nutzer auf LinkedIn
Design
Verwendete die Software für: Mehr als 2 Jahre
An excellent base forum platform for online communities
Kommentare: It has made it easy for us to create beautiful, effective forums with awesome community management features to boot.
Vorteile:
Our agency helps other companies manage and build online communities so we've encountered a lot of community platforms. Vanilla is by far our favourite though, for a few reasons. First, it's incredibly customisable. The theming architecture in particular is incredible and allows us to create beautiful forums that integrate with seamlessly with our branding. Second, it's actively developed and open source. You can watch its development openly, suggest ideas for features, etc. Third, it has a killer API which allows you to make cool app integrations, software extensions, etc. Finally, the company's support is incredibles. The support team and customer success managers are amazing at answering questions and will help you implement all kinds of awesome ideas. Vanilla rocks!
Nachteile:
Most of my issues are with super technical details nested "Smarty" tags in Pockets would be nice to have, I wish "reactions" and other gamification features were available in the open source product, etc. Overall though those are nitpicky things the base platform itself is awesome even without them.
Paul C.
Community Manager in UK
Verifizierter Nutzer auf LinkedIn
Computerspiele, 11-50 Mitarbeiter
Verwendete die Software für: Mehr als 1 Jahr
Vanilla is an excellent, easy to use but versatile forum software system
Kommentare: Incredibly quick set up which was absolutely vital with the development speed of our company. We've been able to set up our new forum and get it fully customised within a very shot space of time.
Vorteile:
Vanilla software is incredibly easy to use but with lots of customisation available. It also features a variety of handy plugins to expand your forum capability further including the 'Mark as Troll' plugin which is hands down the best feature of any forum I have used. Managing categories and forum groups is a straightforward task and the features can easily be explained to new staff members so they can get up and running with the software without any lengthy training period.
Nachteile:
The only flaw I have experienced with Vanilla is in countering spam farms (Not bots). There is no option to enforce a captcha for posts which would help in some circumstances. However, Vanilla makes cleaning up spam very quick and easy and you can use user roles and forum settings to limit the impact spam can have on the forums, switching it from a problem to a mild inconvenience.
Julian P.
Sr. Manager Customer Support in UK
Verwendete die Software für: 1-5 Monate
The support has been great, the implementation process was easy and simple.
Vorteile:
- The product is easy to use from a user perspective. - Requests are taken seriously and if it's something they can't currently do but recognize it's a good idea, they will add them to their Road Map. - Great comms from the person assiting the project, very responsive and on top of things
Nachteile:
- It's hard to make changes sometimes. The HTML isn't accessible to forum owners so you'd have to write an entire section to make changes to anything other than the landing page. CSS is great to customize theming, but things have odd names so it's not as straightforward as it could be to make changes using it. - It could be clearer what VF will and won't help with from the very first moment - There are features missing, such as Tagging being in analytics - No self-service option for simple things such as pulling the user list, this will make admin experience way better - Services offered should better structured in the package sell, I.e: For some features requests, there were additional charges. This services should be somehow included in the terms of the service to enhance the admin experience - It was unclear what changes would happen with a recent update, it's been left down to the forum owner to find the weird behaviors (such as filters not working correctly)
Tyler K.
Digital Support Experience Team in USA
Verifizierter Nutzer auf LinkedIn
Computer-Software, 1.001-5.000 Mitarbeiter
Verwendete die Software für: 6-12 Monate
Flexible platform that allowed us to quickly get a customized Community up and running
Vorteile:
Vanilla has allowed us to customize almost every aspect of the Community experience: content organization, moderation, additions of new spaces when the need arises, gamification - all of these components can be built out and tweaked by a team without coding experience. The ability for our developers to own and push changes to the code allows the next level of customization we needed to get our community off the ground.
Nachteile:
The analytics is one place that is lacking a bit. Their advanced analytics dashboard gives insights into some useful metrics but doesn't allow any form of filtering (except for the date) or examining side by side comparisons of different user groups / content sets. The analytics API gives a bit more useful information but it still takes a bit of work to really answer some of the more complicated aspects of the value the community is providing to the organization. Additionally, their documentation is significantly lacking - once you know how to do something in the platform, you find that it can probably do what you are looking for but many times you have to rely on your CSM to help get you that information (which they are normally great at!)
Verifizierter Rezensent
Product Manager in UK
Verifizierter Nutzer auf LinkedIn
Verlagswesen, 1.001-5.000 Mitarbeiter
Verwendete die Software für: 6-12 Monate
Experience has been largely positive, though we have encountered some technical challenges.
Kommentare: We replaced user forums successfully and configured them to easily. Overall users were pleased and felt it was an upgrade on the previous forums.
Vorteile:
The product is fully featured and relatively straightforward to configure and set up. Integration with SSO has been very easy and appears to work well and there are a number of plug-ins available which enable further customisation. Our forum moderators and the majority of users have found it simple and pleasant to use. Account management has been very good and fairly responsive to issues.
Nachteile:
As a managed service there are a few hidden costs (migrations in particular). Some of the technology seems a little outdated and a bit inflexible - changing simple headings etc should be fairly straightforward but is in fact a manual task by the account manager, who has to root about in the code for the relevant strings. Also, the migration from staging to live is manual and open to user error. Image compression (or the lack of) has been a big issue for us as our sites are very visual and performance has suffered. I am hoping that some of the infrastructure changes they are making will improve this though.