Was ist Jumbula?
Jumbula – Online-Registrierungen auf hohem Niveau.
Eine moderne All-in-one-Online-Registrierungssoftware mit nutzerfreundlicher Registrierung, unkompliziertem Verwaltungs-Dashboard und leistungsstarken Management- und Marketing-Tools. Ideal für außerschulische Programme, Ferienlager und Klassen. Mit diesen Lösungen kannst du deinen Registrierungsprozess automatisieren, mehr Nutzer gewinnen und intelligentere Entscheidungen treffen. Starte mit einer kostenlosen Testversion und sieh dir die Vorteile selbst an.
Wer verwendet Jumbula?
Ideal für Schulen, Kinderbetreuungseinrichtungen, Nachmittagsbetreuungangebote, Clubs, Lernzentren, Ferienlager und Institutionen, die mit Kindern arbeiten. Jumbula eignet sich für Organisationen jeder Art und Größe.
Wo kann Jumbula bereitgestellt werden?
Cloud, SaaS, webbasiert, Android (mobil), iPhone (mobil), iPad (mobil)
Über den Anbieter
Jumbula
Ansässig in Redwood City, USA
2012 gegründet
Telefon-Support
Erhältlich in diesen Ländern
Kanada, Vereinigte Staaten
Über den Anbieter
Jumbula
Ansässig in Redwood City, USA
2012 gegründet
Telefon-Support
Erhältlich in diesen Ländern
Kanada, Vereinigte Staaten
Jumbula – Videos und Bilder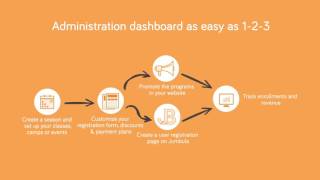 Kosten ähnlicher Produkte wie Jumbula vergleichen
Jumbula Funktionen
Abrechnung & Rechnungsstellung
Alarmfunktion / Benachrichtigungen
Anmeldebestätigung
Anwesenheitsmanagement
Gruppenanmeldung
Kalenderverwaltung
Klassenregistrierung
Kommunikationsmanagement
Kontaktmanagement
Kundenmanagement
Marketing-Automatisierung
Online-Anmeldung
Online-Zahlungen
Onlineformulare
Registrierung vor Ort
Teilnehmer-Tracking
Wartelisten-Management
Zahlungsabwicklung
Andres A.
CEO in USA
Verifizierter Nutzer auf LinkedIn
Bildungsmanagement, 11-50 Mitarbeiter
Verwendete die Software für: 1-5 Monate
Use for after school language program
Kommentare: This application was transformative for us and took us from old school to new school in just a few months. We like having our registration held centrally and being able to export it in many different ways. Now that we have a nice setup, next year the effort to setup our new school year registrations will be one forth the effort.
Vorteile:
The application is more robust than I had imagined going in. We use the customized registration forms and an integrated webpage that sits within our corporate site for each of our 40 schools and 100 classes. This seamless workflow has worked really well to register around 800 participants. Integrating Stripe for payments was easy. We use templates for our automatic confirmations and manual confirmations. Adding staff and giving them a view to our rosters through the mobile app is much better than our previous manual paper system. The registration period is full of non standard issues with families. And to make up for that, we are able to edit a registrants content or add a new registrant manually. I took my time setting up our system over the course of 2 months but you will need a solid month to do it right. Along the way, the support staff has been very responsive and has made enhancements to their software in places where I found issues. I am happy with our purchase so far as I found that I was glued to the dashboard where I could view our realtime registration status through our critical registration period.
Nachteile:
1. There is some quirkiness with the menu clicks that expand or collapse views. 2. The mobile app is new and the data flow from the back end to the mobile app is not robust yet. It needs another release to fully remove our reliance on paper rosters. 3. Some users complained about the registration process when trying to go to the webpage on their phones so I don't think the website is mobile responsive.
Mona K.
Executive Director in USA
Bildungsmanagement, Selbstständig
Verwendete die Software für: 1-5 Monate
In Betracht gezogene Alternativen:
Newly Transitioned
Kommentare: We switched to Jumbula because we had outgrown the features of our previous platform. Obviously, Jumbula is more complex in order to provide many more features. I was able to test much of the system with the 7 day trial before deciding to switch. This was extremely helpful. In addition, the support staff has been amazingly responsive over my first two weeks of transitioning and getting set up.
Vorteile:
Jumbula offers many more features than we had with our previous registration platform. We have only just transitioned but already parents are thrilled with the new ways to view and filter class listings especially the calendar view and managing of overlapping classes. We are looking forward to the mobile app for teacher (not used yet) and the customizable reporting. I love that family credits can be entered and families can choose when/how to use these. The family accounting and invoicing is much improved over our previous platform. The emailing features will allow us to email from the platform rather than exporting to mail chimp.
Nachteile:
The login and security features make navigation a bit challenging. Users with multiple roles must use different emails and logging in and out has created most of our challenges so far. Also, finding the home site landing page is difficult when logged in.
Verifizierter Rezensent
Lead Educator in Kanada
Verifizierter Nutzer auf LinkedIn
Grundschul- & Sekundarbildung, 2-10 Mitarbeiter
Verwendete die Software für: 1-5 Monate
Great solution for organizations of any size!
Kommentare: After setting up registration and having a few families register, we're really happy with Jumbula! It's made registration and invoicing for our programs really smooth.
Vorteile:
We love that Jumbula streamlines our registration system, putting everything in one place. It makes it easier for us and for parents registering for our programs. Jumbula staff are incredibly responsive and even though we are just a small non-profit they helped us come up with a solution for our unique registration and payment needs that works really well!
Nachteile:
We had a little trouble setting up a payment plan with convenience fees that apply to the installments, but staff were really helpful and found us a workaround!
Lyndsay S.
Director in USA
Bildungsmanagement, 11-50 Mitarbeiter
Verwendete die Software für: Mehr als 1 Jahr
Registration Made Easy but it stops there!
Kommentare: I gave Jumbula a fantastic review after our families used it for registration but then quickly realized the school usage side is clunky, not user friendly, and essentially useless to us. I was so hopeful that Jumbula was the answer to our registration needs, but it isn't.
Vorteile:
Families using it to register was great. I have very few questions when families are registering for classes. Set-up is moderately easy.
Nachteile:
Once the families have registered, using the information in the software to take attendance, make class lists, communicate with families, etc is a NIGHTMARE. The answer to most of my questions is "our app doesn't support that". There are SO MANY LIMITATIONS it makes the software unusable in our school. It's frustrating.
Antwort von Jumbula
vor 6 Monaten
Thanks for your feedback, Lyndsay. We appreciate the review and as always we take our client's recommendations very seriously. I trust that some of the limitations you had were based on the initial onboarding and not necessarily on feature product limitations. A good amount of our clients use our software for attendance and communications purposes and have not encountered such issues. We would be happy to work with you to review these further and provide further training if needed. Best Regards - Jumbula Succes Team
Erholungseinrichtungen & -dienstleistungen, 2-10 Mitarbeiter
Verwendete die Software für: Mehr als 1 Jahr
Well designed platform with great customer support, a few areas for Usability improvement
Kommentare: The Jumbula platform gets better with each iteration and the IT folks are constantly working to improve the platform based on customer feedback. The Support Team at Jumbula is top-notch and one of the key selling points when adopting a new platform to manage this critical business process.
Vorteile:
Jumbula class and camp registration platform is a game-changer for our business process. The ability to restrict a user's class registration based on the participant's age or grade is significant. We also like the way we can customize the registration process for our specific requirements and remove form fields not required which help streamline our client's registration process. Jumbula retains the participant's registration information and returning users can quickly add additional Programs without having to resubmit the requested form field information each time. Our clients are able to view all available classes and receive an automated confirmation upon registration.
Nachteile:
The Jumbula customer-facing home site, where the user is presented with available class/camp options needs a significant UI overhaul. The use of HTML iframes to contain program data feel clunky and outdated and does not take advantage of current HTML/CSS web standards. However, once a program is selected the checkout process is smooth and intuitive.