Was ist ClassForKids?
ClassForKids is booking and management software created specifically for clubs, schools, and academies to grow their businesses.
Simple to use, with all the features you need to grow. It has been created by those who have run activity classes, those who take their children to classes and improved by those who use the system every day.
We are the largest platform in the UK serving thousands of businesses who run Dance, Gymnastics and Football Academies, and just about everything in between!
Wer verwendet ClassForKids?
Owners and Organisers of Dance Schools, Gymnastics & Football Academies, and more. Make life easier for you, your coaches, and your customers with a simple and modern system that will help you grow!
Wo kann ClassForKids bereitgestellt werden?
Cloud, SaaS, webbasiert, Android (mobil), iPhone (mobil), iPad (mobil)
Über den Anbieter
ClassForKids
2013 gegründet
24/7 Live-Support
Erhältlich in diesen Ländern
Vereinigtes Königreich
Über den Anbieter
ClassForKids
2013 gegründet
24/7 Live-Support
Erhältlich in diesen Ländern
Vereinigtes Königreich
ClassForKids – Videos und Bilder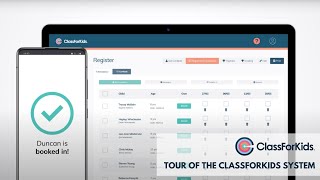 Kosten ähnlicher Produkte wie ClassForKids vergleichen
ClassForKids Funktionen
Abrechnung & Rechnungsstellung
Alarmfunktion / Benachrichtigungen
Anmerkungen zur Reservierung
Besuchermanagement
CRM
Gruppenanmeldung
Kalender-/Erinnerungssystem
Kalenderverwaltung
Kontaktmanagement
Kundenbetreuung
Marketing-Automatisierung
Mitgliedschaft-Management
Online-Anmeldung
Online-Buchung
Registrierung vor Ort
Team-Management
Teilnehmer-Tracking
Verfolgen der Teilnahme
Zahlungsabwicklung
Alternativen für ClassForKids
Bewertungen über ClassForKids
Jackie
Principal in UK
Verifizierter Nutzer auf LinkedIn
Darstellende Künste, 2-10 Mitarbeiter
Verwendete die Software für: Mehr als 2 Jahre
In Betracht gezogene Alternativen:
Class4Kids software review
Kommentare: Class4Kids has saved me a lot of time now and makes me feel more in control of my business.
It also presents a professional image to the end user.
Vorteile:
Integration was very simple and parents were happy to move to this system. Class4Kids software makes it really easy to contact all the parents within each class within a couple of clicks. I can also see who has opened the email, which can be useful when the information is really important, like a change of class venue. I love the fact that I can see the state of my business (class numbers and payments) pretty much instantly so that I know where I need to concentrate marketing and promotions. Terms and conditions are agreed to on booking automatically and sensitive information such as medical conditions is all held securely. Moving to digital registers has been a godsend, particularly when I need to make sure a cover tutor has access to these and emergency contact details, meds etc Management of trial classes - free or paid - is excellent. Payment management is really good. The teaching team love it, too. And finally, customer service support is second-to-none.
Nachteile:
The only issue I have is when parents live separately and both want the class communications as the system only allows for one main email contact per child.
Pierre
Managing Director in UK
Darstellende Künste, 11-50 Mitarbeiter
Verwendete die Software für: Mehr als 2 Jahre
In Betracht gezogene Alternativen:
Such a valuable tool
Kommentare: It's been absolutely fantastic, The system runs seamlessly, it's easily added to a website, It's streamlined so many of our processes and now, it's easy to enrol each term and also send groups of parents updates or information quickly and easily. I might add, during the past year (COVID-19) the support, help and discounts over the year have been absolutely amazing, kind and thoughtful.
Vorteile:
The best thing about the software is it took away several hours of admin that my admin team previously spent using spreadsheets.
Nachteile:
That on each register, you could not leave notes on the register pages, to see updates more easily on each child. This was only an issue for us, as we do termly enrolment and sometimes need to leave notes on each register and we work of 10 - 50 registers per term as we run, a lot of sessions and when we have a team of people doing admin, calling parents about re-enrolement it's hard to keep everyone in the loop if notes need to be added.
Matt
Training COordinator in UK
Sport, 51-200 Mitarbeiter
Verwendete die Software für: 6-12 Monate
GSnow
Kommentare: handling payments
Vorteile:
Handling payments and being able to show or hide classes from our members
Nachteile:
a calendar view would be a more intuitive interface e.g. click on a date then be able to add classes as required with all the usual features, then you can see on the calendar view what you have planned and when, this would save transferring an annual plan to excel for example, integrating products could be better, for example we have multiple class types occuring on the same date at the same venue. Ideally we would like to be able to book members in to these multiple classes and then integrate them to give one attendance list.
Chloe
Dance Academy owner/principal in UK
Freizeit, Reisen & Tourismus, 2-10 Mitarbeiter
Verwendete die Software für: Mehr als 2 Jahre
A great product and company
Kommentare: The set up and switch over was really easy and my parents really like the system which we have used for nearly 3 years now. I am really happy with this company - they have offered so much support during the pandemic, even not charging their fees for the year to support their users. They are only a chat message away and always respond promptly to any questions or issues. They are not the cheapest software on the market but it is worth it for the high quality service and user experience.
Vorteile:
- the subscriptions feature so monthly parents can be made - unlike direct debits you have to cancel the payment plans so its easier to collect notice fees owed - the way it automatically tries to collect payments if they don't go through initially - the companies customer service and support is outstanding - mobile and user friendly interface makes it really easy for parents to book trials or register for classes. -text message function is great -the analytics e.g percentage of places filled and financial reports
Nachteile:
-there are some limitations of functionality in comparison to other management software - the search functions could be improved to make it easier to email different groups of parents -you can't invoice for other services such as uniform, show fees etc only for actual classes.
Catherine
Principal in UK
Darstellende Künste, 2-10 Mitarbeiter
Verwendete die Software für: 6-12 Monate
In Betracht gezogene Alternativen:
Very user friendly
Kommentare: It is very user friendly and the feedback has been great from parents.
The need to chase has been taken away making life a lot less busy!
Vorteile:
It is clear and easy to use for both end user and administrator. All the information is clearly displayed and can be exported.
Nachteile:
It would be good to be able to filter emails specific to coaches and their students. If we have a teacher unable to teach we have to email each class individually. Being able to minimise other terms when setting up new ones so you don't need to scroll down through the terms each time it updates. It would be beneficial to have subs and full payment as an option on one term set up but not sure that is easy to intergrate. The ability to see all the outstanding accounts in one place would be useful.