Was ist CHEQROOM?
Mit der intuitiven CHEQROOM-Lösung für die Anlagenwartung kann man Wartungsarbeiten vorplanen und organisieren. Jederzeit und überall hat man Zugriff auf jeden Ausrüstungsgegenstand und kann Defekte sofort markieren und entsprechend handeln. Wartungsarbeiten und Reparaturen können zentral in der CHEQROOM-App festgehalten werden. Fotos, Rechnungen und alles, was man sonst noch brauchen könnte, kann ebenfalls aufgenommen werden. So einfach ist es, Ausfallzeiten zu verringern und die Verfügbarkeit zu verbessern!
Wer verwendet CHEQROOM?
Unternehmen jeder Größenordnung, die viele hochwertige Anlagen betreiben, z. B. AV-Geräte, IT-Anlagen, Baumaschinen ...
Wo kann CHEQROOM bereitgestellt werden?
Cloud, SaaS, webbasiert, Android (mobil), iPhone (mobil), iPad (mobil)
Über den Anbieter
CHEQROOM
Ansässig in Gent, Belgien
2013 gegründet
Telefon-Support
Chat
CHEQROOM Kosten
Startpreis:
100,00 $/Monat
Ja, kostenloser Test verfügbar
Keine Gratisversion
CHEQROOM bietet keine Gratisversion, aber eine kostenlose Testversion. Die kostenpflichtige Version von CHEQROOM ist ab 100,00 $/Monat verfügbar.
Preismodelle
Kostenlose Testversion
Über den Anbieter
CHEQROOM
Ansässig in Gent, Belgien
2013 gegründet
Telefon-Support
Chat
CHEQROOM – Videos und Bilder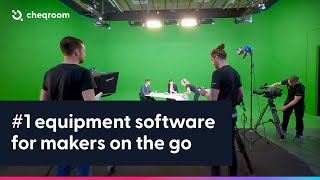 CHEQROOM Funktionen
Abschreibungsmanagement
Aktivitäts-Dashboard
Aktivitäts-Verfolgung
Alarmfunktion / Benachrichtigungen
Anlagegegenstand-Management
Arbeitsauftragsverwaltung
Asset Lifecycle Management
Asset Planning
Asset-Bilder
Asset-Kategorisierung
Audit Trail
Barcode / RFID
Benutzer-Management
Berichterstattung / Analyse
Berichterstattung und Statistik
Bestandsverfolgung
Bibliothek von Vermögenswerten
Check-in/Check-out
Compliance Management
Dokumentenmanagement
Drittanbieter-Integration
Erinnerungen
Garantie-Nachverfolgung
Geräte-Management
Gerätenachverfolgung
Historische Berichte
IT-Asset-Management
Inspektions-Management
Instandhaltungsmanagement
Inventarverwaltung
Kostennachverfolgung
Mobiler Zugriff
Standortverfolgung
Verfolgen von Vermögensanlagen
Vorbeugende Wartung
Wartungsplanung
Wirtschaftsprüfung-Management
Alternativen für CHEQROOM
Bewertungen über CHEQROOM
Gabriel
President/CEO in USA
Verifizierter Nutzer auf LinkedIn
Verwendete die Software für: 6-12 Monate
Easy to use hardware/equipment management system with great support
Kommentare: Greatly simplified the management of our equipment rental, allowing us to handle more and more reservations without getting mixed up. It's now an absolute standard in our daily toolbox of things we use to run our business.
Vorteile:
We looked around at several inventory management systems but none of them were right. Cheqroom is exactly what we were looking for. An easy to use cloud-based inventory management system that would allow us to keep track of equipment rentals between two different warehouse locations. It is pretty robust but is easy enough for everyone in the office to use it to enter reservations, check out gear, check it back in, etc. I'd say the best element of Cheqroom is the support. They are always quick to reply when I have a question or need help. More than that, they don't just give a short canned response - They really dig in deep, understand the challenge, test on their end, and provide several suggestions on how to address the issue I am facing. They really want you to succeed with their service and so far it's been a huge life saver for us. Lastly, they have taken feedback and suggestions that I've provided and actually implemented them extremely quick. These updates, although minor, have helped the service really fit right in and work exactly as we need. Cheqroom is one of those companies that I actually am happy and enjoy being a client of theirs. I'm proud of it. I hope as they grow, they stay awesome.
Nachteile:
I will not call this a con, rather just a special request...(NOTE: We have already discussed this and it's been added on their development roadmap so this is not only not a con, it's a pro because they are planning on doing something like this at some point!) Would be great to be able to manage non-inventory items - Small things that we want to keep track of how many we provided in the rental but don't want to track each item individually (e.g. How many charging cables did we give them with their rental).
Antwort von CHEQROOM
vor 4 Jahren
Hey Gabriel, Wow! Thanks so much for your great review, you just made our day! :) We love building CHEQROOM together with you and all our users. Stay tuned for the upcoming features! :) Let us know as always, if there is anything else we can do for you. -- Katalin
Joseph
IT Coordinator in USA
Bildungsmanagement, 11-50 Mitarbeiter
Verwendete die Software für: Mehr als 2 Jahre
This can do almost everything you need
Kommentare: I couldn't do much automaton in the beginning but the CheQRoom team us always working on improving and I have to say it does get better. Now they have build in automation and I don't have to use 3rd party software.
Vorteile:
I love how you can setup automation from email to reminders and time alarms so I don't have to waist my time going through and finding who's late.
Nachteile:
For my particular use the calendar is worthless, all I see is [SENSITIVE CONTENT HIDDEN] streaks all across the calendar.
In Betracht gezogene Alternativen: ZapERP und Zapier
Gründe für den Wechsel zu CHEQROOM: CheQRoom had the best features that I needed for what I was trying to do. Even in the beginning it couldn't do everything but now many of those features are added in.
Antwort von CHEQROOM
vor 2 Jahren
Hi Joseph, Thanks for the great review! Happy to hear that the email reminders and alarms are saving you so much time. I'll make sure the customer success team gets in touch to find out if they can help you out with the calendar. Cheers - Charlotte
Tyler
Product Test Leader in Kanada
Maschinerie, 1.001-5.000 Mitarbeiter
Verwendete die Software für: Mehr als 2 Jahre
Solid Structure and Process, UI & UX need improvement
Kommentare: CHEQROOM is a solid product for a dedicated userbase who can access its potential and implement strong processes and workflows. For the casual user if not clearly defined what to do can get lost in the sauce of the program and get overwhelmed. And upgrade or redesign of the UI/UX would be a great improvement especially if targeting broader applications. Was very useful in planning when multiple teams are using the same capital hardware (test equipment) and it has to be managed by multiple levels of priority and timelines.
Vorteile:
Multi-use sign out and accountability on equipment was the most direct advantage when first implemented. The planning and reserving equipment was also ideal when project planning and evaluating resources working with other leaders to accommodate changing project timelines and requirements. Desktop and App integration was a good feature.
Nachteile:
Found it difficult to get a hang of the check in and check out process. Could potentially be due to our implementation which I'm not sure how involved customer support was. We had in-house support from a engineering lab leader who led the sourcing and implementation. I found enough barriers in the process that I avoided it if not necessary to the task. I never went out of my way to try to implement it for my workflow rather used it sparingly when I had a specific request.
MATTHEW
Project Geologist in USA
Tiefbau, 51-200 Mitarbeiter
Verwendete die Software für: Mehr als 1 Jahr
Functional, flexible, and reliable software. Great customer service.
Kommentare: We have 20 daily users and another 20 occasional users, and a few hundred items to track. CheQRoom functions almost perfectly every day, every hour. Reliable. And if something seems wrong, customer service is very good.
Vorteile:
CheQRoom works great for us. Stable, functional, has all the features and options we need. When we have questions or problems, customer service is extremely good - fast, very knowledgeable, very friendly.
Nachteile:
The usability of the UI is good, not great. Even some experienced users occasionally make operating errors because the right button or feature is not prominent on certain pages or screens.
Antwort von CHEQROOM
vor 2 Jahren
Hey Matthew, Thanks for your super positive review :-) Glad to hear that CHEQROOM is working so well for you and your team. Our customer success team will be happy to hear you appreciate their work! Also, feel free to share more specific feedback on the UI with them if you haven't done so. All the best, Charlotte
Mary
Equipment Services Associate in USA
Hochschulbildung, 1.001-5.000 Mitarbeiter
Verwendete die Software für: 6-12 Monate
Great product for tracking loaner equipment
Kommentare: I've just started using the program for my workcenter after switching from another program. It took a little getting used to because it was different than my other program but I am enjoying it now. The main point is that I know where my gear is and that is very important!
Vorteile:
This software is easy to use and fairly intuitive. It allows my organization to make checkout and reservation records as well as keep details on all of our loaning gear. I like that it is easy to customize information on your own or with their help. Support is very helpful if needed.
Nachteile:
Nothing at this time. I like the software.
Antwort von CHEQROOM
vor 2 Jahren
Hi Mary, Thank you so much for your 5 stars review of CHEQROOM! I'll share it with the entire team, it'll make their day :-) Cheers - Charlotte