Was ist Mad Mimi?
E-Mail-Tool zur Erstellung von E-Mails, das die Erstellung und Speicherung von einzigartigen Newsletter-Vorlagen vereinfacht.
Wer verwendet Mad Mimi?
E-Mail-Marketing für kleine bis große Unternehmen.
Mad Mimi – Details
GoDaddy
1999 gegründet
Mad Mimi – Details
GoDaddy
1999 gegründet
Mad Mimi – Videos und Bilder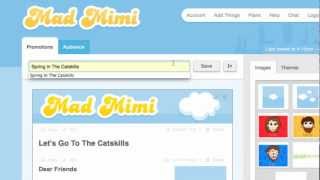 Kosten ähnlicher Produkte wie Mad Mimi vergleichen
Startpreis
10,00 $/Monat
10,00 $/Monat
9,00 $/Monat
29,00 $/Monat
Mad Mimi – Bereitstellung und Support
Kundenbetreuung
E-Mail/Helpdesk
FAQ/Forum
Wissensdatenbank
Telefon-Support
Chat
Einsatz
Cloud, SaaS, webbasiert
Mac (Desktop)
Windows (Desktop)
Funktionen von Mad Mimi
AB-Tests
API
Abonnementverwaltung
Abonnenten-Management
Aktivitäts-Dashboard
Aktivitäts-Verfolgung
Anpassbare Felder
Anpassbare Formulare
Anpassbare Vorlagen
Automatische Antworten
Berichterstattung / Analyse
Berichterstattung und Statistik
Bildbibliothek
CAN SPAM-Compliance
CRM
Drag-and-Drop
Drip-Kampagnen
Drittanbieter-Integration
Dynamische Inhalte
E-Mail Marketing
E-Mail-Management
E-Mail-Tracking
E-Mail-Verteilung
E-Mail-Vorlagen
Echtzeit-Analytik
Email-Kampagnen-Management
Engagement-Tracking
Ereignisgesteuerte Aktionen
Kampagnen-Segmentation
Kampagnenanalysen
Kampagnenmanagement
Kampagnenplanung
Klick-Tracking
Kontakt-Datenbank
Kontaktmanagement
Kundenbefragungen
Kundensegmentierung
Kundenspezifisches Branding
Lead-Erfassung
Listen-Management
Mailinglisten-Management
Mehrere Kampagnen
Mobil-ootimierte E-Mails
Multichannel-Marketing
Social-Media-Integration
Spam-Blockierung
Vorlagen-Management
WYSIWYG-Editor
Web-Formulare
Zielseiten / Web-Formulare
Abigail S.
Managing Partner in USA
Verifizierter Nutzer auf LinkedIn
Computer-Software
Verwendete die Software für: Mehr als 1 Jahr
Great Email Service
Kommentare: Easy Emailing and newsletter service to my customers
Vorteile:
I love the drip campaigns, I can set up emails to be sent in an order a few days apart or how I need it. I like how easy the email templates are to setup and email out. Very user friendly.
Nachteile:
I'm not a fan of how I can't organize my pictures. Very small pictures and it only shows a few at a time. There is no logic emailing yet. I can't send a single email from one of my drips as a one time email. I have to re-create it in my promotions.
Marketing & Werbung, Selbstständig
Verwendete die Software für: Mehr als 2 Jahre
In Betracht gezogene Alternativen:
Great email marketing platform for beginners
Kommentare: Great experience all around. Great tech support, very responsive, although I very rarely need to reach out to them. I teach marketing to others and for those who are just getting into email marketing, I often recommend MadMimi. It has a great balance of easy of use and style - but not a ton of extra features which can be intimidating (and unnecessary) for beginners. Also, the price is fantastic - one of the best in the industry.
Vorteile:
Loved how super easy MadMimi is to set up and use, and how clean and crisp the emails are visually. I used this software for four years and always got compliments on my email designs.
Nachteile:
It doesn't have the level of tagging and work flows that I eventually needed in my business. However, I didn't need anything that advanced for several years, and MadMimi did the job beautifully for four years.
Marketing & Werbung, 2-10 Mitarbeiter
Verwendete die Software für: Mehr als 1 Jahr
Mad Mimi is typical of old email software designed for the desktop age, functional but not updated.
Kommentare: Email blasts were easy and delivered well. If you manage emails the old way, just blasting lists and setting up a few autoresponders, it works. Yet today myself and clients need more than that, we need ways to segment and to tag, to optimize by people's actions. There's a little of that here, but not much.
Vorteile:
It's an easy tool to set up email blasts and autoresponders, The interface is pretty easy to use and organizes by email lists, like the old days. Deliverability has been excellent, which is a key part of any email service.
Nachteile:
It's dated - things like tagging, responding to visitors behaviors (aka visiting a page and sending an email) are non existent. The design is centered on email lists, which limits functionality. I've also done a few clones of marketing followups that got a bit wonky, because while you can set them up, you have to go in individually to different data fields to update them. Old email software was designed this way, and while not a flaw, it's definitely behind the times. If you need something simple, it's great.
Verifizierter Rezensent
Technology Consultant in Kanada
Verifizierter Nutzer auf LinkedIn
Informationstechnologie & -dienste, Selbstständig
Verwendete die Software für: Mehr als 1 Jahr
In Betracht gezogene Alternativen:
As simple as it gets - too simple?
Kommentare: I gave Mad Mimi a whirl for a solopreneur who wanted to focus on her business but knew she needed to reach her existing and potential clients. My defacto recommendation in this situation would be Mailchimp but she still found the workflow a bit challenging. Enter Mad Mimi. If you are - or are working with someone that doesn't need all the bells and whistles Mailchimp has added over the years, give Mad Mimi a whirl for its dead-simple and "real person" approach to getting stuff done.
Vorteile:
Mad Mimi excels and speaking to the user in a way that just makes sense. You don't need any "special qualifications" to understand how to use the platform. It does what it does, well.
Nachteile:
The last time I visited Mad Mimi I found the UI a bit date looking. It certainly lacks features of more robust offerings but they are not trying to be the be-all marketing platform solution that everyone else seems to be racing to be. Stick to your roots Mad Mimi!
Alicia K.
Occupational Therapist in USA
Gesundheit, Wellness & Fitness, 2-10 Mitarbeiter
Verwendete die Software für: Mehr als 1 Jahr
In Betracht gezogene Alternativen:
Makes an attractive newsletter easy to make
Kommentare: It has been an easy way to communicate to clients and prospective clients. I have a small private practice and my target market is fairly specialized, so it is useful communicating events and other important information.
Vorteile:
It is very easy to use. You can open it up and figure it out without lengthy, complicated tutorials. Drag and drop your content into their email builder. I also really like the layout and formatting. I despise email marketing, but this is very simple. It tracks open rates and has a second send option. The newsletter looks good and you can make something for your audience that isn't overwhelming them with useless content. It makes the kind of newsletter I like to open and read. It integrates with Acuity Scheduling nicely.
Nachteile:
It isn't really intended for big funnel-type marketing, so it's missing automation features that some people may want. It doesn't include tutorials about sales/marketing using their product (not that I've seen). It doesn't have features that help you grow your list easily.