Was ist Codeproof?
Eine moderne Enterprise-Mobility-Management-Software, mit der Unternehmen mobile Anwendungen und Unternehmensdaten auf mobilen Endgeräten von Unternehmen und Mitarbeitern (BYOD) einfach sichern, bereitstellen und verwalten können. Codeproof bietet eine integrierte BYOD-Sicherheits- und Mobile-Management-Plattform, die auf dem elastischen Cloud-Stack von Amazon für maximale Skalierbarkeit und Sicherheit aufgebaut ist. Produktmerkmale umfassen MDM, MAM, Enterprise AppStore, Mobile Kiosk, Überwachung der Datennutzung und Geofencing-Lösungen.
Wer verwendet Codeproof?
Codeproof richtet sich an kleine, mittlere und große Unternehmen.
Wo kann Codeproof bereitgestellt werden?
Cloud, SaaS, webbasiert, Mac (Desktop), Windows (Desktop), Linux (Desktop), Chromebook (Desktop), Android (mobil), iPhone (mobil), iPad (mobil)
Über den Anbieter
Codeproof Technologies
Ansässig in Bellevue, USA
2011 gegründet
Telefon-Support
24/7 Live-Support
Chat
Erhältlich in diesen Ländern
Kanada, Vereinigte Staaten
Über den Anbieter
Codeproof Technologies
Ansässig in Bellevue, USA
2011 gegründet
Telefon-Support
24/7 Live-Support
Chat
Erhältlich in diesen Ländern
Kanada, Vereinigte Staaten
Codeproof – Videos und Bilder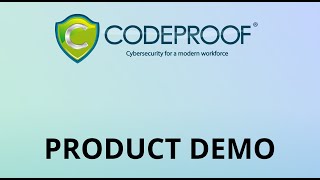 Kosten ähnlicher Produkte wie Codeproof vergleichen
Codeproof Funktionen
App-Verwaltung
Auftragsabwicklung
Automatische Benutzer-/Geräteerkennung
Berichterstattung / Analyse
Datenmanagement
Drahtloser Internet-Zugang
Drucken vor Ort
Einsatz-Management
Endpoint Management
GPS
Inventarverwaltung
Konfigurationsmanagement
Nutzungsverfolgung/-analyse
Remote-Zugriff/-Kontrolle
Sicherheitsmanagement
Software-Management
Synchronisierungsplanung
Touch-Screen
Verwaltung mobiler Inhalte
Virtuelle Tastatur
Wireless Troubleshooting
Wirtschaftsprüfung-Management
Zugriffskontrollen / Berechtigungen
Alternativen für Codeproof
Bewertungen über Codeproof
Ryan B.
Chief Financial Officer in USA
Verifizierter Nutzer auf LinkedIn
Öl & Energie, 201-500 Mitarbeiter
Verwendete die Software für: Kostenlose Testversion
Easy to install, on the first try
Kommentare: After trying two other products, both of which had confusing instructions and lackluster support, Codeproof installed quickly and on the first attempt. I will admit I was pretty frustrated and flustered when I called Codeproof and the support team cut right to the chase, sent very simple intructions, and got us up and running in an hour. If you have tablets for ELD compliance or another use case where you need to restrict the tablet to work-only apps, I highly recommend you check out Codeproof.
Vorteile:
Covered all the features I was looking for to lock down android tablets for ELD compliance. Easy to set up, manage, and install. Great support.
Nachteile:
Did not rank high enough on software review sites
Verifizierter Rezensent
Easy Tech Associate in USA
Verifizierter Nutzer auf LinkedIn
Verwendete die Software für: 6-12 Monate
I am currently using this MDM on my personal phone in the pro version, considering upgrade
Kommentare: I honestly haven't actively benefited from this software, however I understand it. That is why I have been making efforts to apply the settings to my phone. I will contact support and once they assist me, I can update my review of this product. I give a 5-10 because I feel the cloud platform format is very confusing. Although there is a blog available with many options maybe video tutorials will help for each option and its purpose. This way, the user may utilize the app to its full potential.
Vorteile:
What I like most is that I can place the MDM profile on my phone and tweak various different areas to maximize my productivity.
Nachteile:
Although I have been using the app I haven't been able to apply most settings on my phone. I mainly am trying to utilize the feature that blocks the mobile hot spot ability on my phone along with the tethering capability. It hasn't seemed to work yet so i'll have to contact the support to get that resolved. I do believe that if the app developers separated the app into different versions according to the devices that may help with user navigation on the cloud management webpage. For instance, my phone is Android/Samsung, if I only saw all items that refer to my own phone rather than all phone types the page would be more appealing to the eye and not so bunched up. Maybe a drop down menu to the left which then goes to the various different options. Then the page displayed will only show relevant information instead of the tabbed style they currently have going on. I understand that a company may have various different phones to manage so Apple, Samsung, Android are all options available to manage and supervise. However I am more referring to the appearance of the web page with the tab format currently being used, it isn't visually appealing and can frustrate customers who may not be as patient or computer savvy.
Janna O.
OFFICE MANAGER in USA
Verwendete die Software für: Mehr als 1 Jahr
Keeps a list through a cloud system of which apps are allowed or disabled on our company phones.
Vorteile:
Can view where the phone is at all times. We have had phones stolen from company trucks and where able to pin point the location and notify authorities.
Nachteile:
Every time there is an iphone update, Codeproof stops working and the settings are shut off. Very inconvenient and defeats the purpose of keeping our employees on track.
Antwort von Codeproof Technologies
vor 4 Jahren
Hi Janna, Sorry to hear that you had an issue with the Codeproof iPhone App. Please make sure that you have the latest version of the app installed in the device. If the issue persists, feel free to reach out to our tech support team at support@codeproof.com or call us at 1-866-986-BYOD. Thanks, Codeproof Team.
Myron E.
MDM Support in USA
Informationstechnologie & -dienste, 11-50 Mitarbeiter
Verwendete die Software für: Mehr als 1 Jahr
Very capable platform, responsive company.
Vorteile:
A very capable product that has been rock solid for our organization. When we first started working with Codeproof, there were several features missing that we felt were necessary to use the product long-term. We've emailed Codeproof with feature requests many times over the past number of months, and their support team has proven to be both personable and extremely responsive in listening to customer feedback. Many features we requested were implemented within a few weeks of the initial request. No MDM provider can add features that don't have API support from the manufacturer, but Codeproof has been very responsive in adding features when possible. This flexibility and speed of feature implementation has proven incredibly valuable to our organization.
Nachteile:
Interface has a learning curve, (although not as terrible as AirWatch) and finding devices can take some time to figure out. Search feature is very capable but not available from all dashboard screens. General UI and navigation could likely be improved.
D'angelo R.
it support tech in USA
Bau, 501-1.000 Mitarbeiter
Verwendete die Software für: Mehr als 1 Jahr
Amazing Product!!!!!!!
Kommentare: I dont regret using this application and i plan to not only endorse Codeproof to anyone in need but also Use it in my future endeavors.
Vorteile:
There are too many pros to name but a few would be: Simplicity Technical support The incredible number of capibilites you have vs the price
Nachteile:
question in regards to your "apple business manager-Apps(VPP)". Our company uses your software to push apps through to our employee devices and depending on their role they get a particular set of apps. When navigating through the different tabs to find the necessary apps it can be very time consuming. Its not a huge hassle but over time the wasted moments searching through can compound into a minor inconvenience. With that said, I was curious to see if there was a way we can categorize the apps by position or even alphabetically
Antwort von Codeproof Technologies
vor 4 Jahren
D'angelo, Thanks for the valuable feedback. We plan to update the Apple Business Manager (VPP) integration user interface and the updated version will be easy to use. We will notify you when it is available. - Codeproof Team