Was ist PracticePanther Legal Software?
Verwende diese auf Capterra als herausragend bewertete juristische Software. Erfahre, warum Zehntausende von Anwaltskanzleien in über 170 Ländern PracticePanther nutzen, um ihre Kanzleien zu automatisieren und ihre Arbeitsabläufe zu rationalisieren. Verpasse niemals Fristen, werde schneller bezahlt und verfolge nahtlos abrechenbare Zeit und Ausgaben. Arbeite mit der mobilen App von überall und von jedem Gerät aus. Die Lösung ist unkompliziert, nutzerfreundlich und intuitiv. Jetzt kannst du weniger Zeit mit der Verwaltung deiner Kanzlei und dafür mehr Zeit mit dem Geldverdienen verbringen. Probiere es kostenlos aus – keine Kreditkarte erforderlich.
Wer verwendet PracticePanther Legal Software?
Zehntausende selbstständige juristische Fachkräfte sowie kleine, mittlere und große Kanzleien, die nicht stundenlang in Schulungen und Webinaren sitzen möchten. Einfache Software für die Anwält*innen von heute.
Wo kann PracticePanther Legal Software bereitgestellt werden?
Cloud, SaaS, webbasiert, Mac (Desktop), Windows (Desktop), Linux (Desktop), Android (mobil), iPhone (mobil), iPad (mobil)
Über den Anbieter
Paradigm
Ansässig in North Miami Beach, USA
2006 gegründet
Telefon-Support
24/7 Live-Support
Chat
Sprachen
Englisch, Spanisch
Über den Anbieter
Paradigm
Ansässig in North Miami Beach, USA
2006 gegründet
Telefon-Support
24/7 Live-Support
Chat
Sprachen
Englisch, Spanisch
PracticePanther Legal Software – Videos und Bilder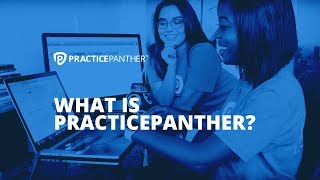 Kosten ähnlicher Produkte wie PracticePanther Legal Software vergleichen
PracticePanther Legal Software Funktionen
Abrechnung & Rechnungsstellung
Aktivitäts-Verfolgung
Alarmfunktion / Benachrichtigungen
Anpassbare Berichte
Aufgaben-Fortschrittsverfolgung
Aufgabenmanagement
Belegmanagement
Berichterstattung / Analyse
Buchhaltung
CRM
Compliance Management
Daten-Import / -Export
Document Capture
Dokumentenerstellung
Dokumentenmanagement
Dokumentenspeicher
E-Mail-Management
Echtzeit-Berichterstattung
Erinnerungen
Fall-Aufzeichnungen
Fall-Management
Für Anwälte
Für Juristen
Für das Familienrecht
Gebührenermittlung & Buchung
Genehmigungs-Workflow
Hauptbuch
Integration in die Buchhaltung
Kalender-/Erinnerungssystem
Kalenderverwaltung
Kontakt-Datenbank
Kontaktmanagement
Kostenverfolgung
Kundenmanagement
Kundenportal
Leadmanagement
Mitarbeiter-Kalender
Mobile App
Projekt-Nachverfolgung
Rechnungsmanagement
Rechtsfall-Management
Regelbasierte Gerichtsplanung
Scheckausstellung
Statusverfolgung
Steuermanagement
Treuhand-Buchhaltung
Verfolgung von Interaktionen
Vertrags-/Lizenz-Management
Volltextsuche
Werkzeuge zur Zusammenarbeit
Zeit & Kosten Verfolgung
Zeitverfolgung
Zugriffskontrollen / Berechtigungen
Alternativen für PracticePanther Legal Software
Bewertungen über PracticePanther Legal Software
Scott m. W.
Lawyer in USA
Verifizierter Nutzer auf LinkedIn
Anwaltskanzlei, Selbstständig
Verwendete die Software für: Mehr als 2 Jahre
Amazing program!
Kommentare: I bought this program when I first opened my practice about 2.5 years ago. I knew going into my own firm that I wanted a comprehensive client management tool. After spending hours online reviewing various programs, I decided to give the 30-day free trial a shot. I think I purchased the monthly subscription immediately after starting to use the program. Since that time, I have built on my knowledge, incorporating the MailChimp and QBO features first, then started learning how to streamline my document preparation through the template feature. What would have previously taken me multiple hours a week to manage, now takes minutes.
Vorteile:
PracticePanther is intuitive and very user friendly. It has a ton of features that expedite minuscule tasks and free up admin time. It syncs with all my favorite resources, like QBO, MailChimp, and Box, making communication with clients a lot easier and keeps routine mailings operational. If you use a lot of form templates, the template builder is a major time saver and cuts down on user error and oversights. I use this program every day in my law office and am very grateful for how easy it is. Even better, the customer support team is phenomenal. I rarely have any issues with the program (it is easy to use), but when I run into something I need help with, a quick message to the PP team is responded to within minutes and the problem is solved or at a minimum I am given an update and expected time of completion. I couldn't recommend this program more to a solo or small legal practice.
Nachteile:
Nothing, the team is constantly updating its software and programs that it connects to. They provide online videos to help and I frequently learn of new ways to use the program from regular updates by the team.
Antwort von PracticePanther Legal Software
vor 3 Jahren
Thank you so much Scott for the extra kind feedback!
James H.
Principal in USA
Anwaltskanzlei, 2-10 Mitarbeiter
Verwendete die Software für: Kostenlose Testversion
In Betracht gezogene Alternativen:
Great practice management software. The only short-fall is that it doesn't allow auto future billing
Kommentare: PracticePanther is a great platform and you should definitely give it a good try during a free trial period.
It also has Rules of Court deadline figuring if you're a Civil firm.
PP has great integration with QuickBooks on-line.
You can print checks directly from PP, or QB online to pay other legal vendors (Chiros, etc.)
Vorteile:
Price - either $59/mo or $49/mo if paid the year in full. Fee to bill clients on-line: $.20 per transaction plus 1.95% Workflow customizable - Yes, you can customize the workflow on different case-types. Activity Log - easy access history. Create Contact on the fly as creating matter - easy to create a Contact during the process of creating a matter. Intake form for new clients - Yes, can put a link on your website so new clients can fill-out a new client form, and that info will auto fill into the client's PP account. Time tracking timers - you can have multiple different timers open and running at the same time and assign them. Mobile App - there is no mobile App, but the site is mobile optimized. E-file integration - there is No e-file integration. Color assignments - there are up to 6 colors that you can assign to parties & roles. Task customizable - Yes, you can customize task flows. Easy to create and merge documents - Yes, it's very easy to create and merge documents with the program. PDF-auto convert - No, it cannot auto PDF convert a document. Create documents that can merged - Yes. This program makes it easy to create documents that can be merged. Support - Yes, support seems to be free. Notify client when upload a document - Yes, you can notify a client a document gets uploaded that you want them to review or be aware of. Email syncing - very good syncing with Gmail and Outlook. Emails linked to a matter - Yes. Easy to link emails to a matter. Client Portal - Yes.
Nachteile:
The only thing that kept me from staying with PracticePanther, is that MyCase allows you to be able to set future billing to go out to a client(s) and forget it. PracticePanther has a bit of a 'workaround' if you get the client's Visa/Debit card on file, but many times clients are uneasy giving you their card number. With Criminal Defense clients that need to make monthly (or future) payments on a retainer amount, MyCase allows you to set-up future dates where a client will be emailed a bill, which they can tap on a button and pay on-line. This is the main thing that made me go with MyCase. But if not for that, I would have stayed with either PracticePanther or Smokeball. Smokeball had/has the slickest software for being able to send emails from (either) Outlook or Gmail, and a small window at the bottom allows you to connect that email to a matter. Smokeball's software also made/makes it very easy to sync a Word document with a Client/Matter.
Anwaltskanzlei, 2-10 Mitarbeiter
Verwendete die Software für: Mehr als 1 Jahr
Beats Clio by a mile
Kommentare: Its been great, the customer service is responsive and helpful, the software works across all of our devices and platforms, so we've always got it at fingertips.
Vorteile:
Easy to set up and use, easy to integrate third party apps like Google Drive and Quickbooks.
Nachteile:
The workflow automation has a bit of a learning curve if you've never done it before. Highly suggest watching the tutorials.
Eric H.
Attorney in USA
Verifizierter Nutzer auf LinkedIn
Anwaltskanzlei, Selbstständig
Verwendete die Software für: Mehr als 1 Jahr
Terrible customer support
Kommentare: Frustrating. No access to simple problems except through scheduling a zoom meeting
Vorteile:
Task reminders are helpful to keep on track
Nachteile:
No customer support. If you have an issue the support phone line is constantly busy and directs you to voicemail. You then must email a support specialist an schedule a zoom meeting sometime 5-7 days later.
Anwaltskanzlei, 2-10 Mitarbeiter
Verwendete die Software für: Mehr als 2 Jahre
In Betracht gezogene Alternativen:
Amazing Software
Kommentare: Fantastic experience. We started on the lowest pricing tier (which already comes with 90% of what you need) and as our practice grew and we wanted to add some additional efficiencies (like automating through Zapier and ToDoist, etc.), we slowly grew to the highest tier, which adds a lot more integration. Also, their customer service is great.
Vorteile:
Being able to integrate all of the features expected of a legal management software in one, but in such a intuitive way.
Nachteile:
Nothing. I am very happy with it. We've been using it for 2 years and they keep adding great additional features as we and other request them, but its still not clunky.