Was ist N-central?
Die Remote-Überwachungs- und Managementplattform SolarWinds® N-central® ist so konzipiert, dass Managed-Services-Anbieter komplexe Netzwerke problemlos handhaben können. Mit umfangreichen Automatisierungs- und tiefgreifenden Konfigurierungsoptionen, Sicherheitsfunktionen wie Antivirus- und Patch-Management und integriertem Backup ist N-central darauf ausgelegt, MSP-Unternehmen zu helfen, komplexe Netzwerke von einer einfach zu bedienenden Plattform aus effizient zu verwalten.
Wer verwendet N-central?
Wachsende IT-Dienstleister und Managed Service Provider (MSPs)
Wo kann N-central bereitgestellt werden?
Cloud, SaaS, webbasiert, Mac (Desktop), Windows (Desktop), Linux (Desktop), Windows (On-Premise), Linux (On-Premise), Android (mobil), iPhone (mobil), iPad (mobil)
Erhältlich in diesen Ländern
Amerikanische Jungferninseln, Antigua und Barbuda, Argentinien, Australien, Bahamas und 36 weitere
N-central Kosten
Startpreis:
Nicht vom Anbieter bereitgestellt
Ja, kostenloser Test verfügbar
Keine Gratisversion
N-central bietet keine Gratisversion, aber eine kostenlose Testversion.
Preismodelle
Kostenlose Testversion
Erhältlich in diesen Ländern
Amerikanische Jungferninseln, Antigua und Barbuda, Argentinien, Australien, Bahamas und 36 weitere
N-central – Videos und Bilder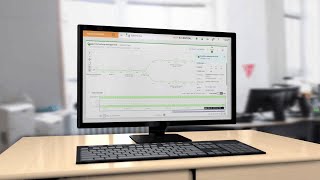 N-central Funktionen
Aktivitäts-Verfolgung
Backup und Recovery
Bandbreiten-Überwachung
Baseline-Manager
Berichterstattung / Analyse
CPU-Überwachung
Compliance Management
Compliance-Verfolgung
Dashboard
Echtzeitüberwachung
Einsatz-Management
Endpoint Management
Endpoint Protection
Ereignisprotokolle
Gerätemanagement
IP-Adressen-Überwachung
IT-Asset-Management
Internet-Benutzungsüberwachung
Inventarverwaltung
Kapazitätsmanagement
Konfigurationsmanagement
Korrektur-Management
Kostennachverfolgung
Lieferanten-Management
Mobiles Gerätemanagement
Netzwerkanalyse
Problem-Management
Problemmanagement
Prozess-/Workflow-Automatisierung
Remote-Monitoring und -Management
Remote-Zugriff/-Kontrolle
Remotezugriff und -monitoring
Richtlinien Managemen-
Self-Service Portal
Server-Überwachung
Störfallmanagement
Terminplanung
Uptime-Berichterstattung
Verfolgen von Vermögensanlagen
Verhaltensbezogene Analysen
Vertrags-/Lizenz-Management
Veränderungsmanagement
Wartungsplanung
Wirtschaftsprüfung-Management
Zugriffskontrollen / Berechtigungen
Überprüfung von Vorfällen
Überwachung
Alternativen für N-central
Bewertungen über N-central
Michael
Vice President of Operations in USA
Verifizierter Nutzer auf LinkedIn
Computer-Software, 11-50 Mitarbeiter
Verwendete die Software für: Mehr als 2 Jahre
A must have as a RMM solution for any MSP.
Kommentare: Easy to use and learn. A must have for our clients where time is of the essence when an incident occurs where downtime is business threatening.
Vorteile:
The ability to automate as much as possible is key in our business. Using maintenance scheduling is one of the most important features and was key to choosing this product over others.
Nachteile:
I wish there were more integrations with other industry software.
In Betracht gezogene Alternativen: Datto RMM
Warum N-central gewählt wurde: Poor implementation and support was heading downhill since being sold a few years ago.
Zuvor genutzte Software: ConnectWise Automate
Gründe für den Wechsel zu N-central: This was more established and had more features for our business between the two.
Elias
Centralized Services Administrator in USA
Informationstechnologie & -dienste, 11-50 Mitarbeiter
Verwendete die Software für: Mehr als 2 Jahre
Powerful RMM Tool, Reporting Can Be Improved
Kommentare: Overall, we have been very happy with the product. It does require some investment in configuration, but that investment allows for a very powerful product. I have been extremely impressed with N-Central management's willingness to help ensure our deployment is successful.
Vorteile:
N-Central is very powerful and customizable. Configuration is very granular and allows experienced administrators to configure almost limitless monitoring. N-Central staff has gone above and beyond what was expected to make sure our deployment is successful.
Nachteile:
Reporting could be improved. The reporting interface is very basic and requires a separate Microsoft Windows SQL server to use. From speaking with contacts at N-Central, this system is planned to be replaced in the very near future.
In Betracht gezogene Alternativen: ConnectWise Automate
Warum N-central gewählt wurde: After being sold to a venture capital firm, Kaseya support had been lacking. Additionally, the product improvements began to suffer at that time.
Zuvor genutzte Software: Kaseya VSA
Gründe für den Wechsel zu N-central: N-Central proved to be a much more customizable product than Automate. Our previous experience with ConnectWise support led to skepticism about the level of support that would be provided.
Phillip
Director in Neuseeland
Computer- & Netzwerksicherheit, 2-10 Mitarbeiter
Verwendete die Software für: Mehr als 2 Jahre
Covid-19 - reduction of services applied after 5 years during a pandemic.
Kommentare: Over all they are very good at taking your money and over the years have been hard to communicate with. It's all sales sales sales.
Vorteile:
Over the years this software has been hit and miss, we would spend a lot of time trying to get errors fixed. It was getting better, they also keep changing the sales rep that deals with me. When they call they talk about a different business and advise the customers name and customer to me. It's happened twice!
Nachteile:
The biggest thing I didn't like was when they removed remote control from my essential Licence's. To make it worse it was done over the covid-19 pandemic. they are asking me to buy Licence's and I have refused. We are social distancing and this has made it stressful for myself and my customers.
Antwort von SolarWinds MSP
vor 2 Jahren
Hi Phillip, I'm very sorry that you are unhappy. Our decision to remove remote control from N-central Essentials licenses was made months before the COVID-19 outbreak. We believe Professional N-central licenses provide the proper remote monitoring and management capability that workstations and servers require. We understand that remote work and therefore remote control is very important for you right now. Therefore, we have offered SolarWinds Take Control Plus, a standalone remote support solution, free of charge for 90 days. In addition, for a limited time, Take Control Plus licenses also come with 25 additional end-user accounts (for a total of 35) for partners to extend to employees and clients. Simply complete this form before June 30, 2020 https://www.solarwindsmsp.com/products/take-control/trial You may also be interested in these resources to help you navigate this unprecedented time: www.solarwindsmsp.com/covid-19-resources Be well. - Shelley O'Brien, N-central PMM
Verifizierter Rezensent
Systems Engineer in USA
Verifizierter Nutzer auf LinkedIn
Informationstechnologie & -dienste, 11-50 Mitarbeiter
Verwendete die Software für: Mehr als 2 Jahre
It works well most of the time, however...
Kommentare: SolarWinds is turning into a VERY large company. This is great as they get the cash flow to perform R&D and bring some interesting products and tools to the table, HOWEVER, this means they are reaching the point where one hand is not talking to another, products are becoming "designed by committee" and other issues that can be resolved with improved internal communication.
Vorteile:
Working for an MSP this is a very feature-rich product for remote control, remote monitoring, deploying and monitoring Anti-Virus, and some backup features (However I DO NOT recommenced the ArcServe-based product.)
Nachteile:
-Support has been very hit or miss and lately they have fallen into the "Miss" category -We had an issue where monitored services of a device were disappearing. After opening a ticket with SolarWinds support they informed me that the software cannot properly track how/why these services were disappearing from devices. This lead to at least 2 events where monitored hard drives were not longer being monitored, we were not made aware of it, the drives filled up, and services crashed -Product names keep being changed and we are not immediately made aware of it.
Verifizierter Rezensent
Director of Operations Managed Services in USA
Verifizierter Nutzer auf LinkedIn
Informationstechnologie & -dienste, 11-50 Mitarbeiter
Verwendete die Software für: Mehr als 2 Jahre
Good Product
Kommentare: Overall I would recommend the product as it has been very beneficial for our company. To get the full use of the product, you'll need to dedicate a resource to managing the platform so that they can learn the various ins/outs of the product.
Vorteile:
It's a good product once you get through the learning curve. The product admins are eager to make the product more effective and efficient at helping you manage your client's networks.
Nachteile:
Support is frustrating to deal with at the initial levels. If you can get past the L1 technicians in your support case, it is usually pretty good but it will take some work to get the case escalated. Product development is pretty slow as it often takes several releases that are 'coming' to make it into the product. And then the first iteration of the new feature usually isn't fully developed and will take another release or two to be fully functional.