Was ist Paymo?
Paymo ist eine moderne und intuitive Projektmanagement-Anwendung für projektbasierte Unternehmen, die fortschrittliche Task-Management, Planung, Disposition, Zeiterfassung, Zusammenarbeit und Abrechnung kombiniert. Dies bedeutet, dass du den Überblick über die gesamte Lebensdauer eines Projekts behältst - von der Erstellung des Projekts bis zu dessen Bezahlung - ohne dass du mehrere Anwendungen nutzen und bezahlen musst.
Wer verwendet Paymo?
Kleine und mittlere projektbasierte Unternehmen (Werbung und Marketing-Agenturen, Web-Entwicklung und Design-Agenturen, NROs, Universitäten, virtuelle Assistenten usw.).
Wo kann Paymo bereitgestellt werden?
Cloud, SaaS, webbasiert, Mac (Desktop), Windows (Desktop), Linux (Desktop), Android (mobil), iPhone (mobil), iPad (mobil)
Über den Anbieter
Paymo
2008 gegründet
Chat
Paymo Kosten
Startpreis:
4,95 $/Monat
Ja, kostenloser Test verfügbar
Ja, Gratisversion verfügbar
Paymo bietet eine Gratisversion und eine kostenlose Testversion. Die kostenpflichtige Version von Paymo ist ab 4,95 $/Monat verfügbar.
Preismodelle
Kostenlose Testversion
Über den Anbieter
Paymo
2008 gegründet
Chat
Paymo – Videos und Bilder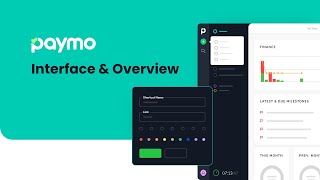 Paymo Funktionen
Abrechnung & Rechnungsstellung
Aktivitäts-Dashboard
Aktivitäts-Verfolgung
Alarmfunktion / Benachrichtigungen
Anpassbare Vorlagen
Aufgaben-Fortschrittsverfolgung
Aufgaben-Tagging
Aufgabenbearbeitung / -aktualisierung
Aufgabenmanagement
Aufgabenplanung
Balkendiagramm
Berichterstattung / Analyse
Berichterstattung / Projektverfolgung
Berichterstattung und Statistik
Budgetmanagement
Dokumentenmanagement
Drag-and-Drop
Echtzeit-Daten
Farbkodierung/Symbole
Filesharing
Fortschrittsverfolgung
Fortschrittsverfolgung in Prozent
Gantt-/Zeitstrahlansicht
Kalenderverwaltung
Kanban-Tafel
Kapazitätsmanagement
Kommentare / Notizen
Kontakt-Datenbank
Kostenverfolgung
Kundenportal
Mehrere Währungen
Meilensteinverfolgung
Mobile App
Mobiler Zugriff
Online-Abrechnung
Portfoliomanagement
Projekt-Nachverfolgung
Projektmanagement
Projektplanung
Projektplanung/Terminierung
Rechnungserstellung
Rechnungshistorie
Remote-Support
Remote-Zugriff/-Kontrolle
Ressourcen-Planung
Ressourcenmanagement
Statusverfolgung
Timesheet Management
Werkzeuge zur Zusammenarbeit
Workflow-Management
Zeit & Kosten Verfolgung
Zeitverfolgung
Zentrale Buchhaltung
Jelena J.
Founder in Serbien
Verifizierter Nutzer auf LinkedIn
Informationstechnologie & -dienste, Selbstständig
Verwendete die Software für: Mehr als 2 Jahre
My time and sanity saver!
Kommentare: I've increased my productivity with Paymo's Kanban board view, combined with Table view, and saved TONS of hours on admin, invoicing, timesheets, client and project management. Just this time saving alone pays off the monthly subscription. Sanity and nerves saving is the bonus! :) Why? Because Paymo helped me maintain good client relationships, timesheet transparency and great records&data representation for a client. So when a client comes up with a random question about a specific task, Paymo's records make finding (and presenting) a specific information or record so much easier, transparent and more reliable.
Vorteile:
Paymo has been a lifesaver in many business management areas: project management, client management, time tracking, accounting. With built-in budgeting, time tracking, expense tracking, estimate calculations, professional invoicing and getting paid online (and on time!), different project 'views' (list, table, board for kanban, gantt), extensive filters, dashboard and insights, resource scheduling, live time reports, client portal - and all that in one app - it's a sanity saver! One of the things I also personally quite appreciate is the professional and clean look of the invoices (and how easy it is for clients to pay them online). With a click of a button, you can add the unbilled time/fees for a specific time period and/or projects to an invoice. Paymo does all that heavy admin stuff for you and it has saved me a lot of time! Cherry on the top: all invoice items are presented so neatly and professionally, so that my clients can see exactly everything I've worked on for them and what I'm billing them for, as well as how much time is tracked for each project and task. And Payoneer, in addition to PayPal/Stripe/Authorize.Net payment gateways is a big plus! It's brilliant. The moment I first tried it, I could immediately feel that Paymo is the tool designed for actual freelancers in mind, whether you work on a project basis, or a pay-as-you-go basis. It's not complex, and all the features it has are just *right*. Exactly what I need. And it's getting even better!
Nachteile:
I wish the app was just a little bit faster, but I read somewhere that they already have this improvement on their roadmap. Still, if you ask me, it's totally worth the wait for every new feature and improvement their team is cooking for us :)
Antwort von Paymo
vor 2 Jahren
Thank you, Jelena <3 Speed improvements are already something that we're addressing. Stay tuned for more goodies such as a task calendar view, improved mobile app with team collaboration features and guest access. Cheers, Marcel
Krystle chanel K.
Owner in USA
Verifizierter Nutzer auf LinkedIn
Marketing & Werbung, Selbstständig
Verwendete die Software für: 6-12 Monate
I finally found the one!
Kommentare: It is important to note that Paymo isn't idle in enhancing its software. Not only that, but new features are thoughtful and integrated seamlessly with the tool. I appreciate this because I have used other software that seem to have their priorities mixed up when releasing enhancements; adding things that don't move the needle ahead of things that do.
Vorteile:
After years of using project management software for both myself and companies I've worked for, I found the right tool for the job for my personal, small business as a marketing coach and online entrepreneur. Until I build a team, I'm using Paymo for myself, and other tools are not always price-sensitive for a solo user. I appreciate that Paymo provides an option to pay for one user until I'm ready to grow. A particular feature I was looking for was the option to view all projects on a single Kanban board. In the rare case that I found this option, it was a significant upgrade to acquire. But Paymo offers this and it's super easy to use! Other features I love: - Time-tracking/timesheet: Visual representation of where my time goes. I use the in-app timer every day. - Flexible viewing options: I can easily switch between list, table, board, and Gantt views, with easy to use filters that allow me to see exactly what I want. No custom reports or views need created - which can be time-consuming and inflexible (enterprise tools). - Note: The user experience of the Gantt chart was also what I was looking for. It is drag and drop and allows you to adjust your timeline from within the view. There's so much to love about Paymo! And that is saying a lot coming from someone who has researched and used as many tools as I have - including enterprise solution, Workfront. Paymo is definitely worth giving a try!
Nachteile:
I wish there was a way to invite collaborators/reviewers like there is in Asana. If I want a coaching client to be able to collaborate, there is no way to do this without paying for another user. This is superficial, but, the name! When I tell people about Paymo, they immediately think it's a financial tool, not a project management tool, based on the name. I would hate for this to hold Paymo back in the market.
In Betracht gezogene Alternativen: Teamwork, Airtable, Trello, Microsoft Project, monday.com, Adobe Workfront, Asana und Things
Warum Paymo gewählt wurde: I switched from Asana, Teamwork, and Things. I was looking for a tool with a kanban board option that allowed me to view tasks across all of my projects and I needed a cost-effective tool for someone who is currently solo but building a business. Asana was cost-prohibitive in that I could not pay for a single user, but had to pay for 5 minimum. Also, the kanban board option I was looking for was an additional upgrade for Asana and Teamwork, making these options even more expensive. Additionally, user experience was a factor. Asana generally has a good UI but I just like Paymo better. Teamwork has some work to do in this regard.
Zuvor genutzte Software: Asana
Antwort von Paymo
vor 2 Jahren
You sure did your researh, Krystle, thank you for the review :) Actually, we're working on an improved client portal with in-app access to guest users, so they can collaborate with you on the same page. This is our #1 priority atm, so stay tuned! As for our name, this goes back more than 10 years when we started out as a time tracking and billing tool. The purpose was to use the app and GET PAID MORE, hence Paymo :) Hope this helps, thank you again!
Mahmoud S.
ui ux designer in Ägypten
Verifizierter Nutzer auf LinkedIn
Design, Selbstständig
Verwendete die Software für: Kostenlose Testversion
best projects management app
Kommentare: overall my experience is awesome with this app I started to use it every hour of my day with it and track my projects and hours,
Vorteile:
I like the design of your dashboard, good design makes me take a good journey with this app every thing is easy to reach and customize it , adding tasks and projects are very easy to do
Nachteile:
I have a problem with the free trial when I try to add someone to the project I have an error cause this person uses that same app if you people can fix it it will be awesome and if you make a free version from it with only tasks, projects and time tracking it will be enough for most of the people like me cause I don't need the rest of all features right now
Cameron N.
Founder in USA
Marketing & Werbung, 2-10 Mitarbeiter
Verwendete die Software für: 1-5 Monate
Monopolize you cause you can't export ANYTHING easily
Kommentare: Would NOT recommend it to anyone who has even the slightest of "outside the box" process for projects or billing/invoices.
Vorteile:
Yet another system that after several months of use only did what we needed it too at 75% of the way, then AFTER buying into the "huge discount" and special they had going, did I find out they do not allow refunds at all! If you put ANY data into the system and ever need to export it for any reasons ...find a data entry person and hope you didn't enter a lot of information because unless you are a developer that can setup custom API's...your info is stuck in their system! You can enter clients, companies, etc. and change view to "Table" and see it in table mode, but that view still only gives you the general company information, NOT the contacts for that company and that is 1 of 2, yes that is right 2 places in the entire system of everything you may have entered where you can download/export that view into Excel/CSV file....everything else is PDF if you are lucky!! If you are a VERY small, VERY basic bookkeeping/accounting freelancer (NO TEAM, just you and very basic billing) - fine, it may work...but if you have more than 1 person in your team other than you, have different rates or even the SLIGHTEST out of the norm billing or cycles...GOOD LUCK!!! I am furious with this system after being told what it could do and I explained in detail, and "oh yeah, that is not a problem at all"...only to find out, everything I explained about what we needed, went in one ear and out the other just to make the sale...now I have a barely usable system and wasted $$$$!!
Nachteile:
Can't export anything unless you have a developer standing bye. System is very "inside the box" thinking even after being told it would easily do what I had explained that I needed it to do support seems to take longer than usual and they are quick to respond with an answer that has NOTHING to do with what you originally asked (bots maybe?!?!) Can't get a refund, no matter how many lies they told you to make the sale in the first place!!!
Antwort von Paymo
vor 2 Jahren
Hi Cameron, Sorry to see you disappointed. Our goal is to help you improve the way you work, not to sell you on something. Indeed, you can export client, project, user lists, as well as time reports in csv format - invoices and Gantt Charts are available in PDF only. However, due to the fact that there's no standardised data structure for project management data, the only practical way to export it is via our API. And no, we're no bots, and don't force anyones hand to make a sale.
Katherine A.
Digital Media Coordinator in Kanada
Marketing & Werbung, 2-10 Mitarbeiter
Verwendete die Software für: 6-12 Monate
Great for time tracking and task assignment
Kommentare: It's overall been quite a useful product. I really like that we can upload images and files to each specific task, making for a simplified workflow.
Vorteile:
Assigning tasks with due dates is extremely easy - the comment flow on each task makes it easy to provide feedback or ask for edits. Easy to find tasks assigned to me, and to track how much time I spend on each client.
Nachteile:
When they implemented the new filter system it was a little irritating to see all of the closed tasks pop up on my feed again. With the help of their helpful customer service I was able to set my filters to remove the issue (but I still think the removal of finished tasks should be an automatic filter)