Was ist SportLoMo?
Führende internationale Sportplattform (mehrsprachig). Der Hauptsitz des Unternehmens ist in Irland. Über 2 Millionen Sportfans vertrauen auf Sportlomo. Dieses Spiel- und Wettbewerbsmanagement ist führend in der Branche. Online-Registrierung, Live-Punktezahl, Terminplanung, Turniere, Mannschaftsliste, Spiel-/Spielerstatistiken, Sportart/Verletzungen. Kampfrichter-/Schiedsrichter-/Funktionärsmanagement ist ebenfalls ein Spezialgebiet. Preisgekrönte Websites. Einfach zu bedienen, hoch automatisiert, sodass du nicht vor einem PC sitzen musst, um deine Spiele das ganze Wochenende lang zu verwalten.
Wer verwendet SportLoMo?
Große nationale Verwaltungsorgane, Verbände, Vereine, Ligen und Clubs. Sportarten wie Rugby, Basketball, Feldhockey, Volleyball, Fußball, Football, Softball, Tischtennis, Polo, Bowling, Tennis
Wo kann SportLoMo bereitgestellt werden?
Cloud, SaaS, webbasiert, Android (mobil), iPhone (mobil), iPad (mobil)
Über den Anbieter
SportLoMo
1998 gegründet
Chat
Erhältlich in diesen Ländern
Irland
Sprachen
Nicht vom Anbieter bereitgestellt
Über den Anbieter
SportLoMo
1998 gegründet
Chat
Erhältlich in diesen Ländern
Irland
Sprachen
Nicht vom Anbieter bereitgestellt
SportLoMo – Videos und Bilder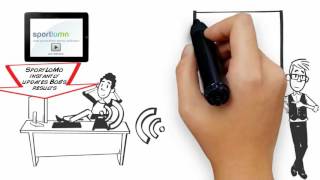 Kosten ähnlicher Produkte wie SportLoMo vergleichen
SportLoMo Funktionen
Abzeichen-Management
Alarmfunktion / Benachrichtigungen
Gruppenanmeldung
In-Game-Analytik
Kalenderverwaltung
Kommunikationsmanagement
Kontaktmanagement
Online-Anmeldung
Registrierung vor Ort
Registrierungs-Management
Team-Management
Teilnehmer-Tracking
Terminplanung
Website-Management
Zahlungsabwicklung
Alternativen für SportLoMo
Bewertungen über SportLoMo
Verifizierter Rezensent
Competitions and Events Manager in Kanada
Verifizierter Nutzer auf LinkedIn
Sport, 11-50 Mitarbeiter
Verwendete die Software für: Mehr als 2 Jahre
Sportlomo have been a huge asset in advancing how we run our operations, weekly leagues and admin
Vorteile:
The software is user friendly and easily teachable. We work with over 50 clubs so shortening the time it takes to explain something new is key to reducing administration times. The support staff are constantly on hand to help us out with whatever we need and even our many upgrade requests are always accommodated. This season we also adopted Sportlomo for our membership registration on top of the league management system. This again, has made administration much easier, with players now able to pre-register for the following season 3 months in advance. We have been trying to introduce this for almost a decade and Sportlomo got it turned around in 6 months
Nachteile:
The only disadvantage to using the software is the time difference between our organisation in Canada and the head office in Ireland if something needs to be done urgently. However, they try their best to work outside office hours to accommodate our meeting requests.
Antwort von SportLoMo
vor 4 Jahren
Thank you for your very encouraging review. Our team are chuffed...... We hope we can continue to meet your expectations.
James F.
Public Relations Officer in Irland
Verwendete die Software für: Mehr als 2 Jahre
Sportlomo software is very easy to use software for lay IT users in addition to users with IT Skills
Vorteile:
I work in the IT Sector and I have to say that Sportlomo is very easy to use software for the Sports Club St Finians GAA Club which I am Public Relations Officer of. The software is also very user friendly for the person who covers my role when I'm on holidays and who is a non IT person which makes the software very seamless for those using it. Sportsmanager, the Irish Sportlomo Software Agent are an absolute pleasure to deal with in carrying out change requests which are implemented in a very timely and efficient manner (within an hour of Sportsmanager receiving them for simple requests). Last year, our Sports club upgraded its website to a mobile responsive solution and there was a very seamless migration to the new website with no downtime. the customer representative and her team in Sportsmanager made the task of upgrading our website very easy and put me at ease in my dealings with them as the officer responsible for the website upgrade. What I further like about the software is that content on the new website is updated in exactly the same way as the old website therefore eliminating the need for retraining of those using it. We are absolutely delighted with our new website and I have been contacted by other sports clubs enquiring about how they can acquire a similar website solution. I have no hesitation in recommending Sportlomo as a website solution for Sports Clubs globally and also the Irish Software Agent Sportsmanager for Sports Clubs in Ireland.
Nachteile:
There is nothing that I don't like about using this software. Maybe if I could suggest of having the option to add more than one photo at a time for each news story.
Antwort von SportLoMo
vor 4 Jahren
Thank you James. A super review, very encouraging - and all the better coming from an IT person :) Thanks for your time in composing this detailed review, much appreciated. Regards, SportLoMo team
James V.
Treasurer in Australien
Sport, 201-500 Mitarbeiter
Verwendete die Software für: 1-5 Monate
Not bad Software, Support is avoiding emails for 1 month now goes absent.
Kommentare: Would be better if the project had started with the manager understanding the time crunch and what we were asking for.
Vorteile:
There are features like the notifying of umpires that we like.
Nachteile:
Support is avoiding emails for 1 month now goes absent.
Graham S.
Competition & Officiating Manager in UK
Sport, 11-50 Mitarbeiter
Verwendete die Software für: Mehr als 2 Jahre
Very positive and if they don't "do it" or "have it" they have been committed to finding a way
Kommentare: Saved time, cut down errors, reduced the need for duplication of information and made more processes paperless.
Allowed me to communicate with a large number users, clubs, press and spectators (fixtures/results), players and Officials.
The officials were able to submit reports and also were informed of their games via text and e-mail based on electronically submitted availability. This allowed quick and straight forward reporting of data, key to streamlining processes.
Vorteile:
Integrates a number of the elements and systems key to delivering a smooth sporting programme. From league tables to referee assignments and discipline reports. All linked together to create a one stop shop. It also takes a large amount of the admin and more importantly the double checking of details away from the administrators and puts it in the hands of the people it is really there for the Clubs.
Nachteile:
Some elements have carried bugs and there was a period as they joined elements together where the time between flagged problems and/or requests were long and with limited communication. however, they have really turn things around and support is quick and communication much better. Some elements are still complex to use or long winded but they are continually improving the usability of the product for users and administrators alike.
Antwort von SportLoMo
vor 4 Jahren
Hi Graham, we appreciate the positive words. As you point out 'joining elements of functionality' has been a challenge and you have been very understanding. We are recruiting more developers and when they get up and running we should have extra resources to make more improvements. Thanks for the review, much appreciated, Vivienne
Joe S.
Manager - Competitions, Events and Marketing in Kanada
Sport, 11-50 Mitarbeiter
Verwendete die Software für: Mehr als 1 Jahr
Relatively happy with the software and my experience working with SportLoMo.
Kommentare: Far easier to manage competitions and fixture appointing form an admin perspective. Team sheets are clean and easy to review.
Vorteile:
I do the majority of my work on the competition management side of the system. I enjoy how easy it is to create and edit competitions and organize officials for fixtures. I also administer Team Sheets for my organization and the reporting system for team sheets is fantastic. It is really easy to get a high level view of which clubs are following our processes correctly. As a referee, its super easy to update scores and to view my fixtures through my dashboard. As an administer, its fantastic to not have to chase down scores the week after a competition has happened.
Nachteile:
There are some functions in the system that I would like to see adopted to make the lives of rugby administers easier. I do not like how you cannot sort for Age Grade or by registration date when you go to fill out a panel on team sheet editor. This makes it very difficult for clubs with hundreds of athletes to find the 30 athletes they want on their panel. The "ctrl+f" feature is not really useful as most of our clubs do not use this feature. I find the "All Competitions" page on our website to be very cluttered and confusing at times. It would be great if we could add in page breaks to separate competitions based on the competition level.
Antwort von SportLoMo
vor 4 Jahren
Hi Joe Thanks for the feedback. I will arrange for someone to contact you to help improve navigation. We can use different criteria to sort / order the data to make it easier for users. Will get someone to contact you to go through how this is set up this week. Thanks for the feedback Seamus