Was ist Field Squared?
Field Squared helps organizations manage their service inspections lifecycle in a unified platform. As the industrys only business process automation solution, Field Squared capabilities include scheduling and route optimization, geospatial asset management, photo and barcode capture, work order management, reporting, and GPS-based technician tracking. Field Squared works offline, is highly configurable and easily integrates across any back-office system.
Wer verwendet Field Squared?
Field Squared helps oil & gas, utilities, insurance and field services companies, with highly complex inspections and compliance needs, increase operational efficiency and capture field data.
Wo kann Field Squared bereitgestellt werden?
Cloud, SaaS, webbasiert, Mac (Desktop), Windows (Desktop), Linux (Desktop), Android (mobil), iPhone (mobil), iPad (mobil)
Über den Anbieter
Field Squared
2013 gegründet
Telefon-Support
24/7 Live-Support
Chat
Erhältlich in diesen Ländern
Australien, Kanada, Vereinigte Staaten
Über den Anbieter
Field Squared
2013 gegründet
Telefon-Support
24/7 Live-Support
Chat
Erhältlich in diesen Ländern
Australien, Kanada, Vereinigte Staaten
Field Squared – Videos und Bilder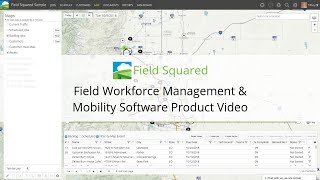 Kosten ähnlicher Produkte wie Field Squared vergleichen
Field Squared Funktionen
Abrechnung & Rechnungsstellung
Alarmfunktion / Benachrichtigungen
Angebote / Schätzungen
Arbeitsauftragserstellung
Arbeitsauftragsverwaltung
Asset Lifecycle Management
Audit Trail
Aufgabenmanagement
Auftragskostenrechnung
Automatisierung von Geschäftsprozessen
Barcode / RFID
Barcode / Tickets scannen
Berichterstattung / Analyse
Berichtsvorlagen
Compliance Management
Dokumentenmanagement
Drittanbieter-Integration
Echtzeit-Planung
Elektronische Unterschrift
Formularverwaltung
GPS
Geräte-Management
Grafischer Workflow Bearbeiter
Instandhaltungsmanagement
Integration in die Buchhaltung
Inventarverwaltung
Job-Management
Kalenderverwaltung
Kontakt-Datenbank
Kundendatenbank
Kundendienst-Historie
Mehrere Standorte
Mobiler Zugriff
Online-Zeiterfassung
Projektmanagement
Routing
Scanfunktion
Techniker-Management
Terminplanung
Terminverwaltung
Versandmanagement
Vorbeugende Wartung
Wartungsplanung
Workflow-Konfiguration
Zahlungseinzug im Außendienst
Alternativen für Field Squared
Bewertungen über Field Squared
Matthew
Senior Customer Service Representative in USA
Einzel- & Familiendienstleistungen, 5.001-10.000 Mitarbeiter
Verwendete die Software für: Mehr als 2 Jahre
EXCEPTIONAL SERVICE & CONSISTENCY !
Kommentare: With our business at Sea Tow time is of the essence and critical. Members's information for a service request is received at Sea Tow International Services Inc. in New York, it is then compiled on Field Squared and sent to a local Captain this can be anywhere in the Continental US, Bahamas or the Caribbean. Field Squared provides this information in real time, within seconds the local Captain has all of the information needed for a quick response and better success for customer satisfaction. The message is sent as a text to a local Captain so if he is out on a job he receives the text with all of the critical information right on is phone in front of him. It is also sent to a computer screen at the local Captain's office for staff to be informed, the entire organization is informed within seconds; outstanding !

Field Squared has saved so much time in disseminating information for Sea Tow which in turn has saved so much money. It is the solution for saving money and bringing an organization together, working better, on a new level of technical expertise.
Vorteile:
The Field Squared system enables the user to send and filter critical information to constituents of an organization with tremendous speed and accuracy. Information is received exactly as sent with a seamless flow and provides the organization with immediate response for customers.
Nachteile:
With any technical system there are speed issues but these are extremely minimal in my experience.
Antwort von Field Squared
vor 4 Jahren
Thank you for taking the time to share your wonderful experience, Matthew. The entire team loves working with Sea Tow and are proud to call you our customer! We are happy for the opportunity to help support the business now and in the future.
Verifizierter Rezensent
President in USA
Verifizierter Nutzer auf LinkedIn
Maritime Wirtschaft, 11-50 Mitarbeiter
Verwendete die Software für: Mehr als 2 Jahre
Field Squared Review
Kommentare: A flexible, self-configurable solution for businesses of all sizes and with varied needs.
Vorteile:
Can configure yourself and get support from Field Squared team as needed eliminating the need for an outside developer reducing start up and maintenance costs. Makes it easy to customize for your unique business needs and to make a change quickly across the entire organization. We needed a significant amount of customization due to the unique nature of our business, so this is very appealing. The Field Squared platform is a solid foundation which you can implement out of the box or modify as needed. Critical in our business is the need to work offline on mobile device after getting a dispatch/work order. Has proven reliable in this situation. We also needed the ability to capture, schedule and assign a job from a mobile device, not just a desktop, as our service providers are often the dispatchers as well. After much research, it is clear that Field Squared is one of only a couple software solutions that allow this flexibility. Also critical to our business is the need to capture photos and time with GPS stamps during the course of a job and then have them integrated into a form. These features work seamlessly and have helped us build our business by being able to take on new lines of work. As a franchise organization it was important that any software be a true enterprise solution. With Field Squared we can manage permissions and access across our organization so that each local franchise can operate independently, while our corporate still has global access.
Nachteile:
As users of Field Squared for over 3 years, we are one of their initial customers and as such have been impacted by some technical issues over the years as they transitioned from a start-up to a solid software solutions company. However, as Field Squared has grown over the years we have found them to have a team dedicated to quick response and resolution and the reliability of the solution to have improved exponentially.
Antwort von Field Squared
vor 4 Jahren
Thank you for sharing your experience with our software. It has sincerely been a pleasure providing a solid field service automation software solution for your team. We look forward to continuing to innovate and enhance our platform, providing the latest tools to help you manage work orders and increase efficiency across your entire organization. Thank you for being our customer.
Alex
MEP Design Engineer / Field Inspector in USA
Maschinenbau oder Wirtschaftsingenieurwesen, 11-50 Mitarbeiter
Verwendete die Software für: Mehr als 1 Jahr
Helpful but not Android friendly
Kommentare: Fieldsquared was incorporated into our company to eliminate the use of paper forms and convert everything electronically which can be fully controlled via an app. The web app works great for scheduling tasks and adding projects/assets. However, when on the road the mobile app is very "buggy" and the user interface turns out to me more time consuming than time saving.
Vorteile:
Field Squared allows our team to login and see up to date changes when they are added/removed from a task. The app is also great for scheduling and allows us to create customized forms for ease of use.
Nachteile:
There are major inconsistencies between the web app and the mobile app, specifically Android. The app freezes and crashes frequently on Android devices (both tablets and phones). The mobile app should be making submitting, filling out e-forms simpler and time saving. However, there is minor issues on iOS devices and major issues on Android devices that make my team spend more time troubleshooting than actually using the app.
Antwort von Field Squared
vor 4 Jahren
Thank you for your feedback, Alex. We greatly appreciate you taking the time to review our software and we sincerely apologize for any challenges you¿re facing. Your happiness and ease of using our software is our priority. Our support team has reached out directly to you to help resolve any issues you may have. Thank you again for letting us know.
Verifizierter Rezensent
Senior Vice President Operations in USA
Verifizierter Nutzer auf LinkedIn
Computer-Software, 51-200 Mitarbeiter
Verwendete die Software für: Mehr als 2 Jahre
FieldSquared and our Install fleet
Kommentare: Overall it has streamlined the scheduling and data entry processes for our installation management team. It has also allowed us to get rid of clumsy paperwork at each install and taken away the need to try and read handwritten notes. We needed a system like this a long time ago. And now that we have it, we could not do without it. The communication on scheduling, the data we receive from each site, and the overall interaction between FieldSquared and Salesforce has saved us a lot of time.
Vorteile:
The fact that we can capture schedule and content information from each site we have our system installed in. The fleet of installers not only maintain an ongoing schedule with us - they fill out various customized forms that include information about the building, assets, and pictures of the work completed. We can confirm quality and provide the customer with that information without filling up email boxes.
Nachteile:
We have not gotten comfortable with reporting on data entered into customized forms yet.
Autumn
Operations Manager in USA
Versorgungsunternehmen, 11-50 Mitarbeiter
Verwendete die Software für: Mehr als 2 Jahre
Quelle: SoftwareAdvice
Field Squared Helped us automate our field service business process and increase our productivity!
Kommentare: Field Squared has helped us grow our business. It only took a few days to get started with Field Squared and they were there to help with whatever we needed. When i have a question or need help with building something on the Web App, I just use the Instant Chat Customer Service and get immediate answers. Field squared has defiantly been a game changer for us.
Vorteile:
Easy to use Mobile App & Web App, Customizable workspace and Forms, Great Customer Service, Affordable pricing , New features are released constantly.
Nachteile:
None. Any issues that i have had over the last 3 1/2 years with Field Squared have been addressed and resolved by Field Squared in a timely matter.
Antwort von FIELD SQUARED TEAM
vor 4 Jahren
Thank you for sharing your story and experience, Autumn. The entire Field Squared team loves working with you and the whole National Metering & Technical Services team. We are excited to grow with you and support you as your business thrives!